How I Aquarius'd the Sh*t out of my Birthday
and how you can celebrate your sign like the star you are.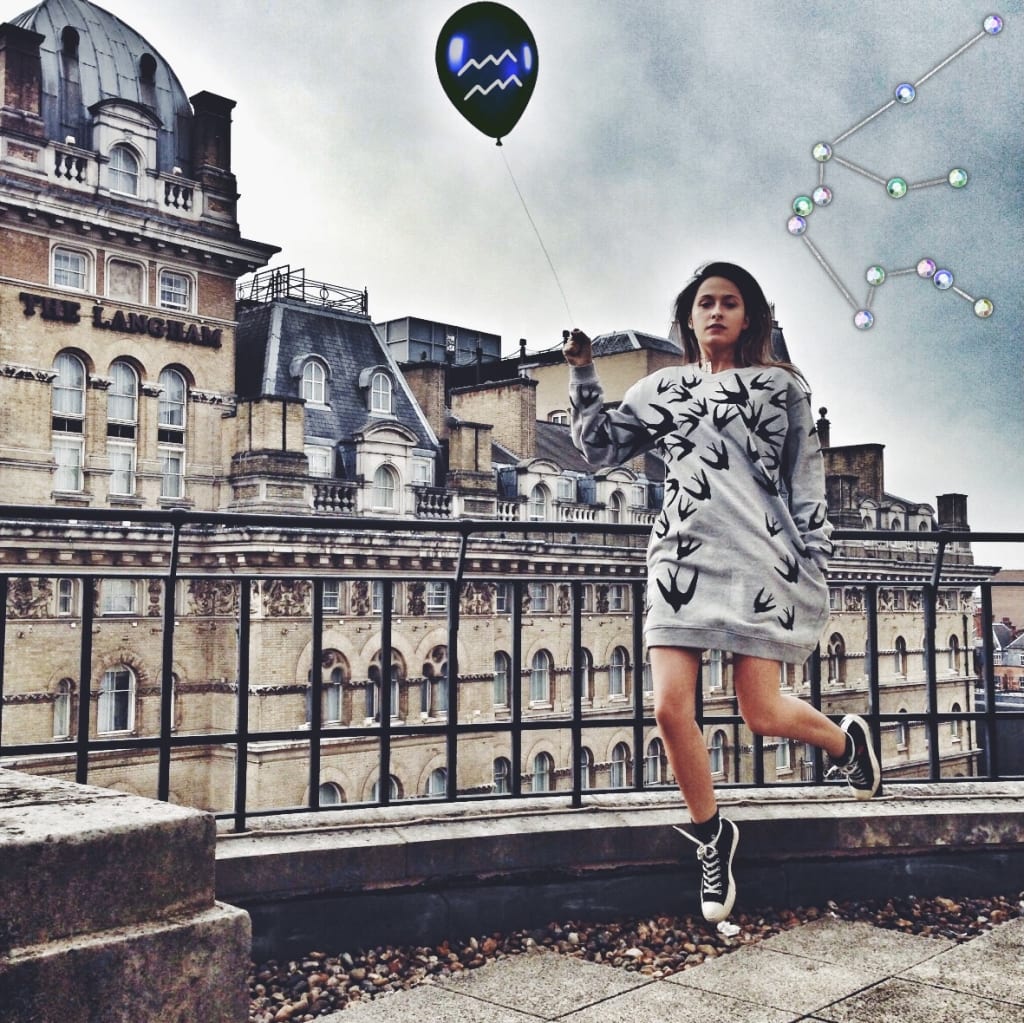 Every year on my birthday I pick a theme and plan the whole day around it. Last year I went "Around the World" with a Malaysian cafe for lunch, an Italian cake shop for dessert and rounded the day off with a trip to the (fictional) country of Zubrowka with my favourite movie 'The Grand Budapest Hotel'.
The year before that was my 'Seaside' birthday - my girlfriend and I ran away to the Kent coast where we stayed in a little beach hut, ate fish & chips and visited Margate's famous Shell Grotto.
This year COVID put the kibosh on any plans involving eating out, travelling or, well, other humans, and it was beginning to look as though my theme for 2021 would be "Pyjamas"...until an early birthday present dropped through my letterbox.
A friend had sent me a personal astrology reading along with a copy of my birth chart. I'm massively into all things woo-woo and magical and I've always been pretty pleased with myself for being an Aquarian. It's the rarest sign of the zodiac, it's associated with my favourite colour (blue) and it's the only sign to be associated with two elements - Air (its ruling element) and Water (as Aquarius is represented by 'The Water Bearer'). One small downside is that Aquarius' ruling planet is Uranus, the one that sounds like bum-holes, but apart from that it's pretty cool.
I even volunteered for our high school musical 'Godspell' solely based on the fact that 'The Age of Aquarius' is its biggest banger.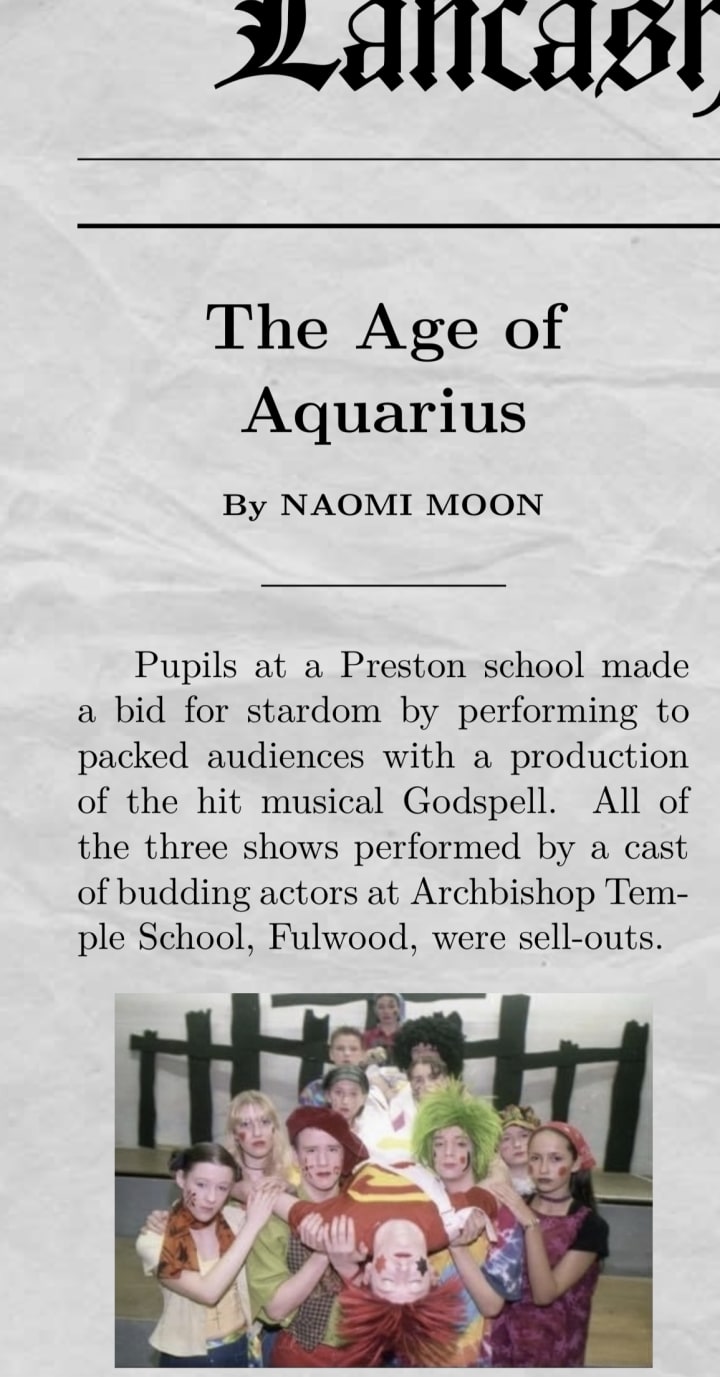 I figured that if there's one day of the year to really take astrology seriously, to try out all the things you're supposedly 'destined' to enjoy, it's your birthday. That's how my theme was born - a day living according to the stars to see if my birth chart really could be my map to happiness.
I was going Aquarius af.
A BIRTHDAY IN THE LIFE OF AN AQUARIUS
1. Peace-full Morning
I started the day with a long lie-in, inspired by fellow Aquarian Yoko Ono's 'Bed-ins' of 1969. Aquarius is known for being the humanitarian of the zodiac and Yoko was clearly living up to her sign when she stayed in bed for two weeks at a time in peaceful protest during the Vietnam War. I didn't have anything as grave to protest as that so I decided to use my humanitarian side a little differently. I went on a mini charity spree from my bed. I donated to a few causes I feel strongly about and also tipped a handful of Vocal writers for articles I enjoyed.
Star Rating: ★★★★★/5: A definite win for astrology, exercising my humanitarian nature felt great!
2. h2O
Next up was shower time. I decided that as the 'water-bearer' I couldn't go around bathing in just any old water anymore. I needed to make sure I was working with top notch, grade-A droplets now. I briefly considered showering in Evian water but...how?...and...cold. I eventually settled on this magical contraption: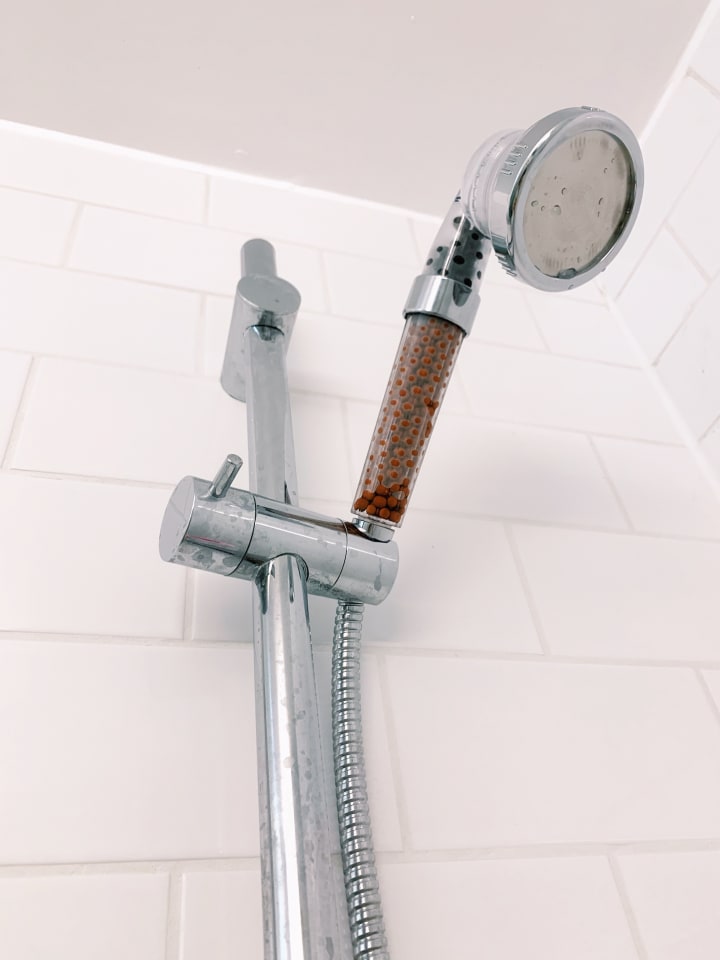 An ionic shower head. Filled with bioactive mineral balls, it filters out toxins and hardness from water and naturally generates negative ions which are said to promote wellbeing, relaxation and general happiness.
Star Rating: ★★★★★/5: Turns out an upgrade in h2O makes this water-bearer happy! I genuinely felt more clean and serene than usual after my wash. The filter also claims to save water which, now that I'm practically Yoko Ono, makes me feel very good about my planet-saving shower!
3. Listen Up
Aquarians are famously good listeners. Presumably this means listening to people's woes and worries but...it was my birthday. So I listened to Oprah.
For me, Oprah is a great example of someone carrying one of Aquarius' most prominent traits; compassion. Sometimes my compassion for others can overwhelm me, I feel others' pain (special mention to the time my girlfriend fell down the stairs, broke her leg and I cried and she had to comfort me...) and can find myself feeling down if someone I know, read or hear about is going through a hard time. Listening to Oprah teaches me that sometimes just listening to someone share their story and really hearing them can be as healing as taking a form of action on their behalf. This particular episode also taught me to listen to the whispers in my own life, that little voice or inner-knowing that is there to guide you if you let it.
Star Rating: ★★★★★/5: I'm all ears for this one! Another score for astrology!
4. Good 'Air Day
The ruling element of Aquarius is Air and according to astrology lore it's important to keep your elements in balance or you risk upsetting your zodiacal applecart. I know I could be better with my breathing. Obviously I do do it, but I sometimes catch myself holding my breath for long periods of time, particularly when I'm anxious. I headed to youtube for some advice and quickly fell down a Kundalini yoga rabbit hole. This ancient practise focuses on breath as well as asana (physical postures) and uses breathing patterns and sound, through chanting, to stimulate and balance the body's endochrine system. I developed a slight obsession with a lady called Guru Jagat, who counts fellow Aquarian Alicia Keys amongst her students, and had a go at one of her breathing exercises to relieve stress:
After just 7 minutes of conscious breathing I feel incredible and like I've used my lungs more in those few moments than I have all week!
Star Rating: ★★★★★/5: Wow. I didn't realise how little I came up for air! Getting a lung-full of my ruling element definitely feels like something I should and want to do more of. Thanks zodiac!
5. Eating with the stars
Whilst Ye Olde Astrology of Yore doesn't give any guidelines (that I can find on google) on what Aquarians might enjoy stuffing into their face on their birthday, I reasoned that the 'water-bearer' sounds like she'd enjoy seafood. A quick Deliveroo later and I was happily chowing down on some of London's finest sushi. It did cross my mind that I was theoretically eating Pisces.....but....meh.
Now the moment we allllll wait for on bdays. The cake. Referring back to my chart, Aquarians are known for their rebellious nature, gravitating to anything that pushes boundaries or is unique in any way. Given the fact that I couldn't fly out to Japan to try out a raindrop cake, I opted for the rebel of the bakery, Red Velvet Cake. It's red...and it's got CHEESE in it...and...ok it's just my favourite cake, I have it every year and I will never change that.
Stubbornness. Another big Aquarian trait ;)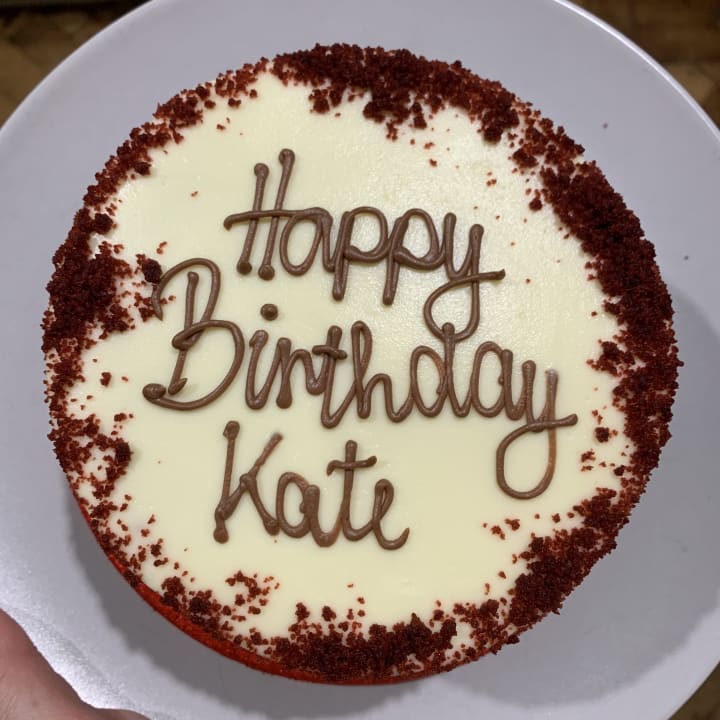 Star Rating: ★★★★★/5: No explanation necessary. Cake always gets 5 stars.
6. Watch this
It was time to settle down with a movie so I looked over my chart for some filmspiration:
Aquarians are drawn to science, technology, innovation and philosophy, making them big sci-fi fans.
I knew what I had to do.
The Matrix has always been a favourite of mine, and now I know why. It hits all my Aquarinerd buttons. One of my favourite characters in the film is Trinity and as I delve deeper into Aquarian traits I can see that she is the embodiment of some of our less popular characteristics...aloof, cold and emotionally detached. I've been known to sport a mean RBF in my time ;) but like Trinity, once you hack an Aquarius' code, I'm a friend for life.
Star Rating: ★★★★★/5: I definitely recommend Netflix starts suggesting shows via users' star signs!
7. All Aquarian Music Hall
To end the day I created a playlist of music by Aquarian artists, from Carole King to Bob Marley, Megan Thee Stallion to Mozart, these musicians live up to the visionary side of their sign, breaking records, creating new styles and pushing the limits of their craft. I might not be out here winning Grammys but I have been known to go off-piste with my karaoke choices... YES I've performed Liza Minnelli's 'Cabaret' in an indie club, and what of it?
Star Rating: ★★★★★/5
So that was my Aquarius day and I have to admit, my birth chart made a pretty excellent party planner! I can't deny that choosing things to do, see or consume based on my zodiac sign resulted in me having a pretty epic birthday without me actually leaving the house and I think I've discovered I'm an Aquarius through and through!
I've taken the liberty of suggesting some 'perfect birthday' schedules for every sign of the zodiac so you can celebrate your sign to the max..and also demonstrating another adorable Aquarian trait of forcing everyone to do my ideas and play my games :) Enjoy!
Capricorn: December 22 - January 19
To Do:
Take a walk! Just like your symbol 'the mountain goat' you should enjoy a good hike. Use your daily lockdown exercise to move your hooves!
To Eat:
You're no-nonsense when it comes to food. A sandwich is practical, wholesome and uncomplicated, just like you!
To Watch:
Rocky. I was going to suggest 'Men Who Stare at Goats' but you're not known for your funny bone... try Rocky instead, it will appeal to your ambitious streak!
*********************************************************************
Pisces: February 19 - March 19
To Do:
Revel in your ruling element Water by taking a loooooong bath. Try this bath bomb containing seaweed and sea salt to mimic a dip in the ocean, you'll be a happy little fishy!
To Eat:
Pisceans crave sweetness in all areas of their life and their sweet-tooth is off the charts! Pick a cake with lots of icing and sprinkles.
To Watch:
Breakfast at Tiffany's. Like Hepburn's character Holly Golightly, you're always wearing a smile for the outside world but can be prone to sinking into long periods of wallowing in your own tears in private. You'll appreciate the movie's happy ending...just maybe give the book a miss!
*********************************************************************
Aries: March 20 - April 19
To Do:
You might not be able to get outside to run around and burn off that Aries energy as much as you'd like at the moment but you can give your mouth a good work out! Have you tried Clubhouse yet? It's the perfect place for a confident orator like you to hold court and inspire others with your passion!
To Eat:
Pancakes. You're usually first up and first out the door and breakfast is your favourite meal of the day! Pancakes also give you the opportunity to show off your flipping skills, appealing to the performer in you.
To Watch:
Ferris Bueller's Day Off. Just like you, Ferris is charming, ambitious and always two steps ahead of everyone else.
*********************************************************************
Taurus: April 20 - May 20
To Do:
You'll be quite happy staying home today Taurus, it's your favourite place to be! If you do venture out, try taking your shoes & socks off and connecting with your ruling element Earth. Getting your hands dirty with some gentle gardening or cooking a meal from scratch will be right up your street!
To Eat:
If there's one sign of the zodiac that needs no help in the food department, it's you! Taureans love to eat so indulge in all your favourites today.
To Watch:
The Great Beauty. This Italian film will appeal to your hedonistic side whilst the stunning cinematography will satiate your appreciation of beauty.
*********************************************************************
Gemini: May 21 - June 20
To Do:
Geminis are fascinated with the universe and want to learn everything about everything! You're hard to pin down so a quick trip to space to hang out with the astronauts via NASA's webcam will be a treat for you, and you can't get further up in the Air, your ruling element, than this!
To Eat:
Indecisive by nature, it's often hard for you to know exactly what you want. Go for a sweet & sour dish, it will satiate every taste bud!
To Watch:
Tenet. With your ability to flit from topic to topic, activity to activity, you're probably the only in sign in the zodiac that can understand this movie and keep track of the multiple timelines! Once you've seen it, please explain it to the rest of us!
*********************************************************************
Cancer: June 21 - July 22
To Do:
A day spent with your sketchbook will appeal to your inner artist. Bonus points if you can dip your toes in your ruling element Water while you're at it!
To Eat:
Just like you, your stomach can be a little sensitive. A platter of juicy fruits will satisfy your thirsty, colour-loving crab!
To Watch:
Titanic. You're The Romantic of the zodiac, sailing in your element with Kate & Leo will give you all the Cancerian feels.
*********************************************************************
Leo: July 23 - August 22
To Do:
Go live on Instagram and entertain us! You're the showman (showperson?) of the zodiac and you'll love to perform on your own insta—stage!
To Eat:
Your flamboyant nature loves anything flashy and your ruling element Fire means anything that sizzles, sparks or flames appeals to you. Light up your barbecue or enjoy some S'mores!
To Watch:
Behind the Candelabra. Your love of beauty, trinkets, adornment and glitz will be dazzled by Liberace! His need for adoration and applause might also ring a few Leo bells with you ;)
*********************************************************************
Virgo: August 23- September 22
To Do:
It might not be anyone else's idea of a good time but you love to clean! Spend an hour or two in your rubber gloves, tidying every nook and cranny. Your Virgo halo will sparkle afterwards!
To Eat:
Not one for 3 square meals, you like to snack...alllll daaay loooong. Appeal to your organised nature by building a neatly arranged bento box to pick at throughout the day.
To Watch:
American Psycho. Whilst the murdery parts of the movie aren't a huge draw for you, you'll appreciate Christian Bale's character's attention to detail. His obsession with getting the perfect font on his business card and his courtesy to lay down plastic sheeting before he takes a chainsaw to his victims will be a strong relate for you.
*********************************************************************
Libra: September 23- October 22
To Do:
As 'The Scales' of the zodiac, you need balance in every area of your life. Take an online class with everyone's favourite Yogi to restore your inner and outer equilibrium.
To Eat:
Retain your balance with a Buddha Bowl, a little bit of everything will keep your Libra scales steady!
To Watch:
On the Basis of Sex. You'll relate to Supreme Court Justice Ruth Bader Ginsburg in this legal movie and bask in the beauty of justice being served.
*********************************************************************
Scorpio: October 23 - November 21
To Do:
Pamper yourself. You're all about self-care and love to look after your appearance. Try a charcoal face mask, your sign loves anything dark and smouldering!
To Eat:
Eating is a sensual experience for you. Anything with aphrodisiac properties will put a sting in your Scorpio tail...try oysters, dark chocolate or turn up the heat with some chillies!
To Watch:
Drive. You'll relate Ryan Gosling's moody and mysterious charcater The Driver, so enigmatic we never learn his name. Oh and he's got a silk scorpion jacket...could. not. be. more. perfect.
*********************************************************************
Sagittarius: November 22 - December 21
To Do:
You might be getting cabin fever in lockdown as you love nothing more than to travel, rarely sitting still for long. Try taking a trip to a far flung land via a live webcam, it will appease your wandering nature!
To Eat:
Anything adventurous will excite your daring palette! Scour Deliveroo for a cuisine you've never tried before...extra points for something spicy to ignite your ruling element Fire!
To Watch:
The Hunger Games Trilogy. Your inner centaur will relate to Katniss' untameable streak and as 'The Archer' of the zodiac you'll appreciate her bow and arrow skills! You'll literally be in your element with this girl on FIRE!
*********************************************************************
Thank you for reading! If you liked this article please click the little heart...it makes me happy!