"Gucci And Beyond:" A Campaign Analysis
A Look at Gucci's 2017 Sci-Fi-Inspired Campaign, and What the next Step Could Be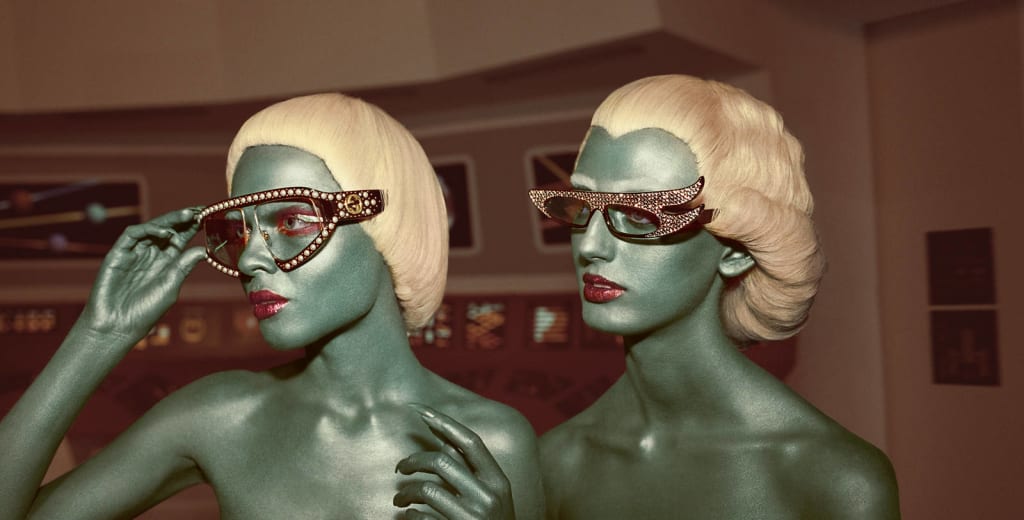 Video in question: can be found here.
Before I came across Gucci's 2017 Fall/Winter video campaign, I'd never pay a whole lot of attention to the brand if at all. I never felt as though the company's particular style suited me much.
But now, not only have they gotten my attention, I'm also curious to see what they come up with next. Cue "Gucci and Beyond," a film trailer-esque spot inspired by the Sci-Fi genre, with elements from the 50s, 60s, B-movies, Jurassic Park, Star Wars and Star Trek.
All these familiar faces, like Robby the Robot from Forbidden Planet and The Creature (from The Black Lagoon) unite in giving us quite the spectacle to Space: 1999 music. The spot is jam-packed with action, romance, and visual awe.
This particular collection is made up of uniform-style jackets, collars, florals and handbags. What's noteworthy this time around is the preference towards a "more is more" attitude, in that both the sets and clothes stand out to give off a more adventurous, fantastical vibe, as opposed to the usual minimalistic settings featured in fashion advertisements that only allow the clothes to shine.
Who is this video targeting?
Here, we can discuss in-depth personas and socio-demographics. Back in the day, Gucci's target market was comprised of celebrities, upper class groups, and fashion influencers. Recently, they've expanded the market to include middle-class men and women between the ages of 20 and 50, as well as children.
There are plenty of older and younger generations interested in the Sci-Fi genre, especially the Star Wars and Star Trek franchises. These tend to be (at the minimum) relatively well-off individuals who still very much enjoy going to the cinema with their friends, families, and/or significant others, so it is no surprise that the campaign would reach much of Gucci's target demographic(s).
Among these groups will likely be people either in the commercial/film industry or are interested in it (particularly where costumes, makeup, and cinematography are concerned), and would possibly want inspiration for their own similar projects.
Of course, there will be enthusiasts with a simple appreciation for vintage art and fashion, and the overall retro aesthetic. Heavy users of technology – those who are fascinated by the latest trends in tech as well as the "impossible" - will surely find a creative spark in the minute-long firecracker.
Content Marketing Initiatives
Leading up to the big reveal, Gucci had made great use of their rebooted website (with a store and customer service options) and online marketing. They had press releases, several behind-the-scenes takes, quality produced visual stories, the #gucciandbeyond hashtag for their social media, and clever memes to maintain the hype and entertainment.
Since then, they've also been sharing their stories behind decision making processes behind their projects on Tumblr, as well as steps they're taking to reinvent the brand on LinkedIn that include their pact to go anti-fur.
Strengths
Gucci obviously has a lot going for them, especially now with their change in direction. It helps that they already have a strong image and equity (e.g. reduced labour costs). With over 550 locations internationally (mainly the US, UK, and Japan), they maintain a strong chain value with suppliers and retailers. They control their distribution channels and networks effectively through directly operated stores.
The company boasts a vast product portfolio tailored towards adults and children, including clothes, wallets, watches, purses, and even cars, all of which are made from ultra-premium materials.
Speaking of cars, Gucci's associations with automobile companies like Ford, General Motors, and Fiat as well as their corporate social responsibility initiatives with UNICEF and Chime for Change add to their brand's value.
Their excellent advertising and digital strategy help with their growth rate. Some of their most notable feats include collaborations with famous icons such as Lady GaGa and Beyonce, and visual artists prevalent on Instagram.
Which brings us to another interesting aspect of "Gucci and Beyond:" it simultaneously contributes to the current "mainstream nerd" culture as well as modernizing once-popular culture, creating an influx of different newcomers to the brand.
The key takeaway from this campaign is that Gucci is continually diversifying. This certainly isn't easy to do in the fashion industry; what's great about Gucci is that they do not wait for any specific event to launch new products, but they nevertheless shake things up so that their stores always exude a fresh and hip appearance.
Weaknesses
With all their strengths, unfortunately, Gucci also has to make sacrifices and faces quite a few drawbacks. For one thing, they have to continuously invest a lot of money and resources to protect and maintain their image. And even then, they face many losses because of brand imitations, trademark infringements and counterfeits worldwide.
While a diverse portfolio can be a good thing, a product range that's too diverse can result in brand dilution, which decreases the brand's value. Not specializing in a select few commodities can lead to less attention, and therefore less quality put towards the assets the brand is known for. This is something Gucci should keep in mind for future endeavours.
Gucci displays relative instability with their management (such as creative directors and CEOs constantly stepping in and out), as well as a possible lack of strategic relationships.
Most evidently, the clothes featured in "Gucci and Beyond" are more haute than everyday functional, which can limit the incentive for many potential customers. Many of the design choices aren't necessarily completely original, and can absolutely be repeated or subjected to controversy with other designers.
There is also the issue of relevance; while brands have capitalized on and reinvented trends time and time again, there's no real telling as to whether a certain trend will withstand the test of time as it ultimately depends on consumer feedback, mandating the need for a plan B.
Opportunities
Gucci is able to tap into luxury lifestyle markets in emerging economies like India and China, considering their market size and low-barrier entry.
While it is true that trends are risky, they can nonetheless pave the way for fast changes and new ideas that apply to all facets of the creative sector. Trends that can translate to fashion, like the teleportation shown in "Gucci and Beyond," can change the way advertisements are made and communicated to an audience.
It is crucial for Gucci to create a competitive advantage in different business segments. One of these would be to target youth with appealing designs. Young people are far more brand conscious than they've ever been; in fact, they are expressing demand for high-quality products correlated with disposable income from increasingly more successful careers and substantial earnings. This is most noticeable among digital influencers.
Gucci introduced their online store at an opportune time, as new technologies are available at reasonable prices for expanded digital shopping facilities and a strengthened digital presence.
But the most vital component to remember, is that fashion will never cease to exist (for as long as we're here, anyway). Gucci should have no trouble finding ways to keep themselves afloat on that front.
Threats
In spite of competition being a positive thing in business, having an extremely competitive segment can result in stinted market share growth for Gucci.
And of course, Gucci must remind themselves that they are not the only tiger in the jungle. Not by a long shot. There is a list of big-name brands that are either on par with or possibly bigger than Gucci. It contains, but isn't limited to: Christian Dior, Ralph Lauren, Burberry, Chanel, Prada, Louis Vuitton, Hugo Boss, Hermes, and Versace.
This means that product substitutions are easily available elsewhere, which is yet another potential setback for having a diversified product portfolio.
Since Gucci is a global brand, they are also susceptible to global price fluctuations, recessions, changes in taxation, and diminished cash flow, among other obstacles that face all globally-recognized entities.
Which potential future strategies could Gucci employ in their brand journalism?
In Gucci's case, it's more to do with taking what they have, and extending it elsewhere.
Because they already have a loyal consumer base and a focus primarily on lifestyle as their competitive advantage, Gucci should consider other avenues like cross cultural and cross national segmentations to maximize their strength. Globalization plays a pivotal role in segmenting, targeting and positioning, so Gucci should embrace the opportunity to extent to markets that are beginning to adapt to the same sort of values that they do.
As for "Gucci and Beyond," it definitely shouldn't be a one-and-done type deal. Gucci should make it an intrinsic part of their image, having elements of it carry over to their other online content. Namely, they could make the most out of their YouTube channel, by filming makeup/DIY tutorials, challenges, and other fun skits based on the campaign or parts of its aesthetic. It helps give them a more approachable vibe and encourages more active participation on the audience's part, especially where the younger demographic is concerned.