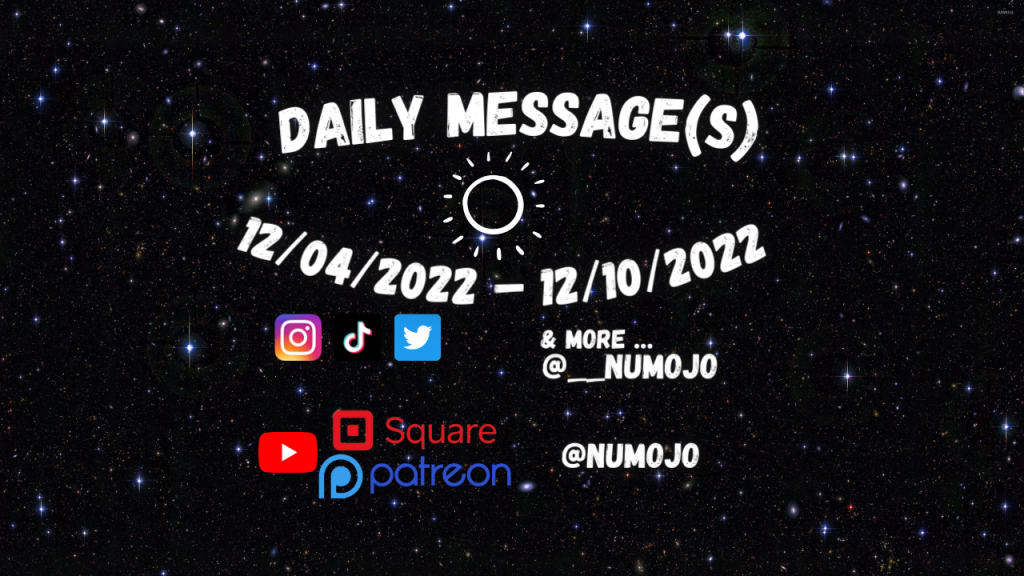 Sunday, Monday, Tuesday, Wednesday, Thursday, Friday, and Saturday
"Our days consist of many events. So, don't mind me. I'm just the messenger, & what I bring forth is just an aspect of what the universe has in store for you. Thus, mosey on & enjoy your days & lives, but don't forget to keep certain synchronicities in mind. Lastly, it's important to mention that a daily message may affect you for an extended period; Henceforth, accept it, & address it."
You stood up for yourself by stating the obvious or doing what was necessary. There is no need to feel ashamed or disappointed. Such is life. Learn from this. It is what was best. There are many hidden gems that the universe would like you to take away from this. For example, now you are opening up the passageway to make new and meaningful connections. This way, you get where you need to be without the hassle. With that said, make sure to uphold your morals and principles.
With the purest intent & the greatest love, do what you please.
Although you had doubts and questioned your emotions, the universe encouraged you to proceed anyway. For some, it even forced your hand. It is as if fear immobilized you, resulting in you subconsciously choosing to stay put. Yet, now that you have overcome that hurdle, it is time to take swift action. That way, you initiate the change you seek. Just remember to breathe and to do what is required. That will help you reach even higher.
Be careful, but feel what you feel. If anything, choose to heal.
If you must prioritize your wants and needs before others, especially at this point, you have got it all right. The universe is asking you to be a little selfish. This way, you associate yourself with the people, places, and things that correspond with oneself. Then, watch the magic happen. The abundance will flow like never before. Yet, this is what the universe had in store. You just had to step to the beat of your drum and get things done. Putting things off or placing them on the back burner will only delay your comfort and fun.
Accept who you are & what you feel; It will get you far.
Trusting what you sense and deciding to give something a little more time is wise. However, do not procrastinate too much, and at least do what you can. You may shock yourself with how impactful that can be. In the meantime, stop ruminating over the past. It will make it difficult for you to see your next step. Instead, develop your truth. Eventually, you will be more sure of what should stay and what you should cut loose.
Ponder on the truth, yet don't flounder.
You stuck around, and you found out. That is how the cookie crumbled. The universe needs you to accept that already. To begin with, the foundation was unstable. Moreover, someone or a group of people had ulterior and selfish motives. They painted a facade of wanting to support you. So, as previously stated, accept it. They will notice the wane once you have taken back the energy that you have given away. You will also feel more confident doing what others condemn. Who cares, though, right? You are going about it the right way if that is what the universe desires from you.
Have some faith in the unknown. However, don't be naive.
Some of you can expect a sudden and significant change in your life. It will need your immediate attention. Hence, do not disregard your heart and mind. Otherwise, you will make a foolish and impractical decision. Instead, choose what will offer you the most fun and room for growth. That way, you do not become bored and unmotivated to persist and put in the work. Why? Well, it will require lots of effort.

As an aside, for others, this can be an outstanding bill. So come up with a plan and address it.
Be grateful for what you have, & value it so that it last.
Has life been a little unfair lately? Well, point the finger at yourself; you permitted it. You did so by not being decisive and lacking some responsibility. Still, for those who have been nothing but upstanding, the universe intends to help. It will help by balancing out your karma. Then, you will receive what you have given. Thus, some will feel ecstatic, optimistic, and supported, whereas others will feel dissatisfaction, gloom, and rejection. All in all, in time, you can flip the script. So, how will you proceed from here on out?
Be firm with your decisions; you already know what you'd like to do.
"With all that said, thank you for the love & support! & If you are interested in more, such as the audio, a personal reading, or more content, check me out at: https://linktr.ee/NuMoJo."
Reader insights
Be the first to share your insights about this piece.
Add your insights