Daily Message(s) for 11/20/22 – 11/26/22
What does the universe have to say?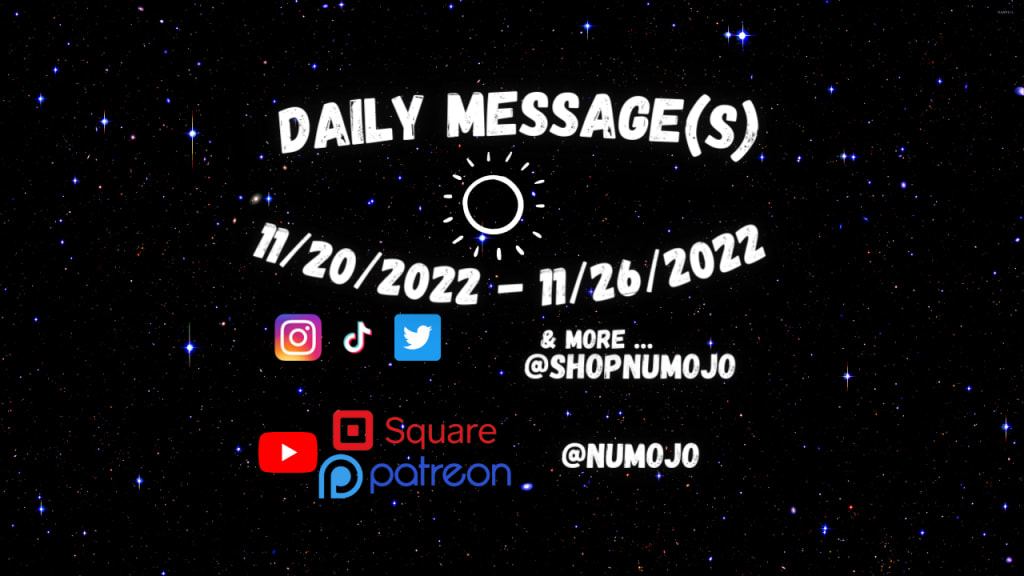 Sunday, Monday, Tuesday, Wednesday, Thursday, Friday, Saturday
"Our days consist of many events. So, don't mind me. I'm just the messenger, & what I bring forth is just an aspect of what the universe has in store for you. Thus, mosey on & enjoy your days & lives, but don't forget to keep certain synchronicities in mind. Lastly, it's important to mention that a daily message may affect you for an extended period; Henceforth, accept it, & address it."
Opting to give something more time is not the wisest choice. You are capable of a lot more than you think. If you doubt this, look at what you have accomplished thus far. So, get on your feet and face the facts. Once you do, you will find yourself on track toward whatever can fulfill the emptiness you sense. Just spread your wings and be willing to descend to ascend. That is how you will manifest what you intend.
With the purest intent & the greatest love, do what you please.
Pack it up, and do not look back! You gave it all you had, and it still was not enough. So, pick your head up and take care of yourself. This way, you remain grounded during turbulent times. Eventually, it will be smooth sailing, so do not let it surprise you. Just do not sweat the minor hiccups along the way. You can do so by trusting your own heart and intuition! Screw someone else's.
Be careful, but feel what you feel. If anything, choose to heal.
Your intuition is keen. Prevent others from dulling it and pushing you to shun it. Right now, you can manifest a miracle. So pay close attention. Also, be sharp and whimsical. It is time for you to make an effort, whether slowly or not. Therefore, find the perfect balance between hesitance and haste. As a result, you will find yourself moving forward and being more cautious. That way, you are more informed about whatever is in your heart.
Accept who you are & what you feel; It will get you far.
You are too precious to settle for anything less. Hence, reject the short end of the stick and continue doing what the divine has designed. Yes, you attract many inquisitors, but do not let that fool you; they are not visitors. They are just in awe of your passion and energy. They do not recognize its value. Honestly, they are most likely a little envious. With that said, believe it or not, the universe intends to rectify something that has plagued you.
Ponder on the truth, yet don't flounder.
There has to be a balance between give and take. Transparency also helps when things are at stake. However, this was just not the case. People did things in secret but also slyly lied. They were dead set on having or doing more than what was reasonable. So, simply put, they were selfish and unconcerned with how you would feel. Henceforth, be mindful of what you allow and trust. There is not enough evidence to go off.
Have some faith in the unknown. However, don't be naive.
Take your time! Being diligent and persistent will separate you from the crowd. Yet, be mindful of anyone who plans to give you feedback. If applied, it may set you a couple of steps back. So, listen, but do not take it in. You already have plenty on your plate, which you are managing quite nicely. Still, it is not easy, so I do not want you to overburden yourself. If so, the pressure you are already facing may cave in on you even more, ultimately crumbling your foundation.
Be grateful for what you have, & value it so that it last.
Do not abandon your ship! If the captain is absent, it will crash and perish. Your guides will only be able to help you miraculously avoid the abyss for a bit. Henceforth, find the purity within to take it inch by inch. Greed is not your friend. Greed will only result in a triumphant end. Yet within, you will find everything you need. Just seek, and you will see. Then, it will be up to you to attain the visions of glory entrusted to thee.
Be firm with your decisions; you already know what you'd like to do.
"With all that said, thank you for the love & support! & If you are interested in more, such as the audio, a personal reading, or more content, check me out at: https://linktr.ee/NuMoJo."