Customer experience is critical for food ordering and delivery businesses to grow
Food ordering and delivery software by Hyperzod
Food ordering and delivery through Hyperzod
"If you are not taking care of your customers, your competitors will." – Bob Hooey.
Customer behavior has evolved with advancements in technology. Customers now make their purchases through online modes like a website or an app rather than visiting a brick-and-mortar store.
According to research completed by eMarketer and Statista, online retail sales will reach $6.51 trillion by 2023.
With more purchases being made online and fierce competition in the market, companies need to make sure that they deliver the best customer experience in order to outperform rivals.
A good customer experience plays a positive role in the growth of a company. Similarly, a bad experience affects the company contrarily. Problem-solving products will take your company nowhere if the customer experience is poor.
Qualtrics XM Institute found that companies with the best customer experience ratings outperformed their industry peers' stock performance between 2019 and 2022 and doubled their lead over companies that provide poor customer experiences.
One such industry which gets most affected by the customer experience is the online food ordering and delivery industry. In this industry, the journey starts with the customer visiting an app or a website to place an order and ends with the delivery of the product. Every touchpoint in the process plays a critical role in deciding the future visit of a customer and thus, the business.
Improving customer experience in the entire ordering and delivery journey should be the priority of a company. It increases your regular customers and thereby, increases sales and profit.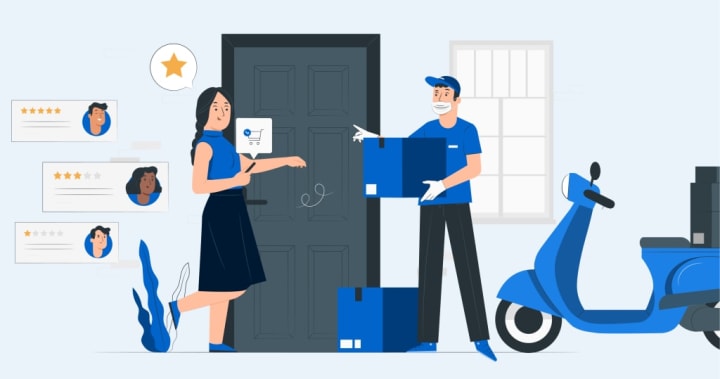 After discussing the importance of customer experience, let's find out the ways to improve the ordering and delivery journey of your customers:
1. Put yourself in the customer's shoes: Make someone close to you a customer and ask them to get deep into ordering and delivery service delivered by your business. Pay heed to their feedback and fix the loopholes before they are pointed out by your customers.
2. Take the negative feedback as an opportunity: You should be thankful to the customers who provide critical feedback for highlighting the problems they faced. This gives you an opportunity to make them feel special and improve their ordering and delivery journey.
3. Quick grievance redressal: The customers should be easily reachable to you. The food delivery apps and websites should have a live chat support option so that a customer can be in touch with your team in just a click. The problems being faced by the customers should be quickly addressed. Answering their queries in a polite and engaging manner improves the customer experience.
4. Minimum time delivery: Customers today hate to wait. Late deliveries drastically decrease the customer retention rate of a business because most customers who have a negative delivery experience tend to abandon a business rather than stay on. It is therefore of prime importance for food delivery businesses to deliver food in minutes to the customer since retaining freshness is the key to a positive customer experience. Thanks to the rapid progress in the IT industry that led to the development of food delivery software that ensures instant deliveries by bringing automation in the process.
5. Enhanced UI/UX: How will an order be placed from your restaurant if an ordering app crashes every time one signs in or doesn't have a payment gateway of the customer's choice? The customer will certainly switch to your rival who uses better food delivery software and app. The food delivery apps and website should provide a seamless journey to the customers. Attractive UI/UX keeps your customers engaged and retained which ultimately leads them to visit your food delivery app recurrently and order more.
6. Attractive discounts and offers: Add value to your customer's journey by smartly designing coupons and discounts. Offers and discounts make them happy and encourage them to buy more. Nowadays, your work has been made easier as the food delivery software comes with inbuilt tools that help you easily create attractive offers for your customers.
FINAL WORDS
The growth of a business cannot be imagined without the participation of its customers, and to attract these customers, an enriching shopping experience is essential.
Revenue in the online food delivery market is projected to reach US$0.77tn in 2022 and is expected to show an annual growth rate (CAGR 2022-2027) of 13.68%, resulting in a projected market volume of US$1.45tn by 2027. The number of customers is expected to amount to 2,644.2m users by 2027.
Make the most of the growing market by-
'Providing your customers with the delicacies they love and the experience they'll cherish.'
Reader insights
Be the first to share your insights about this piece.
Add your insights