Capricorn SZN, Time To Boss Up.
"Just another milestone."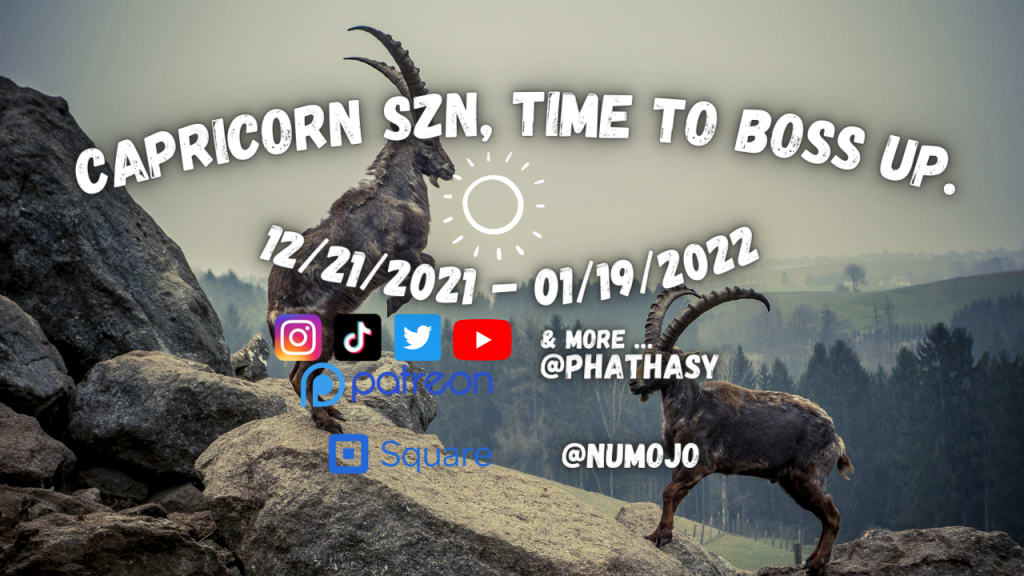 We're not giving up.
This Capricorn season, we've been focusing on bossing up. No more playing around; we're pulling our big boy/girl pants up. Why? Well, we need more clarity & we need real solutions. So, throughout, & for the remainder of Capricorn season, be hard at work. The universe will only reward those who are diligent & strikingly rational. Hence, being serious & disciplined is the way to go; this will encourage us, as individuals, to invest our time & energy into things that will surely & steadily grow.
Now, the universe challenges us daily. Some days more than others. Yet, this Capricorn season, the universe would like to add an extra dosage; meaning, it's more inclined to test our willpower during these times. & although many of us are facing heavy obstacles, you will triumph over them! This the universe is sure of, are you?
In any event, be a little less cruel to yourself. We all make mistakes, & we're all here to learn. We all have insecurities that arise & slow us down at inopportune times. Still & all, to function at our best, it's best to accept whatever it is the universe has revealed to us; but more importantly, to you!
It, aka the universe, needs you to believe in it. Otherwise, it'll have little to no faith in you. That being so, embrace radical & feasible change. It'll help you overcome, in some form, some way. Furthermore, with each & every single step taken, our dreams will seem a lot more possible. So, say goodbye to the old ways & familiarize yourself with the new way of doing things.
As a result, show the universe that you care. Being rigid will keep you stuck in something that's not fun. & as previously stated, if you fail to act, then hold yourself responsible for what comes to pass.
No matter what, thank you for the love & support! & If you're interested in more, such as a personal reading or more content, then here, click this link: https://linktr.ee/NuMoJo. At last, don't forget to check your Sun, Moon, & Rising sign (& if you know you know.) That'll give you even more insight! Other than that, tune in below.
Aries: Make a choice; you're not known for being indecisive. Once you do, your momentum will be unstoppable! Also, don't get caught up in any hype. All you must do is trust yourself. Your intuition will guide you through.
Taurus: The universe is preparing you for something big! Are you preparing along with it? If so, please get out of your head & get going! The distractions that you're entertaining are not benefitting you.
Gemini: Stop being fickle & stop looking back at the past. It is what it is. It's time for you to step out of your shell & move on. Show the universe that you're capable of caring for something that deserves it.
Cancer: Let go; it'll make space for something that suits you better. The world is your oyster, but there's something to be said about those that get greedy. Thus, don't get greedy & the gossip will remain at bay.
Leo: Maintaining your emotional stability & fulfilling it is the way to go. Be that as it may, the truth is necessary here & now. So, be honest with yourself & with those that you're around.
Virgo: You don't know if you should do/say something. All you know is that you want to fix something or leave it broken; you don't want to wonder about it. Hence, if anything, be mindful. Right now is a great time to heal & execute. That way, you elevate; no more getting yourself involved in low vibrational circumstances.
Libra: You're doing a lot of thinking & figuring out. But the truth is, you want to get out of your head & experience the real deal. So, don't be unwise & trust in the divine. Your time will come!
Scorpio: Being confused & not knowing which path to take is okay. However, disassociate yourself from anyone/thing that makes it difficult for you to think. You're trying to understand your purpose in this life.
Sagittarius: As of late, you may have been finding it a little difficult to trust. But as of now, it's wise to keep whatever it is that you have/value to yourself. Also, be mindful of your spending, & spend quality time at home or with loved ones.
Capricorn: As long as you're working & not caught up in your thoughts, you'll be fine. You'll end up finding a way. In all actuality, many of you will surprise yourselves with what you accomplish.
Aquarius: Hold on & continue to be strong. The universe is aware of the pressure weighing on your shoulders. So, conserve your energy & spare your finances. Your birthday season is right around the corner. Then, you'll have some to spend & some to invest; be smart.
Pisces: You have something that you love & adore, which makes it worth the effort. Don't allow others to make you feel otherwise. They don't have what you have, & that's why they do/say things to bash.
astronomy
About the author
Thank you for tuning in! I appreciate the luv, grand or small!
I offer more, such as personal readings & more content!
So here, check this link out! 🪄
Reader insights
Be the first to share your insights about this piece.
Add your insights