AI, psychopathy and success
Not all psychopaths are violent offenders, research confirms. Written with AI assistance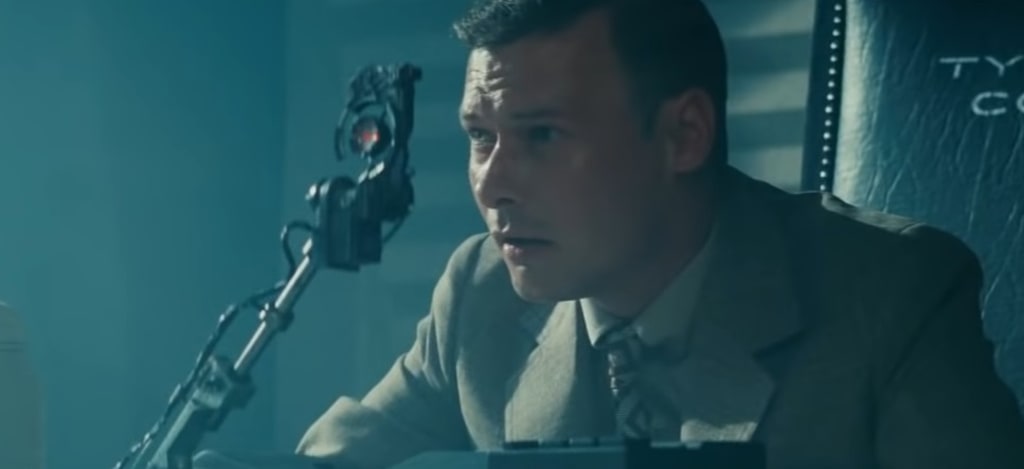 Voight-Kampff test scene from 1982 movie: Blade Runner, Warner Bros.
In the popular imagination a psychopath is a cruel and manipulative murderer, one who is cool, unfeeling and calculating in his desire to inflict suffering and pain. Characters like Hannibal the Cannibal spring to mind, or the real life American serial killer Jeffrey Dahmer. Yet not all psychopaths are killers, nor indeed violent offenders of any kind. Which is just as well when it has been estimated that between 1% and 4.5% of the general population qualify as psychopathic (Bing AI search result).
This article about one aspect of psychopathy has been written with the assistance of artificial intelligence. Microsoft's Bing AI application based on Open AI's GPT-4, to be precise. The article was written by me, not the AI, but I started the article off with a question fed into the Bing natural language interface, as part of my ongoing investigation into the usefulness (or otherwise) of this product. I have included the question and answer below for reference.
Although this article is about psychopathy, it is also partly about use of AI, demonstrating how AI search, using natural language processing, can assist with academic research. Not only that, the research done for this article will also help contribute to the writing of my next novel, a story in which AI is, in a sense, the main character. All in all, I like to make the most of any research I do, and recycle the results. Whether you read this article to help understand psychopathy, whether you are interested in my ongoing series on AI, or any fiction I write as a consequence of this work, please let me know what you think. I am really interested in discussing the current generation of AI products, particularly from the point of view of an author or other creative.
Some years ago I read a series of books about the clinical nature and presentation of psychopathy. Reviews of these books were published in the Prison Service Journal (issue 209). One aspect of this learning was the presentation of psychopathic features among those who were not violent and had not committed (at the time of diagnosis) any criminal offence. I was so intrigued by this idea of non-violent psychopaths that I later wrote a 100-word micro story based on the report of a case study I read about a woman who had been diagnosed as a psychopath. The story is published here: Insatiable.
Psychopathy is generally viewed as a personality disorder defined by a cluster of interpersonal, affective, lifestyle, and antisocial traits and behaviors. These include grandiosity, egocentricity, deceptiveness, shallow affect (emotions), lack of empathy or remorse, irresponsibility, impulsivity, and a tendency to violate social norms. This definition comes from an article by two academics Robert Hare and Craig Neumann, 'Psychopathy: Assessment and Forensic Implications'. I know this because Bing AI provided the definition and a reference to the article, thus demonstrating that AI is not all about stealing but can be used as a simple research tool, identifying relevant articles. If you want to read this article, which I would highly recommend, it is available free and online. Just do a simple search. I have included the exact search term and results in the image below.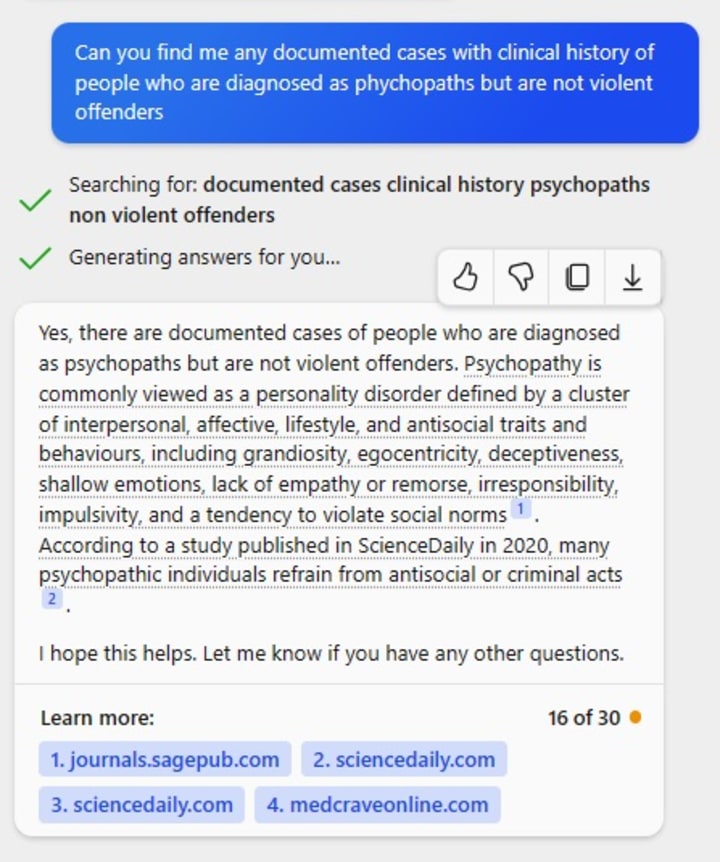 You can clearly see that both quotes included in the AI response are credited, again demonstrating that there is no intention on the part of Bing AI to represent any copyright work as its own. Neither would I wish to do this, hence I have acknowledged Bing as well as the authors, as the source. As it happens, I could have given my own definition had I wanted to, which from my past learning would have been as accurate and very similar to the one above. My reason for quoting Hare and Neumann is that they are both leading academics in the study of psychopathy and so their definition carries more weight than mine. That is how academic research works.
The second quote is the one that interests me most and is relevant to this article. "According to a study published in ScienceDaily in 2020, many psychopathic individuals refrain from antisocial or criminal acts" (science daily.com )
Psychopathy is widely recognized as a risk factor for violent behavior, but many psychopathic individuals refrain from antisocial or criminal acts, say researchers. Understanding what leads these psychopaths to be successful rather than violent offenders is less well understood.
Researchers at Virginia Commonwealth University are looking to throw light on the mechanisms underlying the formation of what they call the 'successful phenotype'. Their study shows that some psychopaths may be better at inhibiting violent and anti-social impulses than others." Although we don't know exactly what precipitates this increase in conscientious impulse control over time," says lead researcher Emily Lasko, "we do know that this does occur for individuals high in certain psychopathy traits who have been relatively more 'successful' than their peers."
When describing certain psychopathic individuals as 'successful' versus 'unsuccessful,' the researchers refer to 'life trajectories' or 'outcomes'. A 'successful' psychopath, for example, might be a CEO or lawyer high in psychopathic traits, whereas an 'unsuccessful' psychopath might have those same traits but be convicted of an offence and end up in prison.
The study tests a compensatory model of 'successful' psychopathy, which theorizes that relatively 'successful' psychopathic individuals develop greater conscientious traits that serve to inhibit their heightened antisocial impulses.
"The compensatory model posits that people higher in certain psychopathic traits (such as grandiosity and manipulation) are able to compensate for and overcome, to some extent, their antisocial impulses via increases in trait conscientiousness, specifically impulse control," Lasko says. I have included a full academic reference to the report at the end of this article.
Returning to the issue of use of AI and research, I have found that using Bing AI is pretty much like using any search engine but with a number of additional benefits:
Use of natural language in asking the question and getting an answer. Seems a lot friendlier and easier than thinking up appropriate keywords. The interface also allows for typographical and other errors within reason
Results are compiled into a single answer which can take the form of a textual and contextual paragraph or two, which answers the question rather than just linking sources
Sources are provided, including links, often additional contextual information. There is no apparent aim of lifting content without attribution. As an author, I find this comforting to know.
If you would like to read more of my articles investigating the use of AI in researching and writing fiction and non-fiction, please take a look at
Check out some of my fictional short stories
Lasko, E. N., & Chester, D. S. (2021), 'What Makes a 'Successful' Psychopath? Longitudinal Trajectories of Offenders' Antisocial Behavior and Impulse Control as a Function of Psychopathy,' in Personality Disorders: Theory, Research, and Treatment, 2021, 12(3), 207–215. https://doi.org/10.1037/per0000421
Thanks for reading! Please leave comments below
Ray
About the Creator
Author based in Kent, England. A writer of fictional short stories in a wide range of genres, he has been a non-fiction writer since the 1980s. Non-fiction subjects include art, history, technology, business, law, and the human condition.
Reader insights
Be the first to share your insights about this piece.
Add your insights