A Piper at the Gates
Book 1 of The Children of Hamelin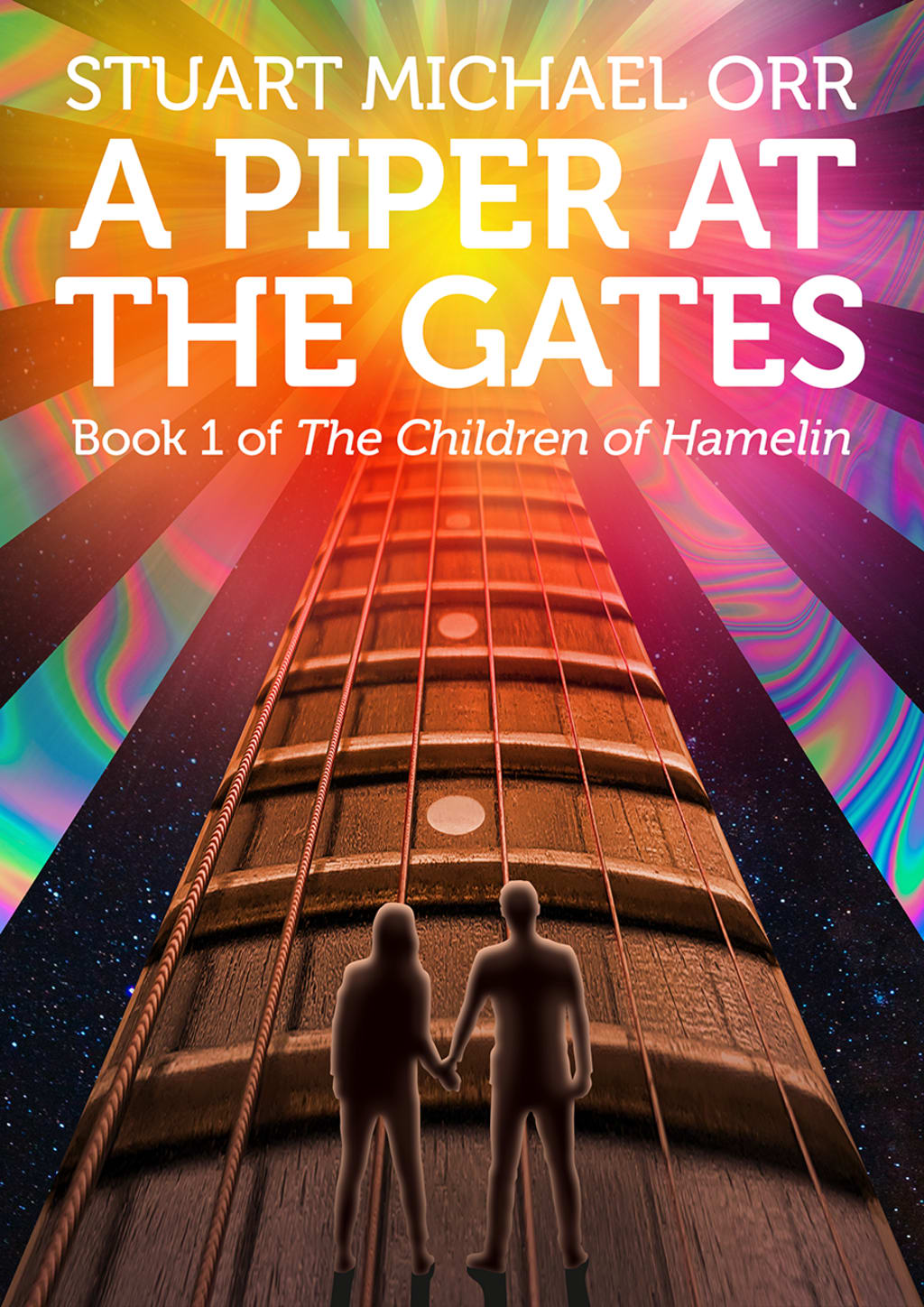 Nobody can hear a scream in the vacuum of space, or so they say. But what about a song?
The airlock door was cold to the touch, yet it hummed with a harmony of machines, footsteps and voices, the complex vibration of the life he was leaving.
"Airlock doors will open in FIVE…"
Jack knew the frozen void was deadly.
"…FOUR…"
All his life he'd learned to fear it.
"…THREE…"
Now he was leaping into it…
"…TWO…"
..without a suit.
"…ONE. Doors opening."
Silence flooded the airlock and washed him out into the dark.
He remembered his training. Don't hold your breath, cadet. The lack of pressure will burst your lungs. One long slow exhalation. Fifteen seconds was the record anyone had lasted until blackout. And paralysis. Then it was only a matter of minutes before the body froze and that was that.
No more Jack.
No more music.
No more yearning thoughts of Lucy.
Twisting, tumbling in slow motion through the fathomless black, the boy pursed his lips, and with the last breath left in his lungs, he whistled.
* * *
Forty days and forty nights before Jack would take that fateful step, he fell from a nightmare, down into the tangled blankets on his bed, crying, 'Uroun!'
He sat up in the darkness and rubbed his arms against the cold. In climate-controlled bedrooms just like his aboard The Hamelin, and all the ships of The Fleet, cadets just like him would now be rising with that same word on their lips.
Uroun.
He pictured them readying themselves with flexes and stretches in preparation for whatever challenges the day might bring. They were all fifteen now. This morning was the first day of the most important year of their lives, the year their roles in The Fleet would be decided. Communications. Medicine. Engineering. Food Tech. They were for the elite. Failing that, there was always Maintenance.
To everyone a place. To everyone a mission.
But Jack knew there was no branch in The Fleet where his skill would be valued. There was no exam for what he excelled in.
Cool air from the vent above the bed blew across his sweaty neck.
With a shiver, Jack kicked off the blankets and left his room.
He kept the lights of the living room off. He didn't need them. He knew every inch of his family's tiny world. Depending on where you stood, the ship's drone echoed differently. To his right, he heard the engines rattle softly through the polished metal surfaces of the kitchenette. To his left the sound was warmer, muffled by the couch, the carpet and the bookshelf. Between them was their cabin's one window, and beyond that, the stars.
He stepped silently across the carpet, crouched by the portal, and slowly lifted the shutter to admit the faint glow of starlight. Through the abysmal black of deep space, this light had traveled thousands, millions, billions of years to reach him. Through the dark outline on the glass of his slender shoulders and raven-black mane of hair, they shimmered: so many worlds, so many possibilities.
But only one destination: Uroun.
Ting!
A message appeared on the vidwall. It was a note from his mother and father. Jack tapped the screen and read their words glowing coldly in regulation blue font, 'Happy birthday, Jack. We're sorry we couldn't see you off to Induction this morning. There's a fleet-wide alert on but nothing to worry about. We'll see you this evening and you can tell us about your first day. Stand strong. Listen well. Make friends. We love you.'
Jack could tell his mother had written most of it and added 'Make friends' to soften his father's 'Stand strong. Listen well.'
He didn't mind that they weren't there. Birthdays didn't matter so much when everyone turned another year older on the same day. It was his parents' birthday too. But even if they'd wanted to, they couldn't take a moment away from their responsibilities to celebrate. His mother, Xinjuan, was an engineer, supervising the operation of the algae farms that fed all ten thousand of their ship's crew. Michael, his father, was a Communications Officer, a 'Net-Cop', overseeing the children of HMAS Hamelin as they studied and played in the online worlds of School and Sandbox.
Though Australia had been a small nation, its starship, The Hamelin, had pride of place in The Fleet. After all, it was an Australian, the tech-wizard Theodore Hamelin, who had invented The Gravity Shower. Life on board would be impossible without it. Through its interface, the children could escape their cramped cabins and enter an online world they could not only see and hear, but feel. In there, their muscles could flex, their sinews could stretch, their hearts pump from real exertion. Suspended in the Shower's well of vibrating atoms, they could do more than imagine they were an eagle soaring over the gameworld, they could feel each fine, strong feather slice through the wind.
Outside their parents' cabins, there was no room for play – no parks, no paths or promenades - and no child was permitted to step beyond those four walls until they graduated. Until that day, The Gravity Shower ensured that childhood was not a cramped and boring prison term. And every day their parents and teachers assured them that the years spent learning and playing in there would be the very best of their lives.
Yet Jack Voyager 1 spent as little time online as he could. He didn't hang out in the Network Clubs posing for selfies or trading insults and gossip. He didn't race or chase or kill in Dragon Quest or Gangstar's Paradise or any of the thousands of Sandbox games.
To Jack, his cabin was not the prison, his Gravity Shower was.
The first time he stepped into it - his first Induction Day - he was five. He had not seen other children before, except on the vidwall. But here they were, together at last, looking back at one another's avatars, only slightly enhanced by their proud and fearful parents. Immediately, an irregularity in Jack's heartbeat was detected by the Shower's diagnostic resonator. All through The Admiral's speech, little alarms had sounded in his ears and yellow triangles with angry black exclamation marks had appeared all about his avatar. Everywhere he moved he jangled, as though he wore a jester's costume covered with loud golden bells.
Later, the ship's doctor had assured him and his parents that his heart's irregular beat was nothing to worry about - just a harmless genetic abnormality. His Shower had been reprogrammed not to embarrass him with any more alerts next time his heart skipped a beat.
But the damage was already done and the memory of School and Sandbox was long. Jack the Joke, Jester Jack, Jangling Jack or just plain Jangles; from that day he was marked for life.
Since then, every day, all day at School, he kept his eyes on his work, his breath held tightly in his chest. He never spoke unless it was absolutely necessary. He barely moved lest the wild drummer at the heart of his private orchestra break out into a solo.
Even now, he could hear the eccentric rhythm echoing in his chest. It counted four normal pulses and then tripped out several that were completely out of time, and then returned to a regular count of four, followed by a quick triple count, and on, and on, as though inside his chest there marched a column of soldiers who every few paces stepped out of formation to dance a jig.
Each day, as soon as School was over, Jack logged out and let the drummer loose. He put on his parents' records and sang and danced to 'the classics', echoes of the world they had left behind: Jimi Hendrix, Pink Floyd, Billy Holiday. These legends were his friends. These musicians knew all about how Jack felt. They said so with their guitars and drums, their trumpets and keyboards, their tender yet mighty voices and their wise, rhyming words.
Sometimes, when Jack was feeling especially blue, he sang wordless harmonies of his own: rising, falling, streams of sound, like the warbling of birdsong. He wondered when the day would come that he would fill these melodies with lyrics of his own. He did not know yet what he wanted to say, or who would listen when he did. But he knew he could not keep it in much longer. He was a Jack-in-the-box. Every hour spent in School turned the handle, wound the spring tighter, and tighter.
He did not want to face another Induction Day. He wanted to stay beside the window and feel the rising, falling, oceanic swell of engines and the impatient tapping of his heart.
He wanted to find his song.
He looked out into the stars and listened.
His mind reached into the void.
His heart slowed, drummer waiting for a melody.
Then, for a moment, he sensed a tingle, a whiff, a snatch of music. It rose out of nothing like a signal from radio static, or laughter heard from another room.
Or a memory.
Ting.
Another alert. The bell for First Period.
Jack growled and listened closer to the night. He pressed his ear to the chill glass, but the song was gone.
Ting. Ting. Ting.
At first, the high ping of the school alert rang as pleasantly as a church bell. It sounded like a summons to the higher things in life: an education in Science, History and Mathematics.
Jack ignored it.
Then the bell grew louder and sharper.
Tang. Tang. Tang.
Jack let it ring.
TONGTONGTONG.
On and on, louder and louder, the gong clanged through his family's cell. It shuddered and boomed off the windowpane. It rattled the bowls and plates on the shelves. It reached right into Jack's skull and banged on it until he could not even remember a single note of song. Finally, gripping his head, he stumbled towards the only place in the cabin where he could find relief from that awful siren.
Jack obeyed the call, zipped up his suit, and climbed into The Shower.
* * *
Lucy opened her eyes and held her breath. In the space between dream and wakefulness something lurked, like a crouching tiger, or a circling shark. She gaped her eyelids, willing her retinas open so she could see. There, in the corner, next to her door, a coiled body breathed.
'Mum?'
How long had she been there? Her shift had finished soon after Lucy's sleep period began. She could have been there all night, waiting for her daughter to wake, wondering what drill to spring upon her.
'Get up, Lucinda,' her mother intoned.
Lieutenant Commander Hannah Gemini only called her daughter that when she meant to frighten her. Lucy clenched her stomach, balled her fingers into fists.
'You've slept long enough, my girl.'
'It's Induction Day, mum,' Lucy started. 'Our birthday.'
'So?' asked the shadow in the corner. 'Will a celebration stop a meteor shower ripping through the hull? Will a date on the calendar keep the life support running?'
'No,' her daughter replied, 'but I need to be sharp for School. I want to make a good start.'
'This is your good start. On your feet!'
Her mother lunged across the room. Lucy slid out from under her, over the edge of the bed. Hannah flung Lucy's blanket over her like a net and tackled her daughter to the ground.
'You think marks are all you need to survive in this world?' She seethed through the fabric. 'Do you know how many people get a promotion one day, only to get kicked down an elevator shaft the next by a crewman who wanted that same job?'
Lucy writhed under the blanket, trying to shift her mother's weight from her shoulders. She reached through the folds and grabbed Hannah's wrist. It was like touching a live wire. A fatal current of fear and anger tremored under the skin.
'Do you know how many of your classmates aren't their father's children, whose mothers were too weak to fight off a troll from Maintenance, or a snake from Admiralty?'
Lucy didn't answer. She moved her grip up her mother's arm to her shoulder.
'Now fight, Lucy. Fight!'
Lucy made her fingers rigid and stabbed up at her mother's throat. The woman gasped in shock and pain and fell backwards. Lucy rolled out from under her and in the same motion wrapped the blanket around her mother's neck, and twisted it.
Hannah's hands rose to her daughter's cheeks. But she did not tap out. Her fingers remained still, as though this were the only embrace she could bear. Lucy let go and her mother fell forward on all fours, coughing and spitting. Lucy stared at her. She dare not touch her or ask if she was alright. Her concern would only be mocked, and that hurt more than punches.
Gradually, Hannah gained her breath and sat back against the bed. She pulled her sweat-slick hair away from her face to reveal a smile. She pointed at her daughter. 'That's the spirit,' she said.
Ting.
The first bell. Mother and daughter both looked at the door to Lucy's Gravity Shower. Hannah rose to retrieve a fresh cadet suit from the wardrobe and handed it to her daughter. Lucy took it in silence and began to change. Silently, her mother watched her, saying nothing about the old yellow bruises on her daughter's wrists and shoulders, or the fresh red marks on the small of her back. But as Lucy zipped her uniform up to her chin and turned to enter the black chamber of the Shower, Hannah caught Lucy's hand and squeezed it.
'Give em hell, Luce,' she said.
Lucy did not reply. She did not look back. She bore her tears boldly into the darkness.
About the Creator
I'm mostly a science fiction writer who wishes he were a musician, so my work is almost always speculative and either features music as a theme, a plot imperative, or - and this is my most fervent wish - sings through the language.
Reader insights
Outstanding
Excellent work. Looking forward to reading more!
Top insights
Easy to read and follow

Well-structured & engaging content

Excellent storytelling

Original narrative & well developed characters

On-point and relevant

Writing reflected the title & theme
Compelling and original writing

Creative use of language & vocab

Expert insights and opinions

Arguments were carefully researched and presented

Heartfelt and relatable

The story invoked strong personal emotions

Masterful proofreading

Zero grammar & spelling mistakes
Add your insights