Why 'Whipped' is a Work of Art
Whipped is a little-known pilot episode of a YouTube show that never really took off, but definitely deserved to.
Where to even begin?
The Story
Whipped follows a young man called Nathan who takes up a new job in an "adult" shop in London appropriately named "Hell." You follow him from his first day to his uncomfortable acceptance of the latex-wrapped kink machine and his workmate "Leonard Spinks."
*Spoilers Below*
Through this, we find out why Nathan has taken up a job that presents such a challenge to him. His girlfriend, Kate (not me) is cheating on him with Mike, a submissive, unshaven, long-haired man with a liking for role play, which "Mistress Kate" (again, not me) is more than happy to provide, when Nathan is out, of course.
One day, Nathan forgets his wallet and returns home to find a masked, collared, restrained Mike and Mistress Kate brandishing a cat-o'nine-tails on their bed.
Kate gives him an ultimatum, get a job and spice things up in the bedroom or she's gone. So, Nathan decides to kill two birds with one stone, seeking employment in a sex shop.
Unfortunately, takes a while for him to get used to the place and the people who work there, resulting in a fantastic comedy piece.
The Characters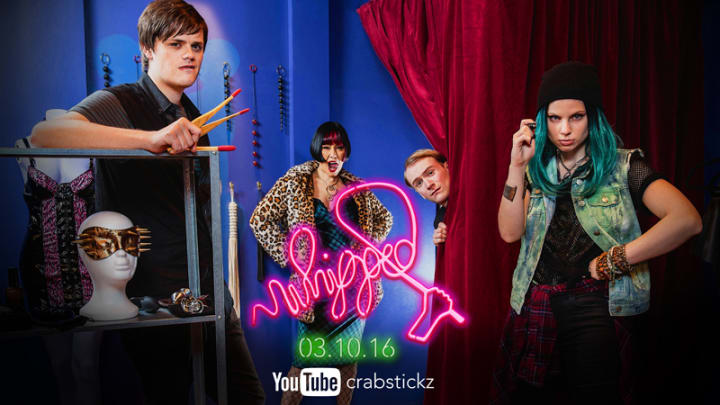 The "boss-lady" is called Crystal, played by Saffron Sprackling (a singer/songwriter). She is a no-nonsense employer with a drive to bring the shop to a more modern, mainstream establishment due to the lack of customers. An ex-porn star (Leonard finds this fact particularly amusing), she uses her ex-fame to lord over everyone else in the shop. Constantly referencing her many "movie" posters in her office to prove her points.
Leonard Spinx is the immature assistant manager at "Hell" (played by Chris Kendall, the creator of the series) he has a colourful personality that he is seemingly unaware of. Given the job to train Nathan, he must introduce him to all the wonders this shop has to offer while tending to customers and offering Nathan his best relationship advice. He is definitely a likeable character with plenty of cracking one liners.
Nathan Gust (played by William Sebag-Montefiore) is a traditionally romantic fellow with an apparent phobia of anything sexual. His reluctance to learn paired with Leonard's enthusiasm to share makes for comedy gold.
Kate is Nathan's (ex?) girlfriend (played by Harriet Green). She puts on the act of a traditional romantic but is, in her heart, a seasoned dominatrix...
India (played by Annabel Bates) is a tattoo artist that rents the pavement outside "Hell" to run her almost non-existent business. She and Leonard are good friends while she and Crystal have a difficult conversation (don't worry Crystal is well able to deal with her).
There are a few other characters with killer roles but not too much screen time.
The Flawless Comedy
I'm not going to give too much away but the comedy in Whipped is amazing. There's a perfect balance of situational comedy, sarcasm, one-liners and visual gags that add up to make an episode with something for everyone.
The comedy extends to every corner of this episode, without overloading it, a rare skill in writing.
The 'Toys'
"Hell" is home to a lot of... objects. Some of these are well known while some are... more exotic. If it interests you, Chris Kendall made a few videos on a few of them (below). In these videos, the actors are in character, showcasing the object with a, somehow, straight face.
In conclusion, Whipped was a brilliant pilot episode and the series deserves to continue so long as the comedy and characters are written as well as they are in this.
Scroll up and watch it already!