Why Sustain Natural's Feminine Products are Worth the Price Despite Questionable Health Claims
Some of Sustain's health claims don't quite add up, but their prices sure do. Do their successes in environmental and social responsibility outweigh the misinformation and the price tag?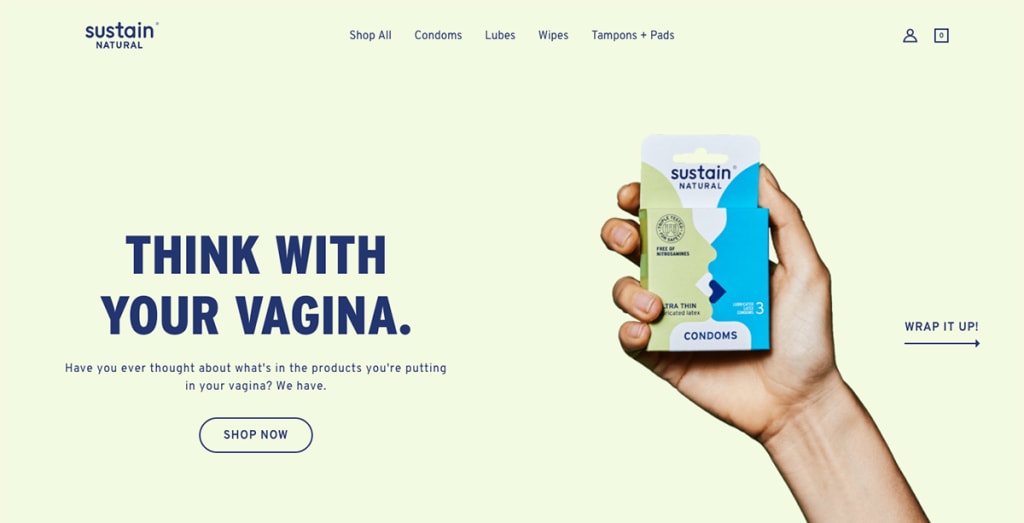 Credit: Sustain Natural
Father-daughter duo Jeffrey and Meika Hollander founded Sustain Natural with a mission: to advocate for sexual and reproductive health while reducing the environmental footprint typical of health and beauty companies to promote a better, safer world for anyone with a vagina. The company started by creating condoms, lubricant, "post-play wipes," lip and body balms, massage oil, and body washes, adding a line of period products on May 22, 2017.
The brand advertises health benefits of their products as well as sustainability. It seems that the corporation is in good hands, as Jeffrey Hollander was also involved in founding sustainable cleaning and personal care company Seventh Generation; however, some of Sustain's health claims don't quite add up. Their prices sure do, though — but do their successes in environmental and social responsibility outweigh the misinformation and the price tag?
Health Claims
Sustain labels its products safer and more "vagina-friendly" than conventional options. The brand's condoms are made of latex (as most are), which helps prevent transmission of STIs and more serious diseases like HIV/AIDS. What sets Sustain apart starts with their dedication to using fewer of these latex proteins for those who may experience allergic reactions. Like Sustain's other products, their condoms are free of fragrances, flavors, and odor-masking agents that may cause irritation, but not much else.
Things get a little blurry, though, when the company proudly reports that its condoms are also free of nitrosamines. While a study showed these chemical compounds leading to cancer in Syrian hamsters, condoms don't contain sufficient amounts of them to cause adverse effects. Nitrosamines are even found in other objects such as "balloons, gloves, baby bottle nipples, and pacifiers, as well as in some processed meats such as hot dogs and cooked bacon, some types of cheese, drinking water, and tobacco smoke." Still, the World Health Organization proposed limitations to the amount of nitrosamines in condoms, and a study funded by Sustain in 2014 argues that "While the detectable level of nitrosamines in condoms is lower than those found in food, water, and other consumer goods — and does not diminish the health benefits, efficacy, and safety of condoms — their presence is unnecessary and may contribute to our overall exposure to these chemicals. Since nitrosamines can be readily removed from the condom manufacturing process — and several types of condoms are already available that do not leach nitrosamines — condoms without detectable levels of nitrosamines should be the new norm."
While it may not be an added benefit to remove them, it can't hurt.
What does hurt, though, is the brand's alarmism. Despite lack of certainty on the health risks, Sustain petitioned for the F.D.A. to ban nitrosamines from condoms and posted a video about the perceived dangers of the chemicals, dramatically titled "Are Condoms Killing You." Sustain advocates for using "a condom — any condom" despite the risks they mention, but it's not good practice to raise any unfounded concerns about something so vital for the prevention of STIs or unwanted pregnancy.
The health benefits are a little clearer when it comes to their lubricant, a product important to many for the added comfort it provides. What some don't know, though, is that using lube can also help reduce the likelihood of a condom breaking. Sustain does know this, and their lube is all aloe-based. Aloe- and water-based lubes are among the safest for use with condoms because oil-based varieties can actually cause breakage. Their lube is free of petroleum, which may cause an infection called bacterial vaginosis, and of propylene glycol, a chemical that is generally considered safe but may run a small risk of irritation after frequent use for some individuals. It's also unscented, meaning it contains no added fragrances to which some people may have allergies or sensitivities.
Sustain's products don't contain any glycerin, either, a sugar alcohol that Sustain says promotes yeast infections. It very well may, though it's not explicitly listed as a cause by most credible health sources. Whether or not it causes the infection, glycerin is sometimes made from animal fat; therefore, removing it is also a part of Sustain's pledge to remain cruelty-free and vegan.
You also won't find any parabens, though there is little information available regarding the impact of these common preservatives on human health. The FDA is currently researching them with plans to inform the public about any negative effects found. Again, there's no evidence that they're dangerous, but avoiding them may be a good idea until scientific studies can definitively determine otherwise.
The brand also sells body wash and cleaning wipes specially made to avoid disrupting the natural pH of the vagina, something that many soaps and beauty products can do, especially scented varieties. Similarly, their hypoallergenic pads, tampons, and liners, made solely from unbleached cotton, are free of fragrance, rayon, dyes, and anything synthetic. All Sustain products are certified non-GMO, though that's not necessary: GMOs (genetically modified organisms) pose no health risks.
Some of Sustain's health claims are a bit hyperbolic, but the only real downside to the products is that they tend to be much pricier: a 36-condom box of Trojan Ultra Thins costs $13.75, around 39 cents for each condom, while a ten-pack of Sustain's are $13.99 — about $1.39 per condom.
Environmental Impact & Ethical Responsibility
Though not all of the health claims are entirely accurate and the alarmism isn't quite respectable, Sustain's reduced impact on the environment is definitely worth attention and support. The products are certified vegan by the Vegan Awareness Foundation, whereas most conventional condoms contain the dairy product casein. The entire business is certified cruelty-free as well, and the applicators of their tampons are reportedly biodegradable. This is an incredible precedent to set because approximately 20 billion pads, tampons, and applicators are sent to North American landfills annually. These products require hundreds of years to biodegrade, particularly if packaged in plastic. In fact, every piece of plastic ever made still exists to this day.
Their amazing environmental awareness doesn't stop there: Sustain is also certified by nonprofit organizations like Forest Stewardship Council, a group that advocates for responsible forest management. Their factory is even solar-powered, a huge step in the right direction.
They are also more socially and ethically responsible than most similar companies, receiving a score of 106 out of a possible 200 from B Corporation, a nonprofit that says it is "to business what Fair Trade is to food" because it requires "for-profit companies certified by the nonprofit B Lab to meet rigorous standards of social and environmental performance, accountability, and transparency." Businesses need a score of 80 to qualify for certification. The group says of Sustain,
"Sustain's latex comes from a Fair Trade Certified, environmentally sustainable rubber tree plantation … meaning the health of the soil and biodiversity of the land are as safe as the people who work it. Beyond banning child labor and paying reasonable wages, the plantation provides education and healthcare to the entire community."
In fact, all of Sustain's products are certified Fair Trade, and their condoms Fair Rubber, highlighting the company's dedication to human rights and the environment. As Sustain puts it, "The rubber industry is known to have a sordid history of abusive practices, and the current influx of new plantations are bulldozing indigenous cultures out of existence as the price of rubber rises. We're happy that our plantation is the polar opposite, a bright [spot] of hope and possibility."
None of their products contain rayon, either, a textile fiber made controversial due to one of its components, the harmful chemical carbon disulfide. While wearing rayon doesn't hurt you, its production poses serious health risks to textile workers and has a negative impact on the environment: it's "chemical-heavy in the fiberspinning phase. It also requires extensive resources at the dyeing mill." Sustain also avoids the use of dyes, as the process of dyeing clothing and other materials typically involves overusing water and sometimes leads to untreated wastewater in local streams and rivers.
When it comes to female empowerment, Sustain is a rising queen. The corporation's "10 Percent for Women" program donates 10% of the company's profits to support access to reproductive and menstrual health products to the 20 million in the U.S. who may not have it. They've also teamed up with Period Equity, a group emerging later this year as "a law and policy institute dedicated to advancing menstrual access, equity and safety in the U.S." A major goal will be to remove the gender-biased certification of period products as "nonessential" items, which would subsequently remove the sales tax for these items -- what activists call the "tampon tax."
Recently, just before the launch of their period product line, the Hollanders promised to match the money from sales tax on these items during the first month of sale to make a donation to Girls Helping Girls. Period., a nonprofit organization "which helps low-income women in this country access menstrual hygiene products [while] educating people about this need, particularly among girls and women who are missing school and work because they can't afford basic necessities like tampons and pads, compromising their health, productivity and dignity."
Overall, Sustain Naturals would embody a perfect company if they ironed out the issues with alarmist language about unproven dangers. It's a weak ploy for attention, but the other business and manufacturing practices that this company stands for are worth every extra dollar consumers would have to spend to buy the products. By supporting Sustain, consumers will encourage other businesses to emulate the brand's responsible, ethical production practices and prioritize sexual and reproductive health for women and girls. The price tag is understandable due to all the steps Sustain has to take to ensure ethical and social responsibility, but sadly makes their items unaffordable for many.
Just remember that if these products aren't practical for you, any condom is better than no condom at all to prevent pregnancy and STIs. As Sustain's website itself says,
"Oh and P.S.: None of the above should ever stop anyone from using a condom — any condom — in the heat of the moment. Ever. Any condom is far preferable to no condom. So #wrapitup."