Vianna Summers, and friends.
erotic short stories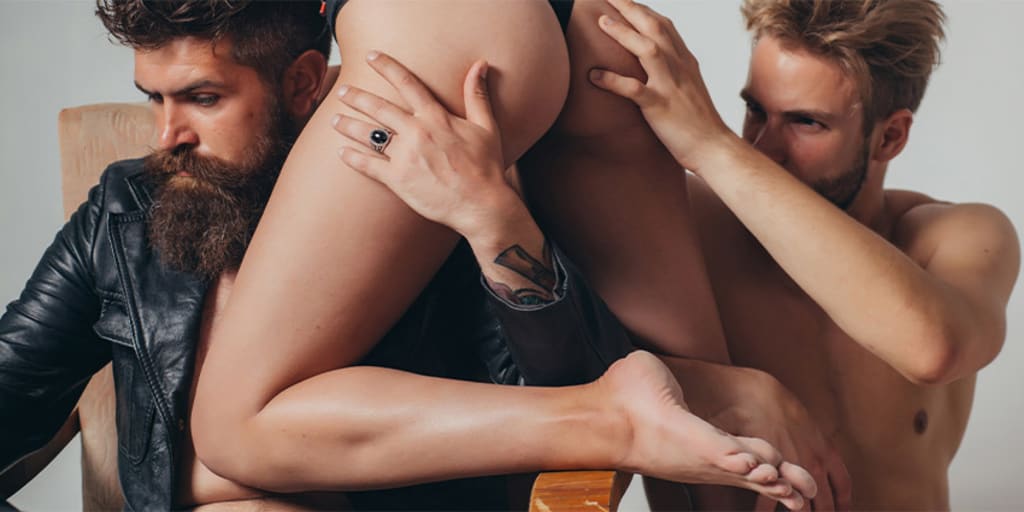 When Rick and Amy had told Adam they had a surprise for him on his 25th birthday, he had no idea what they planned. When Rick locked the door, and Amy sat with her legs resting atop Adam's thigh as hers were tightly held together. Playing with her long blonde hair as girls tend to do with their nervous energy.
He clued in. This was about to be of sexual nature.
Good.
Rick took his spot on Adam's side and guided his hands to the leather cuff restraints attached to the headboard. While he did them up like a pro, Amy rubbed her hands across Adam's chest and abs, pressing deep and slightly grinding herself on his crotch.
Rick moved further down and took over rubbing Adam's chest, now dipping under his shirt, as Amy started undoing his pants. Rick pulled the fabric up as high as he could without moving anyone, and let his tongue swipe over the nipples that soon hardened.
Amy pressed her fingers against Adam's dick, which reacted under the thin fabric of his drawers. She pulled the material aside as he started sighing from Rick's tongue.
His dick hardened enough that it stood up, and she took him in her mouth gently. Her own tongue circled his sensitive skin as he grew within her.
When he was moaning, Rick pulled her back, and they switched spots. Her tongue and gorgeous lips now teased and toyed with his nipples, and Rick used his mouth and hand to make Adam's dick throb and harden to its fullest extent.
They switched again, Rick using his gentle fingers to tease the tips of Adam's nipples, occasionally bending forward to nip and kiss his neck. While Amy used her hand expertly on his shaft, now started caressing his balls.
Adam gasped and tried to keep his breathing calm as her hands lightly tickled his balls. It felt amazing, but it was also his most sensitive area.
Her fingers kept a firm pressure, but every now and then she'd let them brush over his skin like a feather and he'd jump a little.
For a moment he wanted to be out of the restraints and to play with her in return. Such soft skin, and making her cum over and over was sight to see.
When they switched again, Rick took him in his mouth with fevor and Adam moaned with gusto. Amy sat back for a moment and was playing with herself whether she realized it or not. Rick paused and stroked Adam into a state for a moment, then he asked Amy, "are you on birth control right now?"
She looked confused for a moment but said yes.
He grinned and sat on top of Adam, below his crotch. He reached for Amy and brought her into his arms, then quickly used another wrist restraint on her while she smiled at his idea.
When she was snug and unable to move her arms, he straddled her over Adam's waiting dick, the wetness of her vagina clear from the sounds Rick was already making inside her. His fingers made sure she was ready for a dick.
Then, he positioned her, and she slid herself down on Adam until she took him all the way. He thrust against her and she moaned as Rick played with her clit from behind.
Her moans grew and Rick had started gently moving her up and down until they were both close. Then, when he could tell they had about 10 seconds each before they came. He pushed down on Amy thighs, and Adam went as far as possible inside her.
They both came with loud moans, and Amy breathed heavily after. Rick took her off Adam carefully as they would both be sensitive. Then, he laid Amy on her back, blew on her clit, and reached for the cuffs around Adam's wrists. He took them off with ease, then Adam sat up and both guys sat in underwear only. Rick then took a vibrator out of the bedside drawer, and Adam was ready to hold her legs apart. She saw the vibrator and smiled under the gag with a giggle. When it was placed on her clit, she clenched and squealed, and arched her back as the sensation overtook her.
She was in store for another 3 orgasms minimum, and she was thrilled.