The Travel Upgrade
Warning: explicit content (but not as dark as it first appears)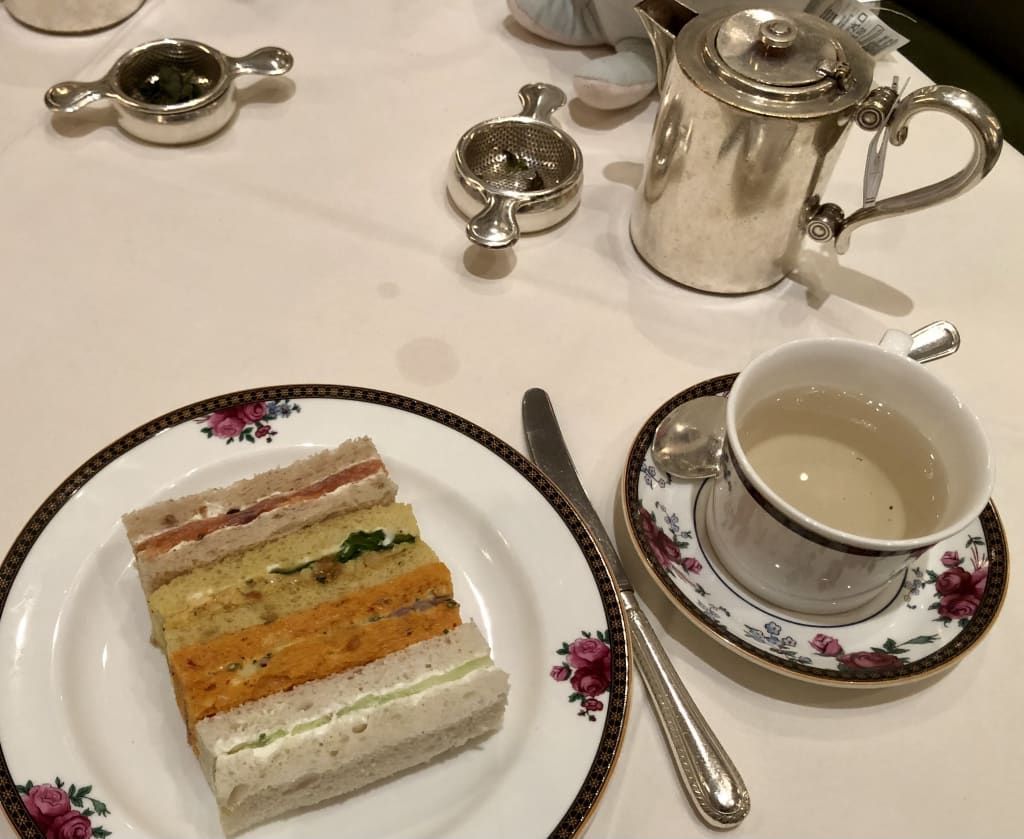 Ivy was relived to join the free wifi. She had landed in Delhi during Holi festival and had been told the area was not safe for a female to wander alone. A taxi driver had taken her to the tourist office, collected cash from the receptionist and disappeared. A salesman had attempted to swindle Ivy for the remaining few hundred that she had in her bank account by offering her package tours and fancy hotels. Eventually, he had realised she was a twenty-one year old backpacker on her way to work in China, not a trust-fund, gap-year tourist. She was also Scottish, so tight as anything with money. The salesman had eventually settled for selling Ivy a third-class ticket on a train out of Delhi. As soon as she had boarded, Ivy had snuck her way towards first-class until internet options appeared.
She connected to the train wifi and answered the messages across various apps that had built up while her plans had been changed. There wasn't much space in the carriage but Ivy was happy to stand while she messaged everyone back to let them know her new schedule. After the first stop, she took advantage of the free chai she was handed. She drank it quickly; then noticed she was the only passenger who had been given free chai. Ivy tried to make her way to the nearest free seat but she never made it.
She woke with a cramp in her neck. Her backpack was gone. She was in a first-class dining carriage, slumped on a sofa. It was dark outside. She stood up but got headrush and sat straight back down.
"Good. You're awake." A man brought dahl to the table. The smell made Ivy realise she was hungry. The man approached her sofa.
"Lovely to meet you Ivy. I'm Raj." He stopped directly in front of her.
"How do you know my name?" Ivy looked up at him. It was the man who had servered her free chai, now changed into smart-casual, everyday clothes.
"You will get your bag and passport back once we have had dinner. The train won't stop until I tell it to."
"I don't understand, the train was almost full, where is everyone?"
"This is a different train. My train. Please enjoy my hospitality. Are you hungry?"
"Starving." Ivy had many questions but her head was still spinning and Raj reached out and held her face against his right hand. He stroked her cheek with his thumb then drew his hand past her ear and stroked her hair.
"My generosity is for good girls. Are you going to be a good girl?"
Ivy looked up at him. He was blocking her way and she still didn't feel quite right. Raj pulled his hand back, then slapped Ivy moderately hard on her cheek. She felt numb apart from her tingling cheek. She nodded.
"I will push your boundaries Ivy but I always provide good aftercare. I will always tell a girl when she is beautiful and pleases me." He undid his belt and wrapped his left hand around her throat. He released the pressure when she opened her mouth.
Raj pulled her onto himself so he hit the back of Ivy's throat. He pressed himself against her tonsils and when he pulled out, he slapped her face and spit on her forehead. Ivy twitched and shuddered a little but kept her mouth open. She took him back and pressed her tongue against his end so she didn't choke this time.
He groaned deeply and held her face with both hands pulling her up and down his length. Just as Ivy thought her nose would run and her eyes would water, Raj pulled out and turned to face away from her. He squatted back against her, so her face was pressed between his cheeks.
"Go around to start. Then deep inside." He reached for Ivy's right hand and wrapped it around his balls, then moved it forwards and guided her to the rhythm he wanted. Her tongue was circling.
"Open your legs." She did as she was told. Raj lifted his belt from beside them. He reached down and stroked between Ivy's legs once, slowly, then brought the leather end of the belt down where he had stroked. Ivy jolted but couldn't scream.
"Now go deep." She stretched her tongue as far as it could go. Raj stroked her and slapped the belt down again. Ivy tingled. She felt a thrill and sudden wetness. Raj took her hand in his and moved it faster along himself. His breathing became heavy.
"Good girl. Oh good girl." He pressed his backside into Ivy's face and gripped her hand onto himself. Ivy pushed her tongue further, until her jaw ached.
"That's it. That's my good girl." He turned around, letting Ivy's hand go. He unloaded across her face and into her mouth. He pulled himself deep into her throat, so she felt the warmth slide straight down her throat, as he let out a soft grunt and exhaled.
"Are you ok?"
Ivy nodded.
"Yes, I'm fine."
"Good girl, let's eat. I got you the roti you said you liked."
"Can I have my phone and my passport back?"
They made their way to the table. Raj pulled the chair out for Ivy and she sat.
"I had to check you weren't a catfish. Sorry for the bad chai. Had a few bad experiences on that app. Girls try to con men on there you know." Raj poured a Malbec for Ivy and raised his gin and tonic to toast her. "But you are gorgeous and everything I asked for. Glad you could make it."
"Cheers." Ivy drank her wine. It was sweet of him to remember, from their first messages, that she only drank red wine.
"I have toys in the bedroom. Cuffs, a crop. There's a vibrator, it's quite discreet but it gets you inside and on your clit. I'm looking forward to coming in your arse while that's making you squirt. You've got the sexiest bum by the way. Looking at you, I knew I'd have to get one out the way so I can last longer, since you made the effort to add Delhi to your itinerary."
Ivy was tucking into her food. It tasted so good. She nodded along with all her client's ideas. She was anxious to get her phone back in case she needed to change her next set of plans.
They discussed Ivy's travel plans and Raj's business. She left out who else she planned to meet to fund her adventures. They discussed living in London and the lack of decent roti. He left out the marriage breakdown and moving back to India to take care of his sick father.
"It is nice to know your name now. Was it Aria on the dating app? Where did you get that from?"
"An old TV show, there's a girl who dates an older guy. I figured it made sense for a site that matches women in their twenties with more established men."
"Diplomatic way of saying older and richer men." Raj laughed. Ivy blushed a little but nodded in agreement. "Well I do hope our paths cross again Ivy. I can fly you back from China or let you know if I have business in Shanghai or HongKong."
"Am I ever going to get to China? Where is your train taking me? As if you have a train, by the way!"
"We'll play a little longer together and I'll have you back on course to the Taj Mahal by morning. First-class, of course. Sound fair?"
"Sounds like you already decided."
Raj shrugged and smiled.
"That is the dynamic we arranged."
erotic
About the author
When I'm not exploring the world, researching 'women in security/intelligence' or getting an endorphin hit at the gym, I'm hoping to find more time to get back into writing for fun!
Reader insights
Be the first to share your insights about this piece.
Add your insights