The Psychology of a Dominant ..
It is never about force..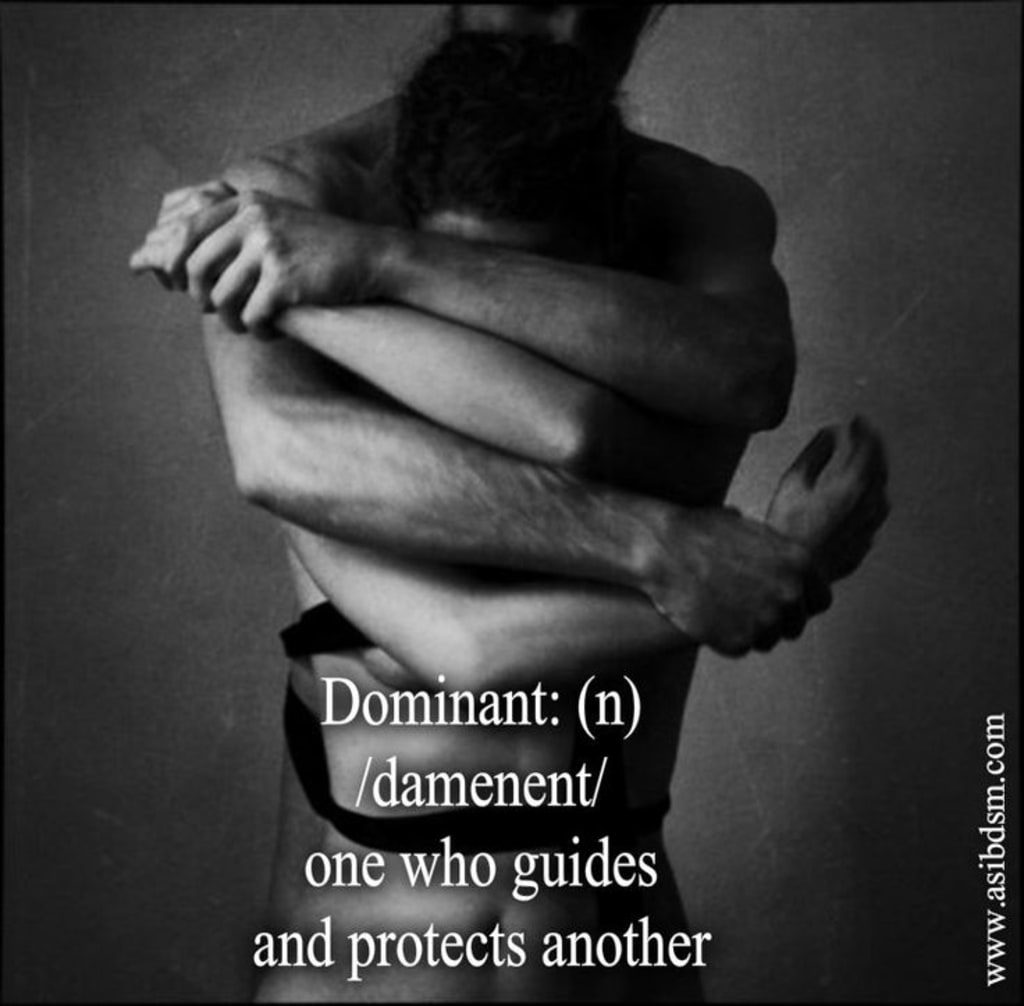 The best Doms I have ever had had no idea they even were. They were men who were very often unaware they had these traits. Oddly enough they were in helping fields- law enforcement, fire, lawyers. The were well educated, strong and kind. They did not have a need for control or power. They had this innate desire that could never be met by the average woman yet they would treat their women like gold- very often they were emasculated for their efforts. The phrase reads " a Dominant needs to needed and a submissive needs to be wanted." They have these huge hearts buried under stoic masks that they present to the world. The are the white knights who will hold a woman's hand in her weakest moment, and flinch at her tears or an injury to her and do anything to protect her.
In 2015, I had the perfect one but for his mistakes. A seasoned police officer who had been drug by a car during a traffic stop but could not stand to see a bruise from an air bag on me. As I tried to show off my battle wound- mostly because it didn't hurt, it just looked ugly he turned away. I asked him why he couldn't look it. His response - "Baby girl you got hurt." This man was the love of my life even after he disappeared for no reason for years. A Judge wanted me to marry him- he didn't know that. I wanted to marry him- he didn't know that. He was the standard of a man until the day he let my world be destroyed while my ex was beating me because of him. He was my world. The men I dated after him envied him, the way I loved him with a depth that was only broken by him allowing me to be brutalized. I can't explain that to this day. I know I have spent years trying to protect him from being hurt despite his willingness to let me be all but killed.
In 2012, I dated a firefighter. He was the man that wanted me to marry him and have a baby with him. He simply was the world. He would always make sure I was taken care of, even if it was just asking if I ate and then cooking for me- because I had always forgotten and never had been to the store. He would drop by with bags of groceries and always cook because I was exhausted. He made his family mine. I never had to worry that there wasn't anyone there. I could call the station and there would be a firefighter with ice cream to sit with me until he got off work. He protected me so fiercely, it would make my heart melt. This huge guy, with two beautiful babies couldn't stand to see a tear in my eyes without one of two reactions, either "who hurt you" or "my love come here" and sometimes both.
I have been called the "Dom Whisperer" more than once. It simply had to do with my ability to illicit from any good man this need to protect and help me. Not anything I could do on purpose, it just was this superpower. Not me trying to do anything for attention but they simply wanted to see me safe, spoiled and never in harm's way. They were my speed dial, "Hey I need some guidance on where to go or how to get this connected." They never failed me, and each had a special place in my heart until they all failed me. They inspired me to do such great things, and despite them all being nonexistent in my life, they made that choice, and I still try to protect them for who they were to me. They were rewarded with nothing more than my adoration, it never was just about sex.
They wore kevlar and badges, and they simply adored me. They each were part of who I am. Everyone of them a hero in my eyes. They would fix anything I couldn't which wasn't much. They never let anything happen to me, personally or professieonally. I was always on their speed dial as much as they were on mine. We were partners- equals. Them in awe of how I navigated the world, my brain my abilities to conquer everything. The were the people I called in tears to calm my chaos, who I trusted with my life because I was too important to be lost to the world. They would call me for advice on everything, and I never had to ask for anything, They choose me to keep safe and help without even me having to ask them for anything, They would do anything for me, anything to make me smile and it was never about manipulation, or using them. They simply were trying to possess the most powerful woman they had ever met. We complimented each other, where they were weak I was strong, when I was weak or needed them there they were without question, and for that they had my undying gratitude and loyalty. I was always out of their league when it came to smarts even the lawyers. They were always my saving grace when it came trying to navigate something unfamiliar. They knew I could not be owned but only admired, because like a butterfly, if they tried to hold me in a closed hand, I wouldn't survive. I had to make the choice to rest in their hand. I never had anything to to prove to them, they never to me until they turned into the dumbest degreed people on earth and made me afraid of them. They had always protected me, and were rewarded with a kind of devotion that every man coveted. I was what they wanted no matter what they did or did and I never had anything to prove to them. They simply fixed what was wrong, without me even asking. I still see those qualities in men, but they seem to all disappear. A damsel, in distress but sadly because of these men's silence. I still gravitate towards people like them, because I still see the world through submissive lenses. The feeling of safety and close, of knowing I never had to worry because they were there and would never leave. They made me better, and I them.
About the Creator
"Justice delayed, is justice denied" "Injustice anywhere is a threat to justice everywhere."
Tattooed, Employed and has a Psych degree..Always on the look out for a group of Avengers.
Reader insights
Be the first to share your insights about this piece.
Add your insights