The Hidden World of Fitness Clubs and Gay Sauna Sex.
A damp white towel leaves little to the imagination.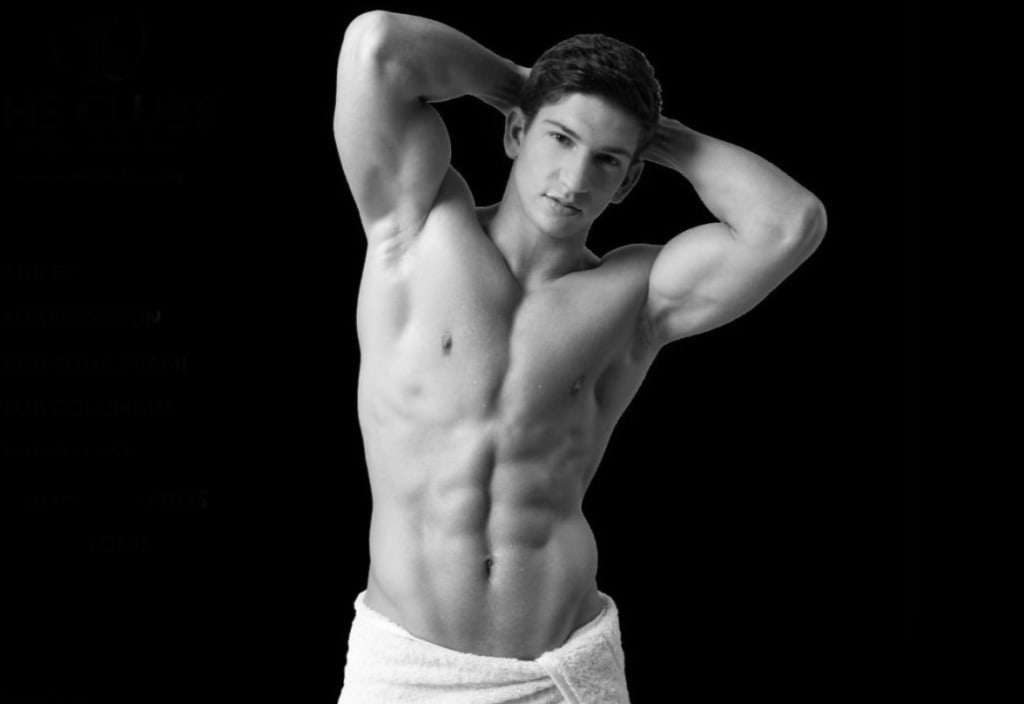 http://www.theclubs.com/
Steam rooms and saunas have been around since Roman times. Health benefits include cleansing pores, detoxifying, and relieving stress. The gay bathhouse includes all the benefits of a traditional spa, but with an extra, unspoken privilege.
The gay bathhouse is an emancipation from the constraints of living within a hetero world. In other words, it is a place to have lots and lots of gay sex.
The Daddy Land Festival rocketed to a start on July 4, 2022, at the Club Dallas in Dallas, Texas. The men's club is like a Roman thermae and lupanarium. Men walk around in white towels, just as Roman men in tunics did centuries ago. Clothing is optional and being butt naked is allowed. It is billed as a place to "dissolve your tensions".
Unfortunately, the club recently became the location of a super-spreader event when an out-of-town visitor infected with the monkeypox virus checked into the club sometime during the holiday weekend. The guest was MSM (Men who have Sex with Men) and had several sexual encounters at the club.
Dallas County Health and Human Service released a report asking the public to watch out for symptoms if they attended the club during the specific dates. They added, "anyone, regardless of sexual orientation [gay, bisexual or straight] can spread monkeypox through contact with body fluids, sores or shared items contaminated with fluids of a person infected with monkeypox".
Club Dallas is a Godzilla of a men's club
It has a fitness center and includes amenities like a steam room, dry sauna, a Texas-size whirlpool jacuzzi, heated swimming pool, sundeck, private dressing rooms, towel service, BDSM maze, and adult video rooms.
The colloquialism among gay Texans is to refer jocularly to the gay bathhouse as a "sex club." I once heard somebody joke, "Gurrl, I saw you walking down Harry Hines Boulevard making money to go to Club Dallas."
Gay bathhouses were able to reopen in the summer of 2020 with the easing of restrictions following the COVID-19 Pandemic. Members assumed the risk and responsibility to protect their health. Limited capacity was enforced with safety protocols and restrictions. Men were required to wear a mask over their face, if little else.
A history of bathhouses
Today's bathhouses are located all over the world. Some are immaculate private resorts. They serve their clientele by testing for STDs and HIV on site. Monkeypox could be a deterrent to the bathhouse's popularity in the short term, but not for long, if guided by history.
Bathhouse history in the US goes back to The Everard Turkish Baths located in NYC and founded in 1888 by financier James Everard.
The bathhouse was raided in 1920 with 15 men arrested for lewdness by police at the request of the New York Society for the Suppression of Vice, run by Anthony Comstock, ironically the founder of the Young Men's Christian Association (YMCA).
Years later, post World War II, there was a revitalization of the bathhouse culture.
The Continental Baths opened in 1968 in the basement of the Ansonia Hotel on Manhattan's Upper West Side. After the arrest of twenty men in 1969, the Roman-style bathhouse developed a warning signal to alert patrons to police raids.
The Continental offered lounge acts poolside, featuring many artists over the years, including a young Bette Midler who performed as Bathhouse Betty.
The increased camp and popularity of the Continental brought in more and more of a straight crowd. Gay culture was briefly infused with hetero-normative culture, but this proved disagreeable for unfettered gay sex. Gay men stopped going, and it closed in 1977, later reopening as Plato's Retreat, a heterosexual swinger club.
Enter HIV
"Liberty 'Bloody Good' for Sailors on Town," wrote George Vecsey in a July 6, 1976, New York Times article. He observed that "thousands of sailors in white uniforms poured through the city enjoying liberty on the day after the mammoth parade of ships up the Hudson River."
Geneticists, microbiologists, and medical historians have tracked HIV entering the US to around 1970–71 via the Caribbean into the population of NYC.
A French Canadian airline steward, Gaëtan Dugas, was later wrongly branded patient zero, even being labeled in People Magazine as "the human explosive whose promiscuous presence may have triggered an epidemic." Dugas was a bathhouse aficionado.
Gay bathhouses were assigned the blame by heteronormative commentators. At that time, gay sex equaled death.
In a 2018 panel talk about bathhouse shutdowns in the 1980s, English Professor Timothy Lyle of Iona College said, "The gay bathhouse took on an even more symbolic value within the context of the 1970s, when queer sex acts were articulated as a kind of liberation from heteronormative constraints."
Gay bathhouses were closed, forcing gay sex into the shadows. Cruising spots popped up in parks, piers, trucking stops, and bathrooms and became clandestine places to meet.
The popularity of homosexuals has, like the ocean tide, ebbed and flowed throughout the centuries. The hetero-normative world at the end of the 1980s viewed homosexuals as a disease-ridden scourge.
Muscle culture
By the 1990s, working out at a gym, lifting weights, and having a sculpted body became the symbol of health. "Physical" by Olivia Newton-John was a chart-topping hit, spending 10 weeks at number one in 1981. The music video featured muscle men working out in what resembles a gay bathhouse.
Today, the video's references feel like theft of gay culture. A look back to the success of the video is cringeworthy, knowing the history of the heteroverse's negative response to the AIDS epidemic.
The fitness trend continued to blow up with the astronomical popularity of videos such as "The Jane Fonda Workout" or shows like "Baywatch" with chiseled men running down the beach.
The fitness revolution awakened new secret bathhouses. The sports club's saunas became the new meeting place for gay men. The only problem was they were hetero/homo co-habitations.
A membership to a sports club gym with a locker room and sauna became common in heterotypic society.
In French, the idiom coup de foudre refers to the eyes of two strangers meeting like a strike of lighting to awaken the mind to the possibility of a new potential lover. The gay parallel is:
Gaydar - [is]the intuitive ability of a person to assess others' sexual orientations as homosexual, bisexual or straight. Gaydar relies on verbal and nonverbal clues and LGBT stereotypes, including a sensitivity to social behaviors and mannerisms like flamboyant body language, the tone of voice used by a person when speaking, overt rejections of traditional gender roles, and a person's grooming habits.
Lingering looks in the sauna were a gay Morse code.
Signaling, similar to gaydar, is physical communication with only body language and non-verbal cues.
Signaling in sports club saunas is used to identify hetero men. Sports club saunas had become a game of red light, green light for gay men looking to play. The sports club sauna would need to be hetero-free before any "open sesame" moment could occur. Also, there was the possibility that while engaged in sexual activities, a person could enter through the sauna door at any time.
The placement of the hands is an important clue. Arms and hands next to the body, in the lap, or behind the head are cues. The sauna might have levels of seating. Sitting on a lower step at the level of another person's feet could be a signal of intention.
Holding a direct gaze with another man could be construed as aggressive and even harassment. If a casual glance is met with another guy blurting, "what's your favorite football team?" then game over.
Like in a naked dream giving a speech in front of an audience, being wrapped in only a towel is an intense feeling. People can behave very differently in a sauna, being body-conscious or very alert to their surroundings. When a person is in relaxation, they might close their eyes and lean back against the tile and breathe in the steam and enjoy the heat.
A friend jokingly confessed, "I feel great after working out, it's my reward going into the steam room to get a blow job." Men go to gay bathhouses to find sexual partners, in sports clubs it is primarily for oral sex.
Darwin and Desire.
The naked body covered only by a damp white towel leaves little to the imagination. Overt body-shaming is not commonly practiced in a sauna. The sexual desire of an individual is Darwinian. People like what they like, regardless of political correctness.
Cruising in a sports club sauna can be a survival of the fittest mentality. Education or money in the bank account is irrelevant. Things such as penis size, body shape, race, or age become defining features.
A gay man's journey is full of potential roadblocks on their way to sexual freedom. The hidden world of the gay bathhouse in all its incarnations is hedonistic and timeless.
Just like the classic disco track, "I Will Survive" by Gloria Gaynor:
No, not I, I will survive…as long as I know how to love, I know I'll stay alive. I've got all my life to live, and I've got all my love to give, and I'll survive.