The Ballad of Karen Parker
Leaving My Pants On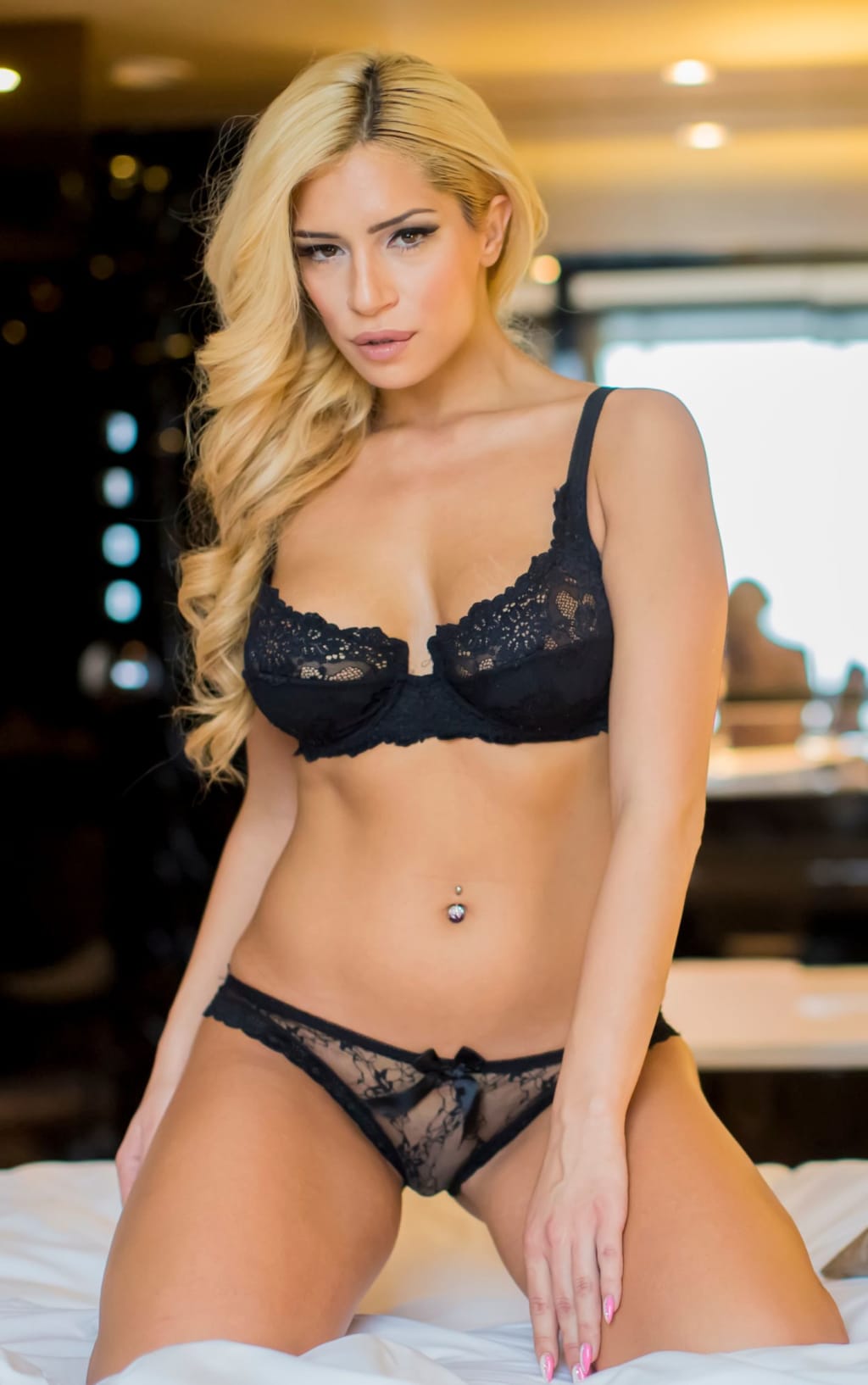 Photo By Canva Pro
How do I get myself in these situations? I love Kassi, my Ethiopian Empress. She is the store manager at the Annapolis, Maryland Victoria Secret.
My Love is away for the weekend, visiting her brother in Manassas, a Washington DC suburb.
"Sweetheart, relax. I will be out shortly." She said.
The She isn't my Boo Thang, but her boss's boss. Karen Parker, the Regional Manager of Victoria Secret's. How was I to know?
HOW IT ALL STARTED
It all started innocently enough. I'm coming from work and decide to make a quick pit stop at Club Menage. A popular techno club in downtown Washington, DC.
I will have a couple of drinks, watch some hotties shake their booties, and head home.
As I make my way through the sea of humanity to the bar. I run straight into her. A striking dishwater blonde, tall and fine.
She dons a black lace see through bodysuit. The strobe lights highlight what's underneath. A white push-up bra with matching thong panties.
It's the 90s, her daring attire fits right in with the times. We don't exchange words, however, her piercing pulsating pupils speak.
"Let's dance," they say.
Her hand gripping my buttock says.
"Let's bump & grind."
The music, lights, dry ice and the babe. My hood instincts kick in.
Our grinding & bumping; bumping & grinding would make a seasoned judge from Dancing with the Stars blush.
The mystery lady is staring a hole through my soul with her dilated pupils. She goes into her bra, taking out a pill and placing it on her tongue.
The sexy vixen motions me closer. We kiss, giving me the pill with her delectable tongue. I use her saliva to wash it down. After a couple more songs, the X pill kicks in.
We both are sweating and dry humping at an alarming pace.
"Let's go to the men's room." She says through our kisses.
I instinctively know what she wants. We grind and kiss on our way to the men's room. A couple of drunk frat boys distract the attendant.
We make it undetected to the back bathroom stall. She goes for my belt buckle. Within seconds, my manhood is lost in the depths of her esophagus.
I close my eyes, going on a trip not of this galaxy. I will have orbited many moons far, far away, with a dirty blonde attached to my Johnson.
My ecstasy filled trip would abruptly end.
It's the bathroom attendant banging on the stall door.
"What are you guys doing in there?" He yells.
I snap back to reality, taking my Johnson from the Becky's tonsils.
She gets to her feet, smiling ear to ear.
"Hi, bad boy. I'm Karen Parker and you are."
My DC homeboys have schooled me never to give a chick at the Club your real name. I guess the X pill has truth serum embedded.
"Nice to meet you, Karen. I'm Kade."
W.T.F.
HOW IT ALL ENDED
Photo By Canva Pro"Sweetheart, relax. I will be out shortly." Karen said.
We walked from the Club to her hi-rise condo.
"Hey beautiful, what do you do for a living to afford such a sweet spot?"
Karen walks out in six-inch stilettos with a black push-up bra and matching panties, the boy shorts type. It's as if they were custom made for her.
"I'm the Eastern Regional Director for Victoria Secrets."
An icy chill pierces through my bloodstream. My brown skin must have turned white.
"Baby, are you alright?"
"Yes ma'am. So, does that mean you are in charge of the Annapolis Mall location?"
"Technically yes. But we have a store manager and district manager who are really in charge of the day-to-day operations. Why do you ask?"
"No reason. It's the closest Victoria Secrets to Bowie, where I live."
"I'm modeling some of our new Angel line. You are the first civilian to see this collection. What do you think?"
She slowly spins her beautiful body around in a circle. My mind is spinning out of control. It's Kassi's boss's boss. I've got to get the heck out of here.
"You are beyond beautiful."
"Wow, beyond beautiful. That's the nicest compliment I've ever heard. Now, bad boy, I thought you would already be naked. Let's take some of these clothes off."
She walks to my personal space.
"Karen, I'm sorry, but I'm leaving my pants on."
"Why?"
"I have a girlfriend."
"Well, I understand."
I attempt to walk away. She grabs my arm.
"Where do you think you're going?"
"I'm leaving. I'm so sorry."
Karen unbuttons my shirt.
"Oh, you can leave your pants on. The part of your body I'm going to use is in your mouth, not your pants."
FINAL THOUGHT
I kept my pants on for the rest of the night. However, I had the worst crick in my neck for several days. I told Karen we couldn't be friends. My Ethiopian Empress never heard. The Ballad of Karen Parker.
About the Creator
A freelance writer who offers ghostwriting ebooks, FaceBook posts, article & blog writing services. He works with B2B & B2C companies providing digital marketing content designed to drive traffic, increase conversion and SEO.
Reader insights
Be the first to share your insights about this piece.
Add your insights