The 2018 PornHub Search Survey Is In... And It's Pretty Wild
33.5 billion visits, over 30 billion searches, and users from every corner of the world were involved. Here's what the PornHub's 2018 Year in Review tells us about porn.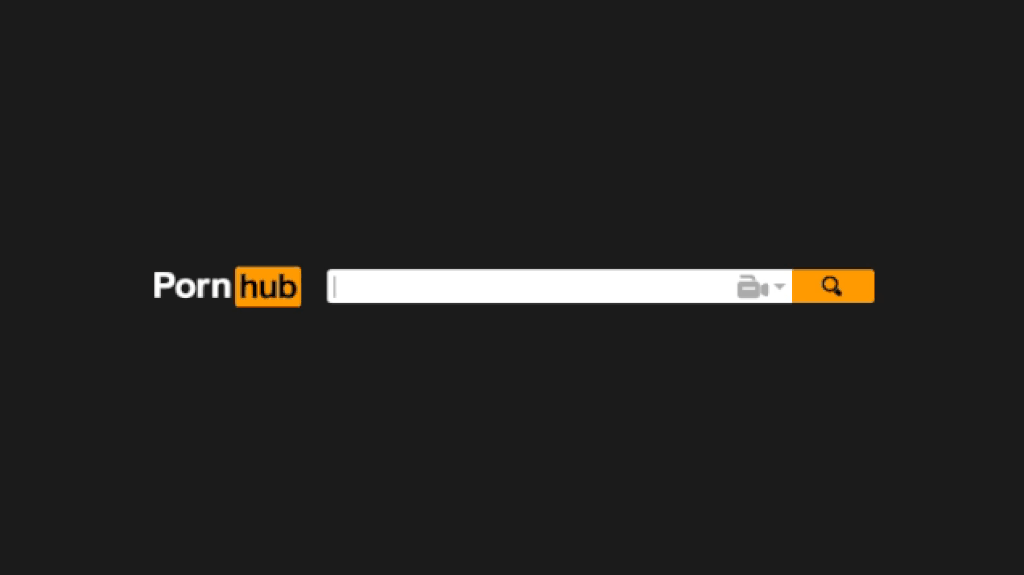 Nobody gets porn like PornHub does. It's the world's biggest adult content search engine, with a library that increased by over 4,791,0000 videos in 2018 alone. Every minute, over 63,992 new visitors will go to PornHub to fap to their hearts' content.
Saying that PornHub is large is a major understatement. It's a community, a search engine, as well as a webcam marketplace. Considering how positively massive PornHub is, it's not surprising that the site's analytics have revealed some pretty fascinating trends over the years.
PornHub recently revealed its sixth annual Year in Review—a major glimpse to see what people around the world are searching when they're looking for X-rated stuff.
The Year in Review showed results from different countries, as well as specific search engine queries that became popular. What they uncovered was pretty fascinating; check out some of the most interesting clips below...
2018 saw some pretty unexpected search terms pop up.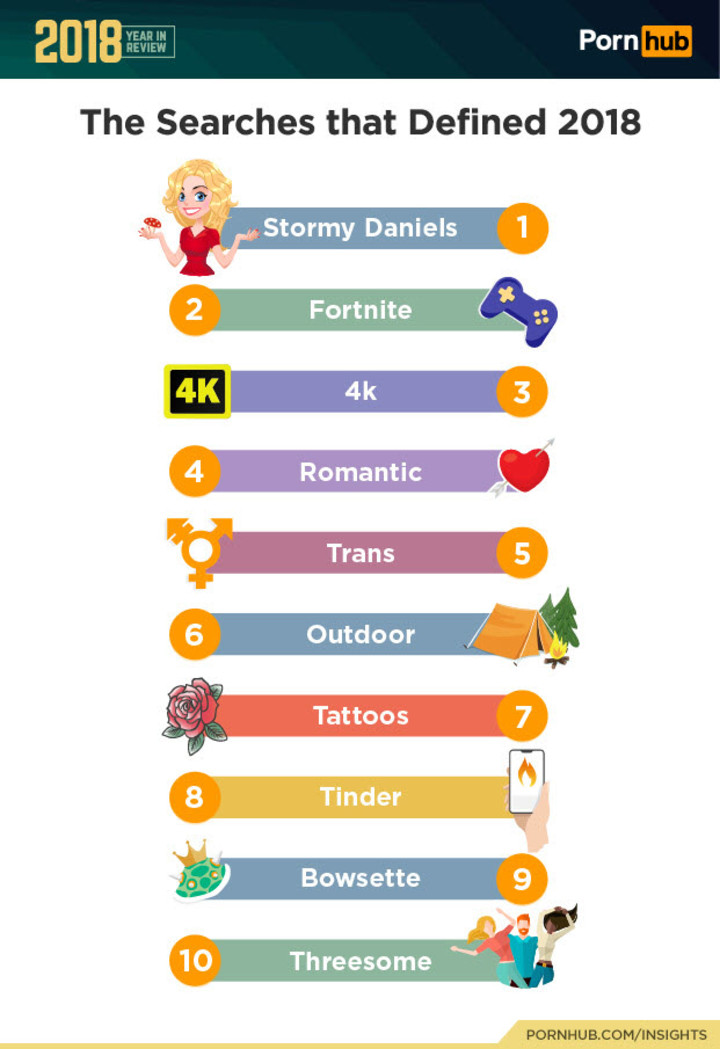 Every year has its own defining terms, and this year was no different. Some of the most popular trending names weren't surprising (looking at you, Stormy Daniels!) but some definitely took reviewers by surprise.
Perhaps the most surprising terms to see major increases were "outdoor" and "romantic." Both saw major increases in both tags and requests, with sub-categories like "tattooed women" seeing an increase as high as 88 percent compared to last year.
After Stormy Daniels came forward to say that Trump paid her off to keep mum about the sexual assault, searches for her name skyrocketed on PornHub. PornHub's results show that "Stormy Daniels" is the top defining search term for 2018.
Interestingly enough, Stormy Daniels was also the female porn star most commonly watched by women. The frequency of her name coming up in search results launched her up over 640 ranks, outdoing PornHub darling Mia Khalifa.
That's some serious girl power!
One of the recurring trends you'll see on PornHub's Year in Reviews is the tendency to have pop culture change porn searches. Gaming-wise, 2018 was definitely the year for Fortnite—and surprise, it's also become one of the most heavily searched "trend" keywords of the year.
PornHub noted that the search term "Fortnite" would peak every time a new character would be introduced. The survey showed that "Fortnite" was the second highest ranked search term that defined 2018.
Oddly enough, another majorly popular search term for this year was "Bowsette." Gamers would know that this is a meme that's based on a female Boswer of Super Mario Bros. fame.
Hentai and anime are gaining ground just about everywhere.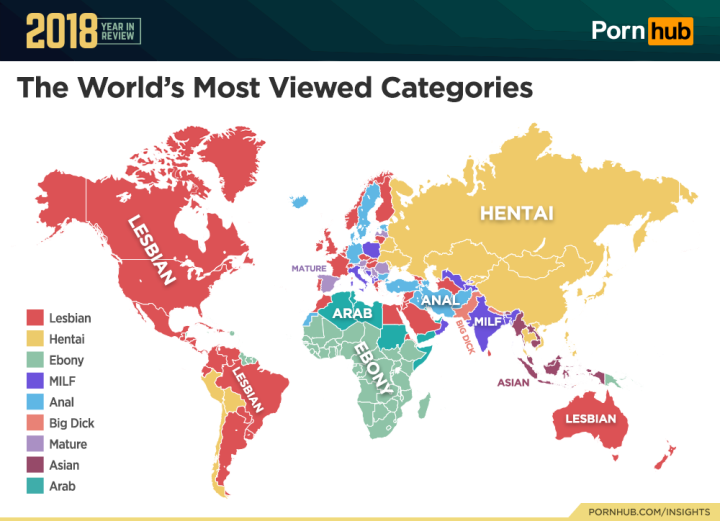 Though live porn remains the most popular category by a long shot, animated porn of all types has been steadily gaining on a global scale.
Hentai is currently the third most-searched term for both men and women, and has steadily gained traction throughout the world. The term "anime" also saw a 56 percent increase during this year alone.
The End of Year Review also pointed out that hentai is the most popular category of porn in Russia, Eastern Europe, and most of Asia. It's pretty clear that hentai is king.
If you thought hentai is heavily appreciated by users of every age, you would be wrong. This search term was only shown to be popular among people who are in the 18 to 34 demographic. Gay porn searches were also far less likely to involve hentai than heterosexual terms.
It seems like Asian porn is killing it on a global level.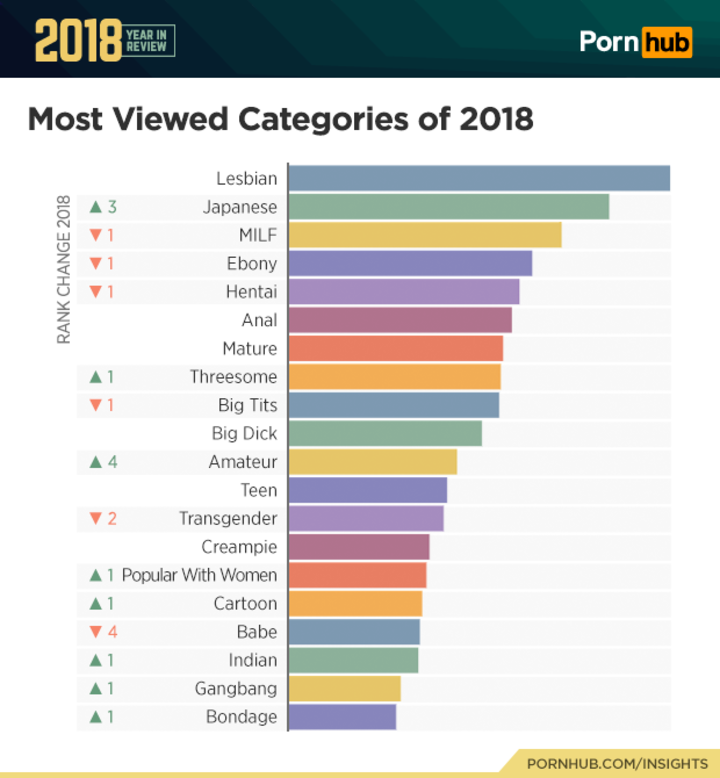 Throughout much of the world, search terms that involved Asian countries exploded in popularity. For example...
"Korean" and "Japanese" are now the top two search terms used for gay porn searches.
Among all searches, the term "Korean" had a 48 percent increase in use. "Japanese" saw a 33 percent increase, "Chinese" got bumped up another 14 percent, and "Indian" saw an 18 percent increase globally, too.
The term "Asian" was the top search category for much of Southeast Asia.
"Japanese" was the most common search term all men used in 2018, followed by "MILF," "hentai," and "Korean."
The fastest-growing Asia-related search term was "Korean." It
Trans porn stars had a great year.

One of the fastest-climbing search terms and porn genres of the year was trans porn. The search term "trans" saw a 167 percent increase from males, a 73 percent increase from ladies, and almost doubled in frequency among users over the age of 45.
According to new statistics, "trans" is now the fifth most heavily searched term for men over 45 years of age. That's pretty impressive!
Lesbian porn still reigns supreme, but it's a battle of the sexes.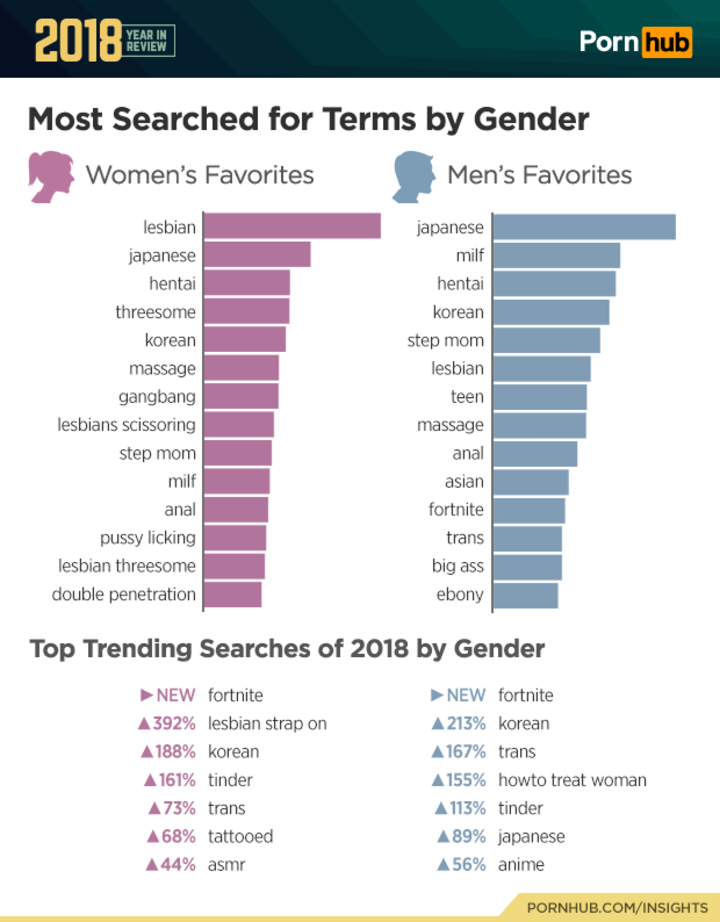 Globally, the most searched category of porn still is lesbian porn. In the US, Canada, Australia, parts of the Middle East, and large swaths of South America, lesbian porn was the #1 most popular genre.
Surprisingly, there is a lot of gender divide here. Women viewers were much more likely to search for lesbian porn than men were. That being said, lesbian flicks are pretty well-liked all over.
PornHub's gay porn statistics were pretty interesting too!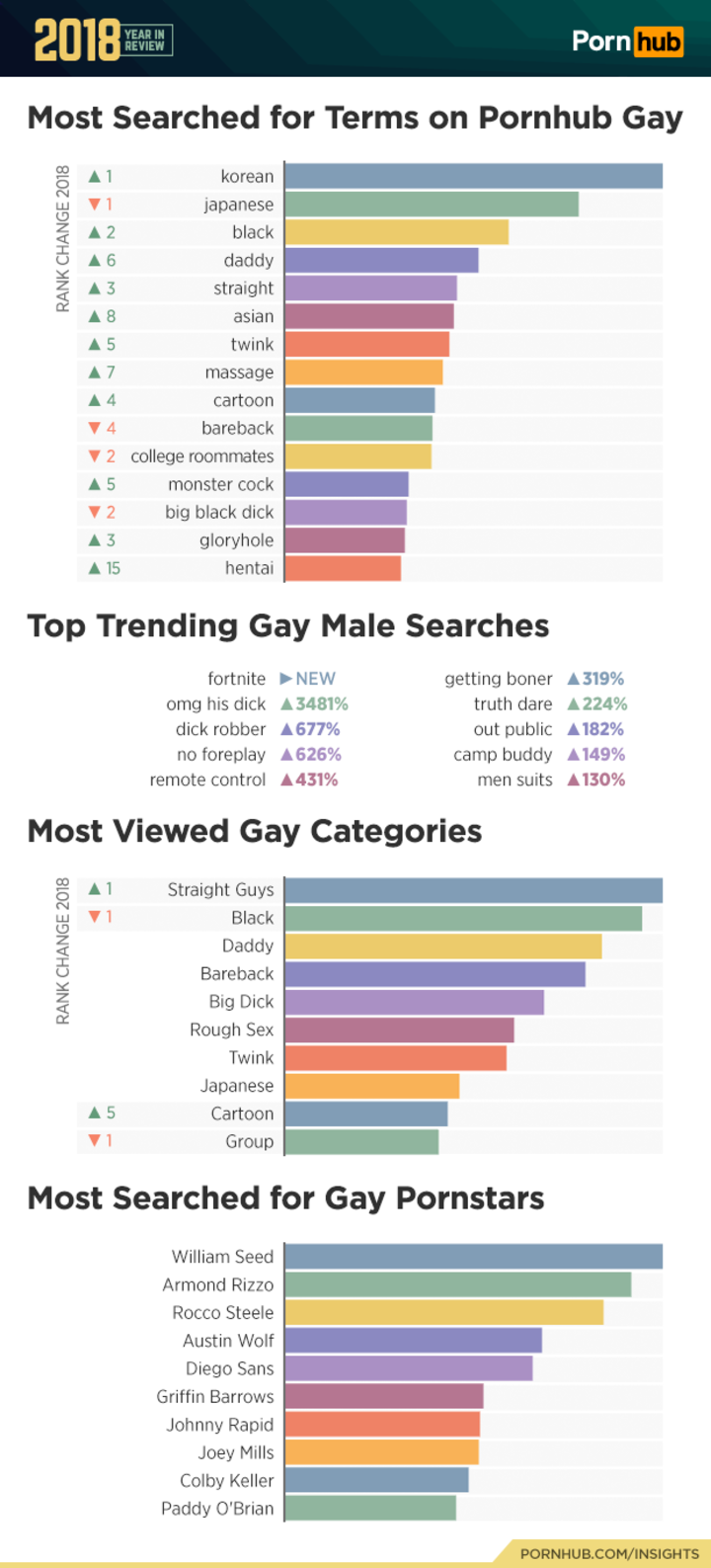 According to PornHub's review, the most common terms that were searched up for gay porn were "Korean," "Japanese," "black," "daddy," and "straight" respectively.
Gay men also started to search for porn involving straight men more frequently than interracial—a new change from 2017. Trending gay porn search terms included "Fortnite," "omg his dick," "dick robber," and "camp buddy."
As far as the hottest gay porn stars of the year go, William Seed was crowned the king of gay porn by searches. Rocco Steele and Armond Rizzo followed closely behind.
Speaking of gay porn, a lot of women really love gay porn stars!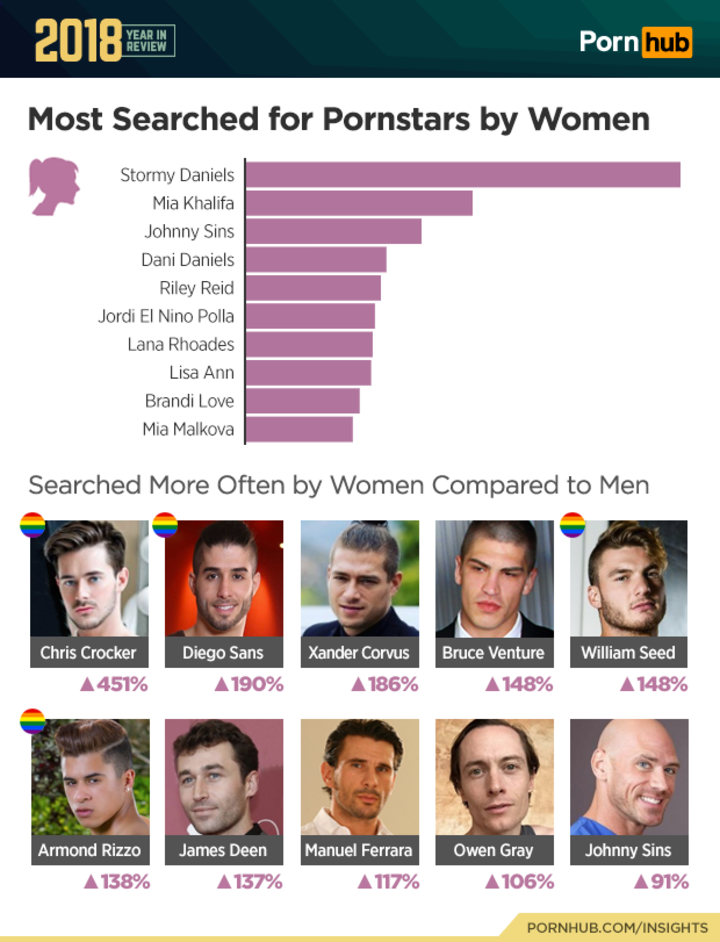 Straight guys might be shocked to find this out, but it seems like women love gay porn stars too. Women were more likely to search for gay porn stars like Armond Rizzo and Chris Crocker than men were!
Female porn stars definitely saw their time to shine, too.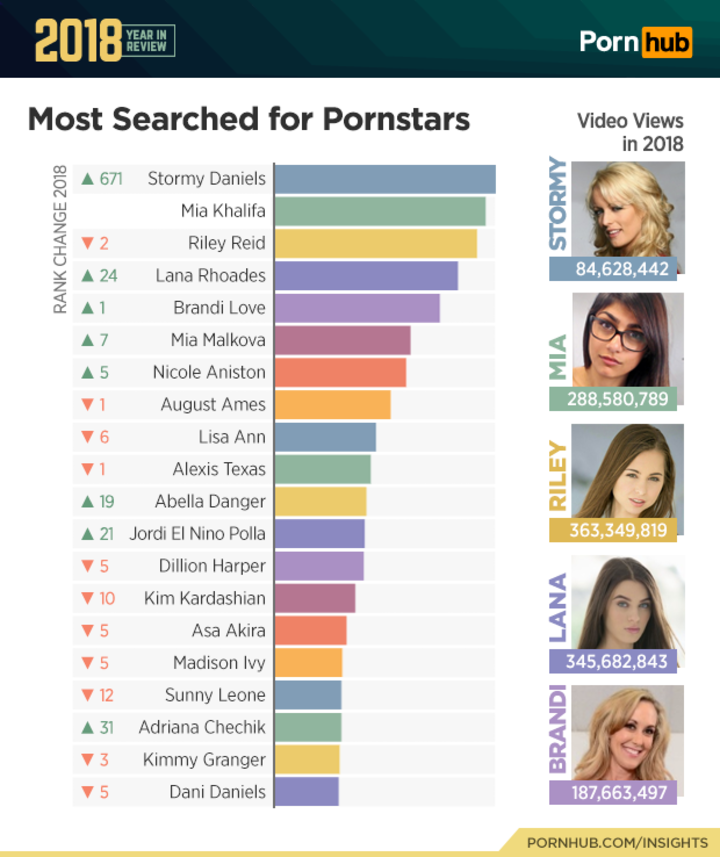 Mia Khalifa remained at her spot as the second-most popular porn star out there, but everything else saw some serious shakeup. Riley Reid, who was the most popular porn star of 2017, fell three places.
Major breakout stars loved 2018's wild fluctuations.
Lana Rhoades, one of the hottest brunette porn stars on the scene, saw her searches skyrocket up 24 places to the Top 5. Adriana Chechik got to enjoy an increase of 31 places, while Jordi El Nino Polla saw her stats climb up by a whopping 21 places.
PornHub also did an international take on search trends, and some were pretty fascinating.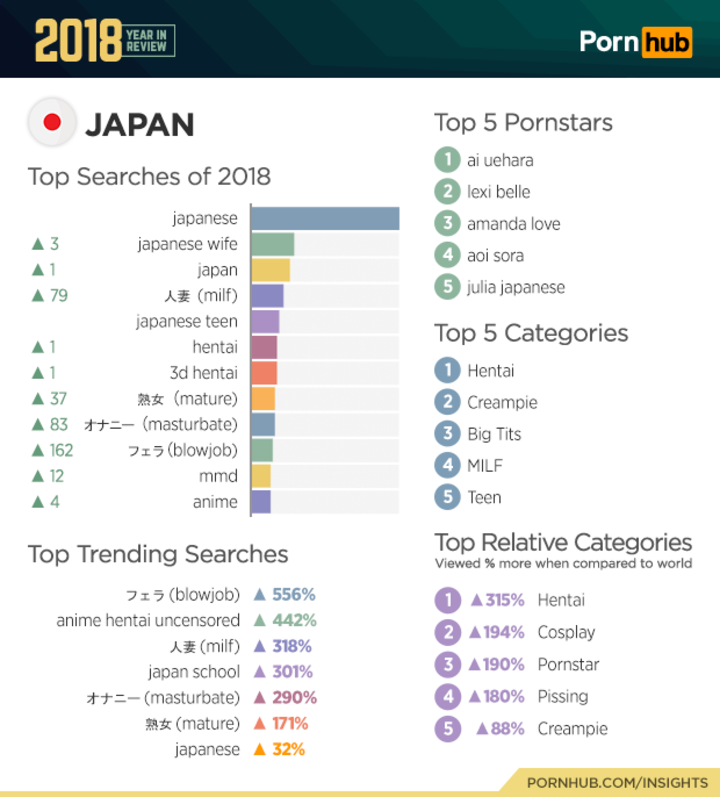 Typical search terms aside and the obvious choice to search for porn in specific languages, there were definitely some search terms that seemed way more unusual and interesting than others.
"Japanese wife" and "cosplay" were both majorly popular with Japanese viewers. Unsurprisingly, hentai was 315 percent more popular in its origin country than it is on a global average.
Meanwhile, in Russia, porn watches you!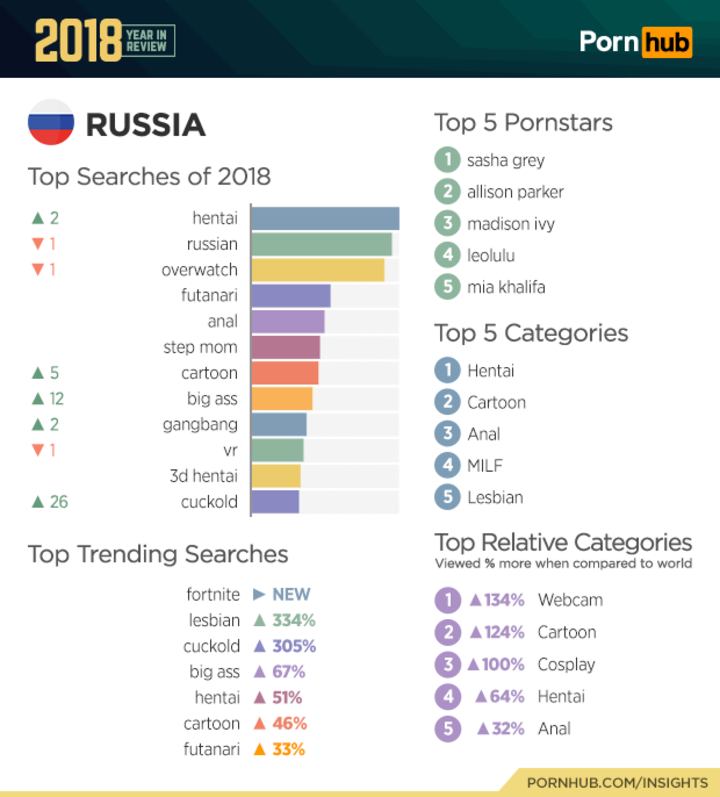 Or, at least, it's definitely more of a two-way street. Russians are over twice as likely to search for "webcam" porn compared to a global average. Additionally, they really seem to be going through a spike in cuckold porn.
And...Germans got a little extra wild.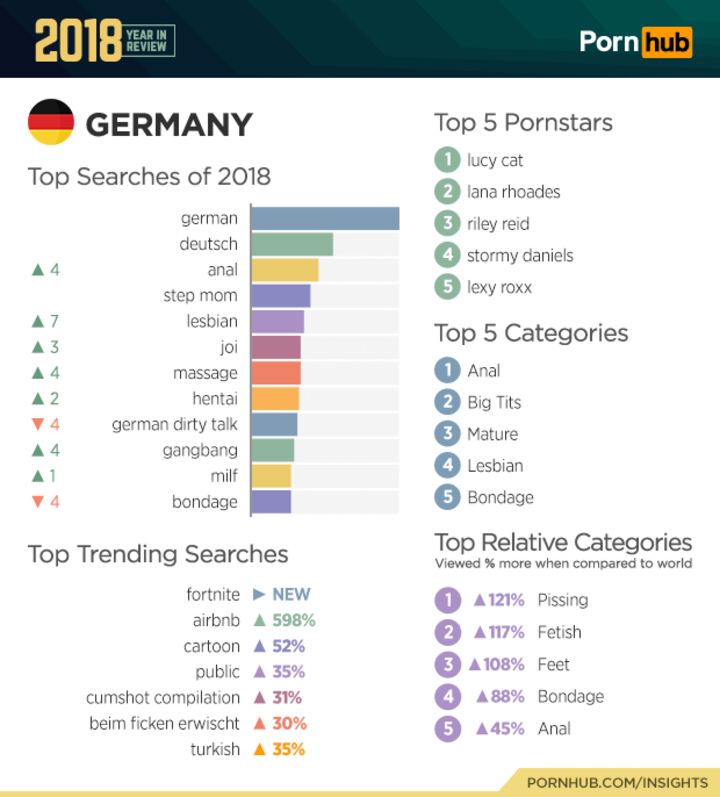 Germany's long had a reputation for getting kinky, and to a point, that's why you gotta love them. Germany had the kinkiest top relative categories out of all the major country entries on PornHub's End of Year Review.
Compared to global averages, Germans were over twice as likely to search for feet, fetish porn, and watersports.
industry