Tease Me to Orgasm
A M/F Kinky Erotica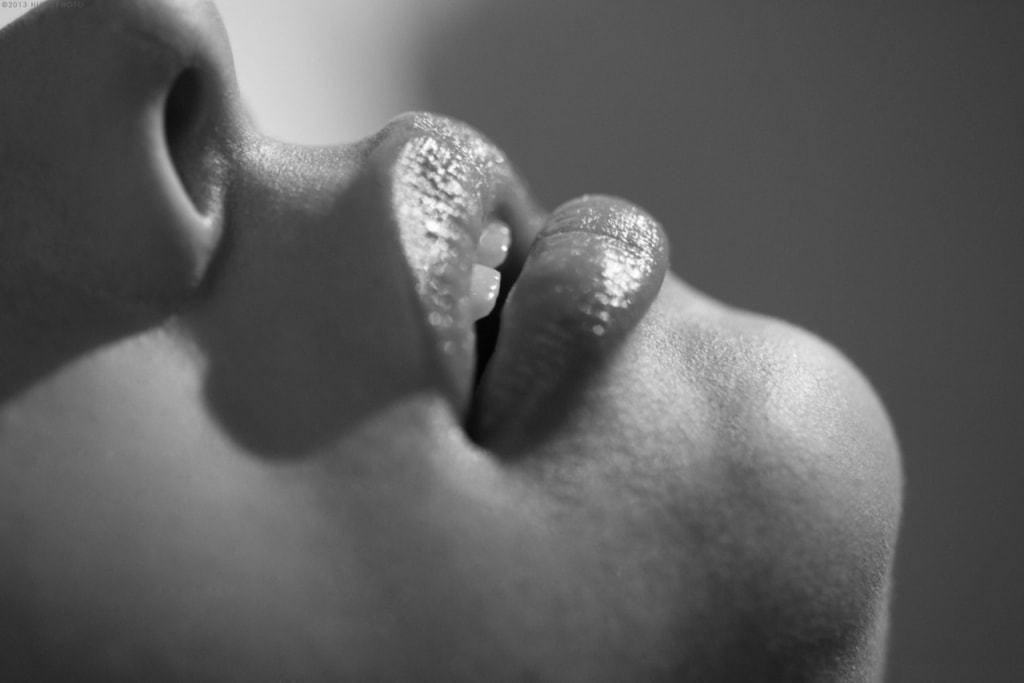 She lays on the bed, her legs spread wide, her hands tied together, to make an upside-down Y. I watch her, my beautiful girlfriend, as she pulls at the restraints, her upper stretched comfortably. Her large, full breasts sit like two enormous marshmallows waiting for me to devour them.
Of course, the part I am most eager for, her vagina, ready and waiting as she moves her hips to get a feel for the restraints. She keeps her head laying back against the bed, and I join her. Though I could probably go right for her most sensitive area, and she would get off no problem, I want to savour this.
Carefully, I lay across her lower body and without putting any weight on her, I settle above her chest, now taking deep breaths to calm her general anxiety. I put my hands on one side each of her breasts and gently massage them to the top, using my thumb to caress the underside and graze over the nipple.
No squeezing, as per her limits, but I massage them firmly, pressing her preferred areas until my thumb creates a hint of an indent.
She sighs, "oh, that's good."
A tiny crack tells me her toes are starting to curl in anticipation. Not waiting longer, though I know it doesn't do much for her arousal, I close my mouth on the areola and run my tongue over her nipple.
She doesn't respond much, and I repeat on her other breast and nipple, this time, massaging the other the way I had done before.
"Okay," she says, a smile playing in her tone, "that I can do."
I chuckle after releasing the now erect nipple. When both are hard enough that little bumps form on the areola, I know it'll be painful to try and rub it away, so I massage the entire breast some more. When the bumps are gone and Vi is back to sighing in pleasure, I hold them in my hands a while longer, feeling how warm they are and knowing that she likes the warmth on her too.
Next, I place my fingers on the side of her chest and tease the tips back and forth on the sensitive skin.
"Oh!" she gasps and grins, and soon goosebumps rise all over her skin. I slowly tease from her chest, down her sides and the edges of her stomach, then up the center of it.
She giggles a little and her stomach flexes under my touch, then I move my fingers down to the top of her mound and trace my fingertips from hip to hip. Her hips gyrate in response and I'm already hardening.
Keeping my fingertips on her always, I move them to the outside of her thighs and slowly run them down the little hairs now sticking up. Her legs try to tighten but the restraints keep them from doing so, and her breathing tells me she's definitely building a fire.
My fingers trace all the way down her legs to her feet, then back up the inside until I stop just short of her vagina.
She breathes out, "I bet if you put a vibrator on me, I'd finish right now."
I chuckle, "probably. How about we try this instead."
I lay down until my face is right above her now wet vagina, her clit looks hard under its protection.
Using my tongue, I give one good lick from an inch below her clit, to the mound right above it. She gasps and her legs try to close, "okay, keep doing that." She giggles.
I happily oblige. Using only my tongue, I swipe up and down over the clit and she sighs more. She's never really been a moaner.
Then I take her clit into my mouth and suck it gently, rolling my tongue over it and savouring every moment. I release it for a brief moment, then take all I can of her into my mouth, and she gasps, and her body tightens. I can see the restraints being pulled in my mind, and then she shudders and cries, "oh!" as her body climaxes.
Reader insights
Be the first to share your insights about this piece.
Add your insights