Taking Control, Chapter IX
Fun times with Jacob & Keira continue!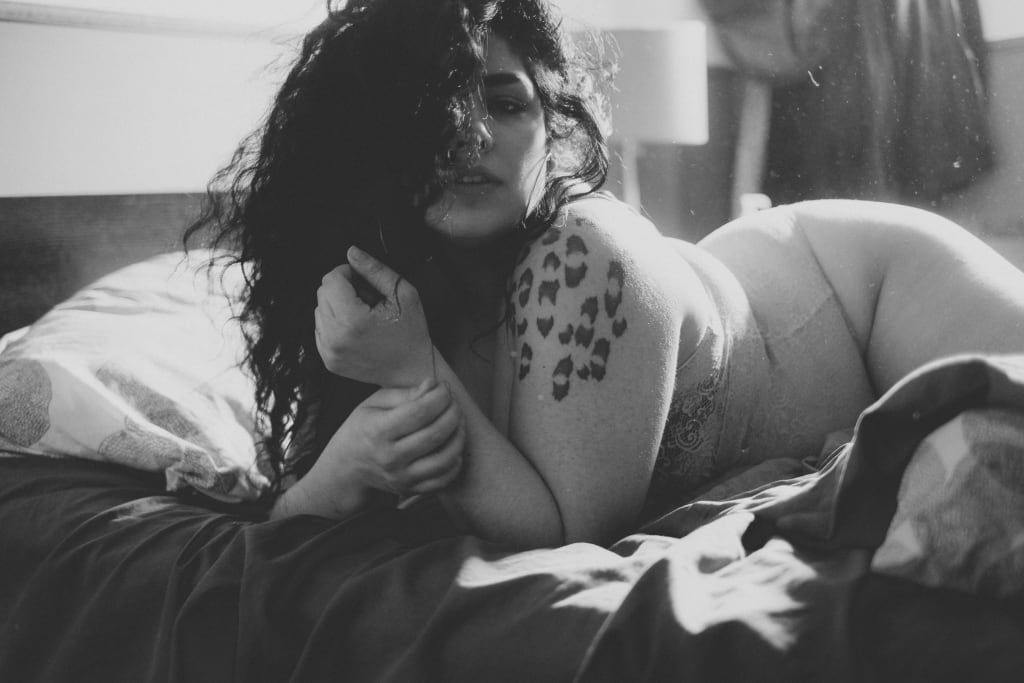 Photo by Yohann Libot on Unsplash
The following was requested by a commissioner. This is an NSFW post that explores power dynamics, BDSM, degrading language, and CNC. The views expressed are not my own, and should not be taken as such. Reader discretion is advised.
*⑅*❀⑅*❀⑅*❀⑅*❀⑅*❀⑅*⳾*⑅*❀⑅*❀⑅*❀⑅*❀⑅*❀⑅*⳾*⑅*❀⑅*❀⑅*❀⑅*❀⑅*❀⑅*
My lips resumed their work, kissing and nipping at her ass, pussy, and thighs. My right hand held the miniature vibrator to her mound, and my left hand remained on her hip. Even restrained, Keira's hips bucked from the stimulation, grinding against my face. Her scent was everywhere, filling my senses. I could smell how turned on she was, and how wet I was making her. The heat coming off of her was like a furnace. My cock was rock-hard, delighted by her moans.
"I have to taste you," I groaned before pressing my face against her wet slit. I stuck my tongue out and lashed it between her already parted lips, tasting her arousal. Her moans reached my ears, fueling my desire. My tongue found her tight little hole and caressed it, sending shivers throughout her body. She was delicious, like gummy bears soaked in sweet whiskey. My lower jaw went to work, aiding my tongue in lapping up her sweet juices. I was intoxicated by her scent, her taste, the feel of her ass grinding against my face, the sound of her whines growing the faster I got. Her clit twitched against the vibrator, desperate for release.
I had my nineteen year old roommate strapped to her bed and was eating out her wet pussy--and I wanted so much more.
My dick throbbed in my briefs; I felt the familiar moisture of my pre-ejaculate accumulating on the fabric, an uncomfortable reminder that I had not spilled my seed since early that morning. I'll get my chance. I just want to have fun with her, to show her that the only one who can satisfy her is me.
She was getting close--her little fuck hole was swollen and throbbing, tightening around my tongue. Her grinding and moaning, which had been erratic up until that point, were ramping up at a steady pace. It was a wild, sexy beat that I was so goddamn ready to plow her to.
I pulled away from her pussy, still holding the vibrating bullet to her clitoris. "You're about to cum, aren't you?"
"Y-Y-Yes Daddy!" she groaned. Her hips continued to buck, rubbing her clit against the vibrator.
"You can't just cum without Daddy's permission, baby," I teased, sinking my teeth into one of her ass cheeks. She gasped loudly before letting out a moan of equal volume.
"P-Please let me cum Daddy!" she begged. "Please, please! I-I'm so close to--"
Keira picked up the speed of her grinding, only for me to drop the vibrator from her clit and smack her ass as hard as I could. She recoiled from the pain; her entire body was shaking, and I could hear her panting between her moans.
"I didn't say you could cum yet."
We continued in that fashion for another ten minutes: I would play with her pussy, bringing her to the brink of orgasm, only to ruin it by stopping and spanking her ass. She was a heaving, weeping, shivering mess by the time I was ready to move onto the next phase.
"Do you want Daddy's cock?" I asked, though I already knew the answer.
Her head shot up, bobbing up and down. "Yes, Daddy! Please, fuck me like the teenage whore I am!"
My grin was wide. "Mmm, you're learning. Good girl."
I stood from the bed and dropped my briefs; my erect cock sprung out, thankful to be free. It throbbed, precum dribbling out of its swollen head as I stepped out of my fallen underwear. My hand passed over the stiff member, testing my own sensitivity. Pleasure shot up my torso; my balls ached, and there was a tingling sensation deep in my abdomen. I sucked in a sharp breath and gripped the head of my dick tightly, staving off my inevitable orgasm.
"Playing with you has turned me on more than I thought," I admitted with a breathy chuckle. I climbed onto the bed, staying on my knees as I moved closer to Keira. She had remained still during my assessment, simply catching her breath and waiting. "But I don't want to cum just yet. I want to feel that slutty pussy that you've let other men feel. I want to ruin you, to fuck you like you've never been fucked before."
We were so close, I could feel the heat emanating from her sex. I pressed the head of my cock against her clit and rubbed against her swollen little nub. Another whine escaped her lips, causing another wave of pleasure to spread across my body. Fuck. I don't know how much more of this I can take.
"You're so fucking sexy," I told her. I repositioned my dick to align with her vagina, amazed at how tight her hole still was in comparison to my member. "The way you move, the sounds you make, your obedience… I can't get enough of you, baby."
I pressed the dripping head against her tiny fuck hole, loving the way it throbbed against me. Her breathing was fast and erratic, and I could tell she was leaning back a little. Hoping to slide me inside of her.
"I need to remind you that you belong to me!"
*⑅*❀⑅*❀⑅*❀⑅*❀⑅*❀⑅*⳾*⑅*❀⑅*❀⑅*❀⑅*❀⑅*❀⑅*⳾*⑅*❀⑅*❀⑅*❀⑅*❀⑅*❀⑅*
The rest of this chapter takes an explicit turn, so I have cut the chapter short in order to adhere to Vocal's Community Guidelines. If you would like to read this story unedited, you may visit my website.
Thank you for reading!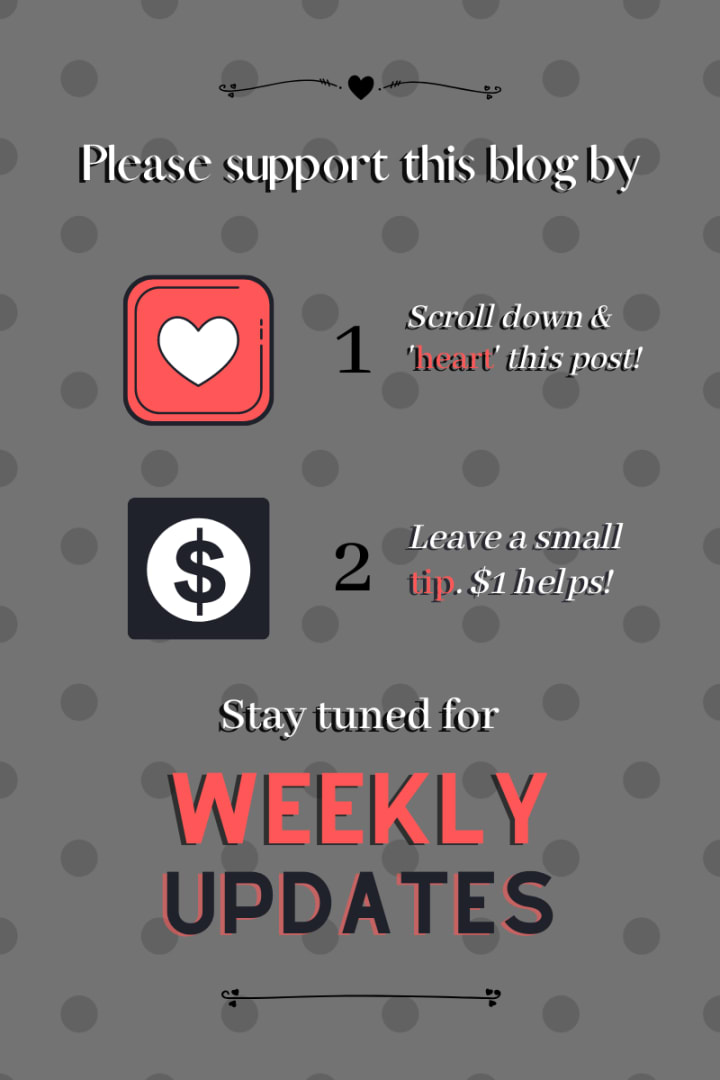 nsfw
Aspiring writer. Working on a sci-fi/fantasy book series. Will post my poetry, short stories, and the occasional random literary entry here.
Avatar by @oveikeii
Banner art by @midluuna
Banner photo by @AnnieSpratt