Sex Drive with FIve Friends
A Sexy Friendship
Our first date flopped. Cooped up since March due to COVID, Lo was complaining that she hadn't been on a date in "forever."
"What about the brothers? Don't they count?" I asked, referring to the two boys from across the street who had been making regular house calls to Lo's bedroom to unload their pent-up pandemic sexual frustration with the help of Lola's pussy.
Be Careful to Tell Your Boyfriend
"Those aren't dates, Daddy. Those are booty calls. Pity fucks. Besides, they're so young and inexperienced that there isn't even sexual tension buildup. It's all just ram-and-release."
"You seem to like it."
"Oh, I love it, for what it is."
"So, what is it you want?"
"I thought you'd never ask."
"My only wish is to please you."
"That's good because my only wish is to be pleased. I want to go on a proper date."
"So Meri also doesn't count?"
"Well, she did count, but we dated before COVID."
"I assume I don't count."
"Oh Daddio, you do count. You count the number of men and women I fuck."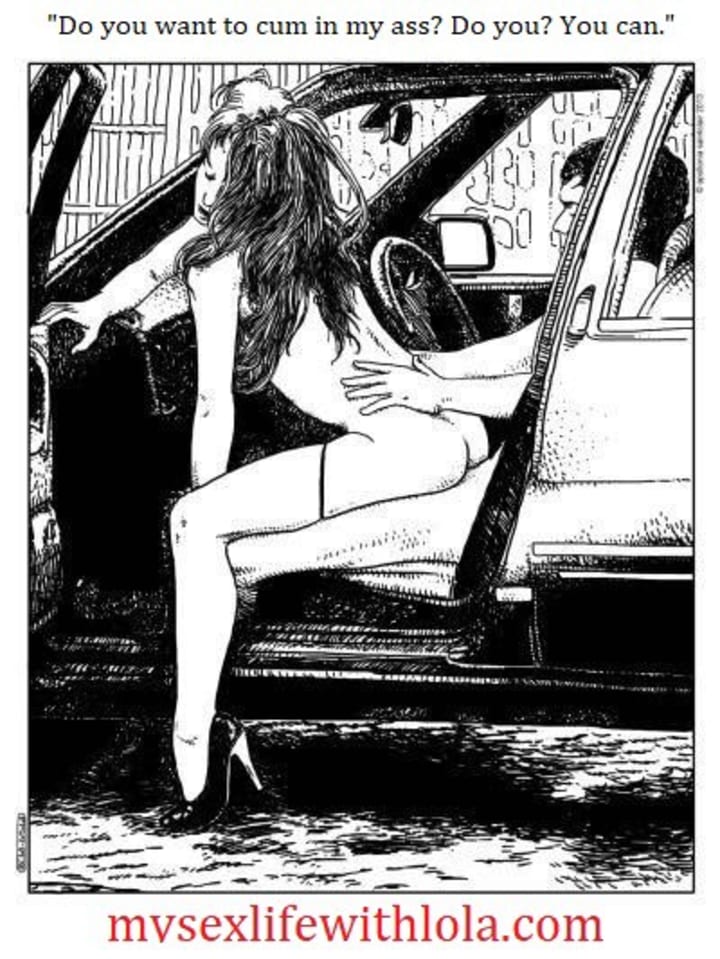 "I can't count that high."
"I'll buy you an abacus."
"Is that the thing with the beads on it?"
"Yes."
"That you put in your ass?"
"No. That's a different thing."
"Oh."
"I want to go on a date with a couple."
"A couple?"
"Yeah, a married couple."
"You have anybody in mind."
"Daddy, I always have many bodies in mind."
"Any particular bodies for your date?"
"Yes. There's a married couple that is trying to get the ole flame flickering again."
"Let me guess, you think that you can help his wick to grow."
"In a manner of speaking, yes."
"Where'd you find this couple?"
"They found me."
"Not another ad!"
"No, Daddy. They have been reading the blog."
"What are their names?"
"Ron and Nicole. She's a schoolteacher. He's a lawncare person."
"Interesting. And how are you going to go on a 'date' in COVID?"
"We. We are going on a date. You and me with them."
"Again, how?"
"Do you like drive-in movies?"
"Haven't been to one in ages. Why?"
"Well, it will be like a drive-in."
"How so?"
"We've picked a place to meet and they'll go in their car and we'll go in ours."
"And?"
"That's it. We'll see where we go from there."
We pulled up in the vacant parking lot. It was cold out for November. Ron and Nicole pulled up to our right in a late model Cadillac. Ron rolled down his window. Lola rolled down hers. They smiled at each other.
"Hi Lola," called Nicole from the passenger seat.
"Hi Nicole," responded Lola. I waved, foolishly, and smiled politely.
We could see our breath as the winterlike air flowed into the cabin.
My car has bucket seats. Lo and I couldn't physically be right next to each other.
Their car had a bench front seat. Nicole slid over to Ron. They were in their early to mid-forties, I'd say. She was pretty. He was smaller in frame than I had imagined. They were clearly there to see Lo perform.
Lola stripped naked in the car, but with the windows rolled up, soon the glass was covered in condensation. Ron and Nicole couldn't see anything. The more Lo tried, the more foggy the windows got.
Lo rolled down the window, which had the benefit of allowing Ron and Nicole to see her and to make her nipples very hard. But they could only see so much.
Lo opened the car door to expose below her chest. She swiveled and spread her legs, putting her feet up on the seat and fapping her wet pussy. The couple in the car next to us seemed to enjoy the show, but even I was cold, so I can imagine how chilly Lo's hairless crotch must have been!
I could see that Nicole had Ron's cock in her right hand and was stroking it as Lo stroked herself.
That didn't last long. Lo was shivering. The cold air on her nipples made them hard. The downdraft on her bare pussy gave it goosebumps. Pretty to look at, but no amount of caressing, slapping, or fingering could dispel the chill.
After about a half-hour of trying, we called it off and said we'd try again another time.
On the ride home, the heat blasting, I put on Poe's "Hey Pretty." The seductive lyrics sang:
Hey pretty
Don't you want to take a ride with me?
Through my world
Lo leaned over and said, "Can I just be your cock-warmer?"
"Cock-warmer? What is that?"
"You just let your cock rest in my mouth."
"We both know that there's no 'just' with you. Especially after this."
"I'll tell you what, you drive and I'll give you the longest unzipping of your life."
But just then our little late night drive took a strange turn.
We had just got home and I could tell by the look in her eye she was up to no good.
She walked in the front door wearing that little strumpet outfit she had put on for her audience and, not getting to give the show she had planned for them, she was ready to perform for me. A bad, naughty little performance for a packed house of one.
She pranced into the living room in her heels, black leather skirt, no panties, leather jacket, sheer blouse beneath revealing her hard nipples. She turned on the music: Machine Gun Kelly, "Bad Things." It was as if she had been waiting her turn in the strip club and the DJ finally got around to her set list.
The blinds were all open as she did her little COVID Cabaret.
"Did you like seeing me in the car tonight, Daddy?"
"I did," I said as I sat down on the couch to watch her.
"What did you like about it?"
"Your willingness to make a couple happy. I always say your generous nature is your best quality."
"I have a lot of good qualities."
"True."
"And a lot of bad thoughts."
"Do tell."
"If you only knew the bad things I like," she sang along with the song.
She lifted her skirt above her ass as she bent over by the window.
"Well, Daddy, are you going to give it to me?"
I stood up and came close to her. I began undoing my pants, but she stopped me.
"No," she said, "your belt. Give it to me."
"Punishment?"
"Yes."
She assumed the position, bracing for it.
I pulled out my long black leather belt, bent it in half, grabbed both ends in one hand and gently let it fall upon her flesh.
"Oh, come on," she mocked. "Harder."
"I gave her a mild whack.
"Harder. Wasn't I bad Daddy? Wasn't it wrong of me to arrange this COVID dogging session?"
I gave her a strong spank with the strap. It made a clear cracking on her ass. Her body convulsed as if she was surprised by it. Then she said, "Yesss, that's it."
I gave her another.
We hadn't engaged in this sort of play for a long time.
"You were bad," I said, reflecting upon it. "Dressed scantily in public like that. Like a little skank."
"That's right."
I gave her a harder smack. I could see the outline of the belt in a red line left on her skin, even in the dim light.
"Again."
I gave it to her again.
"Harder."
She got another harder.
"I wish that the three of you could be doing this to me. You, Ron, Nicole."
I gave her another WHACK!
"I wish I was tied to a pole naked (except my heels of course) and each of you had a strap to take turns on my body."
"Why?" I asked as I inflicted another, harder lick of the leather.
"Cause I can take it. Cause I like it."
"Why?"
WHAP!
"Because I deserve it."
SMACK!
"Because I'm so, so bad."
I gave her one last, forceful spank with the belt before she said our safe word. She turned around. There were tears in her eyes. She reached out her arms and hugged me. She wrapped her legs around mine. She was holding on for dear life.
"I hate this pandemic!" she said, weeping.
She slowly descended, her body crumpling around my legs. She was on the floor, hugging my shins, crying, weeping, naked.
"Come," I said, helping her up. "Let me apply some aftercare."
I led her to the bedroom where I gently laid her out on the bed, face down. I went into the bathroom and got out the baby oil. I puddled some in my palm, rubbed my hands together to warm them up, and gently caressed it over her glowing red ass, sore from the spanking she received.
"Owweeemmmmmm," she purred, her cry of pain turning to a hum of pleasure.
I made small gentle circles with my palms on her ass cheeks. I slid my fingers between her ass cleavage. I ran my fingertips up and down her crotch gently. I revolved my index finger around her special spot, slowly descending into it, one knuckle at a time until fully submerged. She moaned with pleasure. In-and-out I went, first with one finger then with two. I curled them and fingered her ass much the way I would finger her pussy.
Her body mimicked the motions of an inchworm, rising in the middle and then descending. Up-and-down. Faster my fingers slip-sliding in-and-out, until she said, "There! Stay. Deep. Hold it!" She came. I could see her pussy juices dribbling down her thighs. Her ass clenched up on my fingers. Her body was motionless for a moment before the waves of involuntary convulsions shuttered across the surface from feet to shoulders.
Her sphincter released and I slid my fingers out with ease.
To my shock she was asleep.
I was hard, but happy. My deepest desire is to please her.
taboo
I ama Young Millionaire and a Travel Vlogger
Hope To spemd a Good time with You
have a Good Day
Regards
Sarmad Mayo