My Wife Fell in Love with Her Lover, Pt. Two
The saga continues between my wife and her lover.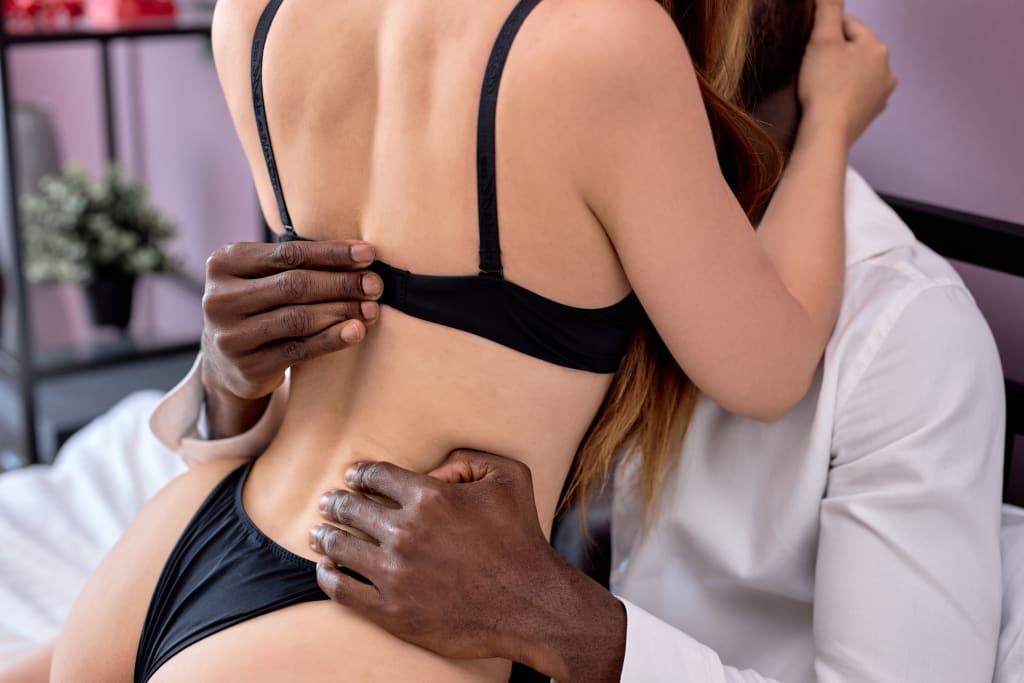 © Albertshakirov | Dreamstime.com
It took two more meetings with Aaron before Mandy and I decided to invite him over for dinner.
So far, we had been loving the sexual experience with him. Mandy found herself loosening up in ways she never thought possible. The same became of me as well. I saw myself beginning to embrace my submissive nature without any foreboding warning. As much as Mandy was taken over towards wanting more of Aaron, I found myself desiring the same thing. I would spend hours of the day imagining Aaron cumming inside Mandy, and him allowing me to eat out her pussy. The mere thought of that was enough to make my penis grow hard in my jeans.
Aaron did grace our home that evening, and we had a fun time chatting like we were old friends. I sensed that Mandy wanted nothing but for things to move unto the next stage, the important reason for why Aaron was here. I stayed to clear away the dishes while Mandy suggested to Aaron if he would like to see the rest of the house, to which he said yes. I gave them fifteen minutes' grace before going upstairs to see how they were doing.
As I expected, Aaron stood by the bed holding Mandy's legs in both hands as he went ahead with ploughing her with his dick. Her whimpering moans and gasps filled the room. Their workout got the bed springs squeaking and groaning. I stood there masturbating to the sight of them having sex. They switched positions several times, and it wasn't until the moment came when Aaron got to smacking Mandy's ass while he pounded her from behind that I then climaxed into my hand.
There was no rush this time. Mandy begged Aaron if he wouldn't mind spending the night—this was stunning even for me to hear. Aaron asked if it was okay, to which I wholeheartedly agreed. I grabbed a pillow and slept off downstairs in the living room. I heard bumping noise from above my head through much of the night. Several times, I couldn't help myself and went to sneak a peek into the room. The lights were off, but I easily made out their outline to see that Mandy was grabbing the bed's headboard while Aaron gave her the business. I watched enough then returned downstairs to masturbate.
Aaron became a regular in our household after that night. Mandy even gave him a spare key to the house so he could drop by anytime. The living room sofa became my new bed as I had no choice but to forfeit the bedroom whenever Aaron was around. He and Mandy got to be so close that often, he would take her places to have sex before returning her back to me.
###
Three months have passed since Mandy and Aaron became tight when one evening, Mandy hit me with the surprise news: she was in love with Aaron, and there was no turning back from it. She asked for a divorce, saying she could no longer consider herself married to me while sticking with Aaron.
Had I known that such a day was coming? Say I had known, what could I possibly have done about it to alter things not to occur the way they did? There are never any suitable answers to such questions. What had happened had happened. We both made the choice, and such was what the consequences brought upon us.
As it turns out, I wasn't upset by her choice. I granted her the divorce she wanted, and she and Aaron even invited me to their wedding. My family were shocked, and badgered with me questions for days. Life went on, and here I am, seeking a woman that would take the place Mandy left. Hopefully this new woman, too, would love to make a cuckold of me. And if she doesn't, then I'm apt to coach her into the lifestyle.
erotic
About the author
If you're just now discovering me, I'm here to tell you that you're too late. But you can find my alter ego here: https://linktr.ee/Dsoul360