My body's not a temple, it's an art gallery!
Showing the whole of myself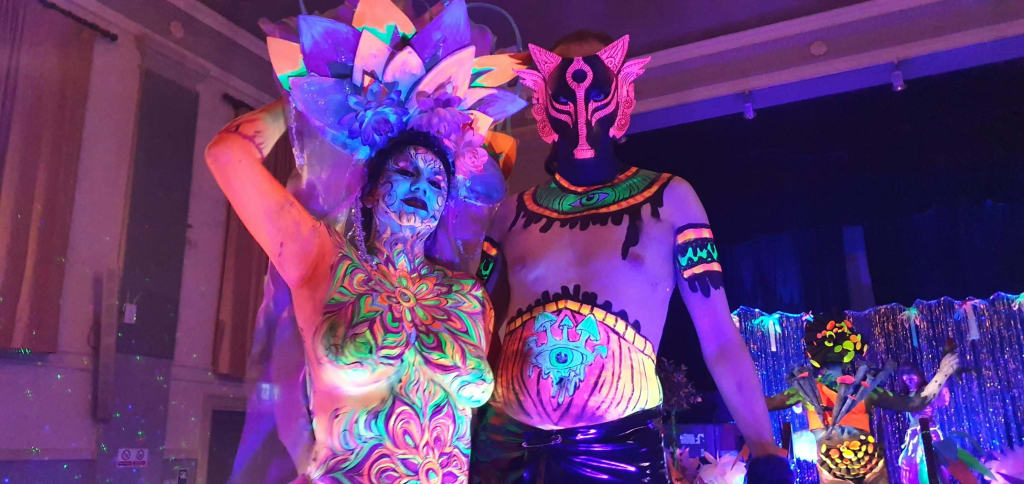 Art by Erica J. Wafford & Sian E. Drew - photo by a fan!
When my hometown of Glastonbury raises money for charity, we do it in style. And my wife and I decided to up the showmanship and really do it in style!
"Male models wanted for fundraising fun", said the sign in the window. That'll be me, then, I thought! So in I went. They explained what they wanted of their models for the fundraiser, in tones of voice that I use when I'm trying to break the news gently to someone who won't like what I'm about to say, as they didn't yet know how different I was from their usual middle-class clientele. Basically, they wanted drag. In aid of cancer research, a local clothes shop would be transformed for the day, with a red carpeted catwalk in the centre, snapping cameras at one end, and applauding, catcalling spectators at the other. Down the catwalk would go willing men, decked out in the finest selection from the shop's stock of women's clothes, looking as fabulous as possible in the moments they were given to change in between struts on the catwalk. A shopkeeper, a DJ, a painter, and me - a performer of various stripes who calls myself an actor when I have to pick one word to describe my various ways of being an exhibitionist for a living, which include music, modelling, stand up comedy, scriptwriting and murder mystery events.
A bright yellow skirt-suit; a bright violet ballgown; a white bridesmaid's outfit; and an improvised combo of all the slinky black things I could lay my hands on to cover the various parts of the 6 foot long bean pole I call a body (the DJ had already taken all the fishnets). The cameras snapped, the spectators clapped, and my wife said she wanted to try on the violet gown afterwards - it fit her so perfectly, and suited her so prettily, that I bought it for her as an anniversary gift.
That same night, it was time for a slightly different costume role! Because it's fun for the whole family, because I live in the town that coined the phrase "Normal For Glastonbury" to describe ourselves in a sentence, and because why the heck not... the charity Children's World raises money and awareness with an annual Zombie Walk. Because of course they do. Willing participants turn up and pay their donations to the amazing work the charity does; in exchange they're given the attention of an artist who dresses them in something suitably apocalyptic and paints their face, hands, and any other body parts that are showing, like a monstrous extra from The Walking Dead. On a slow year dozens, but on a good year hundreds, of such folks then assemble at one end of the town and march to the other, accompanied by collectors shaking money buckets and handing out "How To Survive The Apocalypse" leaflets to confused visitors to the town. It definitely made a change from the ballgown, and it definitely gave me a chance to "showcase my range", as my agent likes to say! That year, as a fun added extra, a local multimedia production company decided to get their members together and march the other way, from the other end of the town, to meet in the middle and defend the town from its enemies with the aid of Nerf guns. Because why not. Because it was almost Halloween. Because "Normal For Glastonbury"!
A couple of months later, it was time for the town's next big charity event, the Glastonbury Body Art Experience! Artists from around the country, who make a living on face painting stalls at funfairs, henna classes at New Age retreats, tattoo parlours, and fantasy film sets the rest of the year, assemble in the Town Hall, which, like the clothes shop a couple of months prior, was transformed with catwalks and cameras, only much bigger and much brighter. The whole day is given over to artist-model pair-ups arranged months, weeks or days prior (depending on how organised we are - we're talking about artists, here), to let their imaginations run wild on the theme they're given. This year was Gods & Goddesses. My wife's turn in the spotlight, gorgeously naked except for a thong and a pair of sticky nipple covers, and gloriously transformed with black, blue, mauve and silver paint, glitter, pearls and feathers into Arianrhod - the not-well-known-but-much-loved-by-those-who-know-her Celtic Owl Goddess of Chance and Change. All genders, all races, all ages, all shapes and all sizes of people took their turn on the catwalk, which was entirely theirs for 3 minutes each to embody the God or Goddess whose colours adorned their bare, bold, bright, beautiful bodies - it was up to every model to be as sensible or as sensual as they felt ready, willing and able to be. My wife's readiness, willpower and ability to do it with amazing abandon has not been allowed out to play for a big chunk of her life, but she made up for lost time in no uncertain way. For those 3 minutes, the catwalk was hers, and so was the crowd. A writer, model and actress who's been repeatedly told that those things are either not a decent living, or just plain not decent, was free of the influence of those voices for that moment of time, drowning them out with the captivated gaze of the crowd, when she was Arianrhod. We had built up the freedom and confidence, and introduced ourselves to that world and its way of doing things, by posing for portrait and life drawing classes - a pursuit which is still a big part of her way of making a living, and for which she is regularly in demand - and it was so worth it.
That was just the beginning. She didn't want to stop, and I wanted in. We've been in festivals and photoshoots now as characters from The Wizard of Oz; from A Midsummer Night's Dream; out by the sea in a painted-on Marilyn Monroe bikini; under a black light as a living Mandala and a resurrected Egyptian demigod... to name but a few. Prepare your mind, prepare your skin, and give yourself into the hands of your artist, to caress your body with their brushes and transform you into something that lets you freely release the part of your spirit that matches the colours you're displaying, and let the crowds and the cameras see your strength, your heart, your mind and your soul displayed in bold with the curves of your body and your moves. There's nothing quite like it. And there's nothing quite like the feeling when that's what you're recognised for by semi-strangers on the street who remember you having significantly less clothes on, and considerably more brightly coloured skin, last time they saw you!
And so, of course, some time later, when it came time for local designers to put together a Glastonbury calendar, we got the call to join in. Local folks were being invited to showcase what they did for a living - clad in slightly more revealing clothing than they normally worked in day to day, of course!
Our business being a professional touring performing arts partnership, they said, how could we not be asked - and how could we not say yes?
We've performed as characters on a fully Shakespearean stage in A Midsummer Night's Dream, fully clothed; we've appeared as characters from A Midsummer Night's Dream, naked and painted, at a Summer Body Art Festival Weekend; now, for the third time of asking, we adopted a look somewhere between the two - clad only in windswept cloaks and carnival masks - for a very pleased and impressed pair of photographers. Fairies were always supposed to be getting up to things on Midsummer Night that the local Minister wouldn't approve of; so who are we, a pair of professional exhibitionists, to break an ages old tradition!
Granted, a 2020 calendar proved to be not quite as useful as the same item might have been in other years, given how much of 2020 we've spent closed in and wondering what day it is anyway... but "Mr. & Mrs June" stilled rocked it, if we do say so ourselves. And as soon as it's safe and sane for naked models to assemble in a room together again and be touched on the skin by artists' brushes - or someone needs us to cross dress or be changed into Zombies for charity - we'll be there.