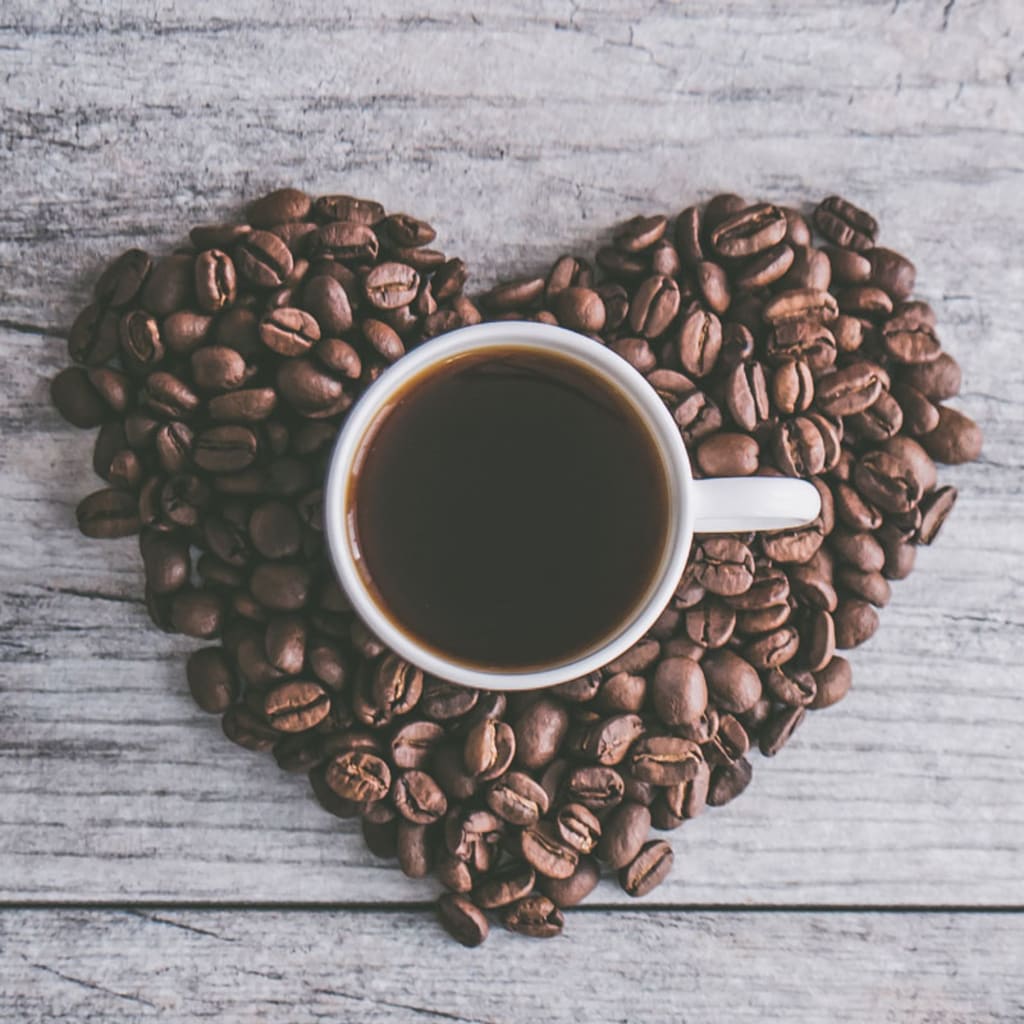 What could be more tempting than a hot cup of coffee on a cold Monday morning?
She knew how much he loved to watch her as she went about her morning routine.
Wearing little but a towel, she deliberately allowed him teasing glances as she leant over him, or bent before him, but she always kept her distance, just out of arms reach, knowing that if he touched her, their perfectly choreographed routine would come crashing to an end and neither would get to work on time.
This morning was different. She had awoken with an aching hunger deep within her. But tensions were always heightened of a Monday and so she simply went through the motions. 
She tried desperately to quench her thirst in the shower, hoping the pressure of the warm water vibrating against her as she squatted over the hand held shower head would relieve her need, but it simply left her wanting.
She tried to make it through their usual dance, performing her subtle tease for him as she readied herself for the day to come, but as she prepared their coffee and breakfast her hunger only grew.
She returned to the bedroom and started to straighten the sheets as usual. God, how she wanted to be back between those sheets, their bodies once again entwined in a perfect pas des deux of passion.
Silence filled the air as he turned off the water, and she knew it would be only moments before he returned to the room; warm, damp and completely naked.
She made up her mind there and then, and crawled onto the end of the bed, positioning herself on hands and knees, towel pulled up around her waist, knees spread wide open, the view of her curved buttocks and wet glistening pussy she hoped a temptation sweeter than his awaiting breakfast.
As she reached for a pillow in pretence of her continued effort to make the bed, she felt his presence enter the room, and held her breath as she awaited his response. 
It felt like an eternity before he approached and she felt his hand firmly connect with her derriere, making her gasp, and she delighted in the warmth radiating from the contact of his hand upon her bare skin. He gently placed his hand upon the point of contact, and stroking gently, leant over to whisper in her ear; 'So, the kitten wants to play....'
She gasped as he spanked her once again, twice, and a third time as he cupped his hand and slapped her wet lips, his fingers lingering, massaging, before sliding inside her.
He clenched her shoulder and savagely licked her ear. 'Is this what you wanted? Show me what you want,' he growled in her ear.
Lowering her upper body to the bed, she reached around to spread her cheeks wide open for him, moaning as his fingers slid in and out of her sticky wetness, drenching his fingers in her natural lubricants.
'This?' he queried, as his thumb rubbed against her tight little anus, making her squirm. 
'Or this?' The tip of his tongue played over her hole, and she pushed back, the combination of his fingers and tongue driving her wild with desire. She could feel his hardness pressed up against her leg, and longed to touch it, to take it in her hand and stroke it.
'Or this....?' He says, looking deep into her eyes as he removes his fingers from her wet horny pussy to slowly slide it deep inside her hole. Then slowly back again almost pulling it out, in, out, her deep moans of pleasure all the encouragement he needs as he comes to stand behind her, rubbing his erection in the juices pouring down her inner thighs as she begs him, now, to slide his gorgeous cock into her ass and fuck her like there's no tomorrow.
She gasps as his head embeds itself in her hole, contracting at the pleasurable pain she always experienced upon his initial insertion, the moment before she allows herself to relax, breathe, and take him deeper. His hands massage her hips and lower back as he drives his slow, gentle thrusts in and out, deeper and deeper, slow and steady, the intensity growing as she begs him faster, the sound of flesh slapping with each delicious propulsion, the friction building to a climax as with one final slam they come to orgasm and he fills her to the brim with his hot, sticky cum.
Breathing deeply, and with a sense of deep satiation, he comes to lie beside her, arms wrapped around her, still deep within, kept on the brink as she slowly writhes next to him, his cum slowly leaking, her every move bringing an intense feeling of pleasure to them both.
'Your coffee's getting cold,' she manages, her voice breathy, turning her body slightly to see him. 
He looked at the clock. There was no way he would make it on time.
'Fuck, I hate Mondays,' he spat out, sliding his fingers deep within her once again, his lips and tongue playing over her breast, suckling at her hard nipple.
Her satisfied sighs were his only response. If only there were more days like this, she might change her mind about Mondays....