Meeting the JAV Stars of AVN 2016
By Nitin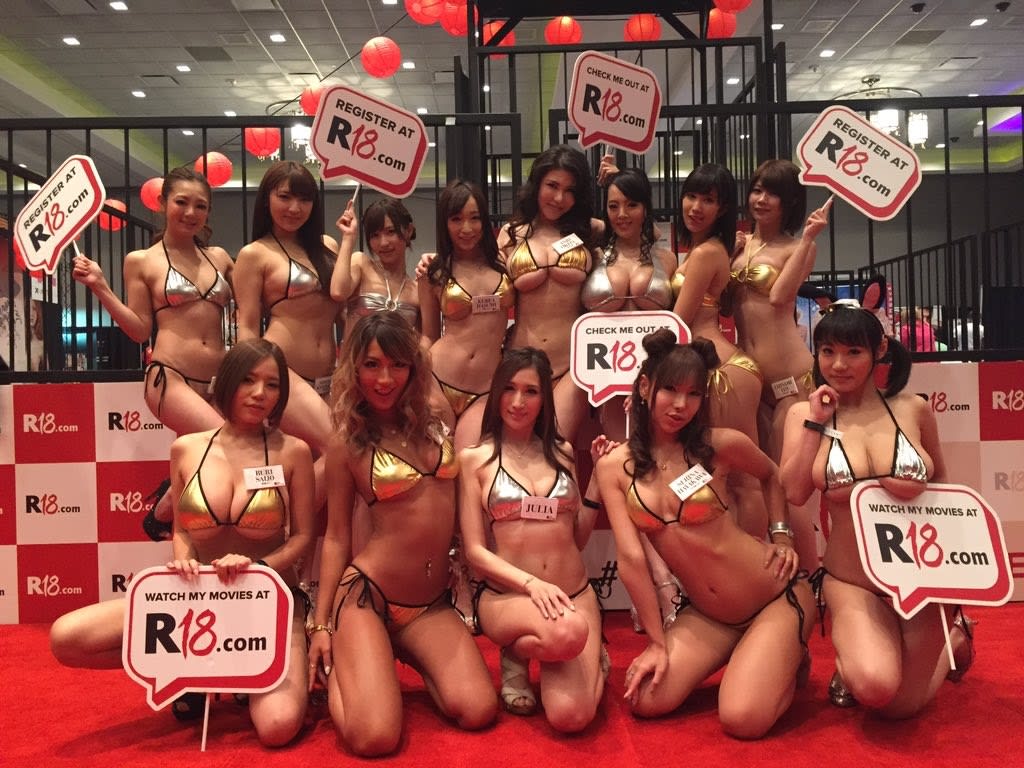 It's the dream of many to meet their favorite JAV actresses in person. Could you imagine meeting 13 of them all at 1 time in 1 place? You didn't have to imagine it if you went to AVN 2016 in Las Vegas like I did! R18.com found success with bringing 3 JAV stars from Japan to AVN 2015 so why not bring even more in 2016!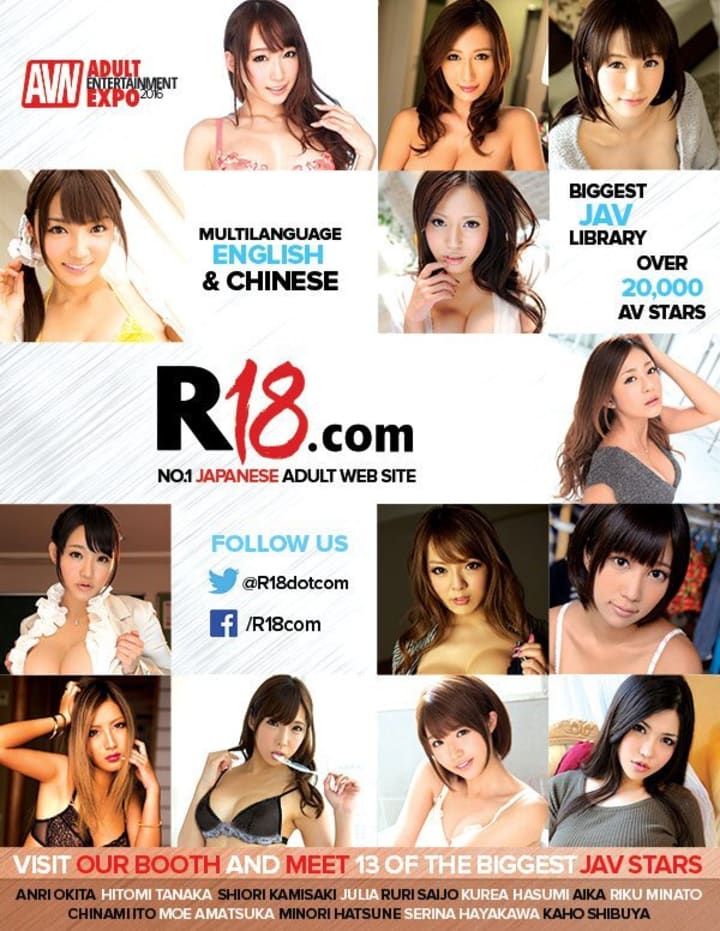 As you can see they brought some of the most popular JAV stars to AVN, in alphabetical order, AIKA, Anri Okita, Chinami Ito, Hitomi Tanaka, JULIA, Kurea Hasumi, Kaho Shibuya, Minori Hatsune, Moe Amatsuka, Riku Minato, Ruri Saijo, Serina Hayakawa, and Shiori Kamisaki.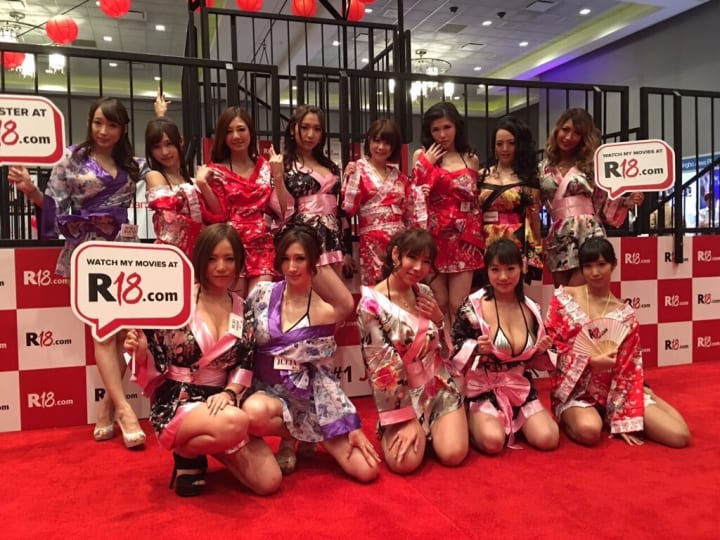 While I missed R18 going to AVN in 2015 I certainly wasn't going to miss seeing them in 2016. As I wanted to make sure I got as much time as possible to see everyone and beat the crowds in line to get in I got the VIP package which let me in 1 hour earlier than general admission. It cost a little more but well worth it when I saw how long the general admission lines got, which was out the door of the Hard Rock Hotel which was hosting AVN at the time. After I picked up my VIP package with badge I went straight through the entryway and into the AVN event area.
As this was my first time going to AVN I didn't know the general layout of the event space but it wasn't hard to find R18's booth as they took what was probably 16 standard booth spaces and turned it into a large space with a big 2 tiered podium in one corner and tables surrounding 1/2 of it with lots of space between the podium and tables.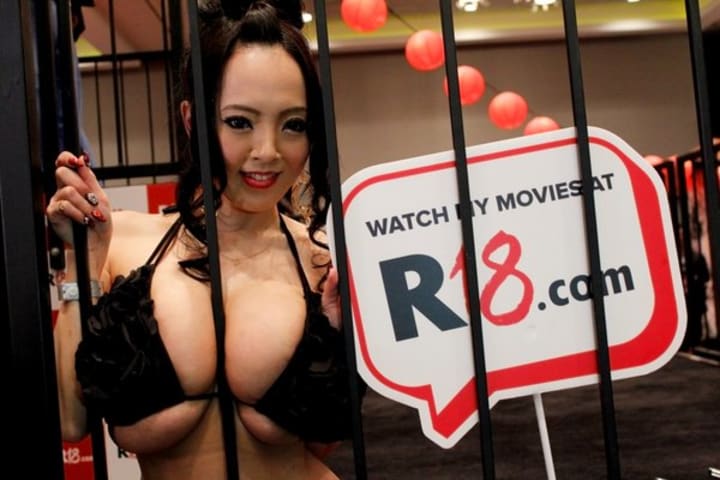 Situated on the podium is probably the only time and place as of this writing where you would find the most popular JAV actresses in the world while wearing bikinis. While there was the space between the podium and tables which wouldn't let you get a close up shot of the actresses the other 1/2 of the podium was along the rooms aisles so you could go up for real close shots of them. They would go right up to the gates of the podium to lean over to say "HELLO" and posed for all the photographers, amateur and professional, constantly surrounding the booth. There was also times when they would squat or kneel down and press their bodies against the gates, especially those with bigger breasts like Hitomi's which would stick through the gates poles.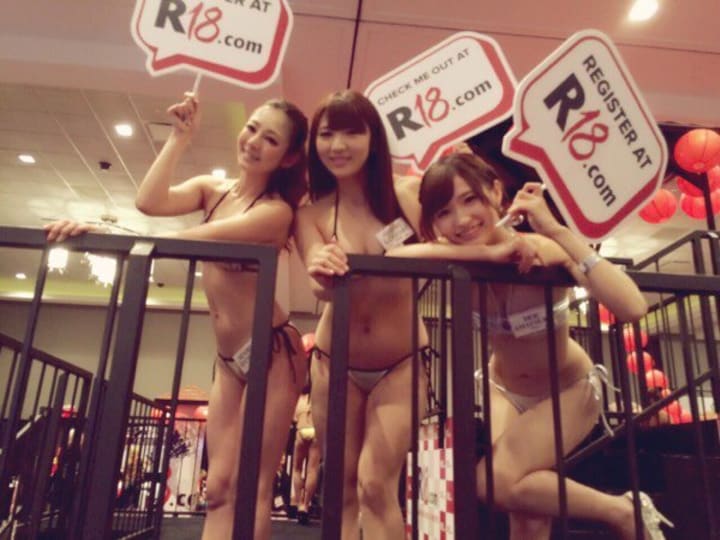 Besides photography and video recording of the actresses there were events too! One of the most popular being of course body sushi.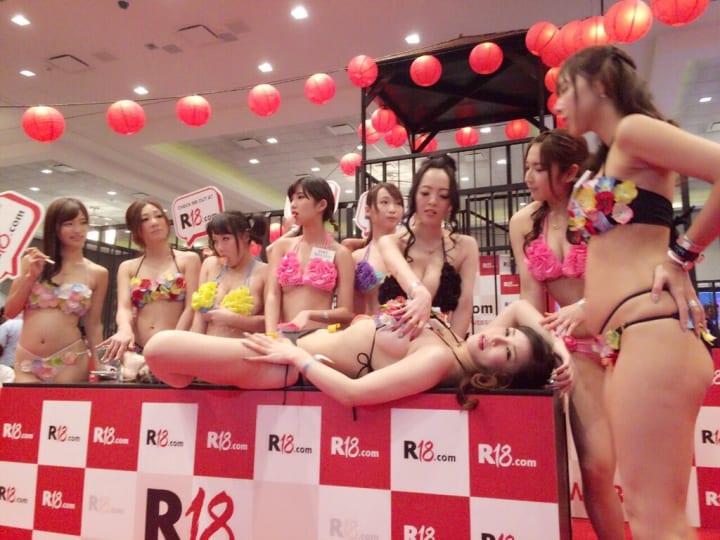 The sushi wasn't real but realistic plastic sushi that you usually see in glass displays inside or in front of Japanese restaurants. They would put the sushi on top of each other by hand or by mouth and even in between breasts if they were big enough. If there was space some of them would get on top of the table and pass sushi to the other person laying down.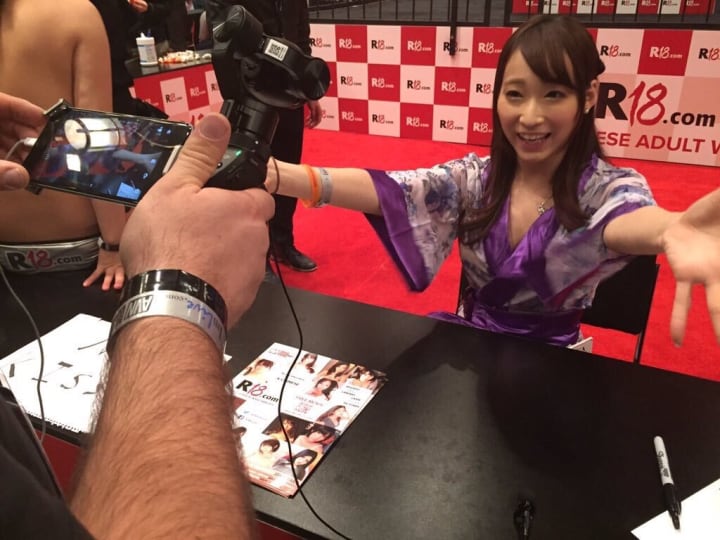 Another event they did was in the open space they would put one chair for anyone at AVN to sit in while being surrounded by the actresses, which was all the fans always surrounding their booth area. You can bet I went there to sit down, I think I was the first to volunteer to do so? People were kind of nervous to raise their hands to sit on the seat, it is sort of nerve wracking to be surrounded by such beauty after all!
The tables surrounding the booth area was not just used to block off the "event space" area in the booth but used as autograph tables too of course. You could bring different things for them to sign, from the leaflet R18 was passing out to magazines and printed photos. It was interesting R18 wasn't selling physical DVDs for the JAV actresses to sign. In fact they sold nothing at all! I'm surprised they didn't sell even a generic R18 shirt in white to sell for the actresses to sign, I'm sure there would have been many fans who bought the shirts to have them autographed. I guess they had limited luggage space but with the number of staff and managers I saw at AVN you'd think there would be space to bring some goods to sell and have signed.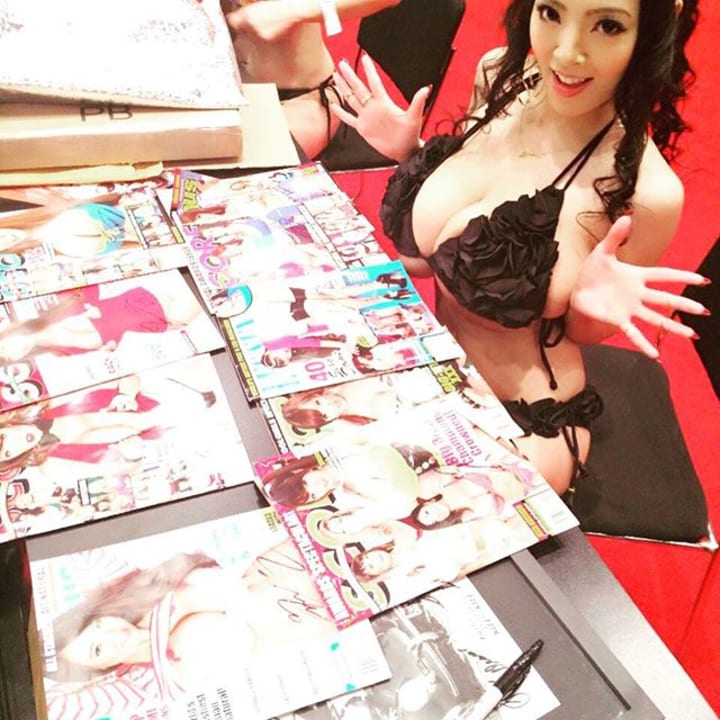 It was there you could talk to them on a one on one basis. While most of them could speak a little English there were those that spoke conversational English, Anri, Hitomi, and Kaho. There was one more person, I believe it was either Chinami or Moe.
There was fun posing to be had as well if you asked.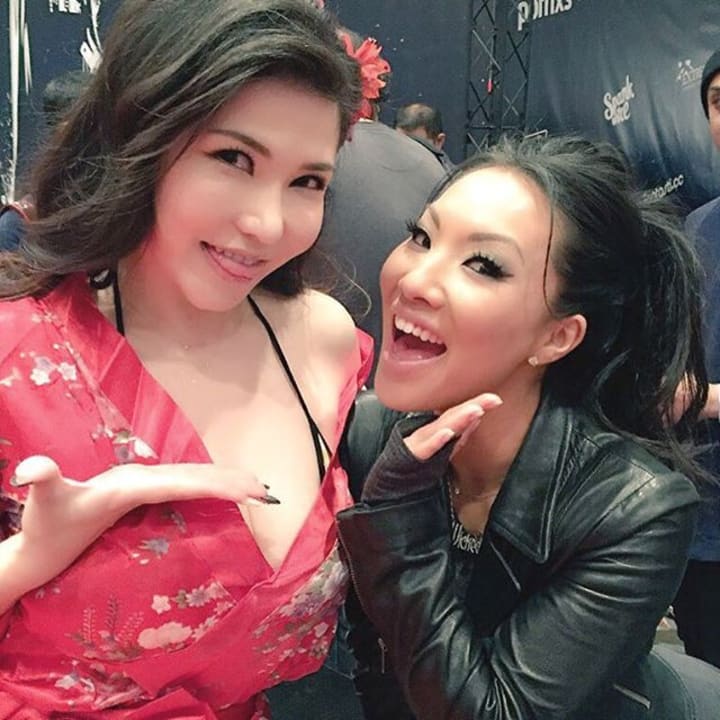 While the JAV actresses were there they also got to meet with others in the adult industry, some of whom you'd recognize.
The space was also used for the actresses managers and R18 staff to stand at attention to assist the actresses if they needed something, like getting them drinks, supplies like pens, taking them back to their hotel rooms, and other matters.
Actual R18 staff that was there included 1 ninja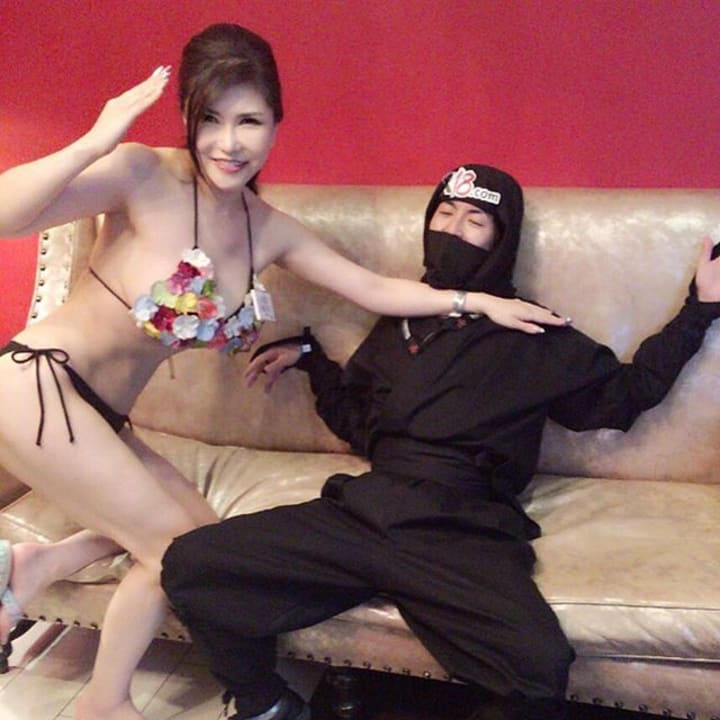 Most of the time the actresses would have shifts for who would be at the booth area and going back to their hotel room to rest for a bit. The only time they would all gather together was for events or group photo shoots.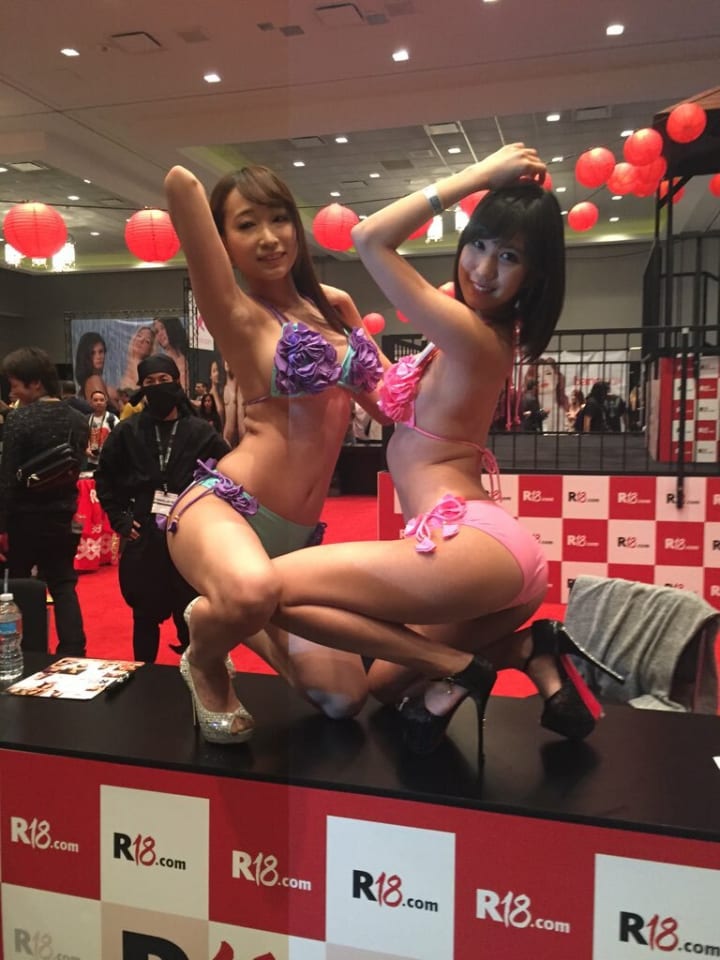 During the time they had to themselves they had fun together.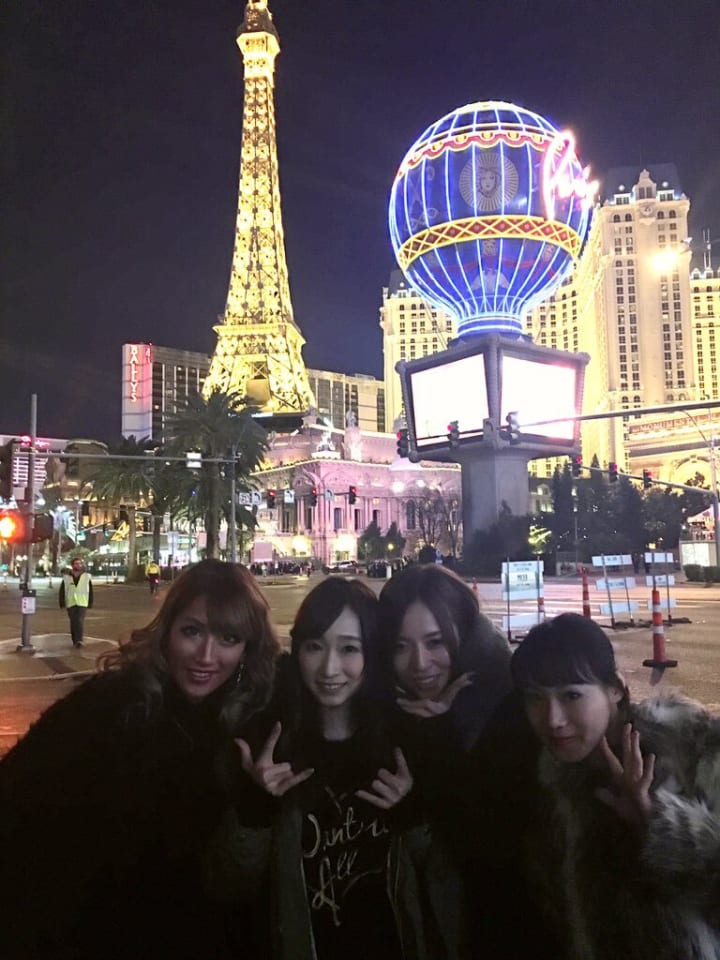 While they did work full days from opening to closing of AVN, they did have time to go out and have fun in Vegas as it is a city that never sleeps; from sight seeing to gambling.
Of course you need to do the obligatory hotel room selfie before the doors opened each day.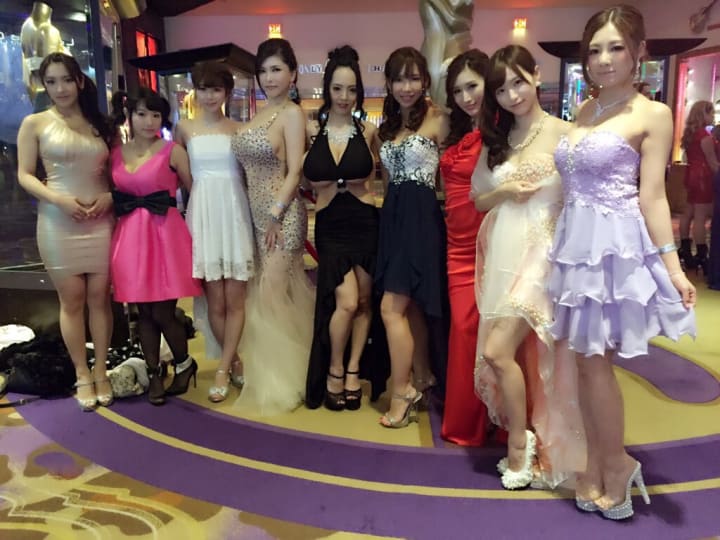 At the end of every AVN there's an AVN Awards show. All the girls dressed up in formal wear to attend the show, some more revealing than others; looking at you Hitomi. Part of the reason to attend was for Hitomi was nominated to for the "Most Spectacular Boobs" category and they wanted to be there if she won. The talents of AVN who attended the awards show walked down a very long red carpet so they could pose and have their pictures taken by fans. I had staked myself maybe an hour earlier between a row of vending machines for a good spot to take a clear shot of all those who came by and funny enough all the actresses managers later came by in the same spot to take photos. Of course we sort of recognized each other by then as they kept seeing me at the booth for the past 3 days and it was a nice coincidence as the actresses would surely turn in my direction for photos with their managers there to take their pictures.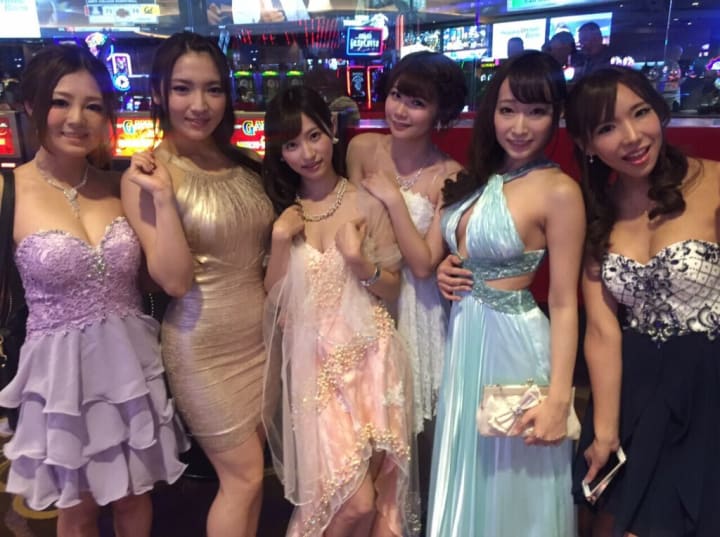 As it is a party too the girls were having fun, having drinks, and dancing of course.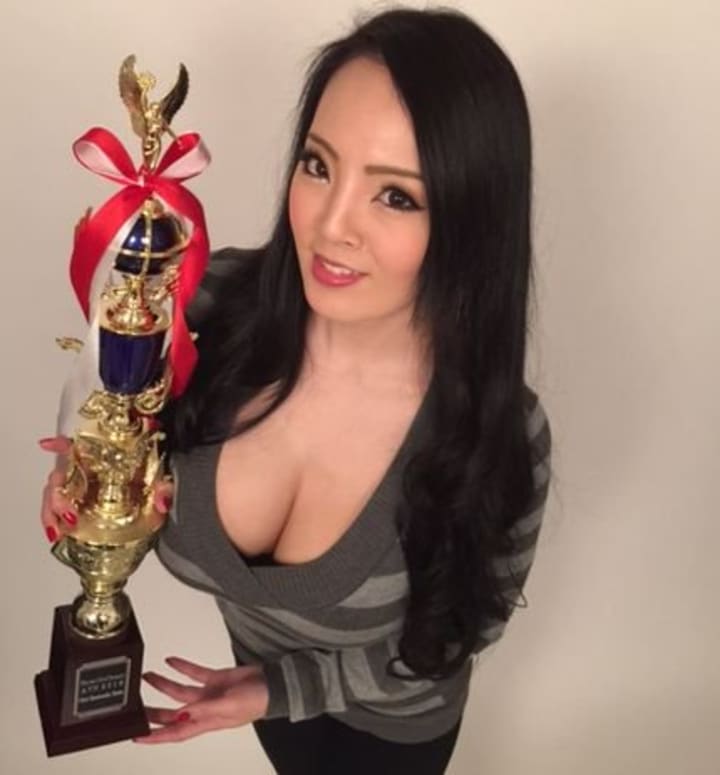 Unfortunately for some unknown reason they didn't announce Hitomi's category on stage, maybe due to time constraints. It was later in the evening after the awards show was over when the list of winners was announced and Hitomi did indeed win "Most Spectacular Boobs." Her award trophy was later shipped to her in Japan.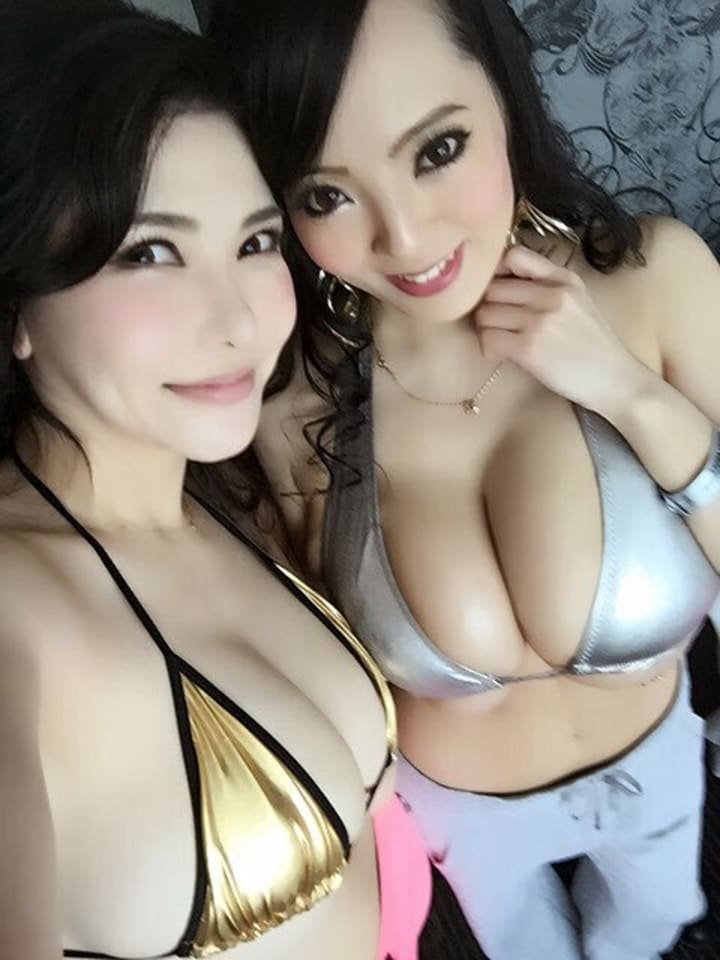 Will something big like this happen again at AVN? Likely not, though I wish it would! The time and experience you spent with all the actresses for 3 days was priceless and was well worth the cost of the flight, hotel, and daily expenses. Considering you already need to fly to Japan, book a hotel, and spend between $30-$90 already for around 8 minutes with them at fan events, not counting personal photo shoot cost and time, it was a small price to pay for those memories.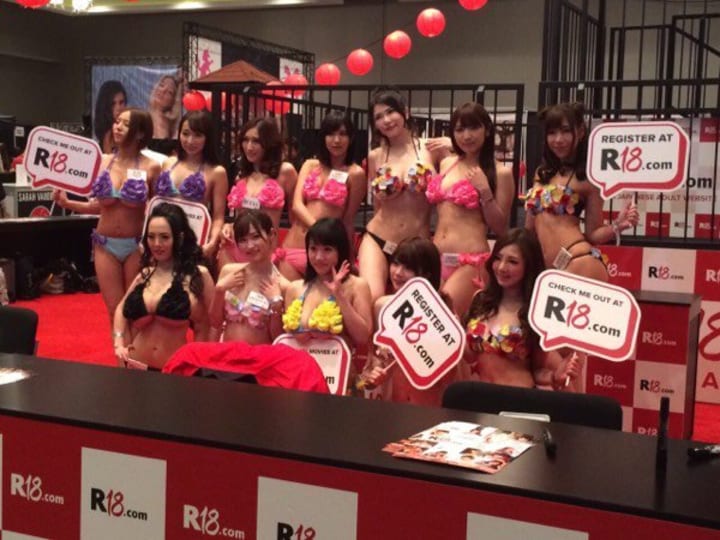 Here's a photo dump to enjoy.
Reader insights
Be the first to share your insights about this piece.
Add your insights