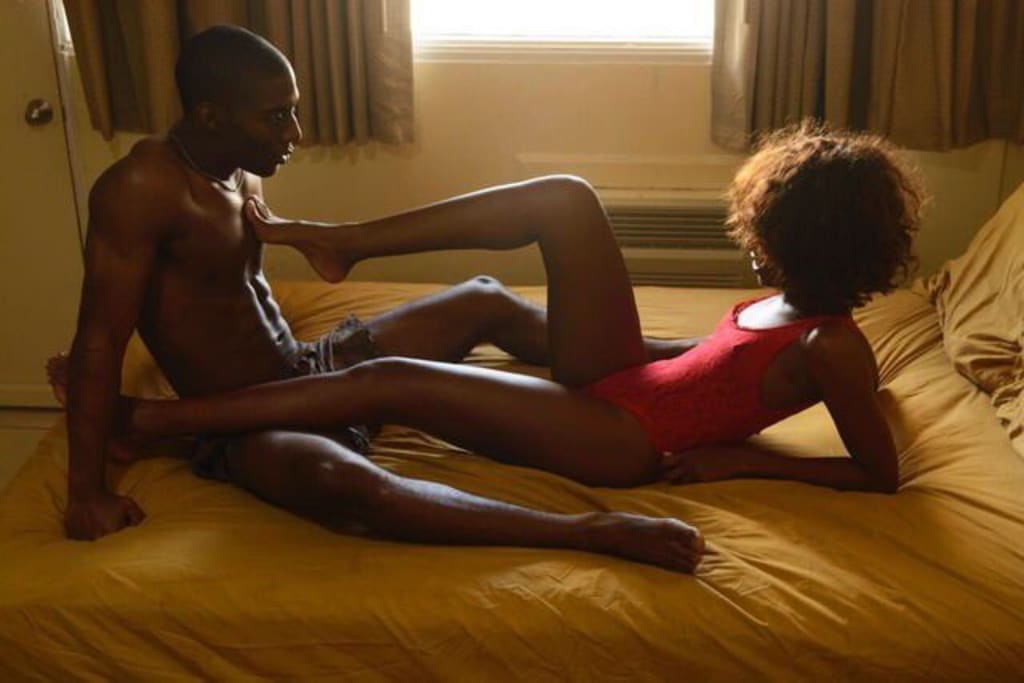 This particular fantasy has been on my mind for a while...something I've been cooking up in my head for some time now. I was on my way to work one day and while sleeping on the train the fantasy appeared in my head like a dream. I was in the bedroom already, wearing a see-through purple lace dress and sipping on a glass of chardonnay. He walked into the bedroom, wearing black silk boxers and sipping his own glass of chardonnay. The photographer was at his post on the far left, camera ready & focused on the scene in front of him. As if the photographer wasn't there, he proceeded to come towards me, put down his glass and take mine out of my hand only to throw me down on the bed, rip off my dress and hungrily grab my legs; KISS THE PUSSY TIME! I moan, I grind my hips, he makes sounds along with me; CLICK CLICK the photographer captures every moment, every sweat drop from my forehead, every lick of the tongue on my clit. Before I cum I decide to give him a little slip n slide so I switched to a sixty nine position. Slurps n licks on both ends were captured on film & we continued to let out our freaks within. We shared powerful orgasms at the same time and I took this as an opportunity to ride my wood; we cried out each other's names and the photographer's camera captured it all. We reached our peak together and kissed each other with passion; we then laughed as we looked at the camera, proud of our recent action.
I woke up from this dream very turned on.
This dream....had a real affect on me. I thought about it like...can I actually pull something like that off? Would he be 'into' something like that? Should I talk to him about it first or should I make it a sexy surprise?
I answered all the questions on my own. I quietly looked for a reputable 'intimacy style' photographer or an intimate boudoir photographer. I ended up interviewing ten photographers. One got excused on the spot due to him asking to be able to join in. Four of them excused themselves as they were not comfortable taking 'those' type of pictures. Out of the five of the photographers left on the roster, three of them had schedule conflicts and being that I wanted to do this right away, they had to go. Two left. My final decision rested upon the photographer's looks. Being that I was planning a sexy surprise, I needed the photographer to look ordinary, non threatening, almost like he could disappear in any room he was in. T.hat way, my boo would feel comfortable entertaining this fantasy with me and in no way think that I would want the photographer to join in our play. Out of the two, I picked the one that fit that description. He had the time and he charged me the right price. Not only did he offer to email me the pictures, he said he would put them on a DVD with a music soundtrack of a song of my choice.
I set a date and a time.
SEXY PICTURE DAY finally arrived. I set the scene, I was dressed in the very same lace dress from my dream and the photographer was in his corner, ready for the show. No turning back now as I heard my boo sticking his keys in the front door, letting himself into our home. He called out my name as he saw evidence that I was home; I answered him in a sultry manner and asking him to come into the bedroom to see his surprise. I hear his excited steps toward the bedroom and as he opened the door, I smile and say...
MAKE LOVE TO ME...IN FRONT OF THE CAMERA?!
Checkout all of my blogs on Kai Storm Book's site www.nattiekai.com & if you love what you read send me a gift donation as low as $1! Click below! My blogs are free to read but a donation is your way of showing love & authors on the come up like me appreciate the love! Thank you in advance!