Just Terrible
Example of why I might be single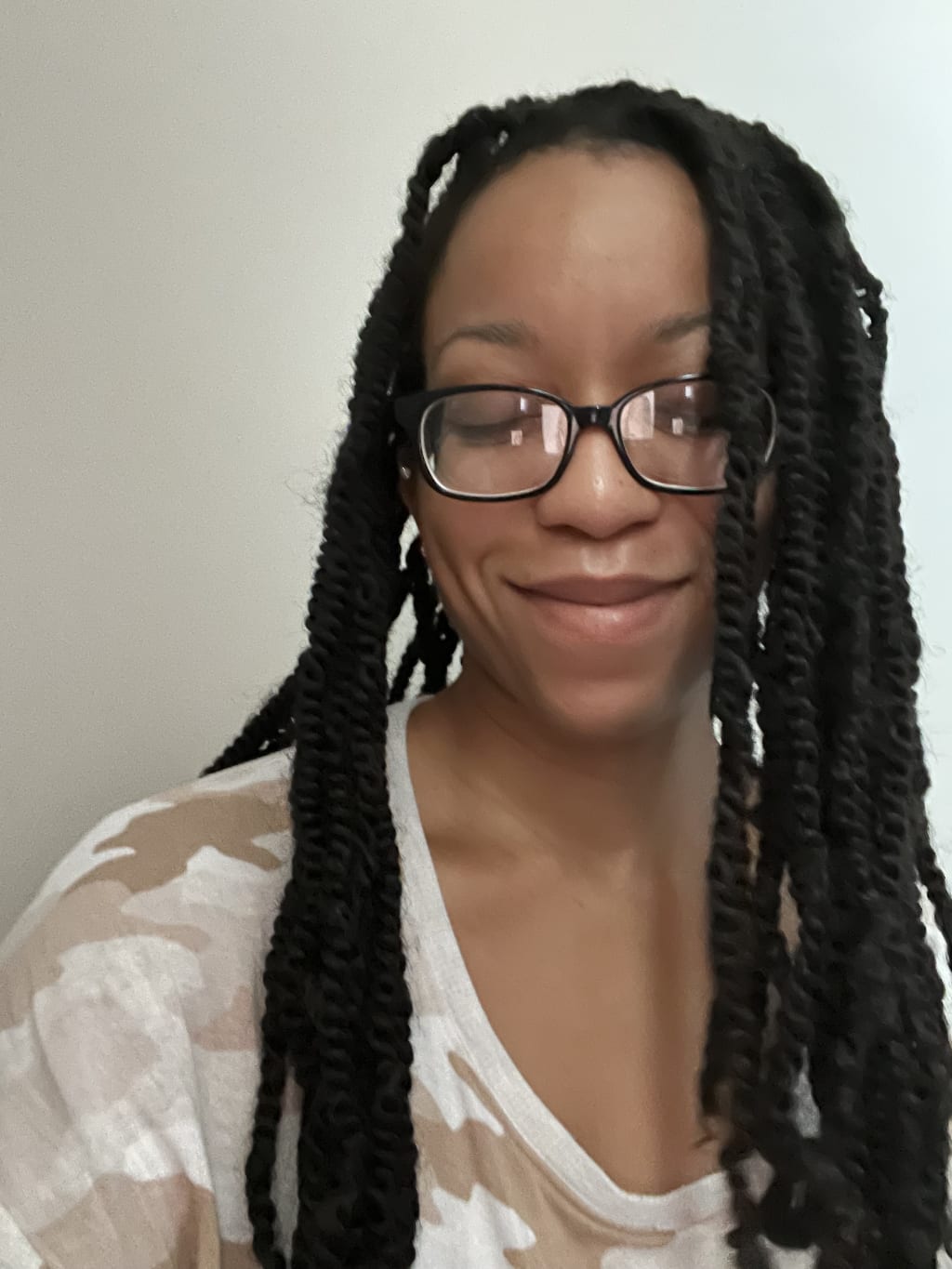 It was the weekend, finally. Me and my darling were going to have a sexy night. We had all our party favors and our favorite foods. We both took showers, brushed our teeth, and had our bed clothes on. Darling picked out a thriller movie for us and turned the lights off. Although he had served hard time, he really loved romance. He loved rose petals and candlelight. This would be one of those nights. I had on a lacy, frilly nightgown that made me look delicate. I touched up my hair, though I knew it would get destroyed, along with my walls. The movie began and he walked over to make sure the doors were locked. He double checked that his gun was still in its place before he came back to relax. He kissed me and pulled my legs over his.
We began to consume our party favors. He did not smoke, but I did. He preferred the other items on the menu. He was never in a rush to have sex. There were a few times He would poke me in the back when he got drunk, but then turn over and fall asleep because he got too tired. He would just end up waking me up in the morning.
The movie was over, and we now felt spirited. Both of us had only our underpants on, and we began listening to music. As we enjoyed the substances, we would talk to each other about what we were feeling.
I was picking at him, mocking how he would ask for sex. It was cute and funny, because he was going there now. As he touched me, I mimicked the voice in his head, improvising what he is thinking about me. Making it extra sappy.
He laughed, showing me his dimples. He picked me up and hugged me. "Stop saying how I be doing!" We started kissing, and he sat me on the kitchen counter. No matter how much of anything he took, he stood at attention quickly.
As I said, he never rushed. He spent time kissing and talking to me. He would touch my legs and stomach. He was interested, but not thirsty.
Foreplay was always a competition of who wanted to perform more. Our nights were long and dramatic, and we took breaks to ingest more substances and talk. He entered me in the kitchen as I was bent over, but he was picky about doing that in other places other than the bedroom. He wanted us to make our way up the stairs.
I was feeling dramatic, and we slowly transitioned up the stairs. When we got to the bedroom, he wanted to stop to light more candles. We were down to our routine. He purchased a vibrator for me some time ago, and he found it again. He brought it over to use when he remembered the free lubricant that was gifted with the purchase.
He asked me if I had used that before. I told him that I liked lube and would be happy to try it out. Under the influence, I glanced at the label in the dim light without my glasses. I did not recognize that brand, but I was sure it was alright. We always had an extra dose of fun on the weekends, and I was down to try something new.
We started out massaging each other with it. That was nice. Then I got on top of him.
Hm.
When we were downstairs, he felt different. This feels, I don't know…..hot?
He seemed to feel uncomfortable too. The sounds coming from him seemed a little more labored than pleased. We moved into another position on my side. It was kind of nice, but it was starting to feel wrong. Ouch.
Darling was moving less, and was starting to make awkward noises. Not sure, I tried another move that might save our session. He was not as excited as he was downstairs, and I felt him begin to soften while inside.
To be honest, my vagina felt hot. Like spice had got in there. "My dick hurt!" My love announced. I felt it too. We laid there for a minute, thinking this might wear off. Oh no. My p was BURNING! It was like the heat was slowly being turned up! I started to fan it. He stood by the open window to allow the night air to cool it off. Oh no.
This was not working.
I turned the light on to find my glasses. I looked at the demon lubricant, and to my horror, it was a warming liquid that was motion-activated. I am not sure what type of person would enjoy cayenne level flames on their p or v, but I did not like this.
The heat was turned up even more. I was hopping from foot to foot. He kept trying to say things that would help, but I was just getting mad because it hurt.
I found a washcloth and wet it with cold water. He did too. This did not help.
Now we were arguing naked, blaming each other for this predicament. We had spicy genitalia, our punishment for sinful fornication.
The lubricant felt great on our bodies, but not directly on the genitalia. We started a cold shower and took turns. I was nearly in tears from this fiery nightmare. I decided I needed the cold shower more because I would have a harder time getting the product out of my insides. Darling took a washcloth downstairs because he had an idea. He came back up and brought a gallon of milk. He said if it works for spicy food, it might work for this.
He stood over the tub and poured some milk on his washcloth. He wrapped the cloth around his member. "My balls even hurt," he winced. I was not going to do that, because I did not know if I would throw my PH off any more than I already had. He kept saying how good his member now felt and that I could just put a milk-soaked cloth on my vulva and not inside.
"I am burning on the inside you idiot," I roared.
"Well excuse me! I was only trying to help your lil ungrateful ass." He was offended with my outburst.
I still had not found relief with scooping the water up to myself. I decided to lay on the tub floor and let the cold water run into me, legs up. Finally, after a few minutes, the intensity waned. Darling had already cleaned himself up in the basement bathroom, put on a new pair of underwear, and was laying down in the bed watching Breaking Bad. There were a few more moments I lay there seeking relief. I re-showered and got dressed. I threw away the demon lubricant and got into bed. He laughed and apologized, and also mentioned that it was not his fault, and he did not know. We kissed and I turned to lay down. I am glad I finally got some relief. How embarrassing would it have been if we had to go to the emergency room with this issue? Thankfully we both found relief.
I woke up a few hours later at dawn, thirsty. Darling was nowhere to be found. I went downstairs to the second floor to get some water. He was not on that floor. I looked out the window. His car was still parked out front, so he had not left. I smelled that Newport. He was awake and probably downstairs.
I went to the basement level and there he was on the basement sofa with the patio doors open. He was smoking and had a furrowed brow when he looked at me. He did not say good morning. I came and sat on his lap even though I hated cigarette smoke. I hugged him, and he did not reciprocate. He made himself unhuggable by holding his arms down. I had to hug around his shoulders.
"What's wrong? Why are you up so early?" I asked genuinely.
"BECAUSE YOU KEPT FUCKING FARTING! I COULDN'T GET ONE PIECE OF SLEEP FOR YOUR LIL TRIFLING ASS! IT STINK IN THERE, AND I OPEN BOTH WINDOWS. GOTDAMN! I LIFTED THE COVER AND YOU STINK SO BAD IT WOKE ME THE FUCK UP! I JUST HAD TO LEAVE THE FUCKING ROOM! DON'T COME HUGGIN ON ME YOU NEED TO GO TAKE A SHIT, EMPTY OUT!"
I clearly triggered that poor man. I was unaware that I had such a severe sleep fart problem. I busted out laughing. I tried to apologize and hug him, but he crossed his arms and turned his back to me. He retracted his lap so that I was too uncomfortable to remain seated.
"I EVEN WENT TO THE COUCH ON THE SECOND FLOOR, BUT YOU KEPT FARTING SO MUCH IT MADE ME MAD. I JUST WANTED TO GO WHERE I CAN'T HEAR YOU!"
I waved my hand in front of my face. He was choosing to be inconsiderate with where he was blowing the smoke. He knew I hated that cigarette smell.
"WAVE YOUR HAND IN FRONT OF YOUR FACE I DON'T CARE! NOW YOU SEE HOW IT FEEL!"
He did not try to initiate sex with me for a few days after that. Petty man, but I understand. Just terrible.
relationships
About the author
Hey hey😎!! Used to be a thot then I turned 30. Now I am sanctified and turning a new page👼🏽.
I have had many jobs including (but not limited to): retail associate, call center representative, janitor, server, stripper, warehouse.
Reader insights
Be the first to share your insights about this piece.
Add your insights