JUFE-399 Miu Arioka, Shiori Tsukada, Yuria Yoshine "Clear Your Debt by Performing Sexual Acts" Review
by Nitin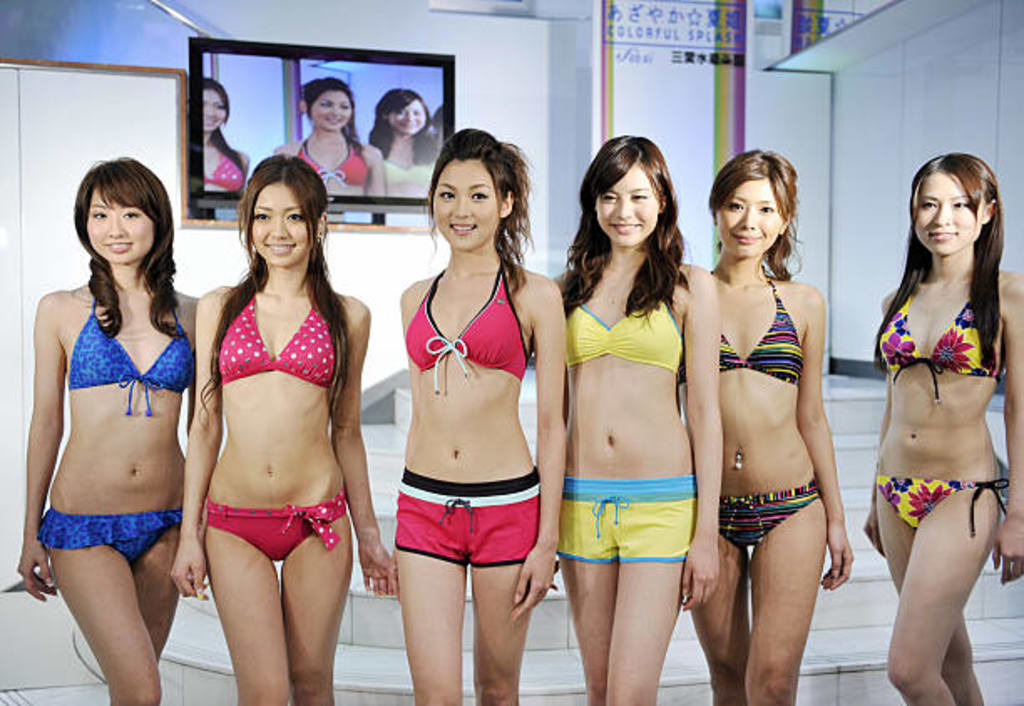 What if you were to have 3 beautiful and big breasted women on call to service your sexual needs? What if they were Miu Arioka, Shiori Tsukada, and Yuria Yoshine? You'd certainly have all your sexual needs satified with them and you'll see why in this hot JAV with the 3 of them together.
Appearance
This JAV is meant to go a little darker in plot so you'll see the start of the JAV with Shiori and Yuria wearing ragged clothing and collars compared to the newcomer Miu who just arrived. In later scenes it seems like the actor has a school fetish as he has them wear a sailor uniform, school physical education outfits with bloomers, and school swimsuit. In another scene they're wearing masks which cover their face except for their mouths and ropes which wrap around their breasts to emphasize them. In the last scene the three are wearing sexy underwear and collars except for Shiori since she needed to perform only one more sexual act to gain her freedom.
The lighting is great as you can really see all the curves of these thicc women without being blinded by lights. There's even "mood lighting" where the lights aren't as bright for the darker scenes.
The camera angles are great at capturing all three women or all three and the actor all in one scene when necessary. Movement is smooth and not jerky for a pleasant watch. They try to keep them all in one area too so you're going to see the three women near each other at all times to enjoy all the action in the scene.
Performance
As this is a darker plot AV there needs to be acting to believe what's happening in the scene, which the three women and the actor did really well. Shiori and Yuria acted like sex addicted women who wanted nothing more to please the actor yet act consoling to Miu who had just arrived when the three of them are alone together. They train Miu to become a sex addicted women like they are and soon enough Miu goes from someone who won't voluntarily participate in sexual acts with someone other than her husbad to someone who willingly gets led on by a leash to a foursome. Everyone had really good chemistry with each other, even if it was shown in a darker way for the plot of the JAV.
They all did a excellent job acting and performing sexual acts. One of the more interesting parts was when another actor was brought in and he was also masked along with the three women and couldn't see anything so they had to feel around to see who would make the man ejaculate to win points for their freedom. Turns out the man was Miu's husband and she broke down after she found out when their masks were removed and Shiori had won the contest.
Plot/Theme
This is a darker plot with the three women needing to pay off their financial debt with their bodies. Shiori and Yuria had been with the actor for who knows how long when Miu is brought in and they teach her to be as addicted to sex as they are to clear their debt by winning points from sexual sexually for the actor. In the end Shiori gained enough points after making Miu's husband ejaculate into her during a blind sex game, which she was given a strap on dildo as a prize for, and she would soon gain her freedom after performing one more sexual act with the group. In the end she walked up a staircase to the light of day after she cleared her debt, leaving Miu and Yuria behind.
Sex
The sex was interesting and kept you captivated as they actresses really put their all into making sure the actor was sexually pleased. They made sure to make you keep your eyes on the screen at all times as you never know what will happen. From the beginning we see Shiori and Yuria masturbating furiously with sex toys before training Miu to accept them as well, followed by orally pleasing the actor which they make Miu learn as well, then a cosplay foursome scene where the actor has sex with the three of them, the most interesting blind sex game, and finally the last foursome scene with Shiori given a strap on dildo to also penetrate one of the women at the same time as the actor doing the same with the other. It's constant action, enthusiasm from the actresses and actors, and good acting which makes for a great JAV like this.
Summary
I really enjoyed watching this JAV. The acting was great and so were the level of sexual ecchiness from everyone, including the actors. You have three wonderfully sexy and thicc big breasted with years of experience working in JAV, with Shiori and Yuria making a JAV together before and Yuria with Miu. It's great to see they have such great chemistry when working as duo's and now we've see a trio which hopefully we'll see again in the future! Maybe it's the plot which made them act the way they did but it was very enjoyable to watch as a result and a must watch recommendation from me.
Reader insights
Be the first to share your insights about this piece.
Add your insights