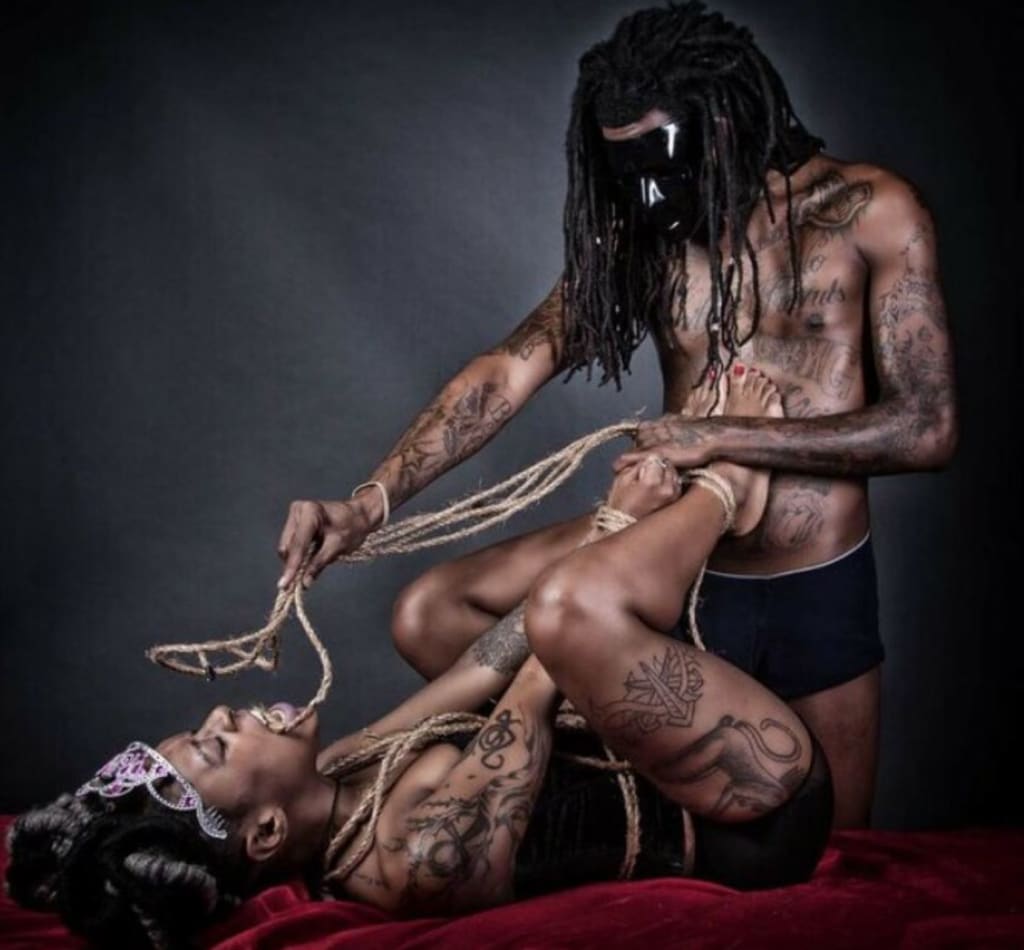 Oh how I do hope you are reading, following & squirting to my diabolical word play as I do it for your entertainment every day; one thing for sure & two things for certain I've got the magical words to keep a body twerking!
Following up on the last blog post called Make Love to Me...In Front of the Camera a continuation was automatic so without further delay I will get to it before you panic. I am confident you hang on my every word, I do my best to keep you mentally stimulated YA HEARD!
Let's get into this hot one!
SEXY PICTURE DAY finally arrived. I set the scene, I was dressed in the very same lace dress from my dream and the photographer was in his corner, ready for the show. No turning back now as I heard my boo sticking his keys in the front door, letting himself into our home. He called out my name as he saw evidence that I was home; I answered him in a sultry manner and asking him to come into the bedroom to see his surprise. I hear his excited steps toward the bedroom and as he opened the door, I smile and say...
MAKE LOVE TO ME...IN FRONT OF THE CAMERA?!
The bottle of chardonnay he had in his hand almost slipped out as he took in the whole scene. I could tell by the look on his face that he was pleasantly surprised yet confused by the photographer's presence; no intimidation though...just an attempt to understand before I explained. I stepped closer to my chocolate man, taking his attention off the scene and putting it back where it belonged...on me. Once our skins connected, I placed my mouth precisely by his ear so that he could not only hear every word but also feel the heat I was delivering his way.
OUR LOVE MAKING IS PURE AND NATURAL ART BABY...I WANT TO CAPTURE THAT IN PICTURES...PICTURES THAT WE CAN FOREVER LOOK AT, ENJOY, MASTURBATE TO, WHATEVER. THEY'LL BE A REPRESENTATION OF OUR INNER FREAK! SO WHAT DO YOU SAY DADDY...DO YOU WANT TO RELEASE YOUR INNER FREAK WITH ME? LET'S MAKE ART DADDY!!
He smiled wickedly at my suggestion. My pussy was dripping hot. There was no doubt in mind that he would turn down my fantasy. From the minute I met this man, I knew that sexually he would take me to any peak I wanted to travel to; his open mind, sexy lips, beautiful body and sweet chocolate wood...all for my pleasure playground and all play dates were booked throughout our future. Without a word, he went into the closet, got out a black bag and headed for the bathroom. Within seconds he was out of the bathroom and standing in front of me wearing nothing but his boxers and a black mask. He had a thin but long piece of rope in his hand which he swung around like he was in a rodeo, completely capturing all of my attention.
WHATCHU PLANNING ON TYING UP DADDY?!
He said nothing. He just indicated for me to lay on the bed, put my legs up and get ready. The photographer took this as his Que to start snapping pictures. My chocolate man hog tied my hands and feet together while my knees were in my chest. My throbbing n dripping wet pussy exposed and my nipples getting harder as they rubbed against my knees, I waited patiently for him to take me. He knew the camera was there so he wanted to put on a show. As he slowly slipped his mushroom tip into my wetness I heard him say...
MAKE SURE YOU CAPTURE EVERY DRIP, I WANT HER TO CUM JUST FROM LOOKING AT THE TIP!!
Checkout all of my blogs on Kai Storm Book's site & if you love what you read send me a gift donation as low as $1! Click below! My blogs are free to read but a donation is your way of showing love & authors on the come up like me appreciate the love!
READ 1 LOVE 1 DONATE $1!
Thank you in advance!