I Went to a Chinese Massage Parlour
My Experience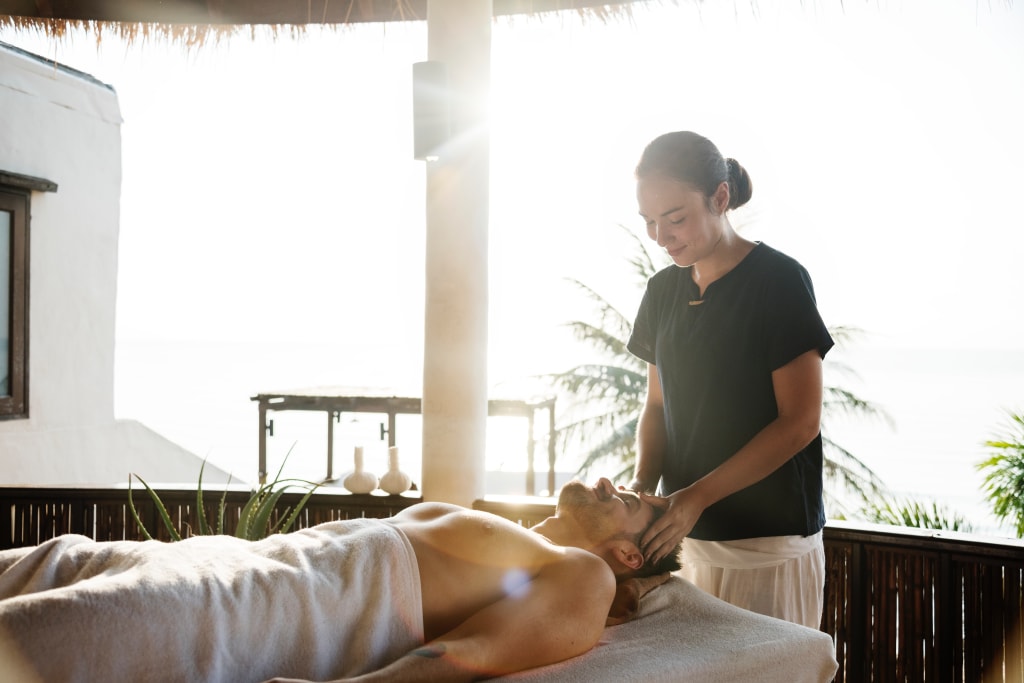 So, not having stuck his dick into any girl for the last few months, your buddy Francis Y. Algonkin decided to spend a few bucks in a Chinese massage parlour.
I was there a year and a half ago, but only payed for "Body to body" massage—didn't fuck the girl. This time, I've decided to ask for "full service." I've checked their website. It had prices and a schedule listed. Since the last time I went in on a Thursday, and this time I was going on a Tuesday, I wanted to see if the same girl would work. Her name was Tina (a made up name probably).
This Tuesday, Tina wasn't working. Instead, there were Jenny, Cathy, and Mila.
"Well, I might as well try a new one," I was thinking to myself.
So I went around noon that sunny Tuesday. The website mentioned that we could make an appointment, or just walk in. I decided the latter, because I was too anxious to stick my dick into something that I didn't have any patience to make an appointment and wait.
I went inside and rang a bell. A sign on the wall said we should wait till the attendant shows up. It took her about 20 seconds to come. I was at the bottom of the stairs, she was up. She told me to approach, and take a seat in a little waiting room.
She said with a soft voice: "Just two minutes, ok, babe?"
I answered shortly: "Ok."
She was a good looking Asian (maybe Chinese, who can tell), maybe in her late twenties, little chubby, but within the limits.
After five to six minutes, she entered the waiting room, and showed me the way to the massage room. It was a dark cozy little room with a massage table, prepared for "activity" hehehe.
She asked me how much time I wanted to pay for. On the wall was a price list. 20 minutes—30 dollars, 30 minutes—40 dollars, and so on. I replied that I'll do 20 minutes, and then "we can see what to do."
She said: "Ok," and I took thirty bucks out of my wallet, and gave it her.
She said: "Ok, please undress, and lay down here," she pointed to the table, and then left the room, giving me some space.
I undressed fully, and laid face down on the table. There was a face hole, thankfully, I hate the massage tables where I have to turn my head left or right.
She came back quickly, and covered my ass with a towel. Then got up on the table and started to press my back with her hands and knees, but mostly hands. I believe they call it a shiatsu massage. Actually, it didn't feel that good. I guess because her massage skills were just a pretext for prostitution. And because I was too damn horny to think of anything else other than fucking her brains out.
With all this pressing there were a few caresses of my ass. Every time she came on the side of the table, and within the reach of my hand, I would caress her thighs as well. She asked me if this was my first time here, I replied that it's my second.
I asked for her name, she said that it was Jenny. Finally, she stopped massaging me after maybe seven to eight minutes. It didn't last 20, as I payed for, but it didn't concern me too much.
Jenny sat next to my head, caressed my shoulders and back, and asked softly: "What can I do for you today babe?"
I replied: "I want a full service."
She asked: "How much did you pay last time?"
"Eighty," I said.
"Noooo babe, one hundred, ok?"
"Ok." Couldn't say no, because I was fucking horny.
Jenny went outside to get the condom, and I jumped on my feet to get the money from my wallet.
Next thing you know, she was sucking my dick sideways (with a condom on), and I was caressing her naked ass, and grabbing her tits. She also made eye contact while sucking, like a real pro.
After a minute or so, she grabbed a lubricant, and said: "You'll go on top, ok?"
I agreed and stood up. She lubed her pussy, laid down, and spread her legs.
I laid on top of her, and put my dick inside, with a little steering help from her.
I started to pound her, very slowly, and then faster. Jenny was moaning half painfully, half in pleasure, I cannot explain it accurately, but she made me cum very fast. I'd probably cum fast anyway, because I was fucking horny, but her moaning did the trick as well. Experienced girl, I guess.
Anyway, I enjoyed it, but I was little disappointed that I came that fast. Next time, I'll visit my old "love" Tina, and make sure that I jerk off a couple of hours before that. I felt a little sorry about losing 130 bucks just like that, but I guess this writing gig on Vocal will pay off sooner or later hahaha.
After I came, Jenny removed my condom, and took it away. I just hope she won't sell my sperm to some secret Chinese military project somewhere.
Then she brought a hot towel, cleaned my private parts, and that was pretty much it.
I hope my experience (real one, not fake) will help you prepare if you're planning a trip to massage parlour soon. Talk to you later, guys!