I'm a Whore
Yes, that title says it all and I have no shame in it.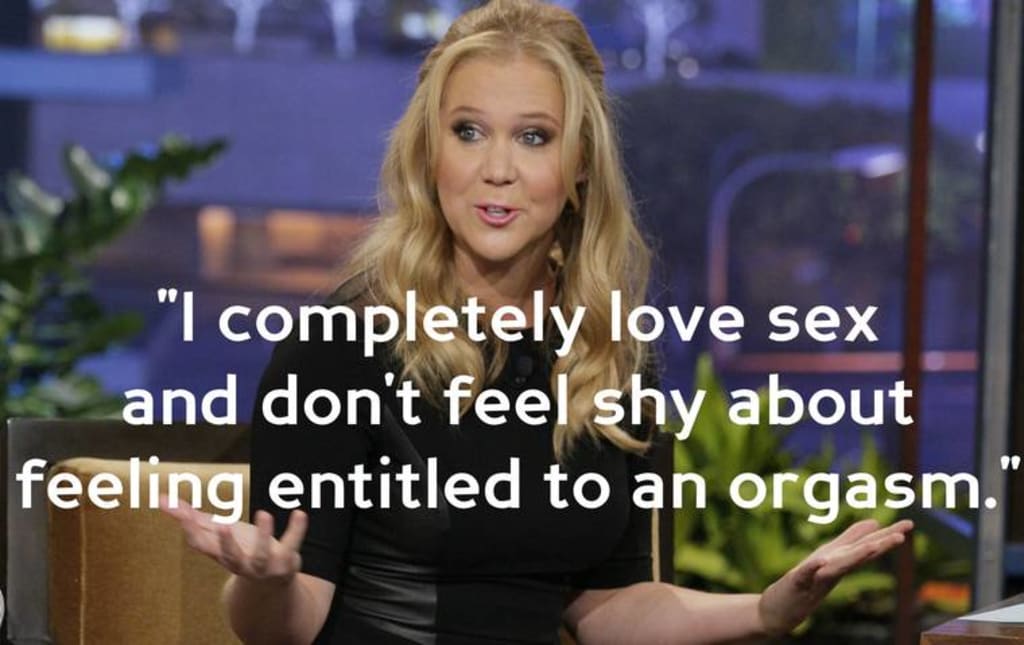 I stand by what it says but I'll explain so you can better understand why. Men get praise for how many women they've screwed in a month and women get looked down on for sleeping with more than three guys in their lifetime. I hate it, why is it so wrong for a woman to enjoy sex?! Why is sex for women looked at as this huge sin but for men it's looked at as a good deed? How is this fair by any means? Why do we allow society to bash us women about our sex lives as if we're still living in the 30s where showing an ankle could get you arrested, how is this remotely OK? Women fought so hard for our rights and yet there's still so much crap we get when it comes to sex.
How is it wrong for a woman to enjoy sex? It blows my mind because men want a woman who is a freak in bed and knows how to do things, but how the fuck do you expect her to know how to do things if she's not allowed to get out there and experiment with sex?! You just expect her to come programmed with all this knowledge, as if the moment you get married she's supposed to know all this kinky sex you're into. How does that make any sense?
It's such crap that men will tell you it's such a huge turn off if a woman has slept with so many men. OK, but if a guy has only slept with a handful of girls then he's looked down on, like, "oh man you're probably a weenie in bed, you have no experience, how do you even know how to treat a woman." Someone please explain how this makes any sense because I'm confused.
I'm in my 20s and single as fuck and love sex just like a horny teenage boy so you bet your ass I'm going to be fucking any and everything I find attractive. It doesn't make me a bad person or change who I am. You shouldn't knock a woman for enjoying sex, you should feel grateful that she wants to have an experience with you.
So if a woman gets the title of whore because she enjoys sex then own that shit; I am a whore and I'm damn proud of it! Now I know a lot of women are going to bash me and look down on me but so be it. I look down on you for not enjoying this beautiful act we all are capable of doing. When I'm 80 rolling around in my scooter at the old folks home I'm gonna be able to smile and tell all my raunchy ass sex stories to all the young hot nurses taking care of me.
Sex shouldn't be just for married couples trying to make kids. Sex is a hobby and takes lots of practice to be really good at it. Some are more equipped than others but that's where experience and changing things up comes into play. The porn industry wouldn't be as popular as it is if sex wasn't so important.
I'm tired of having to hide being horny or wanting sex. Men can send dick pics and everyone brushes it off like 'oh, that's just a horny man for ya' and its no biggie. But if a woman hits a man up saying she's horny and wants to get laid she's a whore and not good for nothing. If she's had more than a handful of penises, she's not wife material. Well, I'm sorry to say it but wifey material is gonna be boring as fuck in bed. So you enjoy your boring sex. I'm gonna go and be a whore and enjoy having an orgasm on the daily.
Because what is life if you're not enjoying it? I'm not gonna sit around and wait for "the one" to come along, what if that shit never happens then I've wasted all my good years of sex. I do what makes me happy and you should too so if that means having lots of sex with different people then so fucking be it!! Let's put a stop to whore being such a bad thing and let's make it this amazing thing! We all enjoy sex so get out there and whore it up!!
sexual wellness

LeAnn Murch
Just a crazy woman trying to survive the madness of life.
One bossy bitch with lots to say. Tattoo and music junkie. I'm socially awkward so I do my best speaking through my finger tips.


See all posts by LeAnn Murch →