Horny Orcs
A Wild Ride Of An Erotica Story!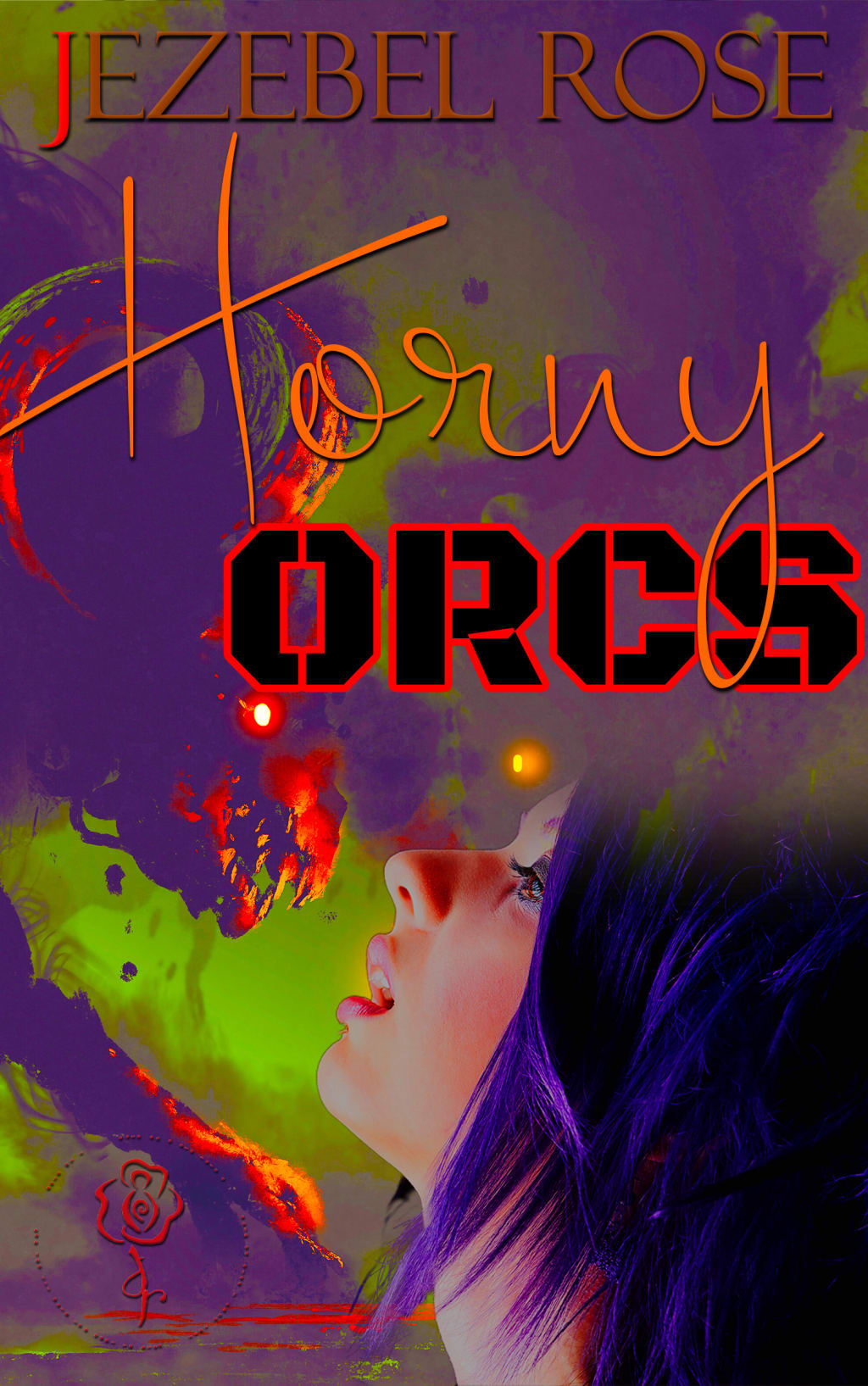 www.Jezebel-Rose.com
Two orcs travel the countryside, indulging in human pleasures and relations. With their strength, and brute force, they can do anything they like, for as long as they like… and still come home to their family at the end of the day. Erotica / Fantasy / Horror / Rough Sex / Impregnation
Day 1
When she nods, he picks her up, carries her into the bedroom, and puts her in bed. Getting in beside her, he strokes her cheek and leans forward to kiss her. Swiping his tongue along her lips, she allowed him entrance, sucking on his tongue. As his hands start exploring her breasts over her top, he bucks against her, and she can feel he's already hard.
The following Friday, she finds herself on her doorstep with a packed bag, waiting for Boris to pick her up. Pulling up in his car, she gets in only to be accosted by Buster, the Dobermann that's meant to be in the back seat. Laughing, she gave him some attention before telling him to lie down.
''Hey, got everything she needs?'' Boris asks, grinning at her.
She nodded before kissing him in greeting. Pulling back, she asks, ''How long will it take for us to get there?''
''About four hours.'' he smiles. ''Feel free to put the music on.''
Fiddling with the music player, she eventually finds something she likes. Looking back at Buster, she sees he has already settled down to sleep and smiles. ''So tell me what her hometown is like and who I'm all going to meet.''
''Well… the travel guides will tell you it's an idyllic little coastal town, with picturesque views, sandy beaches, a forest further inland… A lake, quaint little houses, and a market every Wednesday and Sunday with stalls, where the townsfolk sell various things.''
''And what would you tell me?'' she asked.
''The same,'' he laughs. ''No, seriously, it is all that and more. It's the perfect location for non-humans and always has been. Three hundred years ago, all that was an orc compound and monster folk were hiding in the forest. Eventually, more people came, starting with humans who had mated with monsters, and it built from there. Now it's the most monster populated town there is, I believe.''
''Certainly sounds idyllic,'' she smiles.
''It is for the most part. I mean it's not perfect, no town is, it has problems like everywhere else. Old prejudices between the different species and such, but for the most part, it's good. It's home.'' he says, with a fond smile.
''What about your family? Who am I going to meet?''
''Well, there's my mother Eivor, you'll love her, my dad John, my older brother Dane and his wife Naria and their two children. My younger brothers, Sigmar and Halden, Halden's the birthday boy,'' he says, looking over to her briefly. ''Then there are cousins, aunts, uncles, and family friends,'' he laughs.
''That's a lot of people,'' she says, nervously frowning.
''They'll all love you, don't worry so much,'' he smiles, squeezing her knee.
She spends the rest of the journey talking about his family, and he lets her know what she can expect from certain folk. She learns that his dad John, a human, is technically his step-father, but he's been a dad to Boris since he was five, and he thinks of him as his real dad.
She makes one stop on the journey to grab lunch and lets Buster out to run. Soon enough, she's seeing the signs pointing to West Oaks. Looking around, she notices the surrounding area is mostly countryside and woodland. As she entered the outskirts of the town itself, she saw what Boris meant when he said the town was picturesque. With rolling hills, lush greenery, a few scattered white houses, and the coastline in the distance with crystal clear blue water. It's beautiful to think gazing around in awe.
''It's so beautiful here,'' she says, turning to look at Boris before gazing back out of the window.
''Nothing like the city, eh?'' he says, chuckling.
Check out my entire catalog of over 2,000 stories on Smashwords!
Leave me a tip if you think I'm awesome! ~ Jezebel Rose xoxo