Find comfort in the arms of the man in the graveyard
Will I do it?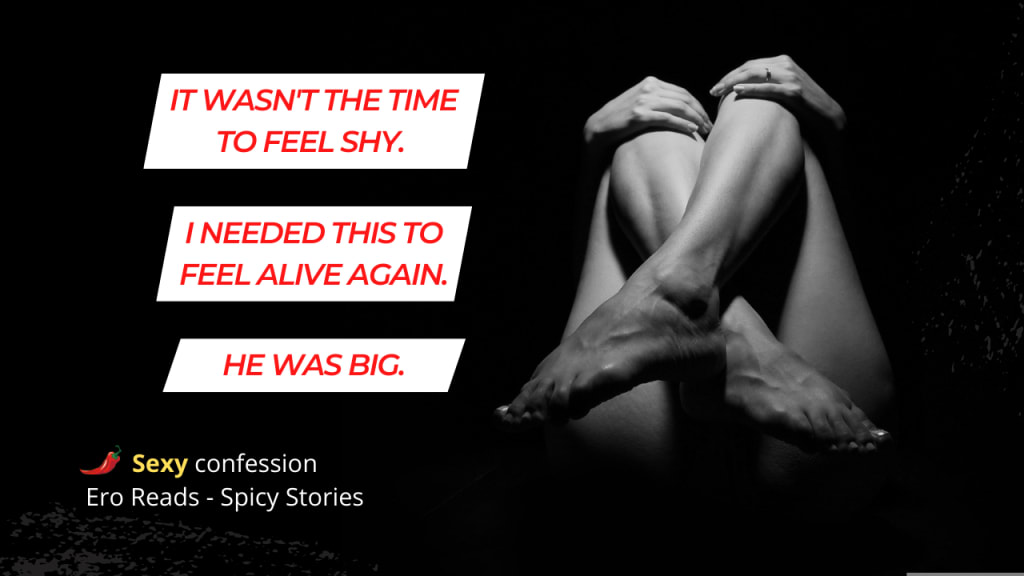 Have you ever thought of how it would be to have a one-night stand with a man you've seen often but never dared to cross the line?
The longing for physical affection, and the loneliness, were the reasons I ended up lying under the body of that strange man.
I should start by telling you my father died years ago. My brothers and I buried him in one of the cheapest graveyards I've ever seen.
I don't have many clear memories of his funeral, drowned by tears as I was. My mother was gone when I was little, and I didn't have much contact with my brothers.
My father was my closest friend.
My only friend.
After he died, I started visiting his grave daily. I would go and see him when I was having a great day. I would go when my day was terrible, so I could find comfort just looking at the stone with his name engraved.
There was always someone taking care of the land. On the weekdays, it would be a gentle and smiley grandpa from the nearest city.
During the weekend, it was a tall and handsome man from the same town I grew up. His hair was dark, the same color as his eyes. I couldn't recall hearing him say a word before that day. That's how quiet he was.
That day, I learned his name was John, and he was the oldest of five siblings.
We sheltered ourselves from the pouring rain in a small cabin that summer afternoon. He whispered many things closer to my ear before I gathered the courage to turn my head a little bit further and kiss him.
I thought he would reject me. We've only seen each other a handful of times in the past couple of weeks, but I knew I would feel better if I could only lay down under him.
John was talented. His lips traveled to my chest, leaving red marks on their way down. I found myself arching my back to demand more contact, holding his head when I felt my nipple between his teeth.
We were soaking wet from the rain, but his skin was still hot to the touch. Even if I wasn't inexperienced, I still found myself shivering under the rough touch of his fingertips.
I felt his hesitation right after he started unbuttoning his pants. My underwear was gone long ago amid our desire to feel closer to each other.
I couldn't utter a word to reassure him I wanted this as much as he did. My lips were trembling, and so was the rest of my body. I pulled him closer to me by the collar of his plaid shirt and nodded.
His eyes were even darker than before.
My legs found their place around his waist, and his hand rubbed my cheek before burying himself inside me.
He was big. I didn't have to be a mind reader to know how tight I must have felt for him.
I pressed my nails into his shoulders, arching my back to get closer to his chest.
It wasn't the time to feel shy. I needed this to feel alive again.
He was growling in my ear, an animal sound driving me slowly to the edge with every thrust.
He placed his hands under my pelvis, lifting me to find a better position. I didn't think it was possible, but I could feel it deeper inside me.
My moans were a bunch of meaningless words except for me asking him to go harder.
I was praying in my head for this sensation to last forever, but I could feel how the built excitement was driving me closer to the climax.
Only the sound of our bodies colliding together and the taste of the sweat on his neck were my only companions before I screamed, reaching the orgasm.
Not long after, even before I could recover, I heard him moan with clenched teeth.
Warmness started growing inside my belly after he shot his load. Our breaths were still fast, and I looked up to meet his eyes again. This time there was an emotion I couldn't understand at first sight.
I was exhausted. I rested my back on the bench and tried to get comfortable.
He was sorting out our clothes, trying to make us look more presentable. His finger stroked my hair while I kept my eyes closed. One, two, three times.
Even if I wasn't feeling shy, I couldn't find the energy to ask him anything.
I could only describe what I felt at the time as a huge weight lifting off my shoulders.
That's what I call comfort.
I still see John from time to time. I could even say we've become even closer since then.
I stopped feeling lonely.
I still visit the graveyard daily to talk to my father about my day. Our favorites are still the weekends, of course.
erotic
About the author
Erotic-themed articles and stories! I'm fascinated with the world of erotica. I enjoy the mystery, the teasing, and the problems when your friends and family don't understand why you are into it.
I hope you enjoy my content ;)
Reader insights
Be the first to share your insights about this piece.
Add your insights