Feetfinder Vs OnlyFans: The difference between the two?
What is the difference between FeetFinder Vs Onlyfans? Which platform is best for selling Feet Pics?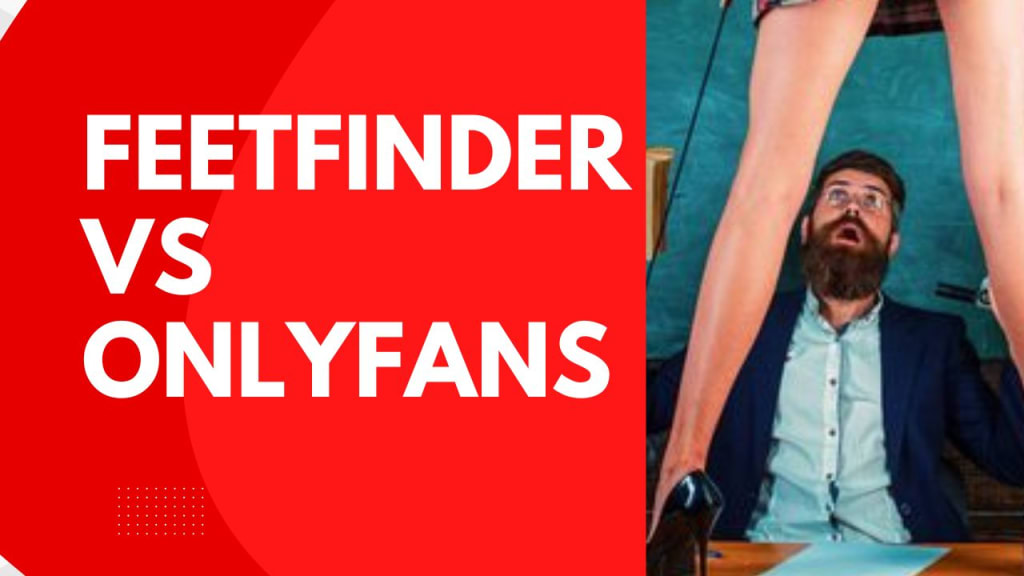 Feetfinder Vs OnlyFans: The difference between the two? / Picture by the creator
Feet fetish is no longer unusual, but it's not exactly normal as it should be. OnlyFans and Feetfinder play an incredible role in helping feet fetishists to get exclusive feet content without making them feel weird.
At the same time, it is one of the major sources of income for many feet content creators. The two platforms are running cheek by jowl, and people are indecisive about the platform they should choose to start their journey as a feet pics seller.
So, to make it easy, I have gathered some facts that differ between the two platforms. Let's start with how the two platforms work.
Feetfinder VS OnlyFans: Which one is a niche-based platform?
OnlyFans is an entertaining social media platform. The multiple categories of content include cooking lessons to fitness training, fashion trends to music, and SFW content to X-rated content.
The multiverse platform has more than 1 million creators and 50 million users. OnlyFans is easy to use, as it has applications for iOS and Roku. However, it's not available on the Google App store as it is mostly used to access adult content.
Feetfinder has more than 160,000 verified users. The platform is used to sell customized Feet content. However, any kind of nudity is prohibited, limiting the expectation of feet lovers to buy decent feet pics.
Feetfinder is a niche-based platform. Being a feet fetish website, Feetfinder has no application for users.
Feetfinder VS OnlyFans: Which one is free for feet pics sellers?
OnlyFans is free for creators. You can create your account for free and set a subscription barrier to stop gawkers from stealing your Feet pics. Unlike Feetfinder, the platform is not free for viewers. You can charge a subscription of $4.99 per month or $14.99 per year.
Note; OnlyFans is not a platform for buying/selling content. Subscribers pay you to see your content and some might be interested in paying per-view rates for exclusive and custom feet pics/videos.
Feetfinder forum has more strict policies for verification purposes. To keep the platform's quality intact, you will have to buy subscriptions to create your profile. In this way, the platform gets rid of feet pics sellers who are apathetic and leave things to chance.
Feetfinder subscription rates are $4.99 per month or $14.99 per year. You can also avail premium plan to increase your chances of getting more sales.
Feetfinder VS OnlyFans: Which platform has more discoverability chances for feet pics sellers? And why?
When it comes to getting more sales, it solely depends on your potential and the platform you choose to sell your feet pics.
Talking about OnlyFans is a multi-niche platform inviting users interested in different content. Technically you will have fewer chances to make your sales on OnlyFans as compared to Feetfinder. However, if you're selling X-rated Feet content, there are more chances to attract hardcore feet fetishists.
Feetfinder being a niche-based platform, will help you land more sales. Anyone who joins this platform will for sure approach Feet content creators without expecting any other type of content.
However, Feetfinder restricts creators from promoting Feet pornography. So, anyone who wants fetish yet SFW pics/videos can legally buy content through Feetfinder.
Despite everything, legitimacy matters the most. Based on reviews, Feetfinder is more authentic in terms of safety.
Feetfinder VS OnlyFans: How can a feet pic seller earn using these platforms?
OnlyFans allows you to earn through your subscriptions. However, it charges 20% of commission from your earnings. Unlike Feetfinder, you cannot list feet pics and videos for sale.
You can also charge your OnlyFans subscribers for exclusive Feet content based on pay-per-view. OnlyFans's referral system only pays you 5% of the creator's earnings.
Feetfinder allows you to earn in two ways i.e., by offering subscriptions and exclusive Feet content. To make more, you can offer custom feet pics and videos. The platform charges the same amount of commission from subscriptions. Feetfinder's referral system pays you 10% of the sales the referral makes.
Feetfinder VS OnlyFans: Which one is safer?
Well, I am pretty sure you got the idea of the platform I consider ideal for selling feet pics. And yes, that's none other than Feetfinder.
Feetfinder is safer and has responsive customer support. Even though charging subscriptions without making sales is something creators worry about, it is only because of it the platform is out of the league for many who are here to lollygag.
OnlyFans has few negative reviews regarding stolen funds. However, the platform has improved a lot, but few of them are struggling to make money on this platform, while others are unsatisfied with customer support.
Feetfinder Vs OnlyFans; Premium plans for creators
Feetfinder offers premium subscriptions for sellers that cost $9.99 per month and $29.99 per year. The premium plan benefits creators by marketing their profile to ensure more sales.
OnlyFans has no such premium plans for creators or subscribers.
Feetfinder VS OnlyFans: Which one has a better reputation?
Feetfinder has a decent reputation giving feet content creators a reputable background. Despite a few users who complained about identity theft and payment issues, the platform is reckoned as one of the most legit websites. Especially the no-nudity policy is saving users from embarrassment.
However, OnlyFans has compromised its reputation as it features adult content. So, it could be your option if you are interested in entertaining hardcore feet fetishists. And it is also because of this reason that you can make more on OnlyFans.
P.S; Feetfinder VS OnlyFans
Despite many differences, the two platforms exist at the top of the list of feet forums. However, to kick in your business as a feet pics seller, you need to create multiple accounts on Feet forums.
Based on facts, we can conclude that Feetfinder has more pronounced positive reviews. However, we cannot ignore that hardcore feet lovers on OnlyFans can help you make a little extra in less time.