Exxxotica: A Sex Writer's Experience
From being bent over and spanked to meeting amazing people in the porn world, this is what happened when I went for my first Exxxotica trip ever.
If you've read my work, you already know I'm a sex writer. I've written for Pucker Mob, Bolde, YourTango, and a bunch of other names in the industry. I've done my fair share of wild stuff in the past, but nothing was quite like attending Exxxotica — one of the biggest adult industry conventions in America.
This was my first year attending, and I got to cover it! Grabbing my fiancé along for the ride, here's what ended up happening while I was there, what made the event so much fun, and the inside scoop on the most entertaining attendees there.
Good Vibes Only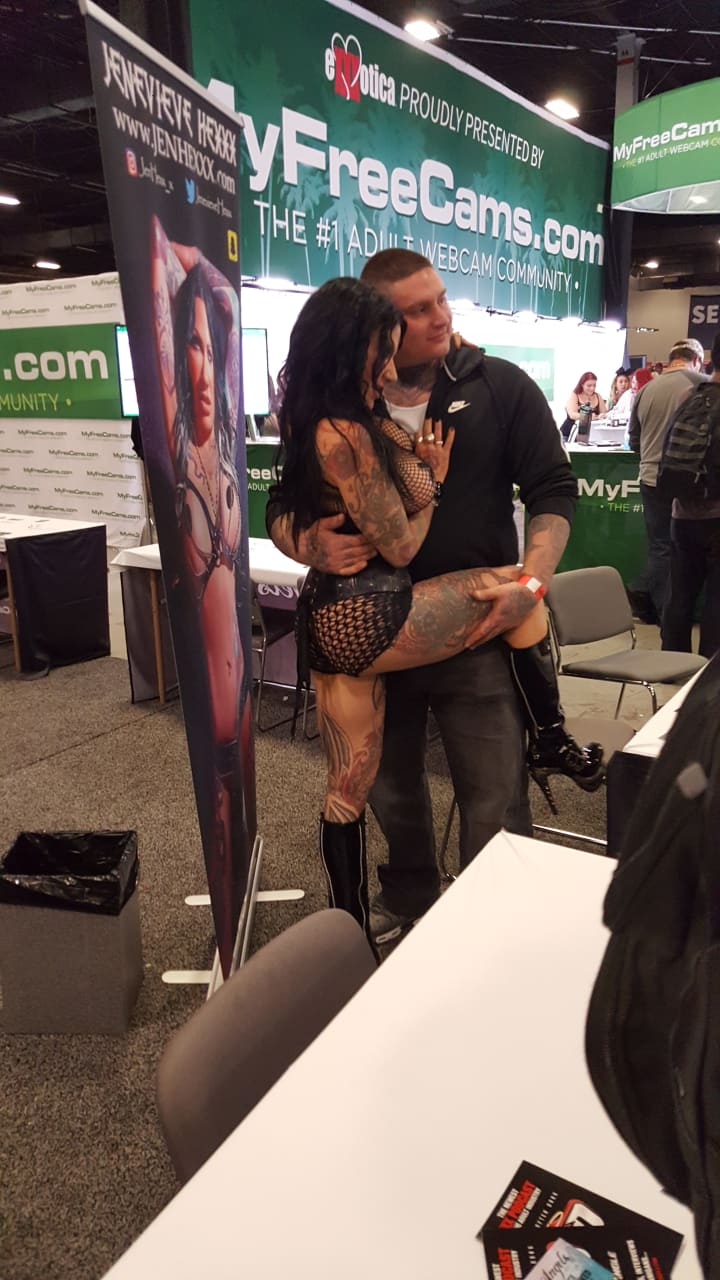 The first thing that struck me about Exxxotica, is the fact that there were people from literally every walk of life attending. There were goths, straight-laced business guys, country boys wearing cowboy hats, hip-hop aficionados, and everyone in between.
For me, this was remarkable on a number of levels. This was the first time I've seen so many different people from all corners of society smiling, laughing, and getting along with one another. It was, in its own way, inspiring to see.
Second, I was really impressed with the sheer volume of people. There were people from every corner of the nation, and some I'd never expect to see, too!
Third, the performers and staff were just as varied as the attendees — and they were having the time of their lives! I have to admit, that was amazing to witness, since I know how hard running an event can be.
I can't begin to describe how positive everyone was. Fans got to chat and chill with porn stars, people got to network, it was just a great experience in terms of positivity.
Porn Stars and Models as Varied as Their Fans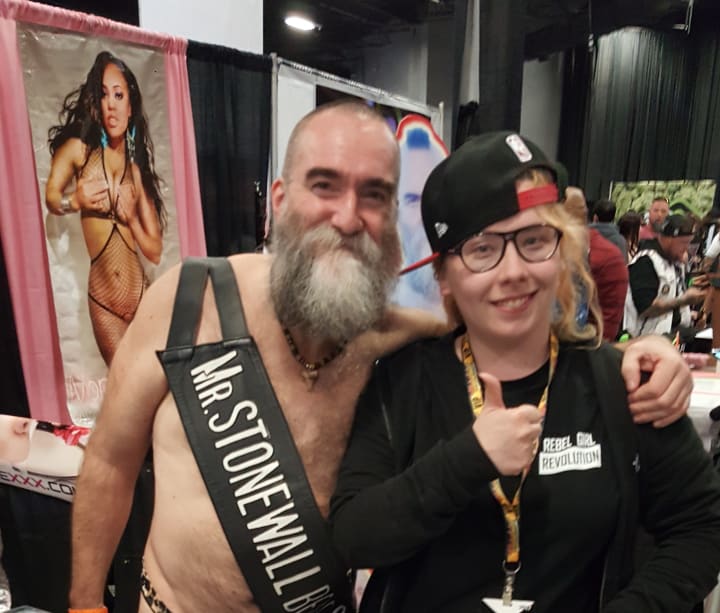 When most people think of porn stars, they assume they will be blonde haired, blue eyed babes with large boobs — and trust me, there were plenty there. They had a slew of names that you have already heard of, including the ever-awesome Sara Jay, the strikingly beautiful Adriana Chechik, the sexy and seductive Anna Bell Peaks, and the stunning Alexis Texas.
But, mainstream porn stars were not the only ones I got to see, either. Fetish superstar Rubberdoll was there as usual, and gave one of the most spectacular striptease shows I've ever seen in my life.
Big breasted ebony porn legend Maserati made her appearance, too, as did cam model cutie Mrsfeedme. Both were charming as could be, and just as beautiful live as they were on camera.
If you're a fan of larger ladies, you'll be happy to know that the BBW porn stars I met were absolute sweethearts. Cherry Bardot and Devilyn Redd were amazing to talk to, and really looked strikingly gorgeous.
Meanwhile, gay porn fans will be happy to know that I got to hang out with a certain awesome bear, too! Speaking of bears, the male porn stars I got to meet were absolutely wonderful. They were laid back, had a sick sense of humor, and were just as sexy in person as they are on camera.
Actually talking to porn stars and seeing them in person was pretty inspiring. You see them on video, but when you get to meet them, you automatically can feel the fact that they really, truly are passionate about their career. They are sex-positive, body-positive people who exemplify the belief that beauty comes in all variations.
Seriously, if you meet them, you can't help but admire them all the more. They're absolutely positive people who have a wonderful outlook on life, sex, and love. If only for the chance to see how great a group adult film stars are, you need to go to Exxxotica.
Oh, I Also Got Whipped, Too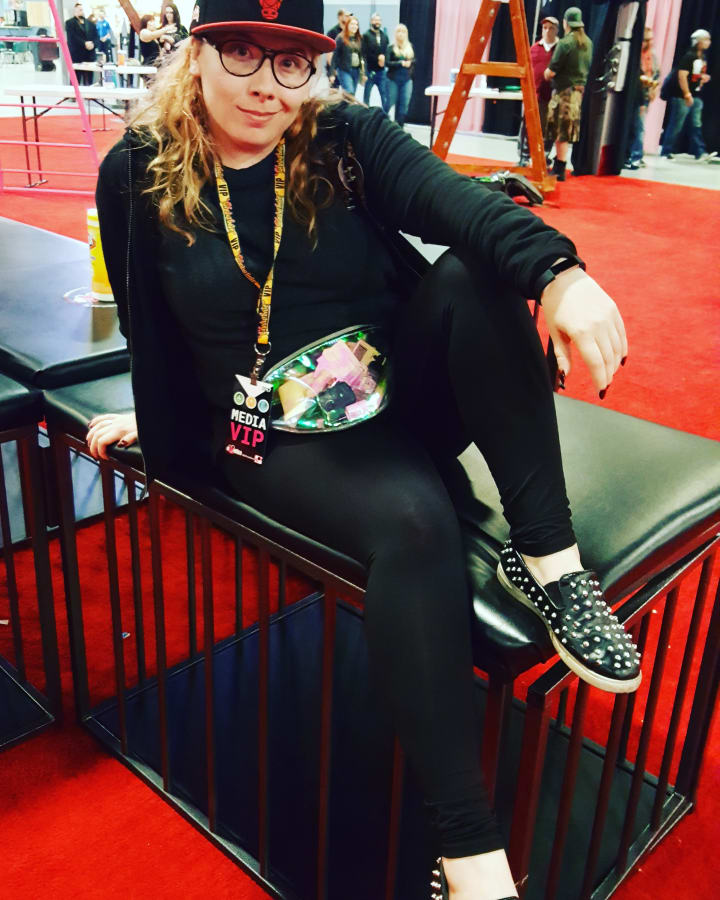 As a sex writer, I pride myself to be open to new experiences. So, when Kinky College's exhibit opened up, I bent over and let my fiancé take a flogger to me. The instructor taught him how to communicate during a BDSM session, the importance of aftercare, and different ways to use a flogger to please and tease in a scene.
The instructors were very clear about the importance of safe, sane, and consensual play — and even filled my partner in on BDSM terms he needs to know. Considering how dangerous BDSM can be when done improperly, you have no idea how much of a relief it was to see that. It was also a relief to see how warm they were as a bunch.
Though I might write about BDSM quite a bit, I'll be the first to admit that the fire play station Kinky College set up was seriously impressive. I honestly don't think I'd trust myself to (literally) play with fire on someone. Watching Pyro Sadist work with fire was pretty mesmerizing.
Did I mention they had a lot of cannabis? Cause they had a lot of cannabis-related products.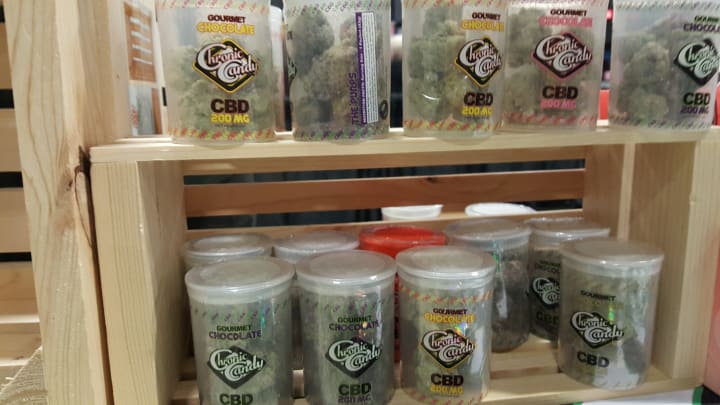 As a cannabis aficionado, I need to point out that there were two really epic cannabis vendors — one of which ended up getting me hooked on their delicious CBD oil-infused chocolates. (Lookin' at you, Chronic Candy.)
Also, since all the cannabis products were CBD only, they were all legal. The Chronic Candy ended up getting me so relaxed that I forgot how to eat dinner, so they were definitely potent.
Insert "Prisoner of Love" joke here...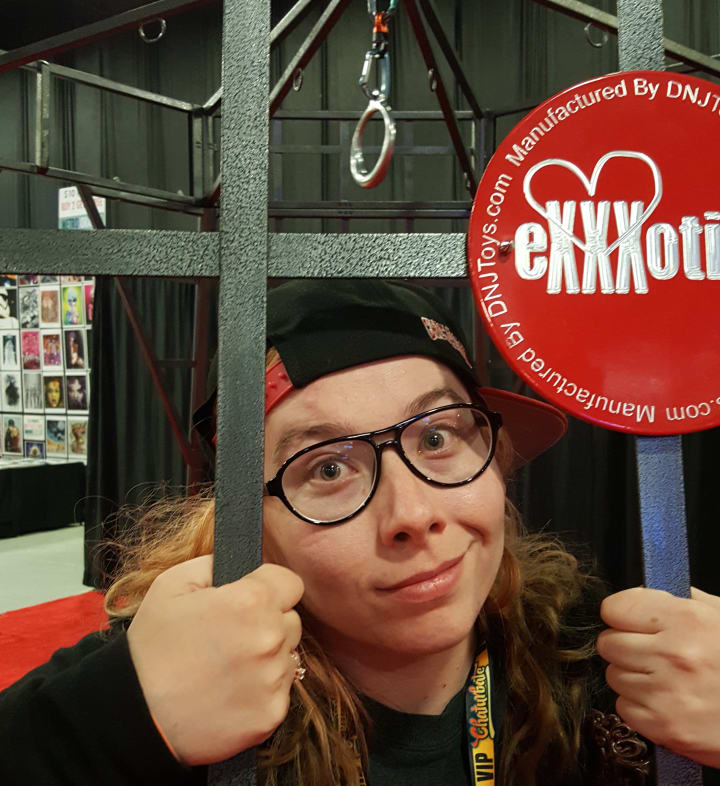 Overall, there were thrills, spills, and chills. I was thrilled with the performances, spilled my energy drink when I saw some of the names of the stars there, and chilled out with epic CBD products. The people I met were amazing, the BDSM session I had was fun, and it was the most enjoyable time I've had in a long, long time.
As far as sex conventions go, I don't think that it could have gone better. It was an experience that I honestly believe everyone should try at least once. So, if you're ever able to, grab tickets to Exxxotica. It's a hell of a time!
conventions
About the author
Ossiana Tepfenhart is a writer based out of NJ. You can message her via Twitter on @bluntandwitty or via Instagram on @ossiana.makes.content. She's always looking for freelance work and collabs!
Reader insights
Be the first to share your insights about this piece.
Add your insights