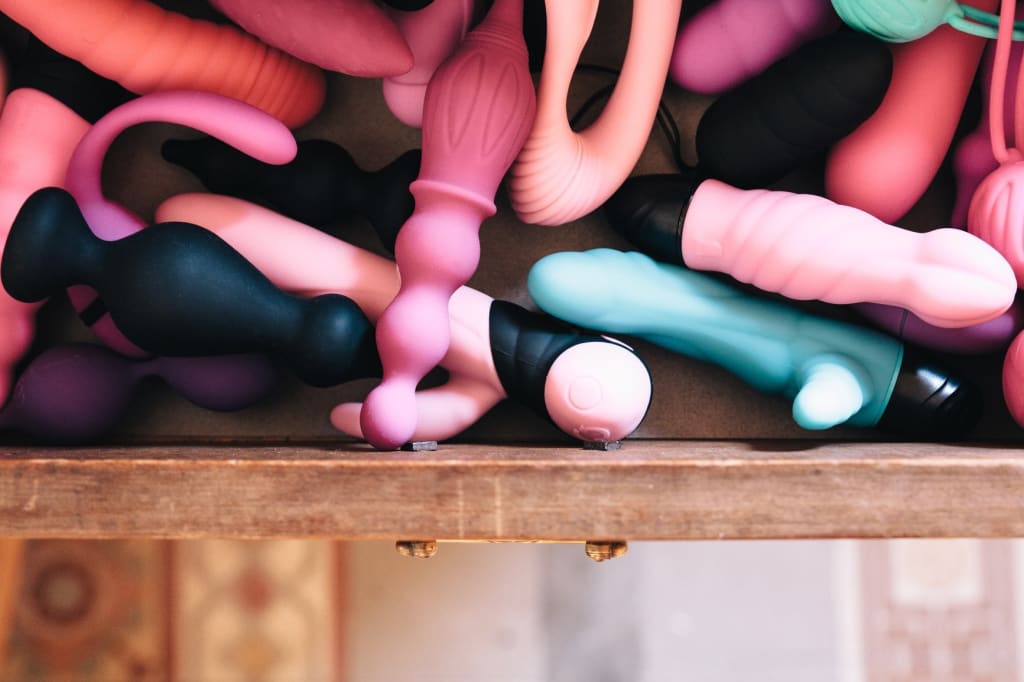 Sex Toys—the possibilities are endless. 
Whether you're currently window shopping for your very first toy or simply looking to kick your existing intimate life up a notch or two, adding a new addition to your private toy stash can be pretty exciting. Settling on the exact right option for you can be a bit daunting, though. It definitely takes a little trial and error for most, but hacks like the following can help take a lot of the guesswork out of the process, even if you're a first timer.
Picking a Great First Toy
If you've never actually purchased or used a toy before, the sheer number of choices you have available can feel overwhelming for sure. You probably have a general idea of what type of experience you're most interested in (e.g. G-spot stimulation or anal exploration), but beyond that, aren't really sure what you're looking for. The following tips can help you narrow it down.
Don't simply assume that bigger is better when it comes to penetrative toys, especially if you've never used one before. It's much better to err on the side of smaller and work your way up to girthier options once you're sure that's what you're really all about.
Consider investing in a multi-faceted toy that brings a bunch of different options to the table so you can learn what you like most in a toy. Think variable speed settings, multiple vibration patterns, and different types of movements!
Not sure whether or not a specific vibrating toy will be too much for your sensitive lady parts? Try testing it out on the tip of your nose first. Vibrations that feel enjoyable there will be just right. Likewise, if they feel too intense or uncomfortable in any way, it's best to keep looking.
The surface of your toy really does make a difference in your experience, so don't forget to pay attention to what each option is like in this regard. Dual-density silicone that strikes a good balance between flexible and firm is always a great choice for a first timer.
Is the nearest brick and mortar sex shop way too far out of town or simply not up to snuff as far as the selection goes? Definitely try shopping online. Not only is shopping online a lot less nerve-wracking for a first-timer, but you often have access to amazing options you wouldn't be able to find locally.
Keep in mind that some people have to try a couple of different things before they find their one true sex toy love, but others discover they're totally into more than one type of stimulation. That said, if something in particular seems to be calling your name and the price is right, definitely give it a try. Even if it turns out not to be a perfect fit for your everyday solo sessions, you may discover you like using it with your partner or on days you're looking for a change of pace.
Smart Concerns to Keep in Mind
Whether you're shopping for your first sex toy or your fiftieth, stimulation shouldn't be all that's on your mind when you're looking for that perfect fit. The right toy won't just rock your world between the sheets. It will also fit your lifestyle from a practical standpoint. Don't forget to consider:
Noise Level: The last thing you want cramping your style in the heat of the moment is anxiety over your roommate, your kids, or the folks in the next apartment over possibly overhearing that telltale buzz through the walls. Look for options that are described as "whisper quiet" to keep your play sessions nice and discreet.
Safety: If you're planning on using your toy for anal exploration (either your own or a partner's), make sure it has a flared base for safety reasons. It's easier than you might think for a given toy to wind up stuck or even lost, and no one wants their red hot play session to end in an awkward conversation with an emergency room doctor.
Maintenance: Make sure your new toy is compatible with your go-to cleaning method and favorite lube before you take it for a spin. Silicone lubes can actually destroy your beautiful new silicone toys, so stick to water-based lube when in doubt. You may also want to pick up a spray-on cleaner made especially for toys if you're not already using one. Soap and water are perfectly fine to use on some toys but can utterly ruin anything made of a porous material, like jelly.
A well-rounded sex toy collection isn't just a great way to self-explore and experiment when it comes to what really rocks your world between the sheets. Toys can be wonderful ways to elevate sex with a partner and take your love play to new heights as well, so don't be afraid to explore to your heart's content. The sky's the limit!
Reader insights
Be the first to share your insights about this piece.
Add your insights