Everything You Ever Wanted to Know About Sex Dolls
But Were Afraid to Ask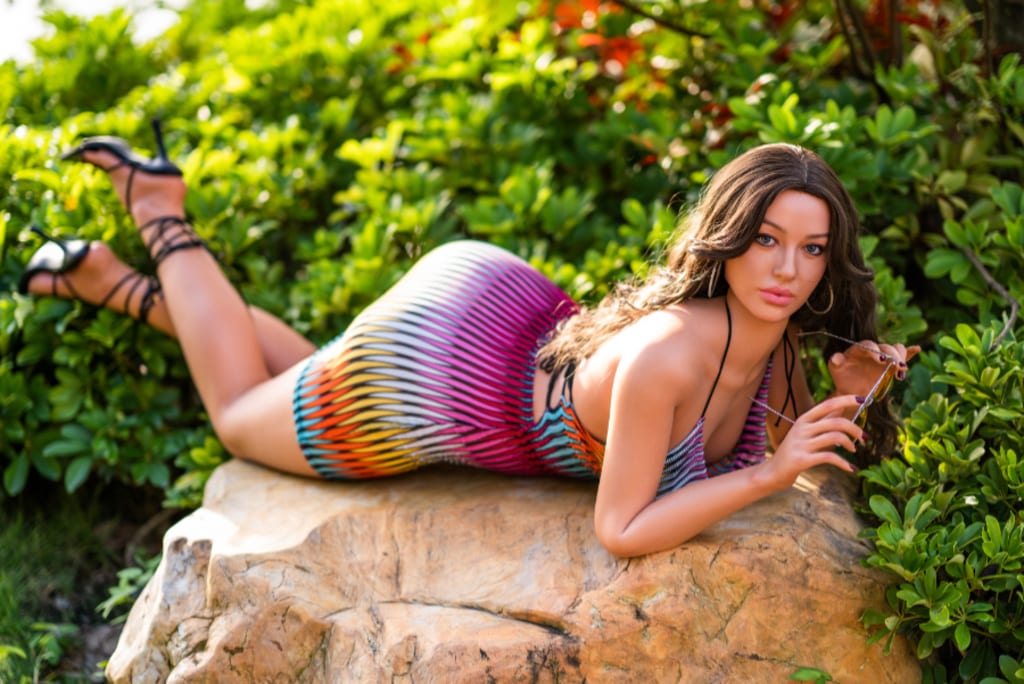 There are many reasons why someone might consider investing in their pleasure by buying a realistic sex doll. Not only are the dolls beautiful works of art in their own right, but they can provide a safe, satisfying outlet for even your most illicit fantasies. Many people find their dolls make enjoyable companions outside of the bedroom, as well.
However, when you're new to the wonderful world of realistic sex dolls, you're bound to have some questions you'd like answered before you put your money down. Here's a closer look at some of the most common ones, the better to help you make a decision you'll be happy with.
What will using the doll feel like?
If you've never used a doll before, it's only natural to wonder what that experience will be like. But you can rest easy in the knowledge that it will be highly pleasurable, as a lot of effort and care go into creating a realistic sex doll. Your doll is made of soft, realistic-feeling TPE or silicone, so touching her will be highly satisfying and feel pretty natural.
Even more care goes into making sure your doll's openings feel every bit as heavenly as you would hope. She'll come complete with fully functional oral, vaginal, and anal openings, so you can enjoy her however you like. And since each doll is created to be anatomically correct, you can trust that your experience will feel wonderfully realistic in all the right ways.
How does a doll compare to sex with a real person?
Of course, there's no true substitute for a real flesh-and-blood woman, so having sex with your doll won't feel exactly the same. For instance, she's not going to respond to you the way a human being would. But you might be surprised how real she feels otherwise. In fact, many doll owners are surprised to find they also like cuddling and hanging out with their dolls, in addition to having sex with them.
And you can also argue that there are advantages a doll has over a real partner. For instance, you don't have to worry about meeting your doll's needs or living up to her expectations because she exists entirely to please you. You don't have to worry that she'll judge you for what you like in bed or tell you "no" when you're in the mood, either. She's always ready to go when you are.
What is the difference between TPE and silicone?
If you've been shopping around long, then you've probably noticed your options as far as the materials your doll is made from are TPE or silicone. Both materials are durable, body-safe, and user-friendly. Both are commonly used and popular with doll owners. So what's the difference between them?
Generally speaking, silicone is going to be the more expensive, hardier choice of the two. However, it's also the more forgiving material, so it's easier to take care of. TPE, on the other hand, is less durable and definitely requires more maintenance. However, it's also softer and more realistic feeling. So if you want a doll with a realistic jiggle to her buttocks, breasts, and so forth, TPE is the way to go.
How do you clean a sex doll?
Maintenance is very important if you're thinking of investing in a sex doll, so it's essential to establish a cleaning routine right away. First of all, always use doll-safe lube when being intimate with your doll. Not only does that ensure the best, most realistic experience for you, but it will help protect your doll's internal integrity.
You will also need to clean your doll thoroughly after every single use. Failing to do so allows bacteria to breed inside your doll, which isn't good for her or you. Use a simple irrigator to flush the doll's openings clear of any fluids or excess lube. Repeat the process with soapy water. Then once more with clean water before drying your doll thoroughly.
How should a doll be stored when not in use?
As with cleaning, it's essential to resist the urge to simply toss your doll into a corner or leave her lying in the same position indefinitely when you're not using her. Letting her lie in your bed or temporarily sit in a soft chair is fine if you use her frequently, but otherwise, you'll want to arrange for a storage method that protects her better.
A storage case is a good option for many people, and so is a closet hook explicitly designed for dolls. Both options protect the doll from potential damage due to sun, pressure, and extreme temperatures. Both allow you to discreetly stash the doll out of sight if you wish. Make sure you acquire one or both at the same time you purchase your doll for best results.
With proper care and maintenance, your new love doll can make an excellent companion for many years to come. Explore the possibilities today!