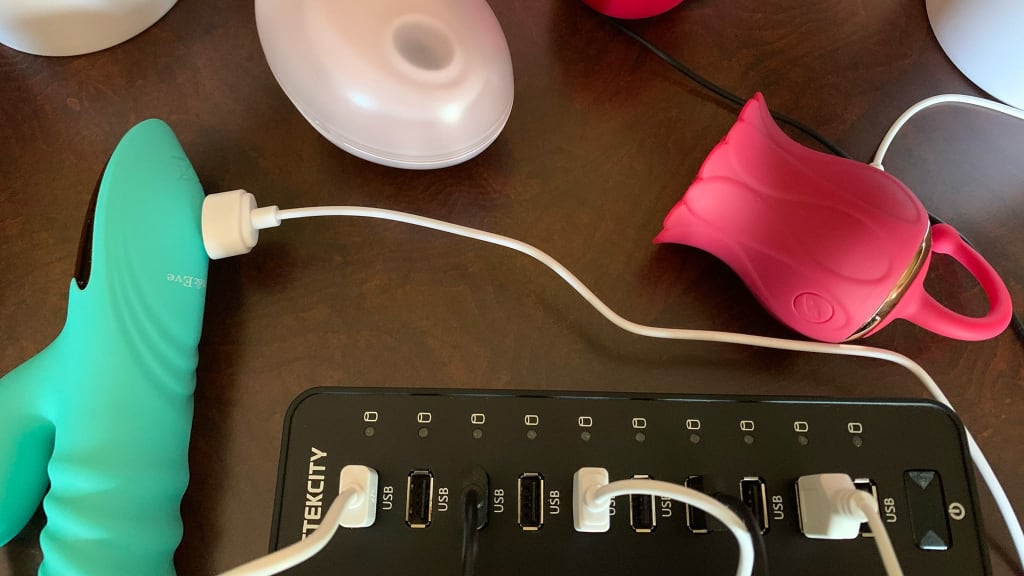 Charging your vibrator is a straightforward process, but for optimal results, it's essential to do it the right way. The time it takes to charge depends on your chosen charging method.
The advantage of using a rechargeable vibrator is avoiding the need for battery replacements. However, regular charging is necessary over time as the battery gradually depletes.
Here are some considerations for charging your vibrator:
The fastest way to charge a USB rechargeable vibrator is by directly plugging it into a USB electrical outlet with a built-in port. This method is generally quicker than using an AC wall adapter.
On average, vibrators need charging after 1 to 2 hours of use. Some models can run up to 4 hours on a full charge. Refer to your vibrator's manual for specific information.
Most vibrators achieve a full charge in about 2 hours, though certain models may take up to 3 hours.
Some vibrators require charging before their first use, while others don't. Consult your vibrator's manual for guidance on best practices.
Modern rechargeable vibrators typically use a USB charger that connects to a laptop, USB hub, or AC USB adapter.
Charging times for vibrators vary between 1 and 3 hours, and they generally need recharging after 1 to 2 hours of use. However, these times depend on the specific model you're using.
The Importance of Choosing the Right Power Source for Vibrator Charging
Most rechargeable vibrators utilize lithium-ion batteries, a compact yet powerful battery type that holds a high voltage for an extended period compared to alkaline batteries.
Vibrators with rechargeable lithium-ion batteries commonly charge through USB cords, compatible with laptops, USB hubs, wall adapters, or USB wall outlets where available.
While your charging cord easily plugs into a laptop, it's not the most efficient method.
A computer's USB power output (in amps) is low, originally not designed as a primary power source. This means your vibrator will eventually charge, but it will take a considerable amount of time.
USB hubs connected to the wall offer a faster charging alternative as they push more amps through the USB port. However, there's still room for improvement.
The optimal power sources for USB vibrator charging are a wall adapter with a USB port, providing a direct connection and higher amperage, or a USB wall outlet if available.
USB wall outlets generally charge devices faster than USB adapters, although they are not yet widely available.
How To Charge Your Vibrator
Before charging your vibrator, always consult the accompanying manual. If unavailable, check for online instructions.
Some sex toy manufacturers, like Dingfoo, recommend a solid 2-hour charge before first use, even if the device signals completion sooner. Others may not provide specific guidance.
The charging process for USB-powered vibrators is generally the same, whether it's a bullet, egg, clit sucker, rabbit, rose, panty, wand massager, or G-spot vibrator.
Follow these steps to charge your vibrator:
Use only the provided charging cord.
Ensure the cord is undamaged — do not use if it shows signs of damage like exposed wiring or peeling.
If the vibrator has been in water, ensure it is completely dry before plugging it in.
Securely plug one end of the cord into the power source (USB port, adapter, or wall outlet).
Connect the other end to your toy:
- For a pin connection, ensure it's fully plugged in (listen for a click).
- For a magnetic connection, ensure the magnets connect securely. If two-pronged, flip them if they repel, so they align with the charging port.
Observe any charging signals, like a blinking or colored light. Consult your vibrator's manual for clarification.
Once fully charged (indicated by a solid or color-changed light), remove it from the charger and store it in a cool, dry place until use.
While many vibrators use similar cords, always use the one that came with your toy. Using a different cord, even if it appears similar, may damage the charging port or affect your vibrator's lifespan. The only exception is using the same charger for another toy by the exact same brand, like Satisfyer vibrators that share an interchangeable magnetic charger. Across different brands, chargers may not connect or function properly.
It's advisable to charge your vibrator before it completely runs out. Avoid letting it fully discharge, as this can negatively impact the battery's lifespan.
The Fastest Way To Charge Your Vibrator
To expedite the charging of your vibrator, the fastest approach is utilizing a USB wall outlet, assuming you have access to one.
This power source is entirely safe for your vibrator, provided you use the original USB cord that came with the device.
USB wall outlets generally facilitate faster charging compared to USB adapters plugged into the wall. However, not everyone has this outlet type readily available at home.
If a USB wall outlet is not an option, the second-quickest charging method involves an AC wall adapter with a USB port. Simply connect your cord to the adapter and plug it into the wall.
If time is not a pressing concern and you're open to waiting, using a USB hub or your laptop's USB port is an alternative for charging your vibrator, although the process will be slower.
How Long To Charge A Vibrator?
The time required to charge a vibrator varies, primarily influenced by the type of toy and the chosen power source. Generally, the charging duration falls within the range of approximately 90 minutes to 3 hours.
Typical charging times for common vibrators are as follows:
Clitoral suction vibes: 2 - 2.5 hours
Classic G-spot and vaginal vibes: 2 - 3 hours
Rabbit vibes: 2 hours
Wand and clitoral vibes: 1.5 hours
Bullet vibes: 1 to 1.5 hours
For precise information on charging times, refer to the user guide or manual provided with your vibrator. It serves as the most reliable source of details.
Crucially, once your vibrator reaches a full charge, promptly disconnect it from the charger. This practice contributes to preserving the battery life and ensuring the overall longevity of your toy.
In Conclusion
Charging a vibrator is a straightforward process, but there's a right and wrong way to do it.
Whenever in doubt, consult the manual provided with your vibrator to ensure you're adhering to the best practices for the device.
It's crucial to note that the charging method significantly impacts the duration — plugging it directly into the wall is preferable over the USB port on your laptop, unless you have exceptional patience.
Lastly, always utilize the charging cable that accompanied your vibrator.
Considering the investment in your sexual health with the purchase of a vibrator, and recognizing their value, proper care ensures it reciprocates by serving you well.
Reader insights
Be the first to share your insights about this piece.
Add your insights