Bring Me To Orgasm 2
A M/F Kinky Erotica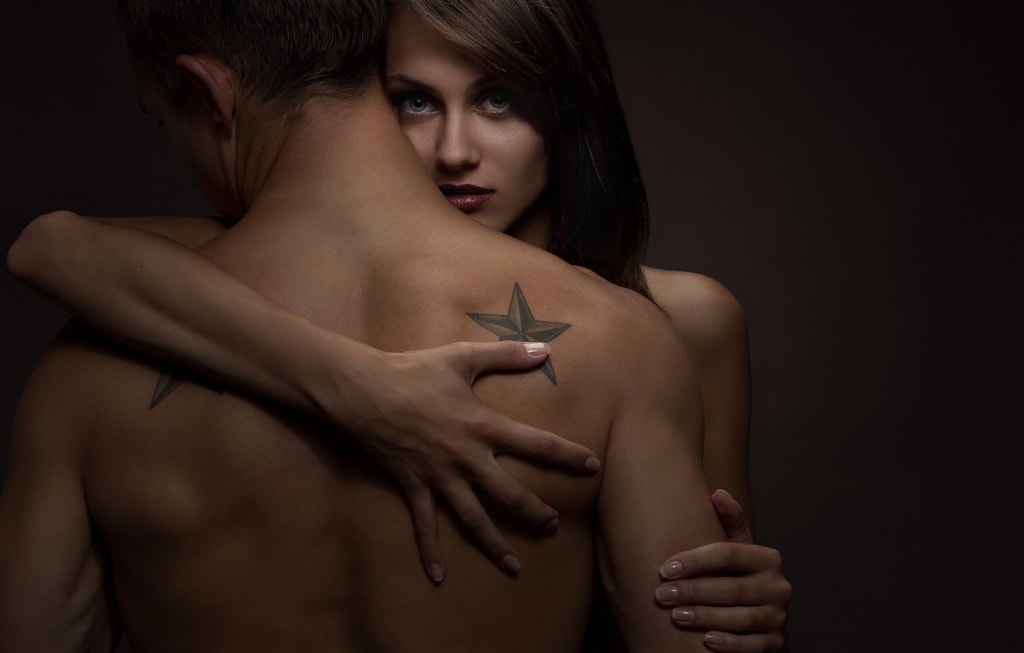 Leaning against the kitchen counter, I put my now empty glass of water down beside the sink, when a pair of hands curl themselves around my waist. I relish the feel as the hands turn me slowly around, and Adam's blue eyes greet mine with a seductive smile and the lustful look that I am most definitely returning.
His large hands take up a good portion of my waist, and his thumbs caress the edges of my stomach, making the nerves flutter, and instinctively my stomach flinches under his touch, but I love the feeling.
He leans in, and we embrace for a deep, slow kiss and I wrap my arms around his neck, feeling the base of his hair and dragging my fingers along the skin with the tips of my fingers.
He moves his hands to wrap around me, and keeping one hand around me, he uses the other to lift my shirt and ever so lightly trace his fingers up my back and around the spine.
I start to let out the smallest shrieks, and my legs try to entwine with his as my back arches my body into him, and he kisses my neck with the softest pecks. His fingers feel like the most erotic lightning is working its way along one of my most sensitive areas.
They find that one spot, a little to the left of the center of my back, and I practically squeal into his neck as one foot moves up the cupboard doors and my fingers dig into his skin a little harder, and on impulse, I bite his neck. Not too hard, enough to let my teeth graze his neck, and he moans into me as he tightens his arms.
Then, he loosens them and carefully turns me back around, I put my hands on the countertop, knowing what he's going to do.
His fingers move up and under my lifted shirt to land between my shoulder blades, and he pushes down.
For a moment, I want to resist, but his hand feels perfect, and instead, I whisper, "keep your hand on my back." Though it comes out so softly, I'm not sure he heard.
But he keeps it in the same spot even after I'm half laying on the cool surface. His other hand rubs my ass, squeezing and rubbing and making the nerves dance with joy. Soon, I realize he's not squeezing my ass but slapping it, getting me ready.
I can hardly wait and want nothing more than to say, "just do it already!" But, I know this takes patience, and when his hand brings that first hard spank down. The pleasure it brings with it makes everything worth the wait.
He spanks, again and again, each time I feel a little more spark growing inside me, and soon I reach down to touch myself.
He chuckles, and I'm moved off the counter, next thing I know, he's carrying me over his shoulder.
The pressure this alone applies to my crotch makes my toes curl, and I hear them crack.
He chuckles again and enters the bedroom, he plops me down on the bed, and I lay on my side, watching him. My thighs clenching enough to give my clit some pleasure. He takes out our vibrator designed for intercourse. A small device that has a vibrator on both ends and slides right into a woman vibing both the clit and vagina so he can feel the vibrations too.
I smile, but say nothing as he walks back and playfully turns me onto my stomach, he slides the vibrator in, and when it touches my clit, I gasp in pleasure and immediately try to close my legs. Before I can, he positions himself carefully, ready to enter, but first, he again squeezes and rubs my ass, giving me a few goods spanks, the pleasure building inside me until the first orgasm courses through me and the world goes dark for a few moments.
Then, as the vibrator stays in the same spot, and Adam uses his own weight to keep in this heavenly position, I moan when he slides into me and my body begins to tremble from my clit's sensitivity, and the second orgasm I can now feel coming.