Bring Me to Orgasm
A M/F Kinky Erotica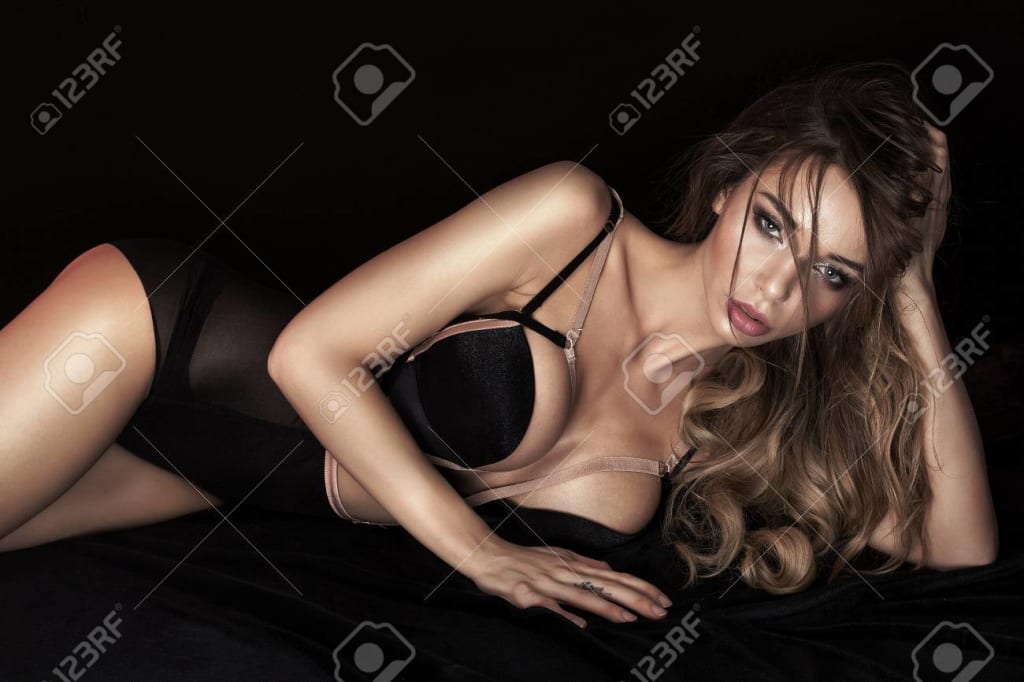 Standing in front of the bathroom counter, Adam moves to stand behind me, and his arms wrap around my waist, and I nearly close my eyes in the bliss of his hands touching me exactly how I like. His hand runs over my stomach and goes under my shirt to make my nerves flutter.
I turn around and playfully squeeze his sides, which makes him grunt and grin, and then his arms wrap around me again, and this time his hand delivers a light spank to my rear.
I grunt too, but a smile shows bright and full on my lips. When he doesn't do it again, I poke him again and grin out, "that all you got?"
His eyebrow raises, and he smiles, "oh, you want more, do you?"
I back away into the bedroom space and grin more, "let's see what you got."
He smiles and mouths, then he takes a couple steps and I make a playful run for the door. He catches me within a few strides, though I had not meant to get very far and he lifts me into his arms.
He pins me to the side of the bed with a gentle but firm grip. My legs resting on a little stool we keep near the bed, and my body lying on the edge, over his leg.
He lifts my arms up enough to get under my shirt, and soon my eyes are practically rolling from the tingling sensation as he brushes his fingers over my sensitive skin. Having learned my body, he stays close to the center of my back, and I start gasping and making little sounds as his fingers trace all over and then they edge down my lower back.
Wearing only underwear and a t-shirt over my bra, his fingers make delightful patterns down my ass, and I feel muscles jerk under his touch. He goes to the sides of my ass and dips under the fabric to tease the skin around the crack. Especially by the tailbone, my toes curl from the pleasure and the sparks have started a fire.
Then he starts squeezing the flesh, and it fits into his palm with ease. Every time a wave of pleasure follows and all I want is for him to spank me so hard he has to hold my waist to keep me from moving.
He begins with the tapping, a necessary and teasing step to get my skin ready for the soon to come smacks. He taps, getting firmer every few hits until his hand is starting to sting.
Then, his hand smacks it good and hard, and I don't quite gasp but I inhale sharply and bite my lip, excited for the rest. He spanks again and the smallest sounds start forcing themselves out of me.
"You can do better than that," I whisper playfully, not quite sure if he even heard. The next smack makes me cry out, and he aims for the perfect spot, right in the center of the nerves and spreading them out.
It's hard not to moan as he brings his hand down more and more, each spank an incredible sting that makes me want to rub myself to orgasm. I pull at his hands but he's much stronger and the feeling of not being able to touch myself adds to the arousal. He spanks again and again, and each time I pull harder, wanting to bring an orgasm into play.
He pauses and rubs my ass, my clit pulsing with a need to be touched. Then, in a move I wasn't expecting, he pulls my underwear off and my legs already spread by a few inches, a vibrator meets my clit, and my legs try to shut against the powerful vibrations.
But he carefully holds me still and keeps the vibrator exactly where it needs to be. And in less than a minute, my body tries to jerk away from the sensation and an orgasm builds. I barely let out a sound as the pleasure begins to curse through me, and the waves start racking my body.
The orgasm begins to subside, but he doesn't remove the vibrator…
Reader insights
Be the first to share your insights about this piece.
Add your insights