Binding Kiss 3
Please note that this part has extra content at https://www.patreon.com/samsonlycan that is more explicit in nature. All characters in this work are over 18. (Ezra is 23, Amos is a vampire who was turned in his late 20s.) Please do not read if you are sensitive to the darker and adult themes in dark romance, as they may be triggering. If you think this could be an upsetting read, I encourage you to leave with nothing but care in my heart.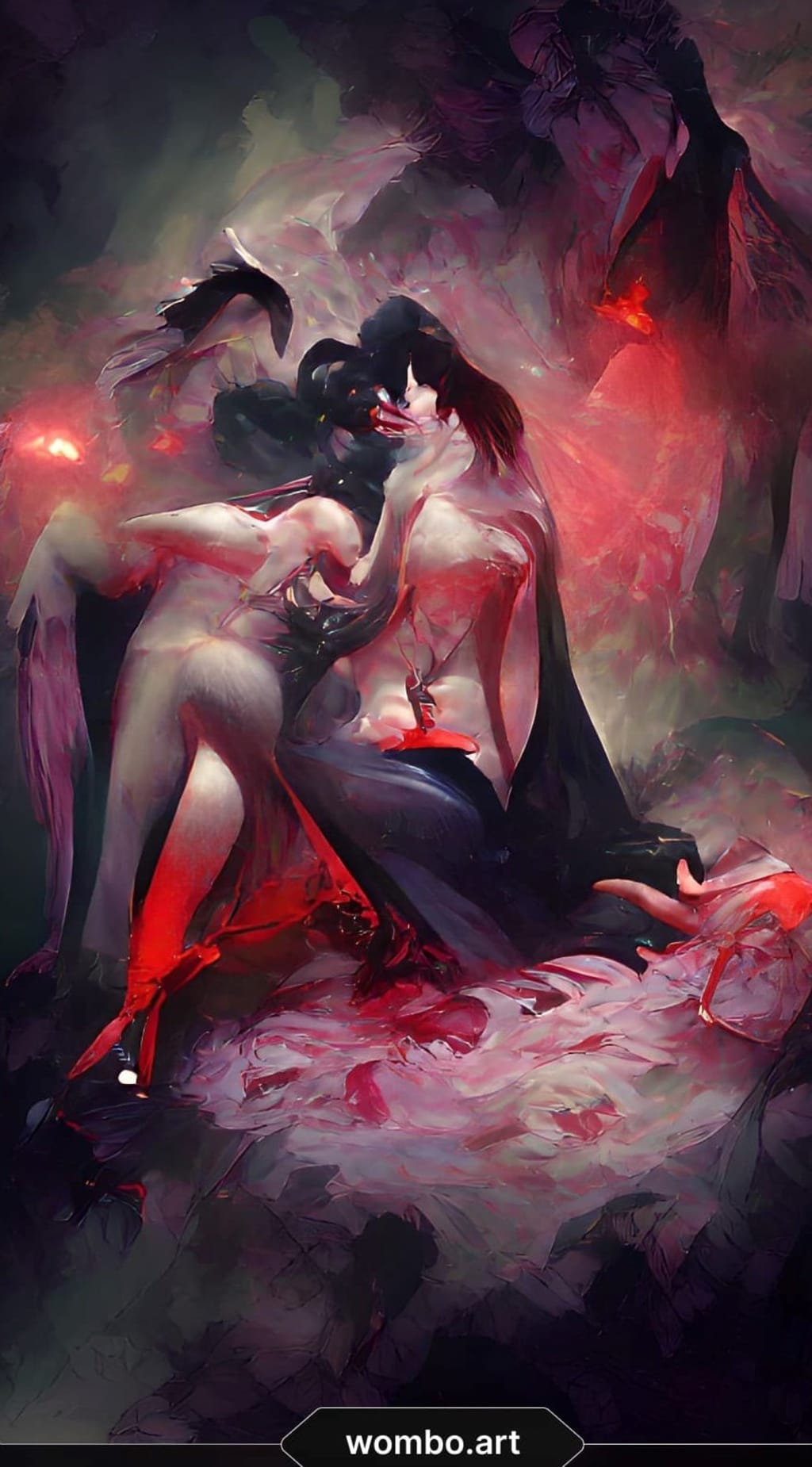 I'm not sure what wakes me. It could be the change from the warm summer's day seeping in through the smallest of cracks where windows should meet ceiling changing to the nothingness of darkness. Or maybe it's the feeling of another person pressed into my back, sharing the bed with me.
I turn over as soon as I feel him and terror rips through me when I see that Amos is in the bed with me. My stomach had been wrapped snugly in his arms. "Get the fuck away from me." I shove Amos as hard as I can without thinking, my words louder than they should be in a place like this. Scrambling upright, I feel my chest heaving as I face him.
The shocked fury is clear on his face. So far, he's been doing well at not portraying any emotion. Right now though? I wouldn't have to know Amos was a vampire to know that he could kill me. "What the hell do you think you're doing?" He reaches out for me and wrenches me back to him with startling ease. My captor doesn't seem to care that as he does so I cry out in pain. The theory that he doesn't care is further proven by the fact that when I go to pull away from him, his hand is a vice on my wrist.
"What am I doing? What do you think you're doing?" With the way his hand tightens on my wrist with every word I spit at him, I'm surprised the bone isn't shattering. Let him break it. Break his new toy. Better the replacement be here suffering than me. "Do you get off, holding me like I'm your fucking lover?"
Spitting in the face of my attempt to die, Amos does not harm me further. Instead, I feel his grip soften around my wrist, to the point I could slip out of it. "I was trying to show you kindness. I injured you."
I kick at his stomach, nearly managing to propel myself to the other side of the king size bed. "The last person I want kindness from you is you. " The last word comes out more saliva than sound.
Before I can process what's happening to me, Amos has me pinned to the bed, straddling my waist as he had done before. This time I am not met with any pretending at gentleness. Amos leans in close, baring his fangs as I tilt my head as far away from him as I can. My heart skips a beat as he nears and I can feel a disgusting craving building in my belly.
"Fine," he hisses. "If you're so desperate to be bled dry like an animal, so be it." In one swift motion, the collar is unhooked and Amos's fangs plunge deep into my neck.
The pleasure is instantaneous this time. It floods my body as Amos closes his lips around me. He pushes me further into the bed, using one hand on the back of my head to bring me further in and the other keeping one of my flailing hands at bay. Humiliating me further is the fact that I am struggling to grind into the thigh that has spread my own apart. I would think he had put himself there on purpose but I can tell he's too focused on draining me to have a coherent thought like that. As the bite goes on, my own mind loses capability of thought.
Amos pulls his fangs out of me and I go limp in his grasp. Scalding tears of shame prick at my eyes while I'm scrutinized by his furrowed stare. I can't stop the tears from falling as I ask Amos if he's going to lick the bite, like he did before. I can't stop myself from crying because Amos is the only creature here who can take care of me.
Amos's brow raises, and then his frown deepens, a much harsher expression than it was before. Though I do not think the harshness is directed at me. Confusion at his lack of response is what starts bringing me back into my senses. A twitching body flooded with desire, aftershocks still coursing through it. My body. Yet deep within I know I want Amos to continue to touch me.
And I had thought the tears were flowing before.
"I'm sorry," he whispers. There's no chance of me responding to him. I'm too busy quelling the desire that's building in me again. The repulsion I feel toward myself is making me choke back vomit. Without another word, Amos goes to the nightstand and grabs the aftercare kit. I don't protest when he pulls me with slow movement toward him, positioning me so that he can treat my wound. He's the closest thing I have to someone who cares about me. That's all I want right now.
Amos slips the collar back onto me and lays me gently onto the bed. There's no protest from him when I turn away, blinking back tears. "I think it's best I leave you for the night. I'll be back in next sundown to make sure you're able to bathe without injuring yourself. The sedative will keep you asleep for the whole day."
I hate that I want to protest him leaving my side. I hate even more that I don't.
fiction
About the author
Reader insights
Outstanding
Excellent work. Looking forward to reading more!
Top insights
Compelling and original writing

Creative use of language & vocab

Easy to read and follow

Well-structured & engaging content

Excellent storytelling

Original narrative & well developed characters
On-point and relevant

Writing reflected the title & theme

Eye opening

Niche topic & fresh perspectives

Heartfelt and relatable

The story invoked strong personal emotions

Masterful proofreading

Zero grammar & spelling mistakes

Expert insights and opinions

Arguments were carefully researched and presented
Add your insights