Best Laid Plans (Ch. 10)
Chapter 10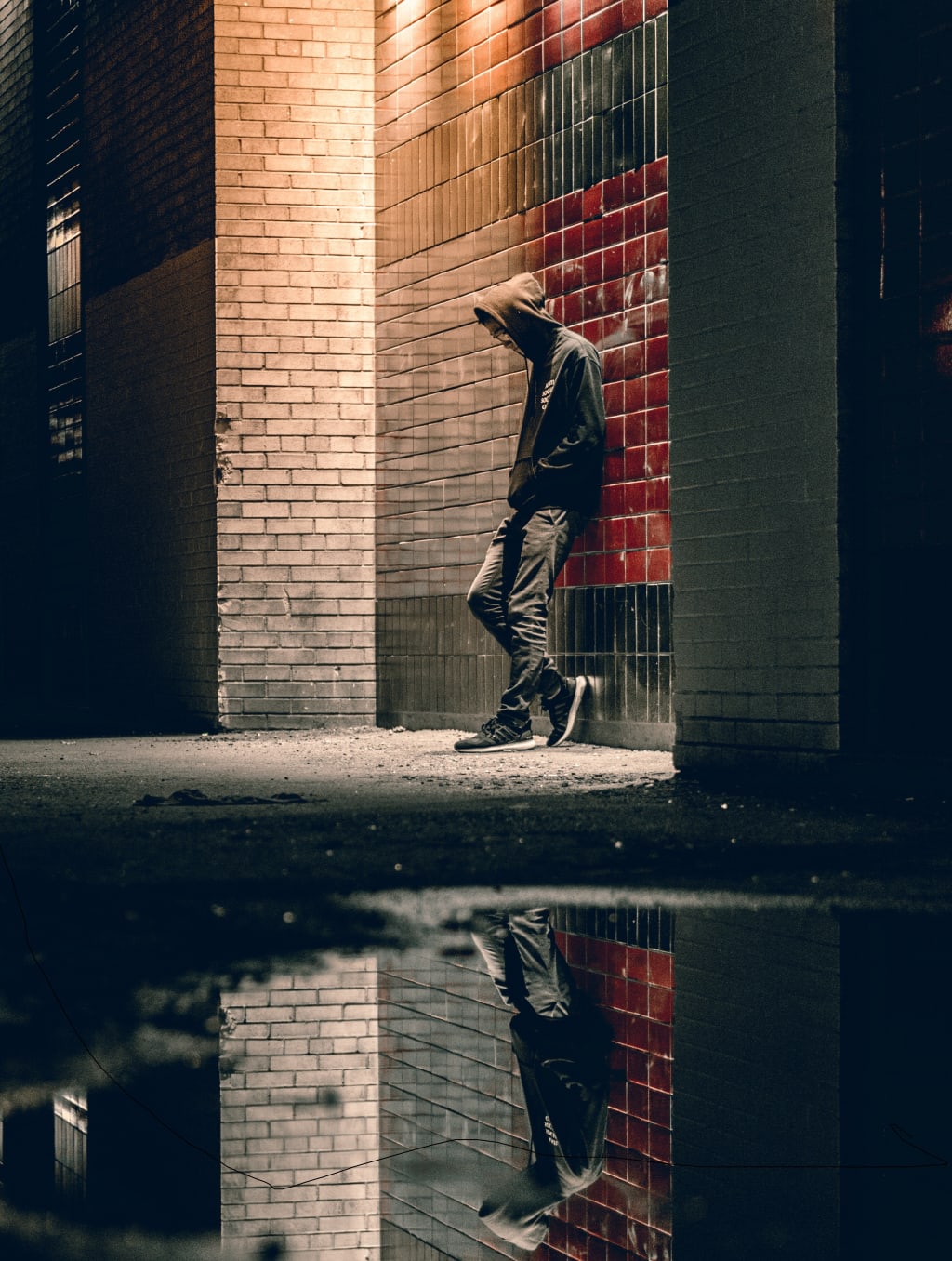 Days turned into weeks and weeks turned to months. Richie stayed at the shelter and worked there over a year. Richie surprised everyone, including himself, at his work ethic. He never wanted to take a break since he felt he did not deserve any breaks. It was as if he was doing penance. He did everything including laundry, cleaning, and cooking. Along the way, he saw people that society had forgotten or given up on. He met alcoholics who could not cure themselves, people that had become addicted to pain killers after the medical system got them hooked, people denied painkillers that got hooked on illicit drugs, and lots of people just down on their luck from a divorce, a layoff, or a disability. It made him sad and he realized what a charmed life he had. It made him feel guilty and it made him work harder. And while he worked, he wondered how things could have been different.
He never should have hooked up with Linda when she discovered Jimmy was cheating. If he had not fallen for her sensual charms, he probably would not have succumbed to her again and again. He wished he had treated Barbara better. He should not have broken it off with her and left her hanging. Instead, she married a hard working contractor and she was better off with her husband than she was with Richie, he thought. And he never should have flaunted having sex with Linda in front of Jimmy. Should he have given Linda a second chance after seeing her with a woman? Perhaps. But if he had never married her in the first place, they would not have been in that position, he thought. Round and round these thoughts filled his head incessantly as he cleaned the kitchen and the bathrooms.
And as he worked around the shelter, he could not help but observe David and Sarah, and how they loved each other. He envied them when they held hands or when they embraced. Their love for each other was unconditional and complete. Richie's envy turned to admiration of their love and their dedication to the shelter. When the weather was bad, they looked out for as many of the homeless as they could. They would talk one-on-one with those with addictions. They led everyone in prayer every evening. Even Richie, never a religious person, was moved by their sincerity. He couldn't help but want to help them in their self-appointed mission.
One day, there was a buzz in the shelter. Richie sensed something was different. It was like the wind had blown through a window and a curtain fluttered in response. Richie approached David.
"What's going on? Something seems different."
"Tommy Kapich is visiting today." Richie gave him a puzzled look. Sarah intervened.
"You don't follow baseball, do you Richard?" she asked. Richie shook his head.
"Tommy Kapich is a major league pitcher. Big time pitcher. When he was in the minors, he played here. He never forgot how the fans made him feel welcome. This shelter is one of the charities he supports. He still comes by when the schedule allows it and he's playing in California."
A white SUV drove up to the front of the shelter. A tall man in his 20s stepped out of the car and approached David and Sarah. They each gave him a warm embrace before showing him around to the improvements and introducing him to the staff including Richie. Tommy Kapich's smile was as wide as it was earnest. A few television trucks came by. Reporters and cameramen came out. Some of the cameramen started photographing the shelter and some of the homeless. Tommy Kapich stepped in front of the cameras and asked them not to photograph the people staying there.
"We need to respect them. Let me talk to David for a moment and I'll be right back." Tommy Kapich guided David into his office. He motioned for Sarah to come inside too and closed the door. After about 10 minutes, the door opened and everyone had broad smiles. The three of them went to the front of the shelter. Tommy Kapich approached the reporters.
"As many of you know, I have long admired the work performed here at this homeless shelter. When I was a player here, I donated time and money. I'm not around that much anymore. My business keeps me elsewhere." There was a sprinkling of laughter. "I had a conversation with someone I met recently. She asked about the responsibility of being a celebrity and asked about the causes that inspire me. I immediately mentioned the good work David and Sarah do here at the shelter. After talking for about 20 minutes, she could tell I was fired up. She wanted to learn more. So she's here today."
He motioned to his SUV. The door to his SUV opened and the host of the most popular daytime talk show in America walked toward Tommy Kapich. The two of them hugged. Then he introduced her to David and Sarah. The reporters clamored to get their questions answered and cameramen jostled to get the best angle.
"We're announcing today that we will be hosting a benefit concert for this shelter. We have some big names already lined up. It will be a great show. Our goal is to provide a financial base so that this shelter will be able to survive comfortably just on the interest of that base."
The reporters became even more persistent, so much so that Tommy Kapich, David, Sarah, and the talk show host had to go to David's office. When that happened, the reporters started asking questions to anyone they could find. Richie was scared that he would be identified and did his best to hide in the back of the building.
The next day, a calm returned to the shelter, but there was an air of happiness and hope. Richie considered leaving since he thought there would now be too much attention on the shelter. But he was assured by David that all the business of hosting a benefit concert would be done elsewhere.
"After all, what do we know about having a concert or running a show? We don't even have the space here to handle everything that requires. A public relations firm is handling all of it."
"I can help you with the contracts and setting up the investments."
"I was hoping you would say that Richard," David said. "Meanwhile, everything is the same. There's no money in the coffers yet from this concert. Let's go about our business like nothing has changed because nothing has changed… yet."
But things did change a little. Instead of just cooking and cleaning, Richie inherited other duties like reviewing contracts. Occasionally, someone in a suit would meet with David to review the concert details to ensure he approved.
"Someone from the public relations firm is supposed to arrive today," David said.
"Reviewing details with you?" Richie asked.
"They wanted to see the place for themselves before they start bringing celebrities for photos. This must be her," David said as a car pulled up to the shelter. The car door opened and elegantly shaped leg appeared. Then another one. The woman looked sharp and chic in a white suit, white high heels, and sunglasses. She appeared to be stepping out of a magazine instead of car. She had a puzzled tilt to her head.
"Richie?"
"Barbara?"
Chapter 11 will be published Thursday, January 24, 2018.