Belonging: A BDSM Tale
Friends to D/s story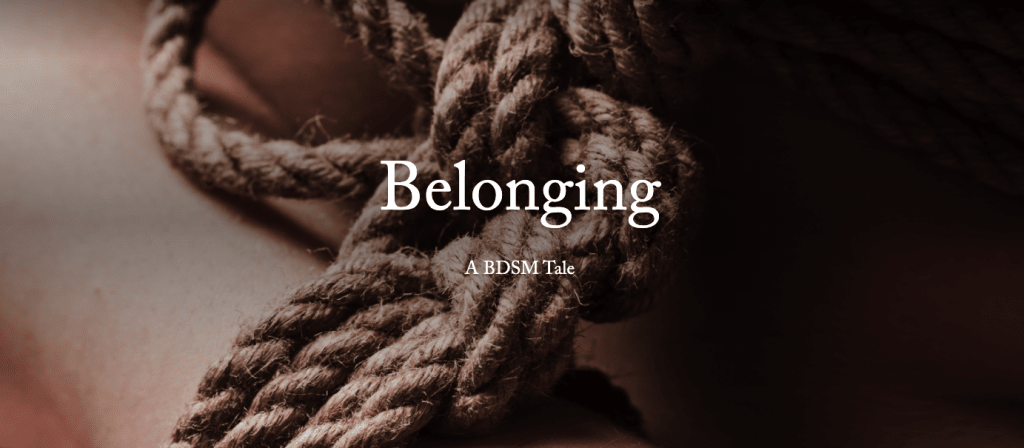 Friends to D/s story
The rules were:
1. She couldn't cum unless she had permission to do so by Christopher. She was to do everything she was told to do by all of them. If not, the punishment would be meted out by Christopher.
2. Only Christopher was allowed to kiss her.
3. She could not call Nathan or Michael, "Sir." Christopher was her only Dom.
4. Nathan and Michael had to wear condoms when they fucked her.
5. If at any point things got to be too much for her, she would use the safe word – "red" – to stop everything. "Green" and "yellow" remained the same too.
They began in the room with the large television. Christopher sat down, and Isabella straddled him. He felt her shivering.
"Are you cold, Bella?" he asked her.
"No, Sir."
"Are you scared?"
"Yes, Sir. I've never done anything like this. When I was twelve, my – my father would share me with his drinking buddies, but never all at one time."
Christopher looked intently at Isabella.
"Bella, if this is bringing back bad memories, we don't have to do this. I don't want to cause you any trauma."
"No, no. It's ok. I'm ok. I – this is different. I want to – fuck all of you."
"Ok, baby. I have one thing before we start." He pulled Isabella close to him, squeezing her tightly. "You're mine," he whispered adamantly. "No one else's. I don't mind you fucking my boys, but always remember your pussy is mine. Understood?"
She nodded her head, already wet between her legs from Christopher's statements of possessiveness. She belonged to this man, and nothing would change that. She hoped. But right now, he was hers to lose, and she didn't want that to happen.
Therefore she would obey him and, above all, trust him. She was hesitant about the orgy they were about to have. Still, if Christopher thought it right for her to participate, she would obey him. And probably get fucked silly while doing so! The thought excited her.
"Let me hear you say it, Bella. Whose pussy is this?" He emphasized his question by covering said pussy with his large hand.
"Your – pussy," she said, self-conscious at saying the word out loud.
"Louder, sweetheart. I couldn't quite hear you. To whom does this pussy belong?"
Isabella knew that her panties were soaked through and getting Christopher's hand juicy. The throb between her legs felt like it needed more than one dick to satisfy it. It was deep and dirty, demanding.
She put her hands around his face and went down to kiss him on the lips. They opened their mouths at the same time, knowing what the other was needing. She trailed her tongue over his, loving the taste of him. What she imagined whiskey tasted like – smoky, smooth, and oh, so delicious.
"I'm your pussy," she finally said to him, hoarse with desire.
"Yes, you are, sweetheart. Don't forget that."
"Yes, Sir."
"Boys," Christopher called out to Nathan and Michael, who were sitting quietly in the room, watching their friend and his woman. They, too, got the message about who Isabella belonged to. The men could play, but they would never own. "She's already wet. We need to take care of my little slut."
Isabella gasped when she heard him call her a slut. She should have been offended, but she only felt heat collecting in her chest from the truth of the matter.
She was his slut. The all-over body achiness she was experiencing needed to be taken care of.
"Take her down to the dungeon and rip off all her clothes," Christopher commanded his friends.
"Our pleasure," they said in unison and grabbed her by the arms to take her downstairs.
The dungeon, Isabella thought, suddenly terrified? What had she gotten herself into?