Ask A Porn Star: Vinnie O'Neill
We decided to delve into the world of BHM with plus size superstar, Vinnie O'Neill.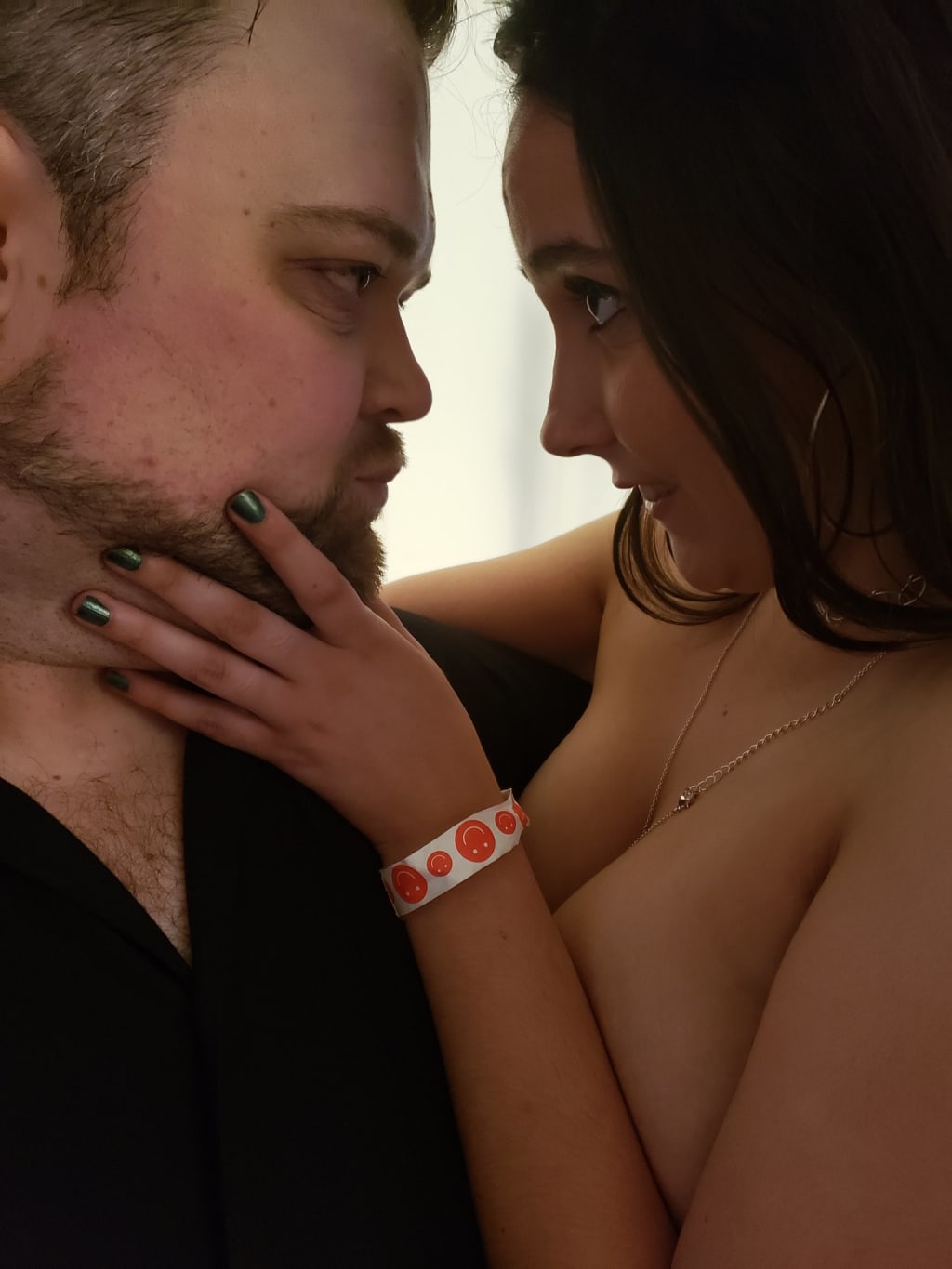 Courtesy of Vinnie O'Neill
I remember when I first heard about Vinnie. We were doing a rough draft of a podcast where it was me and three porn guys talking about the difficulties men have, and where porn can help. (You'll see it eventually.)
But, I was on the hunt for some new people to talk to---especially when it came to body image. If there's one thing I'm terrible at, though, it's meeting male talent. It's my blind spot as a sex writer.
During the interview, I said as much. My friend Rex Whamming asked, "So, wait, why don't you ask Vinnie?"
Me: "Who?"
Dick Dangle: "Vinnie O'Neill. The BHM porn star."
Rex then added, "Yeah, he's great. I don't know many other people who have such positive energy in the scene."
Intrigued, I decided to hit him up. It didn't take too long for me to learn that he was popular for a reason. It was then that I realize this guy was not only talented, but had his own IMDB site and was featured on major sites like Vice. And here he was, talking to me of all people! How awesome is that? So, I decided to ask a couple of questions, just to see what life is like for one of the most well-liked plus-sized male models in porn.
Ossiana: Let's get started with your start in porn. How did you get your start in the toughest side of adult films?
Vinnie O' Neill: There was a model I was a fan of, who has since retired from the industry, Little Mina, who did fan shoots. You would hire her like any company and produce your own porn with her. She would film it and upload it to her clip stores.
I had been friendly with Mina on Twitter for a while at that point, and in October 2018 I reached out to her about doing a fan shoot in January 2019 when she would be here in town for AVN. After I got that all set up with her I thought to myself that I'll have the one thing guys never have, a reference within the industry.
So between October 2018 and January 2019 I created my porn persona, made my Twitter and email accounts and started researching what I needed to do. I already followed several porn stars on Twitter and I paid attention to things they said.
I learned terms like "content trade", which is when two porn performers and "trade" filming scenes with each other. Filming a scene for each of them to keep and sell. I registered on websites like Fetlife and SexyJobs that I saw people online talking about and started looking for other models who would be filming during AVN and began reaching out to them.
I was able to find a couple of additional models willing to work with me that week. That same week I also attended the monthly Pornstar Karaoke here in town and introduced myself to some of the local talent.
I went into my week of filming during AVN with the expectation that it would be a one-time thing and that I'd be happy to just have that experience. 2+ years later this is my career and I can't ever imagine doing anything else.
As I filmed my first scene that week, I wasn't able to attend AVN that year as talent, but I did purchase a general admission pass and spent a day walking the floor. Introducing myself to models and giving them my business card. I was honestly surprised by how accepting everyone was that week.
As a Big Handsome Man, you probably had a lot of roadblocks on your journey. What were some of the biggest issues with your rise to fame?
There are a few different sides to this question. There will always be haters. Even the most popular and successful models in our business receive hateful comments on everything from their appearance, to their weight or even the people they work with. Sadly that hate creates a heckler's veto that sadly holds significant sway within our industry.
I've been told point-blank someone won't work with me not because they don't want to but because their fans won't like it. It's something I've never allowed to dictate what I film or who I film with.
Honestly, our industry would be a lot better off if fewer people listened to those haters. I always found it odd that people will publicly post about fighting discrimination while at the same time allowing hateful and bigoted fans to dicate who they work with. I take the opposite approach. If someone attacks me for my looks, body type, penis size, the people I work with or the type of content I film, I double down and focus on producing more of that same content that a hater told me they don't like. I never have and never will allow a hateful, bigoted, person dictate my work.
I actually enjoy dealing with those haters sometimes because I know most of it is just jealousy. When a guy gets upset that I'm having sex with beatuiful women they can only dream of, it brings a smile to my face to respond with something like "jealous much?"
What's been more difficult for me to deal with is the haters and naysayers from within the industry. Back in April 2019, I have the opportunity to work with the wonderful Alura Jenson. She put out a Tweet that she was looking for more diverse people to film with and specifically wanted to find a bigger male talent to work with. Nikki Sequoia, who is also my BFF now, tagged me in reply to Alura's Tweet and Alura reached out to me.
I was beyond excited. She was the first really big name, mainstream, pornstar to discuss working with me. I saw it as a major opportunity not only for myself but for other big guys like me. I expressed this excitement on Twitter and was quickly met with pushback from someone else in the business.
I was told not to get excited, told that bigger guys will never be accepted or respected by the mainstream side of the business so I shouldn't even try. I knew that it was just the same jealousy that I get from male fans, but it hurt that a mutual in the business couldn't simply be happy for me.
In the two years since then, I've gotten over it and have actually done a great deal of good to prove that person wrong. I'm out here actually making the change I talk about.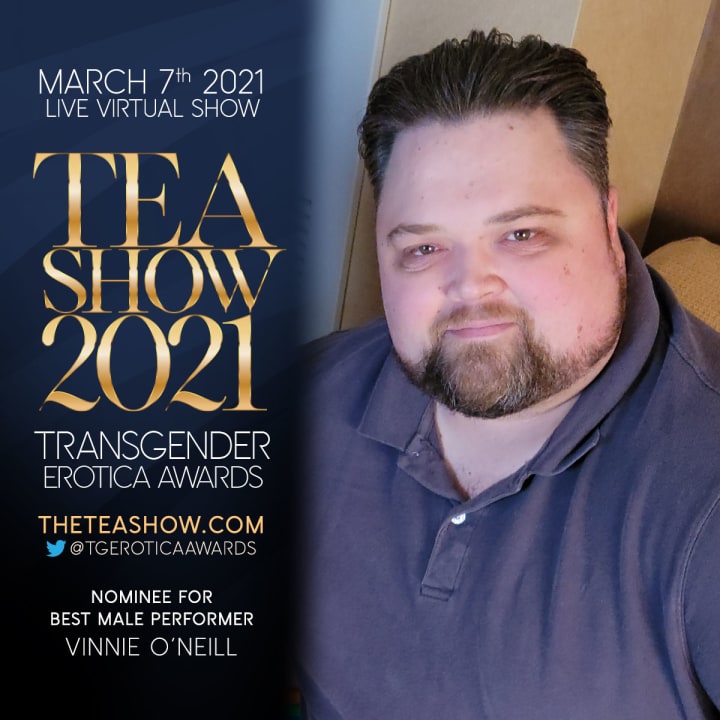 I love to hear that. Prior to being a porn star, what was your dating life like?
What dating life? Haha, I have no shame in saying I've suffered from mental illness and depression for three decades now. That last person I dated before joining the industry was back in 2001.
I went through a very bad breakup then and due to a combination of my depression and other life events, I didn't even try dating again. Joining the adult industry has given me the confidence I need to actually speak to women again.
That's pretty awesome. Do you feel BHM have the odds stacked against them?
Yes, this is very much true. It goes back to the point I made earlier. Rejecting a man due to his weight is still seen as being socially acceptable.
I identify as a BHM because that is who I am and who I represent on screen. But I am a pornstar who happens to be a BHM and not a BHM who happens to be a pornstar.
I understand that. But, let's delve into the entire BHM movement. BHM, as we both know, stands for Big Handsome Men. What do you feel is the biggest misconception around this title?
Honestly, I think the biggest issue with BHM is people don't even know it's a thing. I certainly didn't event the term and have never pretended to. There were BHMs in this business long before I ever started.
I knew what a BHM was but didn't even label myself that way at first because I was ashamed of my own weight when I first started. I actually just had a conversation with another BHM talent a few days ago that had not heard of the term before.
Woah.
I honestly think lack of awareness for the label is part of what has held us back. I've reached out to companies like ManyVids and XBiz to get BHM categories added to various award shows, but they ignore my requests in part because of all the big guys in our business, few of us use the BHM label.
I am very much trying to change that. If a yearly awards show has a category for BBWs, there should be one for BHMs too. At least in my opinion.
You're absolutely right. It's kind of a glaring double-standard.
Please understand that I in no way dismiss the struggle BBW performers have gone through to be recognized and respected. I also know that as a man, I won't ever face the same level of discrimination that a woman faces.
BBWs and their more recent acceptance by the mainstream side of the industry should serve as a positive example for BHMs to follow. They deserve a great deal of respect from all of us.
Oh, trust me. You didn't come off as sounding like you were dismissive. Most people don't realize how fatphobic the industry is.
Beyond that, the biggest issue I've seen is in the mainstream we are relegated to a niche category focused on humiliation. People and companies have the misconception that we are incapable of performing, and the misconception that fans/customers won't like it if given the opportunity to perform.
So they use us only to humiliate us and insult us for our weight. I am living proof that misconception is wrong. Building on that, something I get told often is there is no demand for BHMs in porn.
But again I'm proof that's not true. These big-name studios won't hire BHM talent because they say there is no demand, but they can't possibly know that because they won't hire us and produce scenes with us.
Speaking as a fan of thicker men, that's a bad move for fans. We love you guys! Do you have any male talents that you look up to?
Hektek Desires is a wonderful talent and amazing person in general. He produces amazing content and is an overall positive role model that any man in our industry, BHM or not, would benefit from paying attention to.
If it's alright, I'd also like to mention a couple of female performers that I admire and look up to as well.
Of course!
I mentioned my BFF earlier, Nikki Sequoia. She is someone who has spent nearly 10 years in this business doing what she wants. She films what she wants, films with who she wants and never allows mainstream standards or ideas to limit what she does.
I love that. We need more performers like her!
I've learned more from her than I have everyone else in the industry combined. I literally hear her voice in my head at times when I'm making decisions on things. What would Nikki do?
Last but not least, I'd like to mention Sofia Rose. She is a constant inspiration and is yet another person who doesn't allow anyone to tell her what she can or can't do. I hope am able to do for BHM talent what she's done for BBWs.
Trust me Vinnie, I think you are. Speaking of BBWs and BHM, do you feel like body positivity factors into porn?
Sadly, I don't feel body positivity factors into porn, at least not as much as it should, and that's part of what I'm working to change. If you look at mainstream porn, porn coming from the big name and big money studios, the vast majority of it is thin men, with huge penises having sex with thin, petite women.
Much like mainstream modeling or Hollywood celebrities, it promotes body types that the majority of men and women don't have and will never have. Over 40% of both men and women in the US are considered "obese" according to the CDC. Even more are considered to be overweight.
That means the majority of people watching porn, regardless of gender, do not look like the talent on screen. And while I don't have a study to back this up, I feel it's safe to assume from anecdotal evidence that of all the people who do watch porn are more likely to be overweight, to be people society doesn't consider to be attractive.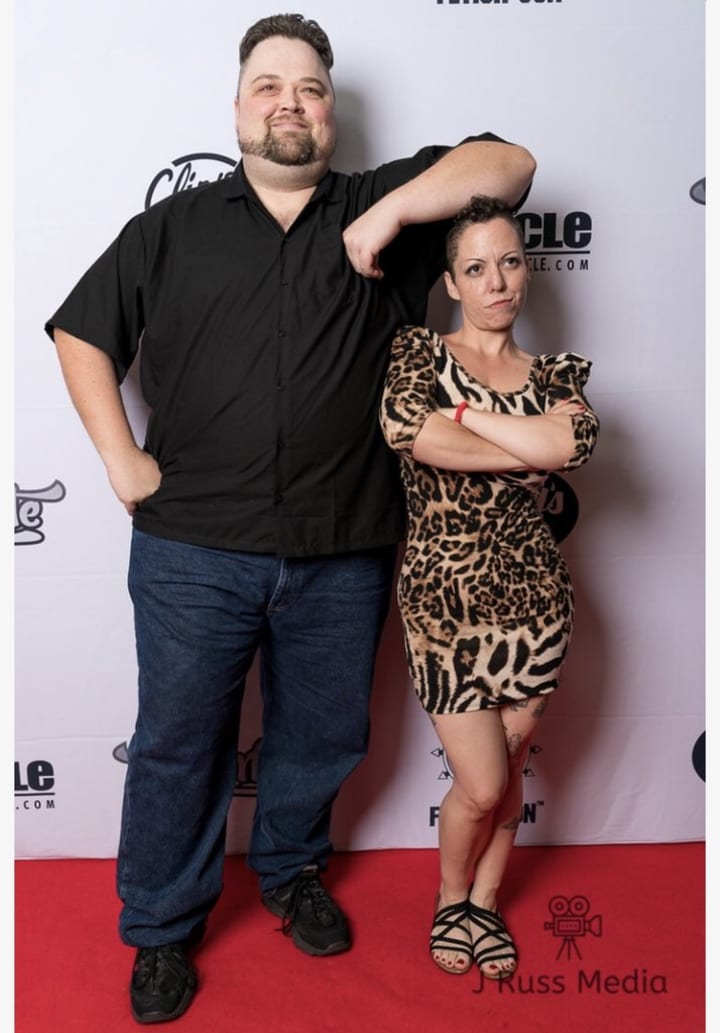 The people who have a more difficult time finding people to have sex with. The adult industry in general does not give any positive platform for straight BHM performers. (It is important to note that BHMs are popular in gay and bi porn, often referred to as "chubbies" or "Bears". I have a lot of gay and bi fans and appreciate all their love and support!)
Exactly one company, Evolved Fights, has hired me and given me the opportunity to work for them as a performer. I will forever be grateful to the owner of Evolved Fights, Ariel X, for giving me that opportunity.
I have been hired as a non-sex extra by a couple companies as well, but it's not the same thing. I can count on one hand, with fingers left over, the number of guys who have been given any sort of opportunity by a major studio.
The few who have, though, were limited to humiliation roles. They have food stuffed in their mouths and are basically hired to play slobs. They will be told by the female model in the scene that they aren't good enough to have sex with them or they are told they are gross and have to wear a condom because of it. That is a major focus of what I am trying to change in this business.
While I understand that's a kink, that's still really awful for the performers. You've definitely got my support. Do you ever get any messages from male fans that give you life?
I read messages from male fans every day, but it's actually some messages from female fans that have had a greater impact on me. When I first started in this business, I tried and failed to hide my body.
I tried filming PoV or tried filming from angles that showed as little of my body as possible. When I first started I assumed no one would ever want to watch my videos to see me. I figured they would be watching my scenes just to see the people I was working with. But then I got a message from a female fan asking me to show my body more.
She wanted to see more of me because she watched my videos and fantasized that I was having sex with her. I took that to heart and since then I've made an effort to showcase myself more in my scenes.
I have received a few complaints about this, guys who get upset that a certain position blocks their view of the other talent I'm working with, but that's sort of the point in those positions. 80% of a scene does focus on the person I'm working with, but I do work in a position or two that highlights me, showcases my body, puts the focus on me.
And I think that's reasonable. Do you feel like men tend to like seeing you in films?
I don't know if I can say "most" men enjoy seeing me in films but I can say a great many of them do. We are selling a fantasy. The customer is watching our films and fantasizing that they are the one on the screen having sex.
It helps sell that fantasy when the person on screen looks like they do. This goes back to the point I made earlier about the big name/money studios focusing on porn with talent who does not look like or represent the majority of the people watching those films.
Few things in life make me happier than getting a message from a fan thanking me for my work. Thanking me for giving them porn to watch that validates and acknowledges them. Thanking me for not making myself the subject of humiliation.
I won't ever insult or degrade myself, or allow others to do so for a scene, because of my weight or body type. We are finally starting to see this in Hollywood movies, TV shows and commercials, though of course there is a lot more that still needs to be done, but things have started to change.
A person is more likely these days to engage in some form of entertainment that includes a positive representation of someone who looks like them. I'm trying to do the same for porn.
And honestly, it's time we actually saw heavy men portrayed in a nice light. What advice do you have for bigger men looking for love?
I would give the same advice to anyone, BHM or not, be yourself! Everyone, regardless of body type, is worthy of respect and love. Don't try to conform to the standards of others, no matter how hard you try people will say you're not good enough. Be yourself, be confident, and you will find the right person who will respect you for who you are.
And for BHM who want to be in porn?
My answer to the last question applies here as well. Be yourself. The only thing I would add is take some pride in your appearance. Again, don't try to change yourself because you think it's what someone else wants. But do take the time to groom yourself and wear clothes that are clean and in good repair.
Honestly, it's a bad habit I've been working to break, myself. In the years before I started doing porn, I didn't care about my appearance. I lived under the assumption I wasn't good enough to be respected or loved so I didn't try. Since I've changed that attitude, I'm happier than I've ever been.
Any words that you want to share to fans?
For my fans I want to say...Thank You! I literally couldn't do this without you and your words of love and support are what give me the motivation to keep putting myself out there. To keep working hard and improving myself.
Isn't he an awesome person? I sure as heck think so, and he's got a new fan in me. To show Vinnie O'Neill some love and see all his links, check him out on Twitter.
porn star
About the author
Ossiana Tepfenhart is a writer based out of NJ. You can message her via Twitter on @bluntandwitty or via Instagram on @ossiana.makes.content. She's always looking for freelance work and collabs!
Reader insights
Outstanding
Excellent work. Looking forward to reading more!
Top insights
Compelling and original writing

Creative use of language & vocab

Easy to read and follow

Well-structured & engaging content

Excellent storytelling

Original narrative & well developed characters
Expert insights and opinions

Arguments were carefully researched and presented

Eye opening

Niche topic & fresh perspectives

Heartfelt and relatable

The story invoked strong personal emotions

Masterful proofreading

Zero grammar & spelling mistakes

On-point and relevant

Writing reflected the title & theme
Add your insights