Ask a Porn Star: Mercy West
Non-binary porn star and online personality Mercy West has given me the chance to ask them about life, adult films, and more.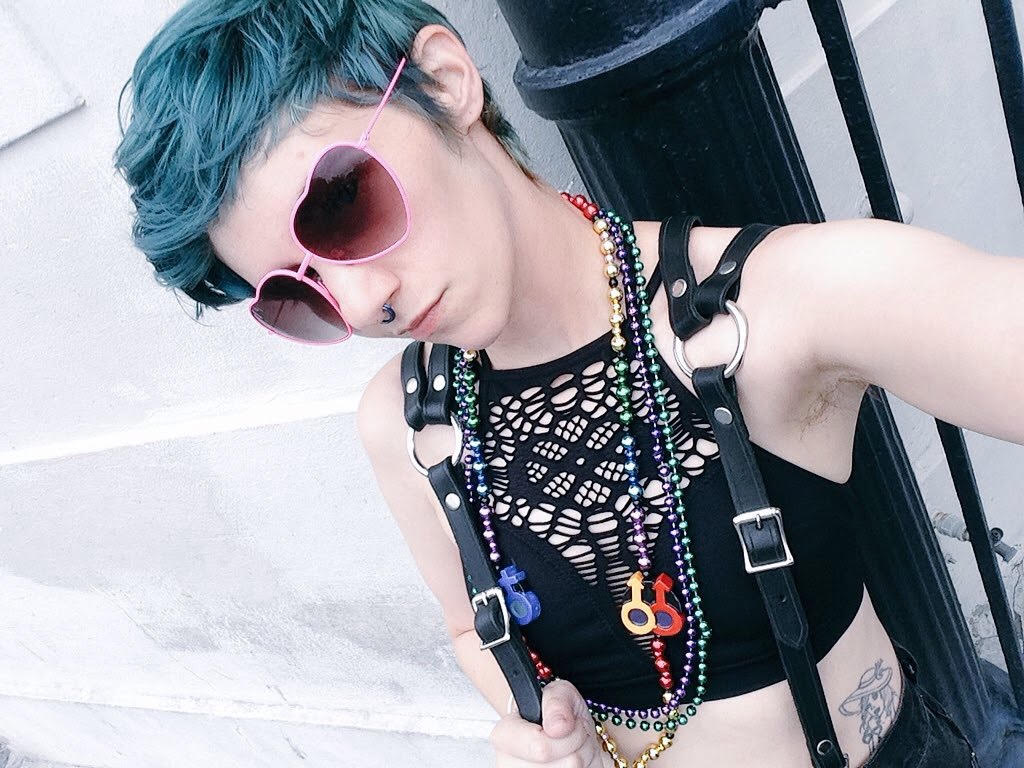 If there's one thing I have to hand to the adult film industry, it's that it's very inclusive. As a non-binary individual myself, I often feel underrepresented in mainstream media, magazines, and just about every other platform out there.
To a point, even seeing adult films that feature non-binary people like myself is rare. Being non-binary isn't easy, especially if you're out about it. That's part of the reason why I have a huge amount of respect for people go beyond the binary in porn.
Mx. Mercy West is, in this sense, a kindred spirit to myself. They are a porn star who makes no qualms about not fitting in the traditional binary—and they actively make a point of showing how beautiful and attractive non-binary people can be.
I got the lucky chance to interview them about what being non-binary means to them, how life is like in the porn world, and more. Check out what they had to say!
Ossiana: Tell me about your journey to becoming a non-binary individual.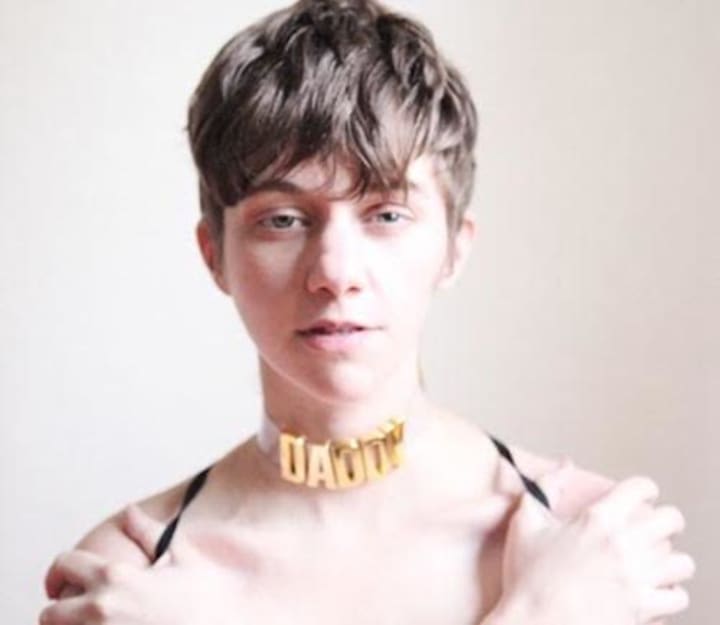 Mx. Mercy West: Discovering this about myself has definitely been a lifelong journey, but really I would say the past five years have been the most important as far as me discovering my true self and finding the words to express who I am.
Long before I realized I was non-binary, I understood I was. I guess, what I would call gender blind. While my peers as well as the adults around me focused on gendered differences and treating people according to societal norms, I was far more interested in seeing people how they wanted to be seen and not judging others based on their gender expression.
Then later in life, I started to contemplate what this meant for me and how I felt about myself, and my gender.
After a lot of soul-searching, research and time spent talking with close queer friends, I started to realize how performative my femininity was. I realized I really was adding an extra struggle to my life trying to present as something that I didn't feel was actually who I was.
Woman or female was the default for me because it was the easiest, but I in no way felt connected to it and it definitely wasn't what I saw when I looked in the mirror. But people wouldn't ask questions—and I wouldn't have to explain my mixed and intense feelings regarding my own gender—if I just told them what they were already assuming.
Since that time of self-discovery I've been happier than ever. I really do feel like I've started living my life for me instead of for society or for the approval of others. I feel like I've met better people and have more open and intimate relationships because I no longer hold myself to the unattainable societal standards I once did.
Once I realized I was non-binary, the walls came crumbling down so to speak, in every positive way.
(Author's Note: This actually put into words what I've felt for years and brought tears to my eyes. Bravo!)
Can you define what non-binary means, in terms of your own gender expression?
For me, non-binary means something other than binary. I don't necessarily think I'm genderless, I just don't think that the American culture I was raised in necessarily has the words to describe who I am, but various other cultures do have terms for people like me and that fact within itself is rather comforting.
As far as what it means for my gender expression, I change it up pretty frequently depending on how I'm feeling and my mental state. The funny thing is I used to despise wearing girly clothes, but now that I'm aware of and comfortable with my non-binary identity, I find wearing traditional female clothing rather comfortable. Although, I'll admit it's not my go to when grabbing clothes from my dresser.
What types of people are you attracted to the most?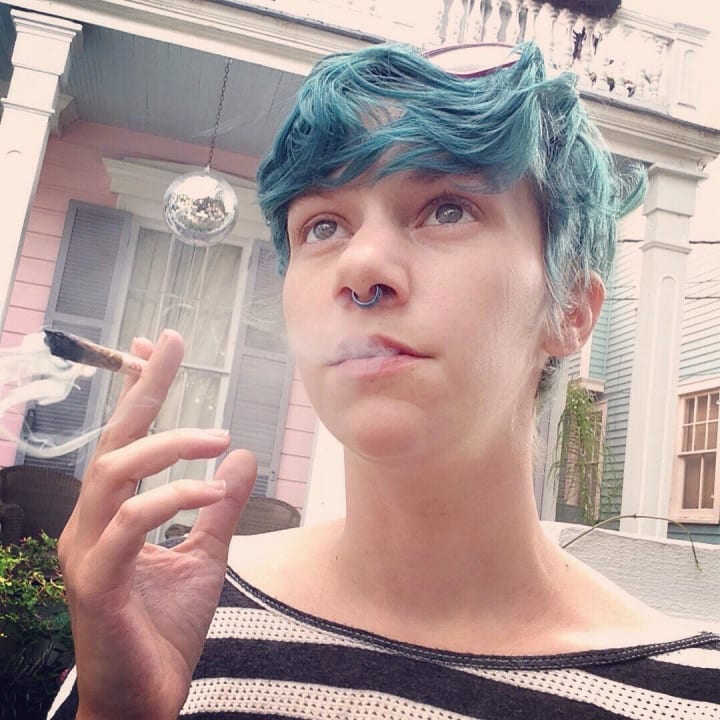 I love funny, honest and open people.
People generally don't believe me when I say this, but I don't really have a physical type. I am pansexual, so for me it's "hearts not parts" as they say.
How did you get into adult films?
I had been doing phone sex and cam work for a few years when I started doing xxx films. I had decided I was going to start doing sex work full-time for financial and mental health reasons but didn't know what avenue to take. I stumbled upon an ad on craigslist for a site looking for BDSM models and I asked around about the site.
It turned out that the owners were players in the local kink community and were very well respected. I wasn't exactly sure I wanted to be on camera and risk getting recognized in public, but I had a supportive partner who really did encourage me to pursue it if I had any interest at all.
I really always dreamed of being a fetish model, and had such admiration for porn stars already. The only thing that was holding me back was my own worry about social stigmas and the judgment of others. But I quickly realized it wasn't worth not living my life for the sake of other people.
Do you have any advice for people who want to get into it?
I could write a book, here are a few things I hope can help someone out there:
Be yourself. (But if yourself is a brat or an asshole, try to be nice. It'll take you way further than being rude, no matter what anyone has already told you.)
Make your needs known and always ask questions on set. Never expect people to be mind readers when it comes to your boundaries and always speak up if something/someone is upsetting or bothering you.
Make friends. Meet other sex workers from all walks of life. These relationships are more valuable than gold in my opinion.
Know that we are all in this together as sex workers. The whorearchy is useless. We are all valuable and regardless of where we came from or where we are now.
SHOW UP ON TIME. Always.
What are your favorite scenes to do? Tell us about a good shoot!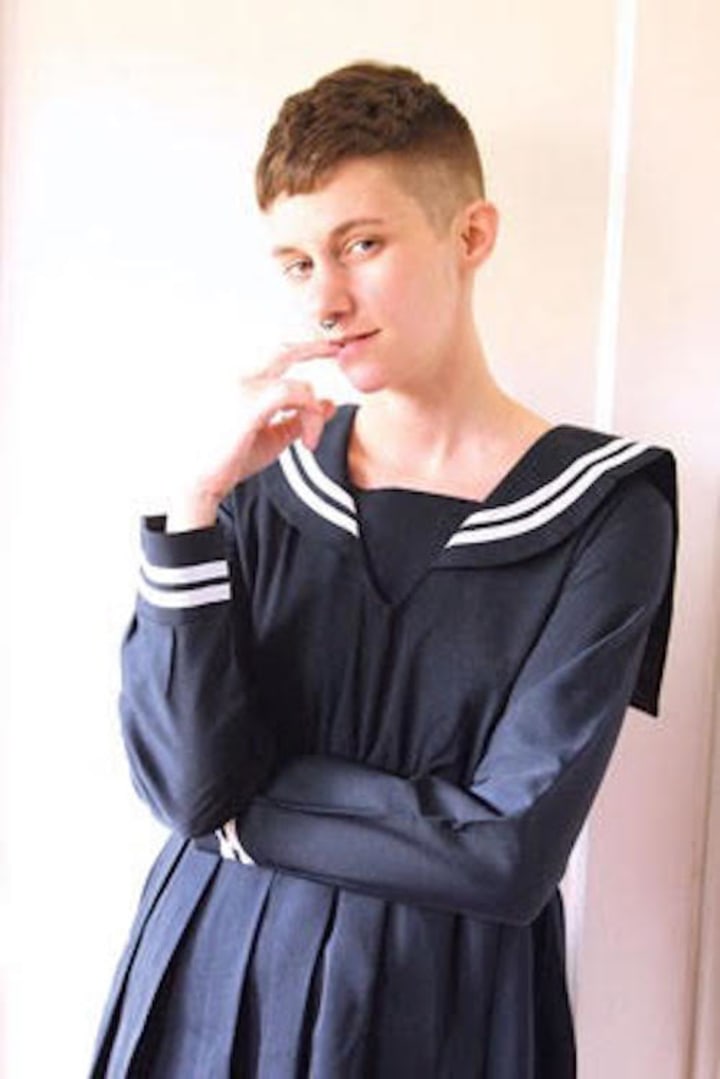 Working with friends and anything bizarre, strange or acting-heavy is always going to be my favorite. I'm half convinced I got into porn just so I can make my way into B horror flicks. I truly do love acting, I find it extremely fulfilling.
With that being said, I think my favorite shoot to date would have to be my hard-core gang bang with Kink.com. I knew the female director well and got to pick every single person I worked with. It was really a dream scenario and turned out perfectly and I even got to sneak some gender fuckery into a very mainstream and straight site!
What's a fantasy you're hoping to act out on camera soon?
I actually have a fantasy coming to life quite soon! I'm working again with Kink.com director Five Star and this time my scene partner is Allysa Etain. We've been dying to work together for over a year, and I really don't get to do one-on-one scenes all that often, so this really is going to be a special treat. She is so beautiful and sweet! I just can't wait!
As a fellow non-binary person, I know there are a lot of myths about us out there. What's one ignorant belief you wish you could change peoples' minds about?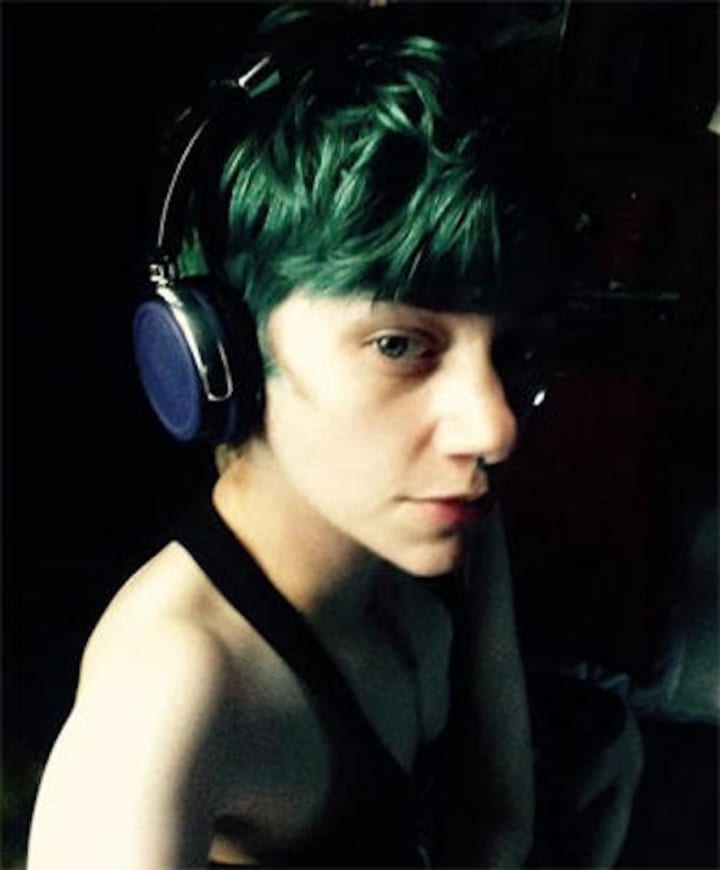 Basically that we come in all shapes, sizes and colors. You tend to see skinny, white, androgynous Non-binary folks centered on social networking, when we really are a diverse group of people.
Also, Just because someone presents mostly masculine or feminine, doesn't take away the fact that they themselves are non-binary.
Tell me a little bit about the off-camera Mx. Mercy. What are your favorite hobbies? Favorite music genres?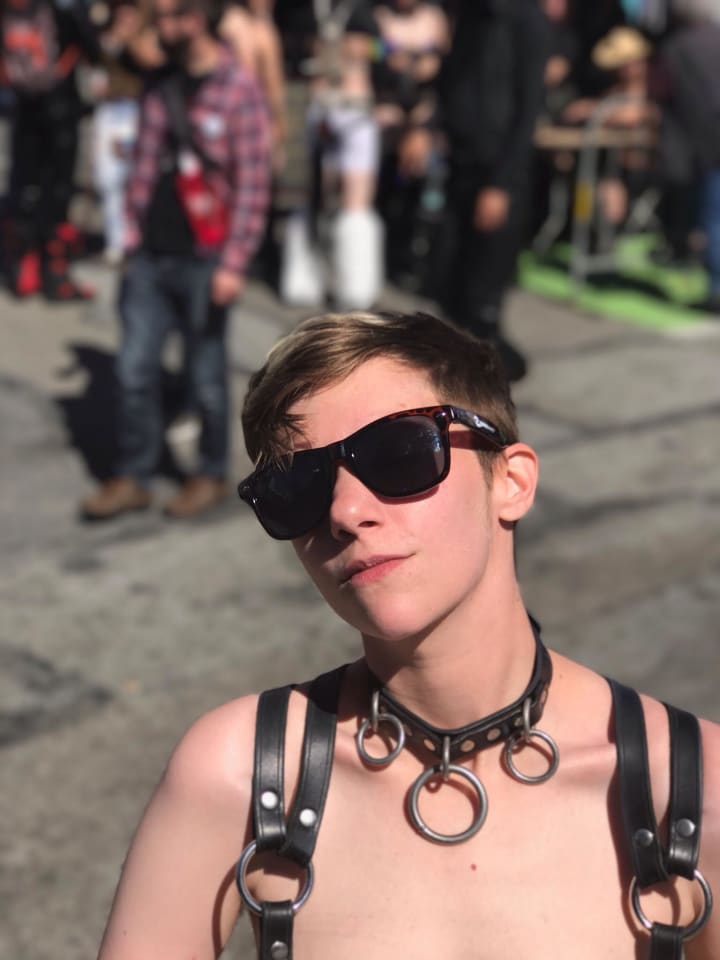 I work quite a bit so you can generally find me doing administrative work or cooking up some new idea for a video, setting up appointments etc. When I'm not working, I generally just like to spend time with those close to me.
I spend a lot of time at home, I am a bit antisocial due to anxiety issues. I enjoy reading and photography as well as films.
I enjoy listening to LPs by my favorite artists on my down time—Bowie, Eno, Velvet Underground, Billy Childish to name just a few. I also really enjoy going to concerts, some of the more interesting ones I've been to are Alice Cooper, Nick Cave, Rasuptina, Die Antwoord and Sigur Ros.
What are some of the struggles of life as a porn star? What are some of the benefits?
Obviously I think the social stigma is the number one negative. I would also say it's hard dealing with the still glaringly obvious racism, homophobia, transphobia, escorting stigma and misogyny within the industry it's self.
Working in the genres that I work in, I tend not to see these things too much, but they do rear their ugly head more often than I'm comfortable with and I'm really hoping to change that, if even just a little with my presence in the industry.
Regardless of those things I just brought up, the industry really has been a wonderful place for me. I've met so many amazing people and wouldn't change that for the world. I've made lifelong friendships and have had wonderful experiences that, frankly, everyday civilians just don't have access to.
Tell us a dating tip you swear by, and wish others knew.
Be honest! Let it all out on the first date. Is there something you're nervous they won't like about you? Talk about it. You work in a nontraditional industry? Let them know. If not on the first date, definitely talk about it if you go back for a second.
Of course, I understand not everyone can talk about everything due to safety issues. But be as honest as you can. The only way you're going to find people who connect with who you truly are and accept you 100 percent is by being yourself and showing them who you are. Someone can't love you if they can't see you.
Tell us what fans can do to make you happy!
Donating to charities in my name is always nice. But if there's something you would like to do directly for me, fanart is always really appreciated. I do have a wish list as well.
Also, I love my fans—always feel free to write me and if you see me out and about please say hello! I may not have time to hang out but I would love to shake your hand or give you a hug and chat for a moment.
What are your plans for the future?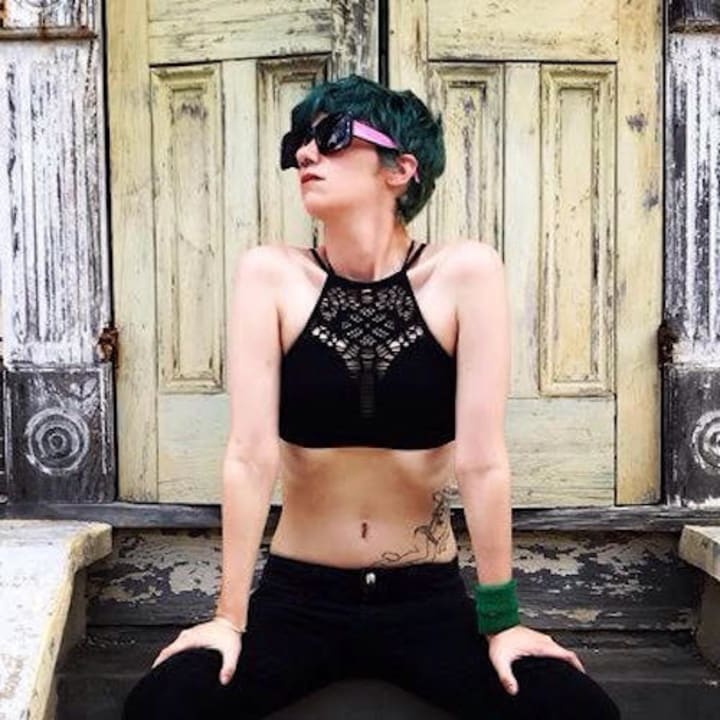 I truly love being behind the camera as much as I love being in front of it. I intend to keep at it and eventually be stable enough to pay friends consistently to work with me.
I want to give good people good work. I want to treat people well and give them and their artistic expression the respect it deserves.
What do you wish your fans knew?
That I'm a work in progress. I get letters saying I've inspired people and help people become more comfortable with their own gender and sexuality and that makes me happy beyond words. But as a person who still feels like they are still somewhat stumbling through life and makes mistakes often, I really do need people, especially my fans, to know that I'm human.
I keep my social networking fairly positive, but I do struggle and it's not always as easy as "just being myself." I never want to give the impression that there is some magical level of self-acceptance you can get to where everything will be just fine and the hurtful things that people say and do won't matter.
It's a step-by-step, day by day life long process, accepting yourself and not blaming yourself for things that are/were out of your control takes time, patience and above all, love.
Mercy West loves their fans too! You can reach out and show some love on Twitter @_MercyWest_ or on their Instagram @sacred_slag. You can also check out their content on Mercy-West.com.
Want to read more porn star interviews? Check out Ask a Porn Star With Athena Rayne, Ask A Porn Star With Dava Foxx, and Ask A Porn Star With Noel Cypress.
porn star
About the author
Ossiana Tepfenhart is a writer based out of NJ. You can message her via Twitter on @bluntandwitty or via Instagram on @ossiana.makes.content. She's always looking for freelance work and collabs!
Reader insights
Be the first to share your insights about this piece.
Add your insights