Adam & Vi (Bedroom)
M/F erotica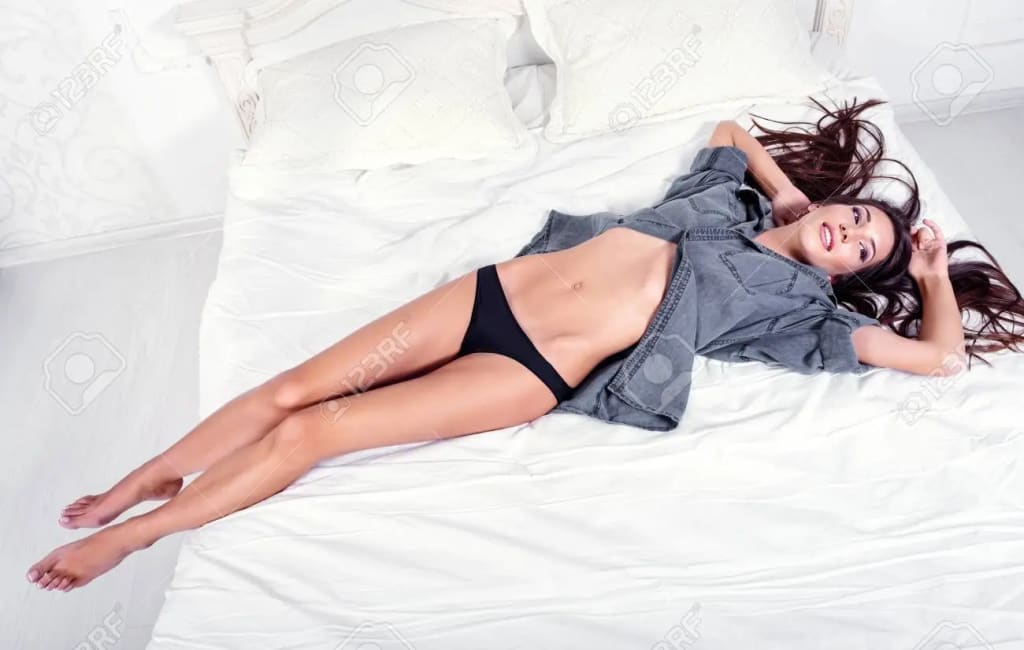 The laughter escapes me when Adam's arms wrap around me in the Hallway and he gently moves me onto his shoulder.
"Going somewhere?" He chuckles, as he grabs what meager ass I have, then gives it a few playful warm-up smacks and I gasp and feel my own toes clench at the sensations.
A doorway passes us and soon he gently tosses me onto the softness of the bed. I smile and stretch out as he crawls over me. When our faces meet, he tightens his hand around my throat, and he leans down so that his arm is upside down and his elbow rests beside me. I revel in the feeling and the strangling sound that I force out of my throat as his fingers massage the sides.
His other hand caresses my breast while his tongue makes circles around the other now bare nipple. The revealing dress I had been wearing is now halfway down my shoulders. One arm is resting on the bed under Adam, gripping at the blanket. The other is laid over my head as his lips glide over my nipple and I feel a tinge of worry that he'll use too much pressure.
He pulls back when I raise my head, sensing my shift probably. "It's okay. I know, no hard pressure on your nipples."
I grin at the words and that I didn't have to say them. He takes his hand off my throat, as it had been resting for most of the time after choking me. He uses both hands to caress my nipples and they harden to an almost painful degree.
"Oh, too much enjoyment," he grins and places his palms over my breasts, the D cups sit in his hands and he carefully rubs the edge of his fingers around the edges. Once the goosebumps have calmed down, he massages the sides and uses his fingertips to tease around the nipples.
I smile and he adjusts himself to sit above my waist, and I raise a brow. He takes my wrists and pins them above my head, and I wish he was sitting on my hips so I could grind against him.
He takes each boob in his free hand and after a good squeeze, he lightly holds each and starts making them jiggle. I grin as I understand the joys of playing with boobs and am not sure if I should be annoyed or not when he pushes into the sides and makes the nipple bounce as much as humanly possible.
When I finally giggle, he lets go of my wrists and rips my dress up so that my body is bare. He pins my wrists again and this time sits on my hips. I wonder if he can see the need in my eyes when I wish he'd stick it in me while pinning me.
He produces a feather from behind him and first, he swirls it around my boobs. Slowly and keeping the feather edge against my skin, he moves it around the skin and my nipple responds. When it perks up, he moves the tip of the feather all around the flesh, and while it doesn't tickle or anything it definitely helps the sparks become a fire.
He follows the same routine on my other boob, and when he finishes on the nipple. I arch my back and he says in a deeper voice, "I get the idea you enjoy that."
"So it seems," I grin back and he moves the feather along the sensitive skin between my boobs and the shivers echo in my nipples again. He moves the feather down and teases my ribs, and then he starts dusting my skin from side to side as I tense and breathe. He runs the feather down my side and while I don't laugh, I arch as much as his strength will allow. He grins the sensation moves to my stomach, tracing from the base of my pelvic bone to the bottom of my ribs.
I tense and strain more the further along my belly button line that he moves the feather. When he tickles it along my mid-stomach and over the belly button for several minutes. Part of me wants to laugh but hidden in the heavier breathing was a smile and hoping it wouldn't stop.
I open my eyes and he gets off me, I leave my hands where they were, clenching my legs together in a fiery need. He grins at me and takes his pants off, his erection crystal clear as he walks back over to me.