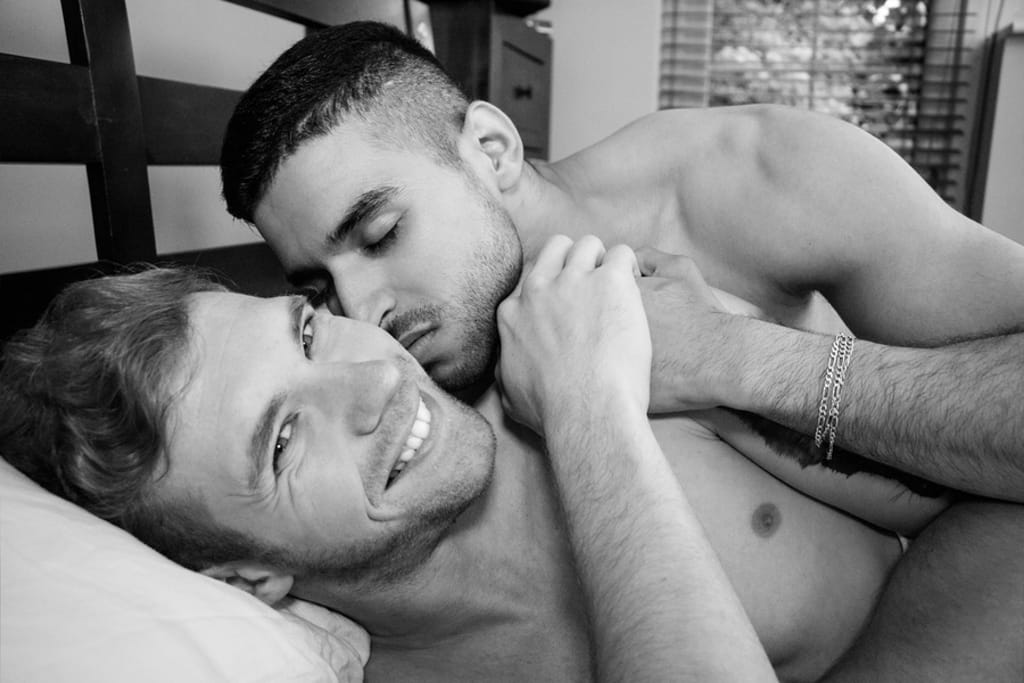 Unless you're fresh out of the closet or otherwise brand new to hooking up with guys, you probably know all the basics by now. You almost definitely know your way around a pair of balls and a cock. You totally get that lube not only isn't optional but is one of the best ways to elevate many types of play as well. So now what?
The fact of the matter is even the slickest and most sex-savvy among us is still capable of being even better at rocking a guy's world in bed. The following tips are for those guys—the ones that definitely know the basics but are always up for refining their bedroom game a little further.
1. Set the mood with music.
If you've ever had sex to music before, then you already know the right tunes really add something to the experience. What you may not realize is that music is also one of the easiest ways to control the mood, pace, and tone of your play, especially if you're hooking up with someone brand new. If you're in the mood to be taken for a rough ride, make tender love to your date, or anything in between, choose a playlist filled with music that communicates that.
2. Let his style be your guide.
If you want an easy way to hone in on how your lover wants to be handled, pay careful attention to his style. Most people kiss and touch others the way they themselves enjoy being kissed and touched, so try mirroring what he does and gauging the results.
3. Hook yourself up with a vibrating cock ring.
If you haven't gotten down and dirty with a hot guy while wearing a vibrating cock ring, you're missing out on some serious magic. They really take sex to the next level for both the top and the bottom, especially when it comes to the intensity of the orgasms you'll both have. Plus, they're inexpensive and widely available. A lot of drugstores even carry disposable options, so consider picking a couple up the next time you're there making a condom run. They're game changers.
4. Make sure your hands stay busy.
A great sexual rule of thumb to keep in mind is to be aware of what your hands are doing because it should always be something. What you do with them is completely up to you. They can be busy pleasuring your partner, holding onto him for support, or even helping things along for yourself. So long as they're not just lying idle, you're golden.
5. Embrace different locations.
Although this may seem like an obvious tip to some, you'd be surprised how many guys consider themselves to be experts in the sex department, yet never think to switch things up when it comes to location. Make sure you're doing that and often, especially when you hook up with the same guy multiple times. Migrating out of the bedroom to the kitchen, the living room, or even the balcony is definitely a start, but don't be afraid to take things off-site once in a while as well.
6. Master the fine art of the tease.
We get it. When you're really hot and bothered, you just want to cut right to the chase, but trust us when we say that if you're skimping on foreplay (or skipping it altogether), you're really missing out on something special. Drawing things out a little, taking your time, and teasing your partner (and yourself) a little can make an already hot encounter even hotter.
7. Master dirty talk as well, while you're at it.
Although not everyone is into really super filthy talk, most guys really appreciate a little dirty talk if it's done right. Rule number one to follow is to read your partner. Start mild and take it from there. His reaction will definitely clue you in as to whether you should take it further or not. Rule number two is to get really super into it yourself. The hottest dirty talk is the talk you really mean with every fiber of your being.
8. Put the squeeze on him.
Whether you're a top, a bottom, or a switch-hitter, you'll want to use those muscles down below to your advantage. If you're inside him, try doing a few Kegels. Kegels have the effect of pumping your cock up and down, which will feel absolutely amazing to him. If he's inside you, try periodically squeezing your hole tighter around him. Then enjoy how great it will feel to both of you.
At the end of the day, the key to having amazing sex every single time you take a guy to bed is to treat it like the fine art that it is. Take your time. Experiment. Enjoy every detail of the experience and you can sure that he will too.