7 Incredible Ways a Vibrator Can Change Your Life
and for the Better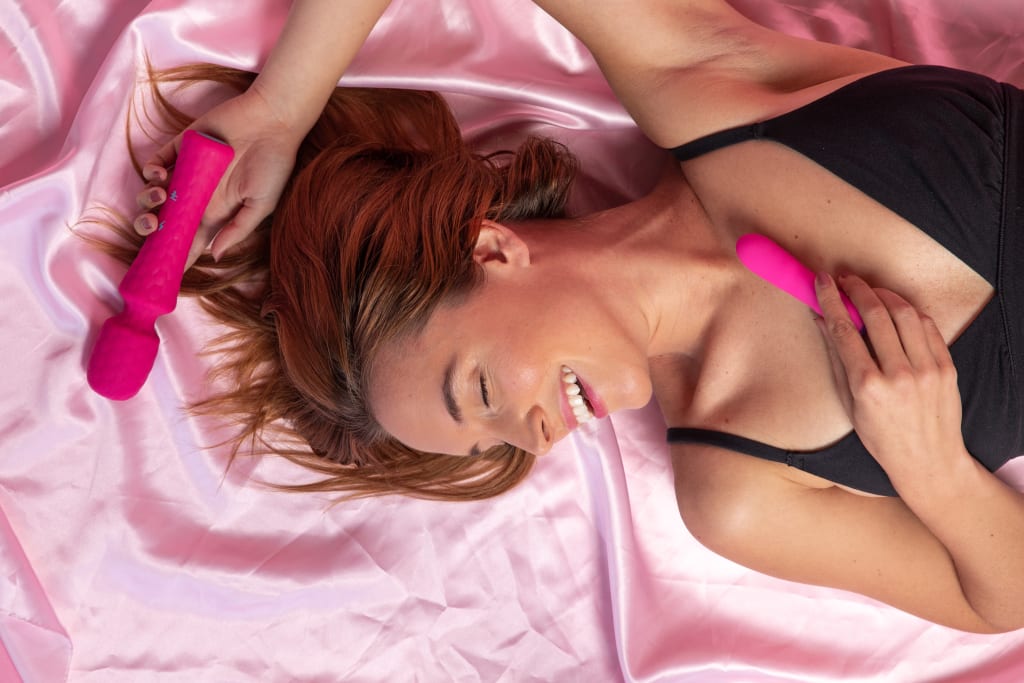 Although 2020 didn't exactly leave people all gassed up about their next self-improvement project, making your life better doesn't have to be hard or call for a lot of discipline. In fact, some changes can be a downright blissful way to be kind to yourself and improve your overall quality of life. Buying a vibrator and using it often is one of them.
So, if you've never owned a vibrator and have been waiting for a sign that it's time to take the plunge, consider this it. Vibrators aren't just great ways to take the guesswork out of having an orgasm. Adding one to your routine really can improve your life in some surprising ways. The following are some excellent examples.
1. A vibrator can help you manage depression.
If everything that's been going on in the world lately has found you struggling with depression, it's understandable. However, while a vibrator may not be able to cure it completely, it can make keeping it under control easier. Orgasms are effective ways to flood your system with feel-good hormones like endorphins and dopamine. Vibrators make having intense, satisfying orgasms easier, so they contribute to a better mood more of the time.
2. A vibrator might help you sleep better.
Some nights, being wide awake until the sun's close to coming up might be a good thing. Other nights, you just want some decent shuteye, so you're functional the next day. A quick romp with a favorite vibrator before bed could be the key to the quality sleep you've been missing out on. Having an orgasm releases prolactin while lowering your cortisol levels, making it easier to relax, fall asleep, and stay asleep.
3. Your self-confidence will go through the roof.
If there's one thing just about everyone could stand to do more of, it's engaging in loving self-care. Taking control of your own pleasure is a beautiful way to care for yourself and become a lot more confident. It's empowering, it's satisfying, and it's an effective way to get to know your body better. The more comfortable you are with your body in private, the more comfortable you'll be in your skin the rest of the time – outside the bedroom, as well as inside.
4. Your satisfaction won't be reliant on anyone else.
Not everyone decides to enter into a relationship (or stay in one) because of the sex, but it can certainly be a factor. However, a fully capable vibrator in your nightstand means you'll be sexually satisfied with or without a flesh and blood lover in your bed. You're less likely to feel sexually frustrated without a partner in your life and more likely to make balanced decisions about who you invite into your bedroom in the future.
5. A vibrator can aid in healing from sexual trauma.
If you've ever experienced sexual trauma of any kind, then you don't need to be told that surviving the original situation is only half the battle. Finding your way back to a healthy, happy relationship with your sexuality afterward may be just as big a challenge. Although it's not a substitute for seeking out any professional support you might need, a vibrator can help you feel like your body is your own again. It can also help you get back to a place that finds you feeling like a sexual being again, both on your own and potentially with a partner.
6. A vibrator can help you through your period.
Although no woman looks forward to having her period, there's a lot that can take the edge off common discomforts like cramping. Orgasms can help a lot with cramps, headaches, and pain by triggering the release of endorphins. The pelvic floor contractions involved also help loosen up irritated muscles and ligaments for a more comfortable experience. If you're one of the many women who experience a high sex drive when it's that time of the month, your vibrator can naturally help you feel more satisfied on that front, as well.
7. You just might become a better lover.
World-class lovers aren't simply great at knowing how to please a partner in bed. They're also very dialed in when it comes to their own bodies, needs, and sexual responses. The more quality time you spend with your vibrator, the more you'll learn about what types of stimulation get you to that big finish you're after – information you can convey to your lover the next time you're in bed together. Using your vibrator with your partner can be a great way to elevate your play, as well.
Although investing in a fantastic new vibrator can't guarantee 2021 will be your year, it can certainly make you happier in the bedroom. Explore your options today! A better, more self-aware version of you awaits.