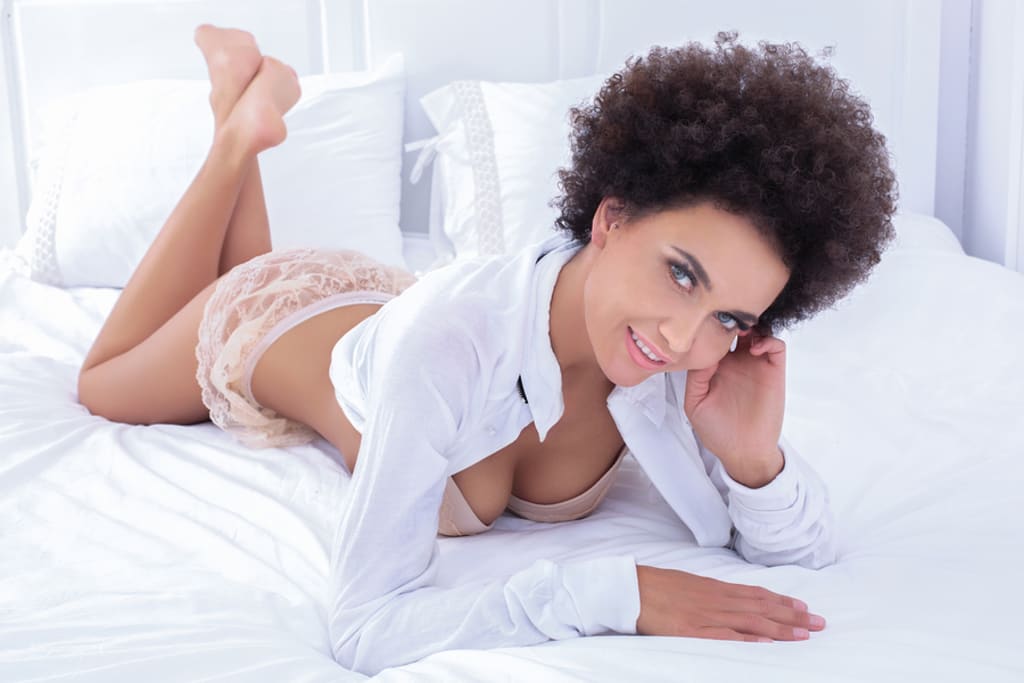 Everyone's different as far as what they like in bed and what they're looking to get out of sex in the first place, but some tips are so essential, everyone should know them and be using them to improve their experience.
The following are some examples that are especially helpful for women. How many do you already know by heart? What other tips and tricks would you add to the list for women who are serious about having the best sex possible?
1. Learn Everything About Your Body
Far too many women still think of an orgasm as something their partner gives them instead of something they aggressively go after on their own. If you're guilty of this sort of thinking, consider this your wake-up call. It's every woman's responsibility to know her body and take control of her pleasure.
That means masturbation should always be on the menu, whether or not you're in a relationship. Use your hands. Invest in a collection of high-quality sex toys and experiment often. Enjoy yourself and communicate what you learn to your partner. You'll both enjoy sex more guaranteed.
2. Never Stop Experimenting
As an individual, you never stop changing and evolving. This is just as much the case for your sexual likes and dislikes as it is your taste in music, food, or clothes. You're doing yourself and your partner a disservice if you simply fall back on what gets the job done instead of continuing to experiment.
Never stop trying new things in the bedroom. Explore different positions. Start a toy chest and take turns picking out sexy new items to add to it so there's always something fun to bring to the mix. Dress up in costumes. Experiment with bondage or roleplaying. Sex never has to be predictable and routine when you stay curious about new things.
3. Make Sexting Part of Foreplay
You don't have to be in the same room with your partner to engage in some seriously hot foreplay. Nothing's hotter than having to wait for something you badly want. That's why every woman should engage in an all-day sexting session with her partner every so often. It takes the idea of arousal to entirely new levels and makes the sex super-hot when you finally do get down to business.
It's OK to start small and slow if you're new to sexting. Keep it playful and flirty until things pick up speed. Be as creative or as graphic as you like. If there's something specific you'd like to do with them later on, go ahead and put your descriptive skills to the test. A sexy selfie or two never hurts either.
4. Lube Is Always a Good Idea
A lot of women mistakenly think of lube as something to keep on hand just in case they ever have trouble getting wet. What they don't understand is that lube is your best friend when you're serious about making sex of any kind as pleasurable as possible, even when you're perfectly capable of staying soaking wet all by yourself.
Do yourself a favor and at least consider all of the options out there. There are lubes that are flavored, scented or both. Try thicker lubes made with the needs of your back door in mind for those nights you're in the mood for anal. Experiment with lubes that warm or cool. As long as you make sure your lube of choice is safe for use with your condoms and sex toys, anything goes.
5. Share (and Pursue) Your Fantasies
While it's fine to have a few pet fantasies that you keep to yourself, don't simply assume it's better to keep them all under lock and key. Many experts consider fantasies to be a person's sexuality at its rawest and most honest. Exchanging these bits of your sexual psyche with your partner can help you truly get to know one another on an intimate level. Plus, it can be a real turn-on to share details like what types of porn you're into, what you think about when you masturbate, and so forth.
If you're both into the idea, consider taking things to the next level and bringing a couple of your pet fantasies to life sometime. Some fantasies may turn out to have been better in your head, but others might blow your mind and teach you a thing or two about yourself. Nearly all fantasies are adventures worth exploring on one level or another.
Cultivating and maintaining a sex life that's fulfilling on every level is easier than you think. You don't necessarily have to be in a relationship to benefit from it either. Sex at its best is an adventure that never stops. Are you ready to start treating it that way?
Reader insights
Be the first to share your insights about this piece.
Add your insights