Through the Depths
Sometimes the sea requires that we give more than we take. . .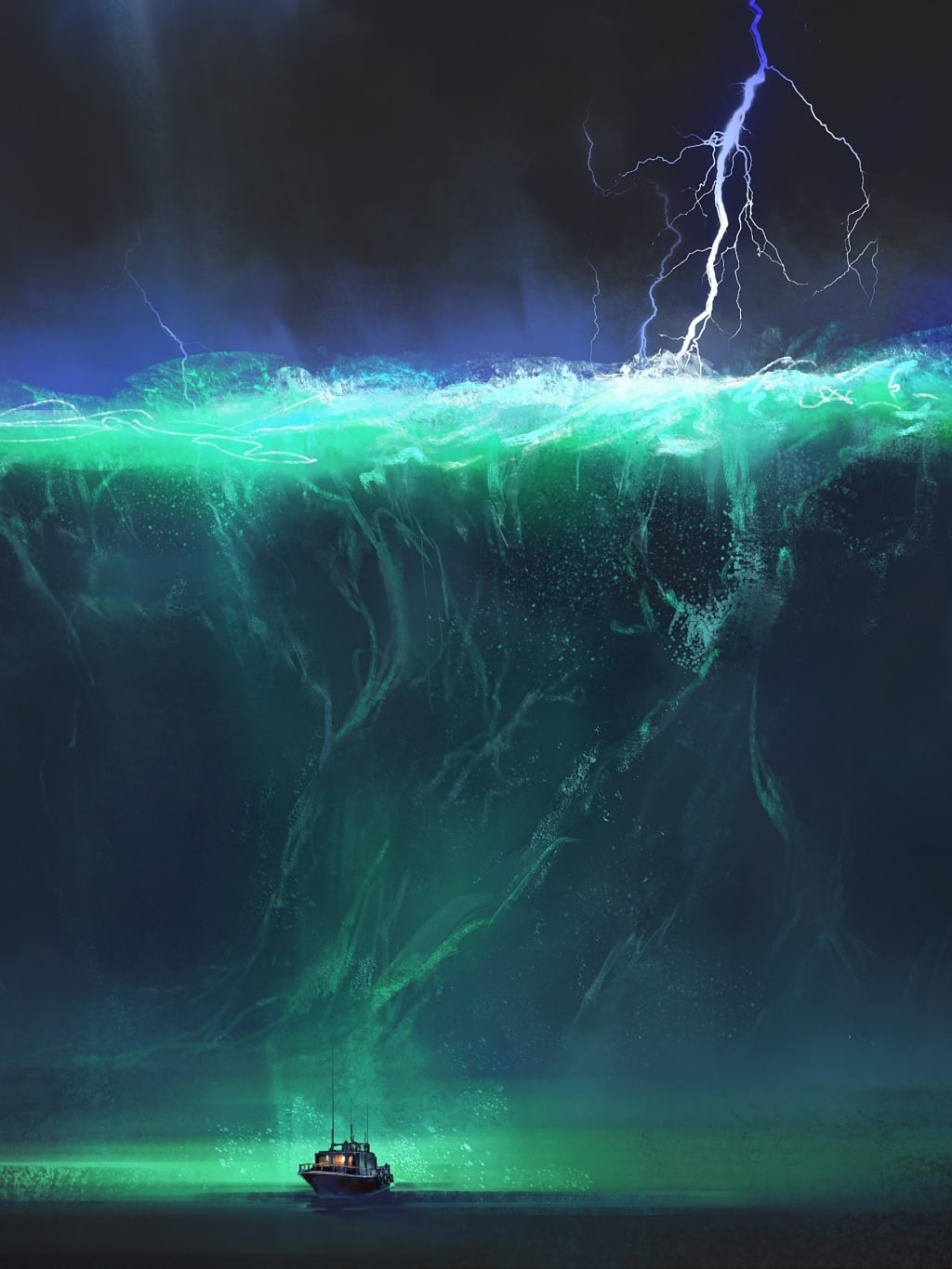 Liu Zishan/Shutterstock
The strong wind lashed the rain against her cheek, and she felt like tiny shards of glass were shattering all around her. She fought to keep standing as the waves flooded over the deck around her feet and threatened to pull her back into the depths.
She swayed with the boat as it pitched, allowing the movement to flow through her hips as she balanced on the balls of her feet. She gripped the railing in front of her and stared into the waves, her tear-filled eyes straining against the darkness, wind, and rain.
The ocean had always been her home, the place where she thrived and made sense of the chaos. But, today, it had become a bitter enemy, bent on reminding her of how unyielding it could be.
"Mark!" She called his name again, desperately searching for him in the dark waves that crashed against the boat.
She tied a rope around her waist and secured it to the railing as she climbed over the edge of the boat and hung off of the side, scanning the water below. Her heart skipped as she saw his orange vest peek out of the waves.
She grabbed a lifebuoy and yelled for help, but none of the crewmen could hear her over the storm. She retrieved her whistle from inside her shirt, securing it between her teeth as she leaped off the boat, holding the buoy and forcefully exhaling into the whistle as she fell.
As the turbulent waves enveloped her, the icy water stole her breath, and she fought the panic that welled up within her. She forced her face into the water and pressed her feet against the hull, repelling her body downward and into the depths of the choppy water.
The icy saltwater stung her eyes as she held them open, and she blinked rapidly until her vision became clear. She swam in circles, looking for Mark, but the rope around her waist tightened firmly, and she gasped as the line went taut, lifting her forcefully out of the water.
Her crew was attempting to pull her to safety. She was relieved that they had found her, but she refused to leave Mark behind. She yelled and motioned for them to release her back into the water, but they continued raising her up.
She loosed the rope from around her waist, and as she released the lifeline, her body fell back into the water below. She had not been able to right herself, and she landed on her chest and stomach. Pain shot through her body, and she gagged as the water forced itself down her throat and into her nose.
She recovered her senses and took a deep breath as she dove beneath the surface. Again, she used the hull to propel her body downward. Once beneath the choppy surface, she was able to see and maneuver with greater ease, and she scanned the darkness that surrounded her, desperately searching for him.
She was flooded with both relief and terror when she saw him. He was caught beneath the boat, his face angled downward, and his body still. Too still.
Frantic to reach him, she kicked her feet furiously and swam under the boat, raising her arm over her head and pushing off of the keel to propel her body forward.
Her lungs began to burn within her chest as she fought against the water, and she quickly felt the urge to surface for air.
Still, she swam on, refusing to surface until she had him with her. As she reached his body, she wrapped her fingers around his belt and pulled him along behind her as she swam.
Her heart thundered within her chest, and her lungs burned. She blinked her eyes, trying to clear the clouds that formed in her eyes, but it was not the saltwater that was causing the darkness to creep over the edges of her vision.
She clenched her teeth tightly around the whistle, struggling to keep her mouth closed against the spasms within her throat and chest as she kicked her feet harder, finally clearing the hull, and angled herself upward, her fingers still clutching Mark's belt.
She could see the moon shining above the surface of the water as she strained to bring him up with her. Her diaphragm spasmed intensely, and pain shot through her chest and ribcage.
She stared up at the tiny sliver of the moon that she could see through her darkening vision, willing herself to swim faster. Harder. But the spasms became too strong, and her body's instinct for survival overwhelmed her training as she finally opened her mouth to the sea.
The salt burned her lungs and irritated her throat, but she broke the surface at the same moment that she had inhaled, and the majority of the water went down her throat.
Still, she gagged and coughed as she tried to gain a breath, but the waves crashed against her and smashed her temple into the hull of the boat.
The impact and lack of oxygen were making her mind hazy, and her vision was blurred and darkening. She tried to blow on the whistle, only to find it was no longer between her teeth.
She tried to yell, but her voice was too weak with the seawater that coated her lungs and throat. She prayed that Mark still wore his whistle around his neck as she tugged at his clothing.
She felt the cold steel against his chest and wrapped her fingers around it, grateful that he had heeded her advice. She pulled firmly at the chain, freeing it from his neck. As she put the whistle in her mouth, another wave crashed into them, smashing their bodies hard against the boat.
She felt as though the bones in her body had been shattered, and she cried out in pain. The waves continued to lash against them, and as she pulled Mark's body in front of her own to protect him from the impact, she was thrust against the boat again.
The whistle screeched over the storm as the impact forced air from her lungs. She felt the warmth of the blood that streamed down her face and spread out in the water around them.
As the darkness claimed the rest of her vision, she wrapped Mark's vest around her arm, and caressed his face, praying that it would not be the last time. As her strength faded, she blew into the whistle one final time before the cold and dark water claimed her.
Mark groaned as the crew lifted Alex over the railing and began compressions. He watched in terror as her body convulsed and slumped against the deck as they desperately tried to resuscitate her. He prayed they would bring her back to him as he coughed and spat more saltwater onto the deck.
Her pale skin glowed in the moonlight, and tears fell down his cheeks, as he remembered the first time they met and those first few weeks before he had begun to fall in love with her.
It was just after sunset when the ship's sails first appeared on the horizon, barely visible in the increasing darkness.

Still, he waited on the docks, eagerly watching as the ship glided over the water and crept closer to the shore. He waited until the crew had skillfully maneuvered her into the port before he sought the ship's Captain.

He had been waiting a long time to be able to join the crew on that renowned vessel, but his excitement soon faded when he met Alex. She had a fine reputation as a skilled sailor and competent leader, but he soon learned that she was a demanding and strong-willed Captain.

His first instinct was to dislike her, but he soon began to understand why her crew was so fiercely loyal to her. He could not deny that she was a force of nature on the water, and his distaste quickly turned into admiration.

Alex was the most skilled and knowledgeable deckhand he had ever worked with and a confident and decisive leader. She had high expectations of her crew because she understood the dangers at sea, and she gave more than she asked.

He began to understand and share the love and loyalty the crew had for her, one of respect and trust. It was as though the sea had given up one of its own to captain that boat, and just as his distaste had quickly become admiration, his admiration became fascination.

He would often walk the decks at night after the crew had all gone to sleep in search of solitude. It was on one of those late-night strolls that he discovered Alex. She was lying face-down on the bow with her torso and arms hanging over the edge, crying silently.

He concealed himself in the darkness and watched her in wonder. At first, he feared that she would fall, but she remained still as she communed with the sea, her tears flowing into the salty water beneath her.

He had never seen her display even a hint of weakness before, and he had begun to wonder if it had ever existed within her. Yet, suddenly, she seemed fragile and delicate as she stared into the depths below her, seemingly oblivious to the goosebumps that covered her slender but strong arms and legs.

As she rolled onto her back and stared up at the stars with her tears still shimmering on her cheeks, he wondered what deep insecurities she had buried deep down inside of herself, revealing only to the sea and night sky.

He had begun to see her only as his captain, forgetting that she was also a woman, but as the wind whipped her long, blond hair around her face, and her pajamas revealed curves in her body that her uniform did not, he became mesmerized by the woman who had concealed herself behind a mask of unwavering authority.

He was an accomplished deckhand, and he quickly earned her trust and loyalty as she had earned his. She learned to value his opinion and experience, and she spent more time with him than with the rest of the crew.

As he gradually broke through the wall that she had built around herself, he learned that she was as fragile as she was fierce and as fearful as she was fearless. And he came to love her for her vulnerabilities as much as for her strengths.
He squeezed his eyes tightly closed and shook his head, forcing the memories from his mind as they stopped the compressions. He yelled at them to keep trying, but they looked at him with eyes full of grief and pity.
He freed himself from the hands of the crewmen who held him back and ignored the pain in his head as he lurched to his feet. He stumbled, and pain coursed through him as he smacked his chin into the deck. He fought off the darkness and crawled to her side.
He reached into her shirt and withdrew the cord that held her wedding band, and laid his head on her chest. He tensed and pressed his ear to her chest as his fingers found her wrist. It was faint, but he knew her heartbeat as well as he knew his own, and he lifted her chin and breathed into her lungs.
Her chest rose against his as he breathed for her again, and he cried out in relief as her eyes fluttered open and slowly focused on his. He leaned her onto her side as she purged the saltwater from her lungs as he had done only moments earlier.
He smiled at her as he leaned down, and she reached up and caressed his face with her fingertips. As they pressed their cold and salty lips together, they both knew that it was their deep love for each other that had brought them back from the depths.

Lena
I am a Freelance Writer with a Passion for Prose
Former Deckhand & Barista ~ Always a Dreamer & Eggshell-Walker
Lifelong Animal Lover & Whisperer ~ Ever the Student & Seeker
A Wanderer Longing for Freedom & Travel
Happily Lost ~ Luckily in Love
See all posts by Lena →