The wrong bus
JBaz 'Silent thought' Challenge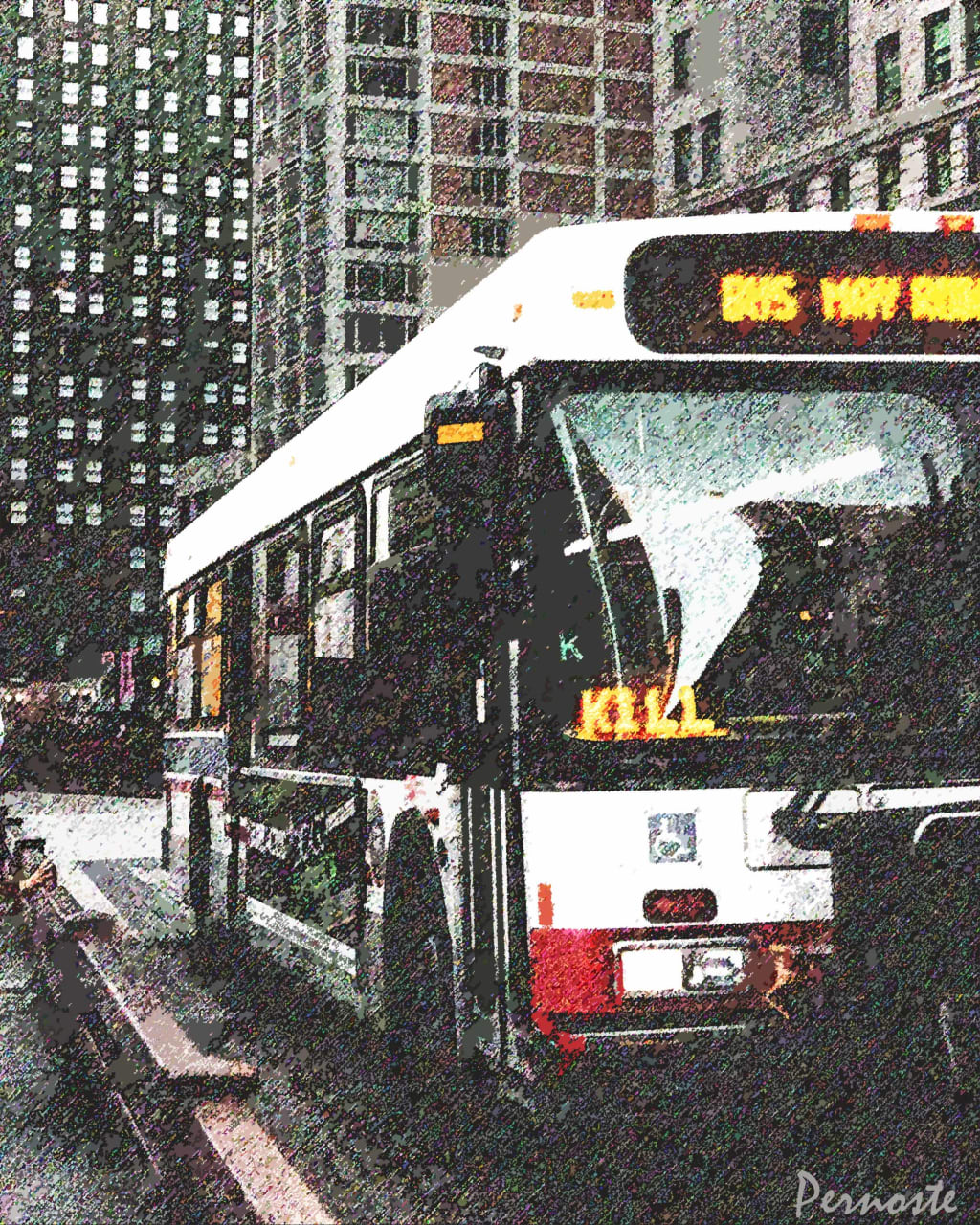 Image by Pernoste; Story by Dahl
The bus was late, always late, which was why he didn't like riding them on the weekend. Jack sighed and took off his black cap, the one Janey always said made him look like he was in the FBI because of his black jacket. This was taking forever, and the benches were dirty and too many people were standing around, crowding him and talking too loud. All in Spanish, mostly. He could hardly hear his own thoughts.
Don't you know people got some place to be? he wanted to yell. Didn't seem like anyone else was in much of a hurry, but yes, he had someplace to be. He put his hat back on and sighed once more. He had to get all the way cross town if he was gonna see Janey. Was gonna take an hour with all the stops.
He stood when the bus arrived, only to watch the driver step off, lock the door and walk away. "Damn", he muttered, but probably the driver needed a bathroom break. Jack sighed and stood by the bus door where everybody else was lining up already. Plenty of seats, and he didn't care where he sat. He just needed to sit quiet and think of what he was doing.
Janey'd made it pretty clear they were over, and it just broke his heart and made him look like some kinda fool with his buddies. They could call him p-whipped all they wanted, because Janey was special. He loved her smile and her figure, and the way her eyes flashed when she was angry at him, which was most of the time. He loved her though, if she could just understand. She just got angry one too many times, is all. And maybe it hadn't gone so well after that.
The bus driver finally came and let everybody on, and they raced and pushed to get a seat where they wanted. Jack just waited to see what was open and found a couple seats empty near the back. Quiet, perfect. He started talking in his head, real quiet, just moving his lips, to practice what he was going to say.
Janey, you know I'm not good with words, really, but I think you're the greatest thing…. He could hear her reply in his head, What, I'm a thing? That's the problem, Jack. Right there.
Janey, you know I'm not good with words, but you're very special to me. Her answer, So special that you cheated on me with every girl in the neighborhood?
Janey, I'm not very good with words, you know. The Janey in his head laughed. I'll say.
Janey, you belong with me, and you know it, Jack screamed in his head. He was getting angry. He wasn't even there yet, and it was hopeless. He was ready to hit her, again. He felt really bad about that. He hadn't wanted to hit her, and not so many times. It was the meth… and being drunk. Always brought out the worst in him. She didn't know that, though. He pounded the empty seat in front of him.
"Hey, man," a guy a couple seats up from him whispered. He was a weaselly-looking white guy, in Jack's opinion, with a scruffy beard and smelly in three-day-dirty clothes. "You want some Jackpot, man. Two pops, a hundred bucks?"
"Yeah, sure," Jack answered, and the weasel dropped back to sit next to him for the exchange.
"Good product?" Jack asked.
"Chill you right down, bro," the weasel said, jumping back to his seat a couple rows up. Jack laughed, popping the pills. He'd be cool, real cool when he met with Janey. He leaned his chair back to fly.
Jack missed his stop at Janey's apartment, and every other stop, too. When they took him off the bus, he was cold, real cold.
.
.
[Author's note: We were going to try a tag team approach, but Pernoste was too busy. I wrote this in one sitting without much of a plan, only doing the small edits in real time as I formed each sentence. No overall editing at all, except checking punctuation and italics. I was thinking of some of the guys I saw when I lived in the harder places of my childhood. Sorry, a little dark, but it was the world I lived in for a while. Had to kill him in the story or I wouldn't sleep tonight. - Anneliese]
.
A challenge for everyone from JBaz:
How often in life, do you see someone just silently staring into space. What are they thinking, what is their story? Are they happy, sad, reflecting, remembering, worried.

I walked past a person staring out a window. No movement, no expression. I Challenged myself to write a story about his silent thoughts, what was he thinking.

The challenge to you, it must be between roughly 600-650 words. It must be written nonstop in one sitting. (Take your time and work it in your head before you begin).

For more of a challenge allow yourself only ONE edit. Let us know if you succeeded with one edit.

On your submission note that it is for the: JBaz 'Silent thought' Challenge.
Reader insights
Outstanding
Excellent work. Looking forward to reading more!
Add your insights