The ultimate cinematic experience
Cinema in it-s truest form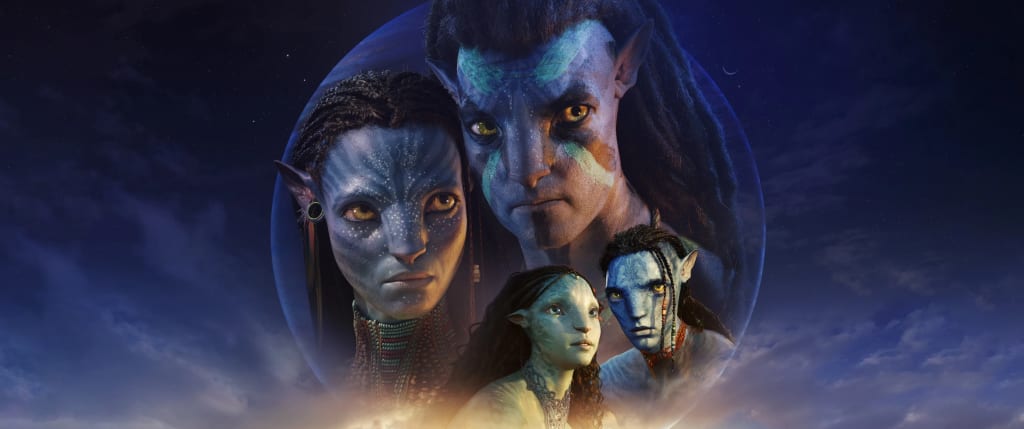 I needed this movie to be reminded of why it makes such a difference to go watch something in the theaters, I've seen better movies before but I will risk to say that this particular film was probably one the best cinematic experiences I ever had.
I have never seen such beautiful imagery specially being crafted exclusively though digital mechanisms, the 3D, the IMAX and the 60 FPS, I make no exaggeration when I say it really seemed I was living on Pandora. Avatar: The Way of Water is visually stunning, its use of motion capture and computer-generated imagery (CGI) is breathtaking, with lush environments and creatures that are truly believable and the attention to detail in the film helps to create an immersive and credible world. The boundaries of the motion capture are pushed to the extreme and it never ceases to amaze me how stunning and realistic this technology can be. This technology allows the actors to convey subtle emotions and nuances in their performances, which helps to bring the characters to life, so although for the viewer these seem purely computer generated imagery, it also gives the actors an opportunity to immerse themselves in their performances adding all the physicality and expressions to make a powerful .
Every detail seems to be masterfully crafted and yes similar to the first one the story might not be a groundbreaking plot yet it's interesting enough and it matches the entire atmosphere perfectly. I usually criticize movies that are all about the style and no substance but in this sequel there is actually a lot of substance, not necessarily in the story itself but on the crucial messages of preservation, environmentalism and the consequences of exploiting natural resources that are depicted throughout.
I feel that it makes this statement on a very beautiful fashion with breath taking imagery that will transport you to a different reality during the time you are in that movie theater. It is becoming increasingly important to discuss these topics in a ever growing polarized world, and it's not always easy to bring them up to discussion without creating some sort of controversy, this is where I believe this movies thrives, showcasing the compassion of the native tribes and their respect to the environment surrounding them and all living creatures that are a part of it, I feel that audiences will feel captivated and connected to this fictional world with a very realistic set.
One might argue that the story is not as captivating as the entire concept they I have explored on the previous paragraphs, but again I feel that this is the purpose of the movie, the story is interesting enough for you to follow it, you might find it predictable at times but I feel the focus was on the actual message it conveys and of course obviously on the groundbreaking visual effects achievement which is the main reason why these movies are so well known in the first place. If you have that mindset and you experience it as it should in the theaters, on IMAX specially, you will have an actual cinematic experience that transcends (literally) the big screen.
I am glad movies like this revive the true meaning of a cinematic experience and there is no best time to get back and experience this art in its original and truest form, after all that the pandemic did to the theater industry its very clear that this industry, despite of some of the quality content we have on streaming these days, will not go anywhere soon.
About the Creator
Honest reviews from your average enthusiast looking to give audiences the best experiences in movies, TV and video games.
Reader insights
Be the first to share your insights about this piece.
Add your insights